Warmlite 2R

Top 25 in Four-Season Tents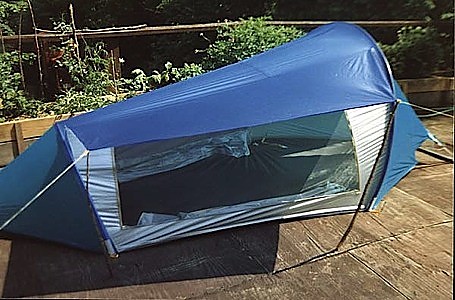 Version reviewed: and 3R
I have owned a 3R for more than 20 years and finally replaced it with a 2R. Both tents have the side windows and use them often in the summer. I used the 3R for more climbing and backpacking trips then I can recall and never had a problem with it. It stood up to winds on winter climbs of MT. Hood that exceeded 50mph. When others where out trying to secure their flapping tents we were snug inside the Warmlite with almost no movement of the walls.
It is important to try to line the tent up to the wind direction rather then across the wind if you expect storm conditions. It has always been a quiet and secure shelter. We have slept four and all our climbing gear with plenty of space. Yes, it could have some condensation is the right conditions but no more then the many other tents I used in the mountains.
I have had the 2R for two years and love it. It is smaller and lighter then the 3R which is great as I now use it as a solo/2 person shelter for backpacking and cross country ski trips. It weighs as little or less than most bivy set-ups and actually has a floor, footprint and side windows.
I looked at everything else available before making this purchase and found that most of those so called ultra-light tents came with no floor or poles (use your trekking poles is what they suggested). None of them would stand up to a summer storm very well and certainly not be considered for snow use. I have had no problems putting the poles in place and have never broken or even dented a pole.
Though it looks flimsy compared to other tents it is quite rugged. It sleeps very warm and packs into a small sack. I make a footprint out of the lightest painters plastic I can find and replace it when it gets too many holes. I tape it to the tent peg pull outs so it stays in place and is easy to replace when needed.
You do have to seam seal it and this took about an hour and a half. It is a good way to learn how to set the tent up the first time and I added some of the sealant, in strips, to the floor to reduce the slickness. If you don't do this your bag will move in the direction the tent is tilted as you sleep.
Overall I have never had a better tent for all purposes then the Warmlite. I will be using it for a kayak trip later this summer.
Price Paid: $525

Version reviewed: Aluminum Top
We've had two Stephenson 2R's since 1972, very durable overall, excellent construction, you have to be careful with the poles!! I incurred Jack's wrath for not following their directions 100%, I was a bit p.o.'d when I got the repaired poles and a note that I should read the directions, but he means well and undoubtedly doesn't understand how hard it can be to follow directions! 
I love the newer aluminized top, can't beat the size/weight ratio. It's withstood 50-60 knot gusts w/ light snow with nary a concern.  I feel very safe in it in winter conditions.
Next step is to see if using a Warmlite VBL Triple sleeping bag will reduce the condensation even more -- it's never really been a big problem yet. And i do wish they'd put some mozzie netting in the front. 
I would definitely buy one again, perhaps the new climber's versions of the 2R or 3R, which are 2' shorter, such that there's less concern about smaller pitching spaces.
Cheers and kudos to the Stephenson family for being so innovative and keeping their manufacturing in the USA!!!
Price Paid: $200? (1972)/ 500? (1995)

Prior to this tent, I had made three others to fit the family as it grew. I was intimately familiar with my likes and dislikes (and errors) about a tent and tried the best as I could to incorporate improvements in the next.
The Stephenson 2R would have saved me a lot of trouble from the beginning. It is everything I need in a tent..with the exception of the 3R. Didn't buy it because of the extra weight and size I no longer needed. A decision I am not fully convinced was the right one.
The 2R sets up quickly in any weather including 40mph gusts at high altitude in a cold rain/ice mixed storm. It allows you to adjust the tautness of the tent from the inside. You can only appreciate this if you have ever tried to mess with another tent when it is really really nasty out.
This is not a tent for the klutzy. The individual pole sections, when not holding the tent up up, cannot be stepped upon or treated badly. The entire kit when laid out looks about as flimsy as a kid's kite. When set up the tent has taken 4 foot snow loads, winds big enough that three of us had to put our backs against the sides to stay the night.
It is almost tall enough for a 6 footer to kneel in. If you are going to spend days and days in this tent you might wish you had something a bit taller - perhaps the 3R would be best.
It has been on a 10 day trip where it rained constantly. No moisture inside except what I brought in. PLENTY of room for 2 and at times 3.
Sometimes it has some minor condensation on the inside of the two ends, but no more than any other single wall tent. It is a minor inconvenience on some mornings. A quick wipe down is all that is needed. The 3R gives opportunities for better ventilation.
It packs down to about the size of two wine bottles punt to cork, and fits nicely in all overnight packs I've used. It is light weight enough so that you don't have to share its load with others.
It does not come with a fly (or stakes), which I found to be to my advantage as I can choose what fits me or the trip. In my case, during the summer, a light weight paint plastic cut to size fits the bill. The foot print's only use is to reduce abrasion and works just fine temporarily with gaping holes in it.
I keep my pole connections clean and lubricated with a very light covering of silicone grease. The fabric of the tent is not UV proof although after all these years of use I have seen no deterioration. I do not use it as a base camp tent, but as a packers tent. That is, it gets struck and packed each morning - generally.
There are a number of color combinations available. Don't get the lime green. Yellow works well for more light inside, and makes it easier to find in the snow.
I have the barn door windows and they are worth every ounce of extra weight. Never a leak and no problems in the most severe weather. During summer use when the trek poles are not used for the stakes, they are used to hold out the window canopies. These also make almost adequate covers for some gear.
The 3R allows cross bracing for higher winds and snow loading. You give up a considerable amount of room but would be worth it -- when you need it. I like the two doors of the larger 3R tent, but the single door of the 2R works fine and is a good compromise. I have had 5 adult males in the 2R for two rainy nights. Almost enough room to shuffle the cards. The three other luckless gents lost their pop up tent to the wind before they could get it nailed down.
It makes a great solo tent, even if it will draw cat calls because of the extra size. It is lighter weight than many bivy shelters. I've only had one problem finding a place to pitch the tent - because of its footprint size. It was on the Wonderland Trail in a very restricted camp spot that was overbooked and I came in late and last to set up.
If they are making it for you, you might see if they could put couple of ties into the ridge of the tent for hanging things and include a way to tie back the window flaps (a couple of ties on both sides of flap, on the outside, to tie it back. Or you can sew them in later.
It comes unsealed, so you get an hour or so of quality time with your tent. The silicon process they give you works as advertised if you follow the instructions. Not one leak in almost a decade.
The tent material especially the floor of the tent is very slippery. You will either get used to piling up in a corner or painting no-slip skids on it. Few things stick to the material, including dirt and you. That being said, it is easy upkeep. A few flaps gets rid of the dirt, turn it inside out and flap out the debris and old socks. When needed a quick run around with a damp cloth will remove most leftovers.
Excellent tech support and parts replacement/repair and solace. Jack (senior) is a bit quirky to work with but has your well being in mind. I suspect he no longer has his fingers in all the pies at the place now.
Only source is warmlite.com
Design: Hooped, single door, very small vestibule area but adequate for most activity
Sleeps: 2
Ease of Setup: One person puting the two hoops together while one lays out tent takes about 3 minutes. Maybe less time if solo and have done it a few times. Only takes three stakes on a good night. 7 for a blow.
Weight: around 3 pounds and a few ounces for tent, sack, ground cover and stakes.
Price Paid: $450

i got my 2r in 1996 and have over 200 nights on it so far.
i was in a good position to make an intelligent tent purchase back then, with over 15 yrs of of alpine climbing and himalayan trekking behind me plus i worked full time in the outdoor industry, with access to field testing and demos. although i could easily get my hands on a free ve 24 or whatever i decided to buy a stephenson for more than $500 simply because i was moved by the catalog. it seemed honest and genuine, written by a guy who had thought about his craft. none of the usual shallow information and bogus promoting we were spoonfed with from the mainstream vendors from tnf to mhw.
my 2r arrived in the mail after 3 weeks and i opened it literally with trembling hands, never having spent that amount of money on faith alone. i was immidiately worried. this looked like a danm spinnaker and felt so different than any tent i'd ever touched. decidedly handmade, odd, flimsy and slippery.
on my next day the dog and i went out in the olympics. it was mid october and typical nw weather was brewing. sleet and rain was blowing horizontally before we got to our exposed ridge camp. i dumped the pack, fished out the nimble little bundle that was the 2r and, surprise, had it up in 3 minutes. we dove inside. gale force winds howled in from the pacific and wet snow piled up. the feather weight 1.1 oz ripstop was drum tight, and the whole affair was so reassuringly solid that i started to realize that this might be quite the tent.
here years later i'm still amazed by this shelter. i'm a backcountry guide all summer and use it alot. it's holding up really well, with no repairs needed so far. in the winter we take it out on ski trips. we use it as bugshelter on the utah rivers.
the 2r is roomy, strong and really, really light weight, the three main assets in my opinion.
it sleeps 2 and a dog comfortably, with all gear inside.
sitting height is adequate up by the door.
condensation occurs at the single wall ends, sometimes heavily (on still cold nights in the mtns).
stephenson warns against excessive uv exposure, so don't purchase it if you need a basecamp tent. it goes up in the evening and comes down in the morning.
it is one of the warmest tents i've owned, to the point where, when feeling bold, i go out in the winter just bringing my 40 degree bag.
never seamsealed any of my tents and this one neither, without too much leakage.
it is a poor choice as a dedicated mountaineering tent or bibler/integral designs substitute due to its relatively large footprint. for backpacking of any sort nothing beats it imho.
Design: four season tunnel design
Sleeps: 2
Ease of Setup: in true scandinavian spirit the inner and outer tent is sewn together which makes it very simple to set up in any weather.
Weight: sub 3 lbs
Price Paid: $500.00+

Great tent.
Pros
Lightweight
Great in wind
I got my first 2R Stephenson tent around 1974. Did several trips to the Grand Teton, up to the Canadian Rockies and then down to Peru. It was lightweight and stood up great in some wild windy snowy weather at high altitudes.  On the saddle between the Grand and Middle Teton one time, the winds shredded two lady climbers' tent and they had to join us. Our tent held great, while it was cramped for four. 
Unfortunately, my tent did not hold up too well after I got married and my son decided to get into the tent with his ice skates on. But that led to me buying another 2R. Since then, my wife and I have camped out again in the Canadian Rockies, Tetons, Wind Rivers, and also throughout China. It is still going strong. 
Source: bought it new
Price Paid: First time, it was around $200+ and the 2nd one was around $700

I thruhiked the AT with this tent in '99 (6 months of everyday use) and at one point slept 3 people with 3 packs in this tent....it is spacious!! Now 9 years later I use the same tent with my two dogs and my fiance. It is a bit tight with the dogs so we will be upgrading to the 3R. I seal the seams every now and then with some clear silicone mixed to a thin paste with thinner and this stops any leaks. This is the best tent I have owned, and I have quite a few!
Sleeps: 2
Ease of Setup: Very easy to put up
Weight: under 2 lbs
Price Paid: $500-600 or so

Had my Warmlite tent for about 11 years and will soon order another one. The best tent one can possibly buy.
Design: A true year round tent
Sleeps: 2
Ease of Setup: very easy
Weight: 3lbs 2 oz with everything

Your Review
You May Like
Specs
| | |
| --- | --- |
| Price | Reviewers Paid: $450.00-$525.00 |
Recently on Trailspace