Warmlite 3R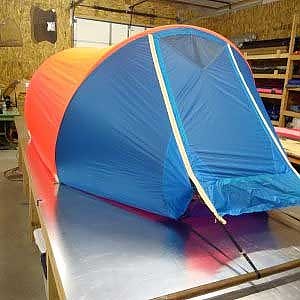 Specs
| | |
| --- | --- |
| Price | Reviewers Paid: $425.00-$525.00 |
Reviews
3

reviews

5-star:

2

4-star:

0

3-star:

1

2-star:

0

1-star:

0
In space-per-weight, it's an awesome tent. For windy conditions, it's great—no collapsing or flexing walls you get with flexible poles. The rigid poles theory works very well.
Pros
Size-to-weight ratio is amazing
Very light yet comfortable for three people
Spacious and reasonable for two people
Room for gear inside
Cons
Condensation
Moisture freezing THRU the fabric
Maintaining waterproofness is a pain
Summer forest, sand, snow, it's always super easy to set up (only two poles, sleeves not clips, only four stakes required for setup (more for windy conditions). Must be careful assembling poles—the thin-wall aluminum is light and strong, but edges are fragile. The pitch is very tight and easy to manage as conditions change. Used consistently for about eight years.
Orientation to wind matters for ventilation and makes it more predictable. Rain and snow mostly OK—some challenges with corners leaking just a little. Condensation can be an issue, a tradeoff of the single-wall tent. One 12˚F night with zero wind left us with condensation frozen through the fabric, and packing up about 10 lbs of ice we couldn't get out of it. Seems wind = ventilation, and without it, or when snow obstructs side vents, it doesn't happen. Not unique to this tent, just our experience.
The 11' length allows comfortable sleeping length (8 feet) and ample gear room (another 3 feet) all inside the envelope. Easily accommodated three people and all our gear (boots, packs, food and unpacking space). Headroom? Never thought about it—so it must be about perfect (I'm 6'2"). On the other hand, sometimes it's challenging to find an 11' x 5' space to set up. 
Features include huge micro-zipper side windows, which allow for high-volume ventilation, and the tunnel shell unzips to form awnings over these windows. Versatile and pretty amazing. Only a few tents can claim to be great in ALL four seasons.
I pay a lot of attention to tents and tent design, and at the time (around 2000) this tent was absolutely an important innovation in design and materials. (The Warmlite folks sent a unique VHS promotional video, too.) Still have the tent, 20 years later, and this week will be washing and re-waterproofing. Far as I can tell it will still work great.
Source: bought it new
Price Paid: $425

We had a 3R for about 6 years, used it for weekend hikes and a 6 month stint on the AT. It never leaked, had wonderful cross ventilation with the two windows and was warm on cold nights. 
We like to store our boots and packs in the tent at night and this tent had more than enough room to accomodate our gear. Would definitely recommend to anyone. You can only buy this tent from Stephensons.
We now own the 2R model.
Version reviewed: and 2R
I have owned a 3R for more than 20 years and finally replaced it with a 2R. Both tents have the side windows and use them often in the summer. I used the 3R for more climbing and backpacking trips then I can recall and never had a problem with it. It stood up to winds on winter climbs of MT. Hood that exceeded 50mph. When others where out trying to secure their flapping tents we were snug inside the Warmlite with almost no movement of the walls.
It is important to try to line the tent up to the wind direction rather then across the wind if you expect storm conditions. It has always been a quiet and secure shelter. We have slept four and all our climbing gear with plenty of space. Yes, it could have some condensation is the right conditions but no more then the many other tents I used in the mountains.
I have had the 2R for two years and love it. It is smaller and lighter then the 3R which is great as I now use it as a solo/2 person shelter for backpacking and cross country ski trips. It weighs as little or less than most bivy set-ups and actually has a floor, footprint and side windows.
I looked at everything else available before making this purchase and found that most of those so called ultra-light tents came with no floor or poles (use your trekking poles is what they suggested). None of them would stand up to a summer storm very well and certainly not be considered for snow use. I have had no problems putting the poles in place and have never broken or even dented a pole.
Though it looks flimsy compared to other tents it is quite rugged. It sleeps very warm and packs into a small sack. I make a footprint out of the lightest painters plastic I can find and repalce it when it gets too many holes. I tape it to the tent peg pull outs so it stays in place and is easy to replace whe needed.
You do have to seam seal it and this took about an hour and a half. It is a good way to learn how to set the tent up the first time and I added some of the sealant, in strips, to the floor to reduce the slickness. If you don't do this your bag will move in the direction the tent is tilted as you sleep.
Overall I have never had a better tent for all purposes then the Warmlite. I will be using it for a kayak trip later this summer.
Design: 4 season
Sleeps: 2
Ease of Setup: very easy, even in high winds
Weight: 3 pounds
Price Paid: $525

You May Like
Recently on Trailspace