Wenzel StarLite

The StarLite has been discontinued. If you're looking for something new, check out the best three-season tents for 2022.
Specs
Price
Current Retail: $58.95
Historic Range: $24.97-$58.95
Reviewers Paid: $9.99-$35.00

Reviews
11

reviews

5-star:

1

4-star:

4

3-star:

4

2-star:

1

1-star:

1
The Wenzel StarLight tent is best used for backyard camping or perfect weather, where bugs, not rain, are the only concern. I purchased this tent before I was knowledgeable of backpacking, and I quickly learned this is not a tent you want to depend on in inclement weather.

Although Trailspace lists this as "discontinued," it is back in production and selling on Campmor, Amazon, and other sites.

Cons
Useless in rain
Difficult to get in and out
No vestibule
I spent a week trapped in the Wenzel StarLight during my first backpacking trip. I picked it based on the weight and the price. Although my experienced hiking partner urged me to reconsider, I naively believed "It'll do." Once on Isle Royale National park, there was no coming off the trail.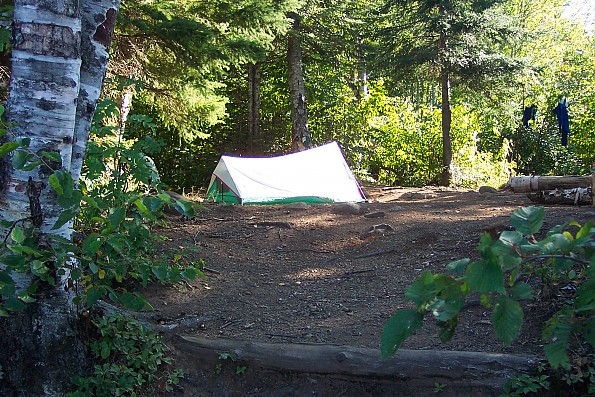 It rained at least once every day of the six-day trip (except the day we arrived). And the inside of my tent was always wet. As a single walled tent, with poor ventilation, condensation built up. Rain water seeped in constantly. The user simply can't afford to touch the walls without creating internal rain showers. Because the tent is so small, this is nearly impossible to do when you're getting in or out of it.
A significant design flaw of this tent is the small entrance, with the guy line blocking the middle of the door way. Getting in and out requires a bit of gymnastic flexibility.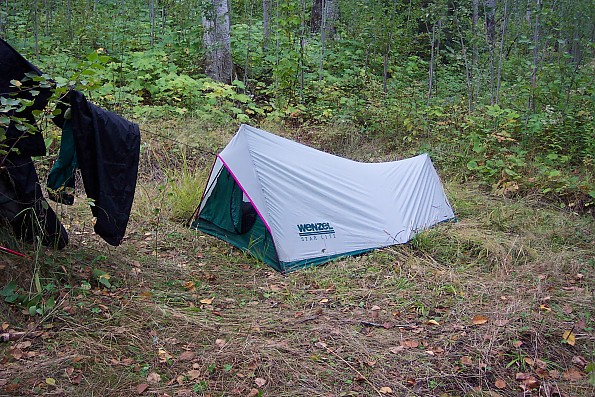 Here I camped close enough to a tree to raise the guy line.

With no vestibule, the user's pack must either be in the tent or out in the rain. I found my pack, under a rain cover was dryer each morning than anything I had in the tent with me.
By my last night of the trip, I reconfigured the tent and an emergency space blanket to create  a make-shift tarp. This was the only night I slept completely dry (The trade off was a battle with an audacious squirrel!). I have since seen other photos where desperate people have done similar modifications.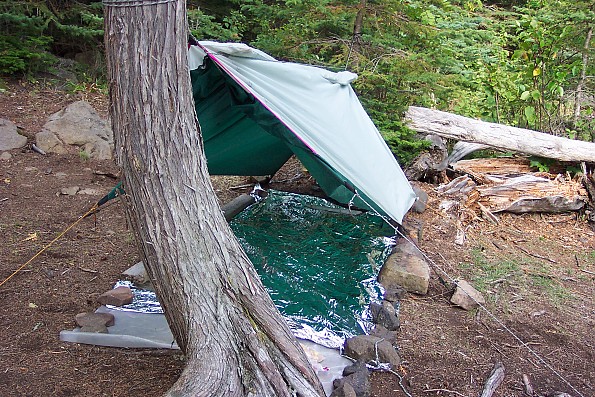 Tarp configuration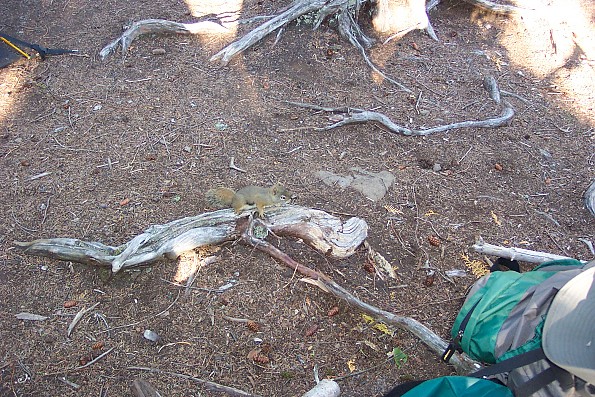 Deceptively cute vermin makes another attempt at my pack.
I sold this tent at a garage sale a few months after this trip. Sometimes I feel a bit guilty for sticking the buyer with this tent, but he got it for $5. So maybe he was happy!
Source: bought it new
Price Paid: >$30

A $29 tent that, with minor modifications, weighs 1 lb. 15 oz. packed.
Pros
With modifications, ultralight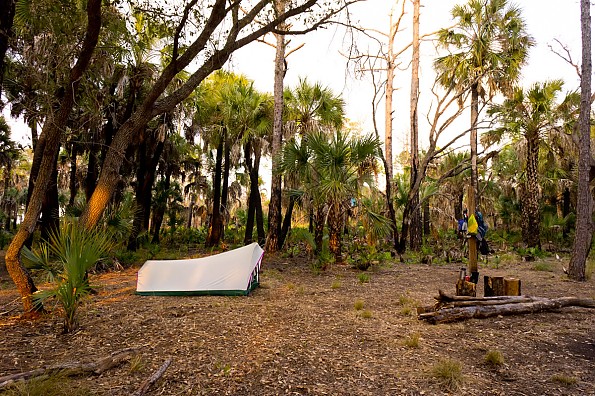 I actually bought this in the '90s for a canoe trip that I did not take because I became ill. Since then, it sat among my camping stuff. And sat. And sat. Until I decided last year to see whether I could cut its weight and use it as an alternative to my ultralight hammock setup.
Here are the modifications I made:
Threw away the heavy stakes and replaced them with ultralight stakes from MSR
Tossed the foot pole and replaced it with an old section from another tent
Heaved the front pole and used my two trekking poles, one on each side in an inverted V
Ditched the tie-out lines for ultralight line
Pitched the zippered carry sack for an ultralight stuff sack
Sprayed it with waterproofing
It goes up fast, but I find that the guylines -- which it requires since it is not freestanding -- need to be tightened later. When set up and guyed out, it is low to the ground and relatively stable. With the waterproofing added, it held up to a light rain with no problems. I have not yet tested it in heavy rain.
This is a single-wall tent, but leaving the door fully open (closing only the mesh door), I had no issues with condensation even in hot and humid Florida. In fact, it seemed to vent very well that way; I could not tell the difference between the outside and inside temperatures.
I have not used it in heavy rain or in cold weather. I have used it only twice, after it sat for years, so I cannot comment yet on durability.
Floor space is good for one person, though the walls slant severely and you must sleep in the middle. Headroom not good for sitting up or changing, and you need to crawl to enter or exit. I kept hitting my back on the trekking poles every time I exited, requiring me to reset them.
It packs up tiny, which brings me back to the main draw for this tent to me. It's small and weighs under 2 pounds.
Source: bought it new
Price Paid: $29

Although I own several shelters (Noall Serenity, Sierra Designs Lightning, Walrus Trekker Tarp, Black Diamond Megamid, Golite Cave, Bibler Pinon) I am always looking for another tent! I've been aware of the Wenzel StarLite for awhile and wanted to see just how much I could improve it to increase its performance.
I read the review by Ductmonkey and think that he sadly desired the protection and comfort of a free-standing, 35 sq. ft., double-wall, $240 tent and was shocked and disappointed to find that a 25 sq. ft. single-wall, coated, non-freestanding, summer tube tent did not fit the bill. However, he was comparing the characteristics of apples and oranges – a recipe for certain disappointment.
If you've backpacked as long as I have, you'll know that the StarLite actually compares quite favorably with many of the backpacking shelters of 30 years ago. In fact, the Wenzel StarLite is an inexpensive copy of the beautifully made Trailwise "Wind River" tent (aka "Trailwise Ultimate Tube Tent") made in the '70s. I had one of those once and am still of the opinion that Trailwise gear was the best backpacking equipment ever made.
Back in the day, Backpacker magazine gave the Wind River a score of 4 stars out of 5, even when being compared to double-wall A-frame tents! – and it was essentially the same as the StarLite. In fact, the Star Lite goes the Trailwise one better by using a front A-frame rather than an "I" pole, which bisected the front door. It is also made of non-stretch polyester rather than the saggy nylon of the Trailwise.
Yes, the Trailwise was better made (as a comparison, the Trailwise Wind River cost $59.50 in 1978 dollars and did not come with stakes or guylines), but the StarLite is a far better shelter than its price would indicate. It's made of high quality fabric, features decent stitching and is of generally good design. The low retail price is primarily due to the fact that it comes with cheap steel stakes, fiberglass poles, junk nylon cord and cheap guyline tighteners. These accessories are easy and cheap to replace.
There is no doubt that "as is", the StarLite would be an inadequate tent but would be a very good "tube tent" – right out of the box (and a tube tent is really what the StarLite should be compared to). After all, a tube tent has NO frame, has NO way to be guyed out, has NO screening and is NO larger than the Star Lite. A tube tent is made of non-breathable plastic and offers NO more ventilation than the Star Lite. In those respects, the StarLite beats a tube tent hands down.
As far as internal volume goes – while the A-frame shape is the strongest and lightest of all tent designs, it scores low in usable volume. In addition, the rapidly tapering floor and roof means that the StarLite should not be considered a roomy tent but rather, a cozy little shelter to throw in a daypack for an unexpected night out – the way that a tube tent is used! Had Ductmonkey understood the inherent design characteristics of A-frames, or of the StarLite design in particular, these issues would have come as no surprise.
As for my experiment to see if the StarLite could be improved, I first ditched the junk fiberglass poles and had "Tent Pole Technologies" make a set of bronze anodized Easton 7075 aluminum poles for it. I added two guylines placed in a "V" rather than the single line bisecting the front door. I did the same at the back "I" pole. This means that two stakes are used front and rear, and the tent is more firmly rigged.
I also added four Sierra Designs "Grip Clips", two to a side panel, to create additional pullouts in case of high wind. Each set of grip clips have a long loop of nylon cord attached to them, with a single cord that is used as the guyline. That way, only one stake per side is used to tension both grip clips.
I noted that Ductmonkey complained about his stakes bending. The reality is that most tents come with junk stakes that must be replaced. I chucked the thin steel stakes and replaced them with MSR Needle Stakes. I also increased the number of stakes from 8 to 12. Then, I replaced the nylon cord with Kelty "Triptease" guyline and good aluminum guyline tensioners.
Of course I seam-sealed all of the tent's seams with McNett Seam Grip inside and out. That is the only way to be sure that a single-wall shelter won't leak through the stitching. While the fabric appears to be of high quality, I thought that the urethane coatings were thin. To ensure that the tent's water resistance was as good as possible, I sprayed the canopy and floor with three applications of Tectron Wet Guard with enough time to fully dry between coats.
A good DWR coating will force rain to bead up and roll off rather than soak into the fabric – adding a tremendous boost to a tent's water resistance. On an A-frame tent such as the StarLite, which has a steep pitch, a DWR coating alone would probably work to prevent rain from misting or leaking through the canopy. When I pitch the StarLite, I always place a 3-mil plastic ground cloth under the thin nylon floor and a 2-mil cloth inside the tent. I've been rained on several times – in driving downpours – and have never gotten wet through the canopy or floor.
Now, I bought the StarLite for only $9.99 NIB at a hardware store, so I could afford to experiment. I spent about $20 on aluminum poles, $20 on fancy aircraft aluminum stakes, $12 on Seam Grip and $7 on Tectron. I already had the guyline, tighteners and Grip Clips. That means I have $68.99 in it. For that price, it's a bargain. If however, you think it will equal the protection and comfort of a $240 backpacking tent – you are mistaken.
The upgrade of accessories made the StarLite significantly lighter and stronger. I've used it on several overnights and it has proven to be quite stormproof and condensation has not yet been a significant problem. I've always sited it with the end vent to the wind and have only used it in the early fall through early summer.
I think my experiment proved that if you take the time to learn about the inherent strengths and weakness of the various tent designs, and know how to properly stormproof a tent, you can transform inexpensive models like the StarLite into serious, usable equipment.
Of course, the StarLite, being nothing more than a fancy tube tent, offers a good deal less protection than a true tent but more (against insects) than the typical tarp or tube shelter. Whether that makes it "worth it" is up to you.

Design: A-frame summer shelter
Sleeps: 1
Ease of Setup: Easy set up! Rigs perfectly.
Weight: WIth my alterations, it weighs just at 3 lbs.
Price Paid: $9.99

I've had a Starlight for twenty years now and it still is good for use. Camped in Oregon Cascades during summer and fall during light snows with protective tarp over it. Extra light, small storage bag, and gray-green color good for blending in.
Pros
Lightweight
Small storage size
Bug-proof excellent
Low profile blend in color
Cons
One person and small pet
Needs extra tarp for rain snow
Perfect for backpacking bug protection in Oregon mosquito lakes.
Perfect for bicycling tenting.
Perfect price. Great tent for people used to camping old school.
Reduce condensation by putting a light larger tarp over the top with paracord tied to front rear tent pole and stacked in well front and back.
Stake out the sides tight and out.
Can take some rain and about half a foot of snow.
Had mine for twenty years now.
Experience
Oregon forested Cascades get close to freezing to freezing at night. Bicycling Oregon, backpacking Oregon.
Source: bought it new
Price Paid: $18 over twenty years ago

You MUST seal the seams. This is 100% mandatory. Also it may be favorable to use a light "cover" or bivy sack inside the tent, as would as a matter of course when using a tarp for many.
Pros
Light, spacious, and cheap
Full insect protection
Cons
Door is small
Lack of headroom
I've used this specific product for four nights, one of which produced light rain. I used a highly similar product years ago, for more than 100 nights over a period of several years.
In a nor'easter in Nova Scotia once, the previous product leaked. In a heavy, wet and foggy April snowstorm in New York, melting snow and condensation created very unpleasant problems after temperature dropped sharply.
Other than those two occassions, I was entirely pleased with its performance. I would not, however, recommend the product for cold weather.
Primarily it offers complete insect protection where a tarp would fail. Obviously, this is only an advantage in bug season.
It's comparable (and somewhat inferior) to products costing in the range of $200-$600+.
Experience
Note that the "similar product" was an Asian-made "discount department store" pup-tent that I purchased new for about $20.
Source: bought it new

I'll start with the only negative thing about it..it's not waterproof...which can be solved with a coating of waterproofing spray.
Other than that.. it's a great tent.. I've read reviews saying that the Starlight it's not that easy to set up. that's not true! Hiking the Appalachian Trail the first week of April of 2010, it was already getting dark by the time I got to the place I'd be camping for the night, and set up the tent in less than 5 minutes. there was a thunderstorm that night, so i had winds heavily beating the tent all night long. tent stood up like a champ.
It's ultra light and easy to carry inside or outside your sack.
It looks kind of hard to get in and out but it isn't once you've done it a couple of times.
I've actually slept in there with a friend.. and I'm 6' 1" and 280 lbs. so you can fit 2 sleeping bags in there.
You get absolutely no bugs inside the tent.
Sleeps: 1
Ease of Setup: VER
Price Paid: $25

All things considered, not bad at all. I live in Mobile, Alabama, and backpack mostly in this area. Most of the time weight gets a higher consideration than temperature rating as it is quite mild most of the year. Perhaps more importantly it is very hot during the summer months.
I have used my Starlite for about a year now as part of general effort to lighten my pack. I have gotten down to a base weight of approximately 12 pounds and can still carry a real tent of sorts. As one other reviewer has discovered, I too have begun to guy out the front in a two line v configuration so I can get in and out a little easier.
I did replace the stakes with hardened aluminum ones and better guy line, but at minimal costs. I use the poles supplies with the tent. Condensation inside is sometimes a problem but it's worth the weight savings.
Design: Modified Pup
Sleeps: 1
Ease of Setup: Easy
Weight: approx. 3 pounds
Price Paid: $29.95

Let me start with the good. This tent is very light and compact when packed up.
Unfortunately it's too small for a person who is 6 foot tall. The way the door was designed was kind of silly, it is too short. I end up having to lay on the ground and crawl like a soldier into the thing, tracking dirt or worse mud into the tent/sleeping bag. In the morning there was some condensation on the inside of the walls but that's to be expected. I also managed to kick the pole near my feet down. I plan on finding a slightly bigger tent. However I'm keeping this tent because it's so light and small it might come in handy.
+small packed size
+lightweight
+simple to setup/pack
+door has a screen so it can act as a window/vent
-too small for a 6 foot tall person
-door side guy rope is in a annoying position for a tall person
-may not be the best in the rain (sounds like avgfan's mods would help)
Design: non freestanding
Sleeps: 1
Ease of Setup: very easy
Weight: 3
Price Paid: $30

Good little tent if you are putting a cheap pack together. I've used it about a dozen times. I'm getting a little large for it. Tough to get in and out of, but super light. I'm upgrading to a larger tent/pack but this thing is super light.
Problems: tough to get in and out of, condensation can be a problem, single wall not the greatest idea, no room but for you and your bag.
Design: tube
Sleeps: 1
Ease of Setup: fairly easy
Weight: 3.5
Price Paid: $30

The only positives of this tent are that it was really really cheap, and light.
That being said, I don't really think it was worth the 30 bucks. I'd rather have put that money toward a real tent. I think it fails in all of the respects that a tent should not: size/comfort, ease of use, weather protection, durability.
Although I knew the dimensions before I bought it, I didn't realize what I was getting into, or going to be trying to get into. It says that it sleeps 1-2, but even alone it's impossible to sit up. The entry/exit could be compared to playing the piano in mittens. You have to crawl and duck under your guy line and try not to put your feet on your sleeping bag.
It's a pain to set up, even for a non-freestanding tent. Three out of my six stakes bent the second time I used them and it was in soft ground. Even when perfectly staked, it still sags decreasing the already limited volume of the tent.
Its biggest failure is really in the weather protection department. The main purpose of a tent is to keep you dry and this one simply won't. Wenzel recomends seam-sealing the tent, so I did that before ever using it. Then I set it up in my yard to see how it faired in a moderate shower. I was dissapointed to find large puddles in the bottom of the tent the next morning.
The tent breathes so poorly that even on a dry night, you will still wake up in enough water to cook breakfast with! Considering how poorly it keeps water out, I was amazed at how well it keeps it in. I learned quickly that the door of the tent should never be closed unless there was no one in it, but even that was not nearly enough ventalation for the tent.
In summary, this tent sucks, and isn't worth the time I spent reviewing it. There are many other slightly more expensive options for lightweight solo shelters and I would recommend all of them over the Wenzel StarLite.
Design: 3 season non-freestanding
Sleeps: 2
Ease of Setup: Pretty quick, but never satisfactory
Weight: 4 lb. 8 oz.
Price Paid: $30

Have used this solo tent on several hikes. Its main advantage is how light it is. Only about three pounds. Getting in and out require you to crawl, and it is only a single wall. I have other double wall tents, but still use this cheap little number. I'm going for a very early spring hike this weekend and the forcast if for rain. I can't wait to see how it holds up.
Sleeps: 1
Ease of Setup: Easy
Weight: 3 lbs
Price Paid: $35

You May Like
Recently on Trailspace