Wiggy's Ultra Light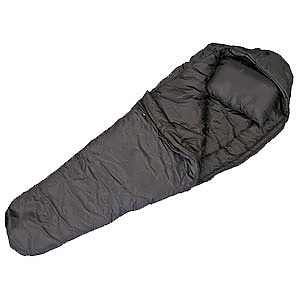 A very solid, serviceable. synthetic fill bag. It uses Climashield continuous filament fiberfill. The Climashield is laminated to the nylon fabric of the lining of the bag. This lamination process is what makes this Climashield based fill, what Wiggy's calls "Lamilite". The bag does not have magical properties, but is rated more true to temperature than many other synthetic bags and the loft is more durable than most other synthetics.
Pros
Best readily available synthetic fill (Climashield)
Robust durability
True to temperature rating
Good warranty and service
Company Owner is easily accessible
Cons
Non-industry standard sizing
Heavy, like all synthetic fill bags
Packs like a synthetic fill bag
Owner can be a rascal
Wiggy's bags are a great choice, if you are looking for a synthetic bag for robust, long term, hard use.  I do not make direct comparisons to high-end down bags like Feathered Friends (FF) or Western Mountaineering (WM).  It is a very different product with for different best end uses.
Do I prefer my FF down bag when traveling fast and light on a climbing trip at high altitude? Yes, absolutely. Do I prefer my Wiggy's bags when I am out hunting and getting soaked to the skin all day long, or sleeping out with minimal or no shelter and high likelihood of getting wet? Yes, absolutely. 
Climashield is currently, in my opinion, the best available synthetic fill insulation in common use for sleeping bags, and Wiggy's laminating process makes for better bag construction rather than typical industry standard shingling. Detailing is simple and plain, but works. Zippers are simple and robust, but do not fail. The bags stand up to storage and washing better than other synthetic bags.
The owner of the company may be a rascal, and sometimes can be volatile, but he makes a solid U.S. made product, and backs it with a real warranty. You can call them and he often will answer the company phone himself and he is easy to contact in person by phone or email. They properly addressed a warranty item I had with a new bag, and were willing to exchange an unused bag for a different size more than a year after the original purchase.
As a mountaineer with many years of intensive field experience, I own and use bags by FF, Integral Designs, Marmot, TNF, Kifaru, REI, and others. I personally have a strong preference for top of the line goose down bags, but for a rough use synthetic fill bag, Wiggy's is one of the best values available.
A Wiggy's synthetic bag can be counted on in hard use conditions. I first bought one for my son, who is a Scout and tends to be hard on gear. They respond well to washing. We now have several. They fill a specific niche in our quiver of sleeping bags.
Source: bought it new
Price Paid: $100

I've owned my pair of mate-able Ultra Light Wiggy bags for several years and am nothing but TOTALLY satisfied with them. For me, they have been everything as advertised and not one iota less. Their construction, quality, and perdurability have been unsurpassed by anything I've ever used -or- seen in the field. I've been nothing but happy (besides maybe warm and dry) that I chose them as a mainstay of my camping/hiking gear.
After reading several other reviews about Wiggy's here (and being somewhat surprised), I felt it only proper to jump in and at least tell of my own experiences in dealing with him. I don't doubt the truth or sincerity of the other reviews posted, after all Jerry Wigutow is opinionated.
I've probably had half a dozen conversations with Jerry yet he's always been very knowledgable, as well as helpful, and yes...at times even blunt or short with me. But my contact with him has always remained civil, as well as educational and informative. I mean where else can you dial up the owner of an Outfitters Manufacturing facility and discuss what you'd "like" made or changed about an item, and then have them create/customize it for you?
In my opinion, Wiggy's has manufacturered top-notch products for years that have performed better than claimed, and are certainly some of the longest lasting items I've had the pleasure to utilize in the field. As I've purchased more and more of his products through the years, I've continued to be impressed with each of them.(Ref: www.wiggys.com)
P.S.
On the subject of Loft, Wiggy's openly suggests "Keeping the fiber clean will allow it to retain its original loft." All of Wiggy's bags are machine washable and dryable, using gentle wash and low heat settings.
On the subject of weight, the use of the oversize zippers (#10 YKK) may not be lightweight, but per his literature he's not had a zipper failure in over 10 years since going to them.
Design: Mummy
Fill: Lamilite
Temperature Rating: +20F
Weight: 3.5lbs
Price Paid: ~$140?

Heavier than advertised, terrible customer service.
Cons
Over a pound heavier than advertised
Abysmal customer service
This is one of two Wiggys sleeping bags I recently purchased, the other being a Superlight of the same design. When both came in I immediately inspected and weighed them only to find that each weighed in right at a pound  heavier than advertised; 4.25lbs for the Ultralight, and 5.06lbs for the Superlight.
Since these were meant to be lightweight, warmer weather substitutes for the Ultima Thule bag  I have owned and loved for years I was pretty unhappy and called Wiggys and spoke with the owner Jerry himself. Jerry was aware of the excess weight of the bags, and claimed it was an upgrade and that they were underrated for temperature. Perhaps so, but definitely underrated in terms of how much they weigh.
Jerry wanted me to pay to ship them back, as well as a 25% restocking fee. He was immovable in regards to that until I told him that because they were falsely advertised I was not paying shipping or $70 to restock them, and would instead call my credit card company to cancel and keep the bags until he paid return shipping. 
Background
I own other Wiggys sleeping bags along with various other synthetic and down sleep systems. All others performed as advertised.
Source: bought it new
Price Paid: $130

This Wiggy has performed Excellent through the two Short Years That I have owned it. I have been in tempatures ranging from +10F to +65F and have been very comfortable. This is due to the duel zipper that allows you to unzip from the bottom or the top. Just last Summer I was caught without a tent in a heavey downpour that lasted through the nite at the base of Mt. Washington. I was sopping wet but very warm even with a puddle that was growing at the base of my bag. In the morning drenched to the bone I was able to dry the bag in a half hour via a hand blow dryer in the mens room of a local lodge. Once dryed the bag and I set off on our journey through the Presidential Range.
I would recomend Wiggy bag for people who who don't want to worry about the bag getting wet and people who don't want to worry about how to wash there bag The wiggy is tough and rugged enough to take the abuse of any hike and washer &
dryer.
on a final wiggy has a contracted with the navy seals to supply them with their Sleeping bags which I assume is a good would suggest that this were made for the harshest conditions this earth has to offer.
Design: Mummy
Fill: Lamilite
Temperature Rating: 20F
Weight: 3.25lbs
Price Paid: $125

When the bag was new, it worked ok. I never slept in it at its temperature rating, but it was ok at +30 or thereabouts. Ice had just formed on the water buckets in the morning. After it was washed a couple of times the Lamilite insulation started clumping up in the foot of the bag causing cold spots.
I sent it back to Wiggy for a replacement. He said no, and was rude about it. He returned the bag and refused to honor the warranty. I sold it to a student at the U who didn't know any better and got a North Face Cat's Meow and have been happy ever since. I recommend you pass on this bag. The customer service is terrible, and the bag is only mediocre. This happened two years ago, and since then I have discovered this board and another. Not much good is being said about Wiggy.
Design: Mummy
Fill: Lamilite
Temperature Rating: +20F
Weight: 4lbs
Price Paid: $146

Fantastic bag. I have had this bag in the Canadian Rockies right at the temp rating and in the damp Shenandoah and it has performed amazingly. You can almost feel the bag drawing the moisture out of it but not letting coldness in. I had Kelty and North Face lite loft and other fills and they are a joke compared to this marvelous invetion of Wiggys. Moreover, if you ever expect to get your bag wet, there is no bag like a Wiggys bag for keeping you warm. Im serious, they are truly amazing. I would be more than happy to answer any questions via email.
Design: Mummy
Fill: Lamilite
Temperature Rating: 25
Weight: ?
Price Paid: $140

I have had my Ultralight for about 4 years now and am completely satisfied with it in every sense of the word. I have actually tested it in winter here in the midwest in January and have been comfortable down to about 5 degrees F in a tent, wearing just a hat lightweight long johns and Wiggy's booties. This, considering I'm a cold sleeper, is evidence that Wiggy's bags are at the least, true to their ratings, however I've found them to actually be conservative ratings. This bag has performed FAR beyond it's intended purpose and, at $146 is a definite value.
Design: Mummy
Fill: Lamilite
Temperature Rating: 20F
Weight: 3.25
Price Paid: $146

It works--just like he said--wet or dry, amazing isn't it? I've returned one bag and other things and he's always come thru. Unfortunately he's a very gruff individual and always seems like he has a chip on his shoulder or perhaps that the world owes him something. If as an individual he were as good/pleasant as his products he would have a super co. I do recommend his products but forewarn others of his temper/attitude. Lighten up wiggy -- happy pappy
Price Paid: about $130

Version reviewed: +20
In 1990, I purchased a Wiggy's Ultra Light (+20) bag. It came with a compression bag and a pillow.
I have NEVER froze my butt off in this bag. It's washable and still looks good. I was a scoutmaster for most of the '90s so it has had plenty of use. If I am sleeping out of doors you can bet I'll be in my Ultra Light.
Design: mummy
Fill: Lamilite
Temperature Rating: + 20 degrees
Weight: 4 lbs.
Price Paid: $150

I have the mummy model with the overbag. Use the overbag in place of blankets at home, and the core bag in Gifford Pinchot. No problems. Good all around sleeping bag.
Your Review
Where to Buy
Help support this site by making your next gear purchase through one of the links above. Click a link, buy what you need, and the seller will contribute a portion of the purchase price to support Trailspace's independent gear reviews.
You May Like
Specs
Price
Historic Range: $199.95
Reviewers Paid: $100.00-$150.00

Temp Rating
20 deg F

Recently on Trailspace