Woods Canada Arctic 5 Star

The Arctic 5 Star has been discontinued. If you're looking for something new, check out the best cold weather down sleeping bags for 2023.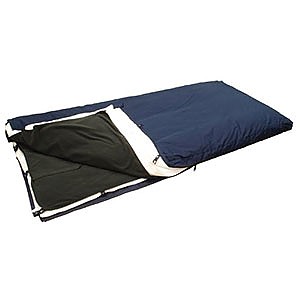 Definitely not my first choice for seriously cold weather.
Pros
I would choose a 5 Star only if there was nothing else.
Cons
Amazingly heavy
Cheap duck down of unspecified fill power
Quilted construction
No hood
No draft tube
Not true to temperature rating
Flat, rectangular bag
During the winter months my job demands that I patrol by snow machine a vast area of the Canadian Arctic, but before doing so, I was ordered to buy some "proper" winter gear. This included, among other things, a Canada Goose parka (see my reviews of the Snow Mantra Parka and Tundra Pants), and a Woods 5 Star sleeping bag.
Now, Woods has been around for over a century and has made some half decent gear in its day, in the form of heavy canvas tents and packs designed for prospectors and other stalwarts of the old school. I even own some of their equipment myself, used mostly for canoeing.
My uncle owned a 5 Star sleeping bag when I was young. Back then it didn't even have a zipper (Woods believed zippers were a newfangled fad that wouldn't last); instead it was festooned with snaps to close its rather cumbersome canvas fabric and wool-blend blanket liner. Then, as now, it had no hood.
When I was in Boy Scouts, some 40 years ago, we used the 5 Star sleeping bags too, but like my uncle, our winter camping excursions were limited to heated cabins and tents. I remember how cold we all were when the fire went out and we lay shivering in our 5 Star sleeping bags until the call of nature roused someone out to start the fire again.
In fact, the venerable 5 Star sleeping bag has followed me throughout my life and I will admit that there is a certain rustic charm to rolling out a 25 lb bag and crawling in; the same kind of impractical charm as a chuck wagon or a Commodore 64. And the 5 Star certainly seems to hold on to the myth. So, although I have only recently become an owner of one, I have used them on many occasions throughout my life.
My new Woods 5 Star has not changed much with a temperature rating of -40°C, which at first glance should mean something, but without a hood or drawstring this claim is highly suspect. No self-respecting manufacturer would ever produce a winter bag without a hood and, with no means to close the bag around your neck, whatever heat which may be trapped in it would escape whenever you rolled over.
Since the bag is basically flat and rectangular, and the human body is not, there is no place to put your feet, which if you sleep on your back stick straight up. Or, rather would stick up if there was a foot box built in. But, no, there is no foot box, no hood, no collar, no drawstring, and no draft tube against the zipper.
In fact, the 5 Star has none of the standard features of a modern winter sleeping bag. The weight as well leaves something to be desired. At over 20 lbs, with a reported 3.5 lbs of duck down (fill power conveniently unspecified) it's a behemoth. But, because the down is spread out over such a big area, it only has 5 inches of loft and since loft is warmth the 5 star should be rated as a summer/fall bag only. (My apologies to the other reviewer, but -8°F is a long ways away from -40°F.)
This is why my 5 Star now sits in my office collecting dust. When I go out on winter journeys in the Arctic I take my 25-year-old NF Inferno sleeping bag. At 5 lbs, 3.5 of which is 700 fill goose down, and 12 inches of loft it has never failed me, even in truly severe cold in excess of minus 50C.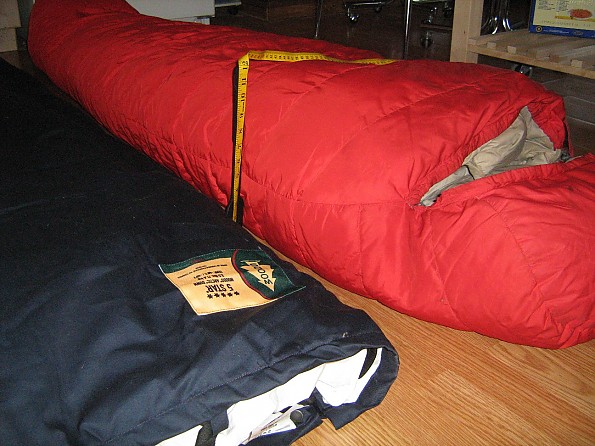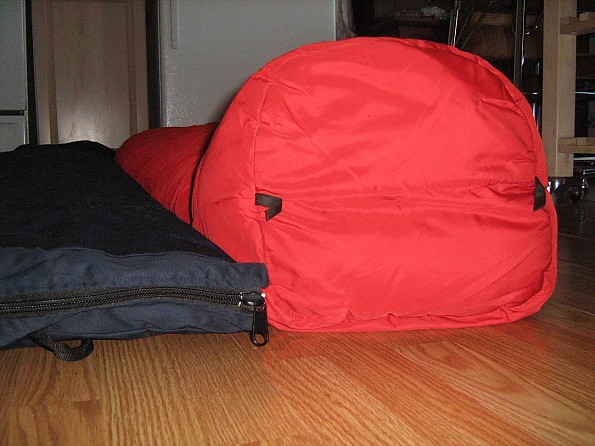 I guess when it comes to the 5 Star the only caveat is that I did not have to pay for this with my own money and I wound up with a new quilt for the bed, which is all it seems to be good for.
Update for 2012.
A while ago I was lucky enough to go on a 600km winter trip through the mountains, crossing two Canadian Territories. Everyone with me brought their 5 Star bags and I had my old NF Inferno bag. How they all laughed when they saw how small and light weight it was!
I watched closely the people's sleeping habits and inspite of the fact that they slept fully clothed and had the wood stove going all night in the tent, everyone complained about the cold, everyone that is except me who slept warm as always in my NF bag. The only problem I had was the noise of people getting up during the night to feed the stove.
Sadly, the experience was lost on everyone as they still travel with these things... they also carry big wood stoves. And for those who read the other reviewers comments, whiskey freezes at -34.4°C or -30°F.
Design: Rectangle
Fill: Duck down
Temperature Rating: -40 C
Weight: 25lbs
Source: Issued to me
Price Paid: $800

An iconic piece of North American history—that simple.
Pros
Unbelievable workmanship
Extremely warm
Iconic bag
Cons
Very heavy
Expensive new, but quality is
Well, unfortunately the iconic Woods down bags are no longer made. Canadian Tire bought the company and that was the end to Woods quality products made in Toronto, Canada, and Our Best neighbors in the US in Ogdensburg, New York.
The flagship 5 Star Robe is a fine piece of workmanship and I've restored all the good ones for years as a hobby. I've bought and sold over 50 of them. The Robe typically is a 90x90 inch Robe or quilt that you form into a bag. Before this the outdoorsmen used two Hudson Bay blankets folded into each other in reverse.
I have restored 2 Stars, 3 Stars, 4 Stars, and 5 Stars, as well as Mount Blancs, Mount Whitneys, Arctic Masters, etc etc. You have no idea how many different Arctic series bags were made and even rebranded under other names. 3 stars were so prevalent in North America to our fathers and grandfathers in moose camp. I've seen lots of different configurations of 3 Stars, some early Eiderdown branded robes with sewn-in kersey wool liners and lift the dot fasteners to removable wool liners zippered. Early 3 and 4 Stars had 5 lb down fill. The 5 Star bags are unique and the materials alone and sewing are insane.
An early 5 Star I'm restoring now, probably around mid-1980s, has the outer shell with sewn-in zippered storage pocket. Then two 28-ounce down-filled quilts included that snap in on 12-inch centres with leather snaps and corded corners.Then a heavy wool blanket is placed over top and also snapped in place. So, an outer skin, two down quilts removable in warmer conditions, then a very heavy wool blanket, and a quilted hood included. The overall weight is approximately 21 pounds for bag alone, and then a beautifully made zippered storage bag is included.
My brother, a biologist, lived in Yellowknife in a Wall tent in his late fall camp in an unheated tent at over 40° below and these are the only bags known to Northern peoples back then. There's hours and hours of workmanship in these bags, and no matter the haters there is no bags on earth like this other than maybe a Jones Pioneer 7001 Robe.
Yes, Western Mountaineering, Feathered Friends, Valandre, Taiga, PHD, etc etc  make world class mountaineering bags, but if you're an old fashioned camper, hunter, outdoorsman, where weight is not an issue and you're lucky enough to find a good one that's not wrecked, then BUY IT. I buy and restore every one I can find.
Background
Try one out. Not made anymore, but pass on to next generation.
Source:

My Five Star was my best friend summer and winter for three years in the Canadian bush.
The geologist for whom I worked recommended I buy a Woods 5 Star Arctic bag. I was afraid of being cold.
I worked in northern Alberta, Saskatchewan, Manitoba, and Ontario for three years—summer and winter. I slept in comfort in my Five Star even in summer! We slept in tents and shack tents like prospectors of old. I was young then, in the late '60s and early '70s.
I lost my bag and everything else in a tent fire at a camp in Ontario. Tents go off like a bomb. My friend was long gone. I went back to civilization.
My Five Star bag was my best friend for years especially when it was -40°C. In summer, it kept the mosquitoes out. It gets cold at night too.
Background
I slept naked even when it was -40°C.
Source: bought it new
Price Paid: hundreds of dollars

This is a serious cold weather bag. I've slept in mine in an open lean-to at -45°F and had to get up and take clothes off to cool down. On the heavy side, but this bag is worth it. Only used it a couple of times and now not camping anymore so will soon sell it.
Pros
Warmth
Dual bags can be used seperately
If doing serious cold weather camping I wouldn't touch anything else.
Source: bought it new
Price Paid: $450

I bought my 5 Star in January of 1977 and retired it this last spring. I have many stories to tell about that bag; it became more of a friend than a piece of equipment. 
I have worked in bush camps all over the north and Canadian Arctic. I'm not sure what the coldest night's temperature actually was—the diesel fuel feeding the heater froze, as did a bottle of whiskey (well, half froze anyway). Somewhere south of -60° I guess.
Suffice it to say that that was the most comfortable sleeping bag, winter or summer, I have ever had. I never was first out to stoke the fire in the morning. If the new bag is as good as the old and the size/weight are not a problem, then this should be the last bag you ever buy.
I live in the Western Arctic and there is nothing that compares to this 5-Star Blanket. I used it for over forty years trapping and hunting and it still is warm. Please do not stop making them, continue this legend of blankets.
Pros
If you need to, you can sleep in your sled at 50 below Celsius and this is for real!
Cons
A bit heavy but, worth the weight!
We need a similar kind of 5 Star as nothing comes close to this brand that Woods Canada made.
Joe Nasogaluak Tuktoyaktuk, Northwest Territories
Background
I only know of this brand of 5 Star and nothing else! It reminds me of the song "Nothing Compares To You"
Source: bought it new
Price Paid: I forgot, expensive but, after using it, I knew it was an investment!

I am trying to find another one and any info on the company I can find. I bought mine at an estate sale years ago. It is canvas with an eiderdown fill and wool liner. I have camped off a horse with this bag from central Texas to the Colorado Rockies and it's one of the most utilitarian pieces of equipment I have ever owned, provided that weight is not a factor.
If anyone has info to share I would love to hear it. Finding info on the Woods Company (like a website for crying out loud) has been, for me at least, as fruitful as searching for The Holy Grail.
Thanks,
GS
Design: Rectangular
Fill: Eiderdown
Temperature Rating: Hell Freezing Over
Weight: 7-8 pounds
Price Paid: $15 garage sale

Worked on the north slope in the sixies and several years after that. Had an eider down bag and when the oil stove quit it sure felt good. Worked all over the north slope and over to Anuvik, Canada.
Pros
I never knew any other sleeping bag as good as the Woods Bag
This was a very heavy bag and was warm at sixty below.
(Gary A Wiles, Anchorage, Alaska)
Source: Company bought our winter gear.

The warmest sleeping bag on the market.
Pros
It has two down bags, so you can remove one if it is a bit warmer.
I used this bag in Northern Saskatchewan while working in geology. The temperature was minus sixty degrees Fahrenheit. I was cool, but at that temperature, what do you expect?
This is the best sleeping bag I have ever owned.
The sleeping bag is bulky, but will endure a lot of punishment. The bag can open up fully and be used as a comforter if necessary. This bag will keep you warm at -40 degrees.
Source: bought it new
Price Paid: $500

I used my Woods Arctic 5 star on a recent Wyoming elk hunt. We had snow and temps down to -8°F. I didn't even have to zip this bag up!
It is truly a cold weather bag and I'm sure will meet the manufacturer's claims of comfort to -40°F. The comfort and quality are excellent and I would recommend this bag to anyone wanting to stay warm in COLD weather.
Design: large rectangular
Fill: duck down
Temperature Rating: -40F
Weight: 20
Price Paid: $410 US

Woods 5 star was the best bag I've had. I'm looking for another one. If someone sees this and has one please call 406-546-2700
The bag was great for late-season hunting trips in wall tents. I need another one.
Background
Loved it
Source: bought it used

Warm. Durable.
Pros
Warmth
Ideal for very cold weather
Used it in Auyiuttuk National Park while sleeping in an Igloo, also in a canvas tent in Northern Greenland, both times in early spring, which is still a Canadian winter equivalent high Arctic.
Solid material. This was in the '80s. Good as new.
As above. Used in the Arctic and survival gear in small aircraft.  Awesome product.
Background
Bought it for survival gear as flew in bush planes in the north
Source: bought it new
Price Paid: Can't recall exactly as I puchased it but the neighborhood of $400 comes to mind

Your Review
You May Like
Specs
| | |
| --- | --- |
| Price | Reviewers Paid: $15.00-$800.00 |
Recently on Trailspace