Woolx X704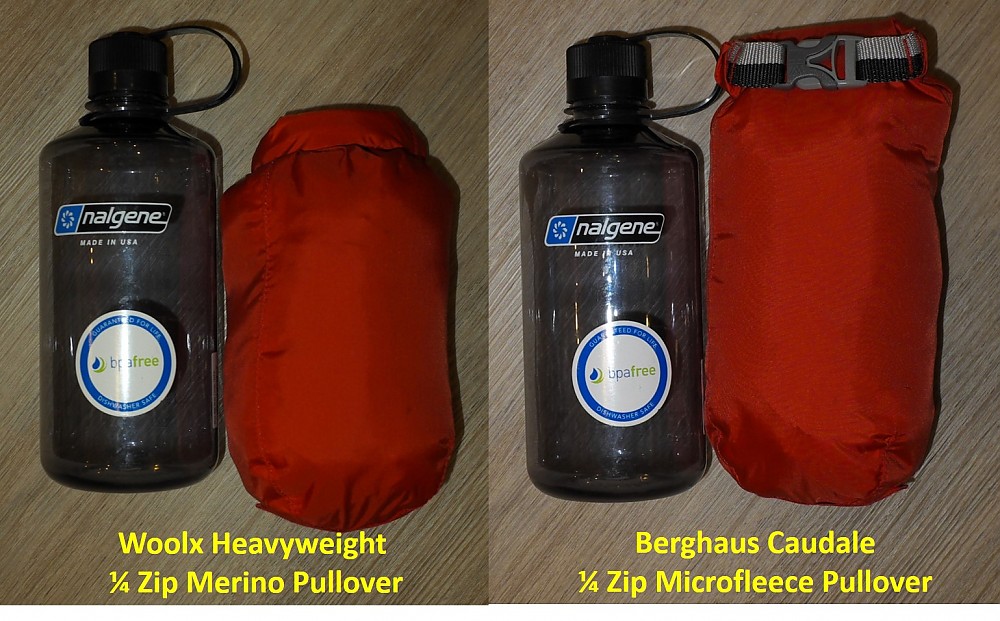 The Woolx X704 1/4 zip heavyweight merino pullover made from 100% Australian Merino Wool (400g/m2, 18.5 Micron) is impressively warm for its size (volume and weight). The attractive design and well-fitting athletic cut, combined with its excellent performance in a wide range of conditions make it an ideal mid layer for all manner of outdoor pursuits.
Pros
Very warm for weight and pack size
Attractive design (minimal branding)
Excellent fit for high activity (athletic cut)
Warm when wet
Reasonably durable for merino
Remains odour free for prolonged periods of time
Cons
Lacks chin guard which can lead to getting hair pinched
Expensive (reasonably priced for merino, but pricey for a mid layer)
Colours limited to black and blue (but it is a very nice blue!)
Stitching can be executed a little bit "cleaner"
From Woolx: A heavyweight ¼ zip pullover made from 100% Australian Merino Wool (400g/m2, 18.5 Micron).
Fit/Adjustability:
My measurements are a 43-inch chest and 33-inch waist. I typically take a size medium quite comfortably. This was no different for the Woolx heavyweight merino top. As can be seen in the photos below, the cut is somewhere between "regular" and "athletic"… i.e. it fits a bit snug. This makes it great for fast paced activity and even better for layering underneath other items of clothing. Though it is not too snug, and I could comfortably fit a long-sleeve baselayer top underneath it.
The sleeves are also adequately long that they never ride up regardless of your activity. The cuffs are wide and fit just a bit more snugly than the rest of the arm. They are not elasticated and there are no thumb holes. However, I did not feel they were needed. The torso is also both sufficiently long and well-fitting enough (for me), that it does not ride up leaving you with a cold back.
Being essentially a sweater, there is no adjustability to speak of other than a ¼ zip for ventilation.
closeup of sleeve cuff
Features/Construction/Durability:
On the surface this is just a nice looking sporty sweater, so what makes it special and worth reviewing? What Woolx has done is make a nicely cut athletic midlayer out of heavyweight merino (400g/m2), which they claim is one of the heaviest on the market, and is certainly heavier than any I have owned before (300g/m2 being the heaviest I currently own otherwise).
This makes it very warm (more details in the performance section), much like a 200+ weight fleece, but because of the design and materials it only has the bulk of a 100 weight microfleece top (i.e. it packs down remarkably small considering its warmth, see photo for comparison). The weight is around 465g for size medium tested.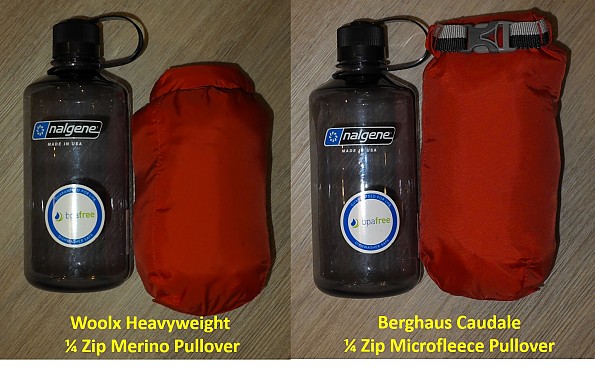 Here is the Woolx compared to a 1L Nalgene bottle. To the right is one of my 100 weight microfleeces, a Berghaus Caudale (weighs 140 g less, but is nowhere near as warm), which packs just slightly bigger than the Woolx!
Being merino wool lends certain advantages inherent to all wool garments including comfort in a wide temperature range, retention of insulating properties when wet, and antimicrobial properties (which means you can wear it for longer without smelling awful!). These points will be addressed in the performance section below.
Additionally, Woolx claims this product to be washable and dryable without shrinkage. While I cannot attest to the drying as I am a bit reluctant to try that having damaged other items with my dryer which claimed the same thing, I was able to machine wash this at 30°C with no ill effects.
There are several nice features for this garment, and a few that would have benefited from slightly better execution. First off, the entire sweater is held together by flatlock stitching which while lending a nice sporty look and providing a strong connection also limits points of friction on the underside of the seam. In theory this was well done as no seams have failed for me, and there are also no rough points that would make the sweater uncomfortable.
However, as pointed out in the photo below, the stitching could have been done a little neater, especially for a garment being sold by Woolx for $144.99 (from Woolx website). The excess fabric coming through the seam is starting to fray, and while it doesn't impact performance in the slightest, it is not the most attractive.
There are several other nice features for my tastes, and that is the minimal branding. It is just one small embroidered logo at the back of the neck (see photo below). There is also a "no rub" interior label, which just means that the label is printed on the inside instead of having a tag (why more outdoor products don't use this, I do not know).
Other features include a zipper garage (photo below), which tucks the zipper away neatly when opened all the way. This is a nice feature which lends an overall feel of quality and an air of a well thought out design. However, one important feature that I feel Woolx missed was the incorporation of a chin guard. Many serious outdoors people tend to be of the sparsely shaven variety and while there was no serious chafing, there were times that my hair got just a little bit caught in the zipper, causing some discomfort.
The final point is about durability. Overall, merino is not the most durable fabric, especially when dealing with thinner layers. While its performance is not effected, it tends to look a little worse-for-wear rather quickly. I expect this garment to be better than average in that regard as it is comparatively heavier weight to most merino garments on the market. So far, it has held up very well, and there is only minimal wear (described below).
Woolx claim a "non-pill" guarantee, and within reason they may be correct. Overall, after numerous outings, there is very little wear on the sweater, except for around the chest area. Because the sweater fits me a bit snug around the chest, it is subject to more friction and as a result is showing advanced wear (looking a little fuzzy) in that area (photo shown below). This is quite common for both merino and many synthetic garments, so I do not hold it against the manufacturer, it is just the nature of the fabric.
Performance:
Over the past few months I have used this sweater in a variety of environments, and in a variety of scenarios. Because it is very warm, and fits snugly it is best suited as a midlayer, but may also be used as an outer layer. I would however not recommend too much use of this as an outer layer under a pack as it will lead to faster wear of the fabric surface.
To test both its antimicrobial and insulating properties, I used this as an outer layer over a Mountain Equipment Crux long sleeve baselayer to run 4 miles, 4 times a week for two weeks in 30-40 degree weather (F). This was more often than not, too warm and I had to have the zipper undone (bear in mind I run a little hot). The sweater was very comfortable to run in, and with moderate amounts of sweat, it dried out reasonably fast. I also did not wash it for this time period, and was impressed that it never took on a bad odour.
I also used it for regular hikes through hilly/wooded forest trails, again in 30-40 degree weather. I typically wore a thin outer layer on top to both prevent "bag rash" and deal with harsh winds. It always kept me very warm (but not uncomfortably so), and undoing the zipper was usually sufficient to regulate heat. Any sweat accumulated would always dry out reasonably quick.
In order to test performance under harsh conditions, and also for my own general amusement I took this out on a terrible day in central Wales. The temperature dipping down to 7 F and winds in the 60mph area with incoming snow made for an interesting day out, and the perfect environment for a heavyweight performance mid layer to be tested.
I hiked up to Pen Y Fan (highest point in the southern part of the UK) up well defined paths, and then went off track, scrambling down the side of the mountain, into the valleys, crossing waterfalls, and making my way back up the side. There were moments of complete white-out, harsh winds which nearly knocked me over, and some very steep inclines. I covered 12 miles in 4 hours and exerted a lot of energy.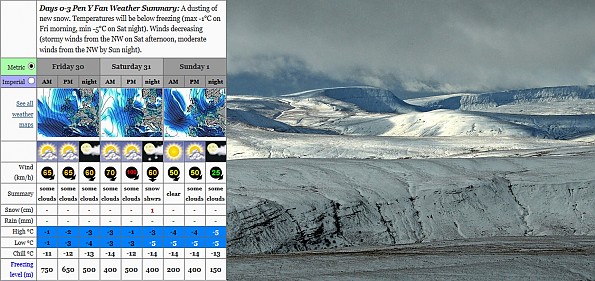 View of the Brecon Beacons from Corn Du (twin peak of Pen Y Fan) taken that outing, and the weather forecast for the day (Saturday)
I wore a Mountain Equipment Crux long sleeve baselayer underneath, and a The North Face Goretex Pro Shell on top, with pit zips actively being used to control heat and moisture. I packed a down jacket just in case, but I never needed it in spite of the cold temperatures. Even wet from sweat, I was always very warm with just this relatively thin mid layer.
The one downside though is that at certain points where it became saturated with sweat (chest, lower back), it did not dry for about 8 hours even when out of the cold. As such I have not used this top for any strenuous overnight trips as I don't have access to fire to dry, and it does not dry fast enough on its own even in warm environments (likely owing to its heavyweight nature).
Additionally, Woolx have a "no itch" guarantee, which I was monitoring closely while testing this item. I am quite sensitive to itchy garments, and so was delighted to find that even when my skin got damp, this sweater never became uncomfortable.
Conclusion:
Ultimately, and in spite of some of its shortcomings, this is a great item. It is an excellent mid layer for any manner of day hikes, whether relaxed or very strenuous, or overnight hikes provided there is access to sufficient heat to dry if very wet. Its warmth-to-pack size ratio is impressive.
The fit is excellent (on the athletic/snug side), and the garment itself is quite attractive even as casual wear. The durability is on par with what one expects from quality merino. That is to say it is not perfect, but that is the nature of the fabric, and within those confines it appears to be a very durable garment.
There are small things which can be addressed, such as cleaning up the stitching, and potentially the addition of a chin guard for the zipper. Additionally, while the blue and black currently available are attractive, an expanded colour range would be welcome.
Overall, for those who like using merino garments, I can without hesitation recommend this item. For those who aren't familiar, it is perhaps a bit of a gamble given the higher price tag of merino items, but I would say it is definitely worth a try.
Source: received for testing via the Trailspace Review Corps (Sample provided by WoolX for testing and review)

Your Review
Where to Buy
Help support this site by making your next gear purchase through one of the links above. Click a link, buy what you need, and the seller will contribute a portion of the purchase price to support Trailspace's independent gear reviews.
You May Like
Specs
| | |
| --- | --- |
| Price | MSRP: $170.00 |
| Microns | 18.5 |
| Wool | 100% Australian Merino Wool - 400g/m² |