Woop!Wear The Ultimate Field Pant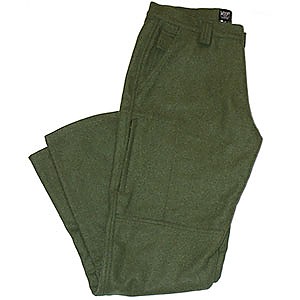 Woop!Wear's Ultimate Field Pant is a wool pair of pants perfect for the colder months, especially, but not limited, to snowy conditions. An absolute top-notch hunting pant, other uses include cold weather hiking, fishing, snowshoeing, bushcraft, and camping.
Pros
Thick wool construction (70/30 alpaca wool and merino wool)
Ankle open good for boots or shoes
Warm
Remains dry in most conditions
Snow-ready
Quiet when active
Comfortable, active fit
Reinforced knees
Cons
Excessively large belt loops
Compressibility
Limited sizes/colors available
Pocket fabric seems questionable
Conditions: 
I tested these pants from early autumn to mid-winter in the mountains and valleys of Central Pennsylvania (USA), and to a lesser extent in the Great Lakes region. The autumn and early winter were unseasonably warm, but by mid-winter, temps finally dropped and snow started falling. While wearing the pants, temperatures ranged from -10°F to 55°F. I wore these pants while hunting (both active and while on stand), hiking, camping, and fishing. 
Fit & Comfort:
True to fit. I regularly wear a 32 waist, 34 inseam pant, and that's exactly what these are. The fit is ideal in all areas—waist, length, ankle, upper and lower leg. The wording for pant styles differs drastically from one brand to another (i.e. what one company calls loose fit, another might call casual fit, while another calls it regular fit, and so on), so I don't want anyone to misinterpret this when I call these regular fit.
What I mean is they are neither baggy, nor tight. They are loose enough to fit a base layer underneath. The legs are straight throughout and ankles have enough room to fit a boot or shoe underneath but don't noticeably flair.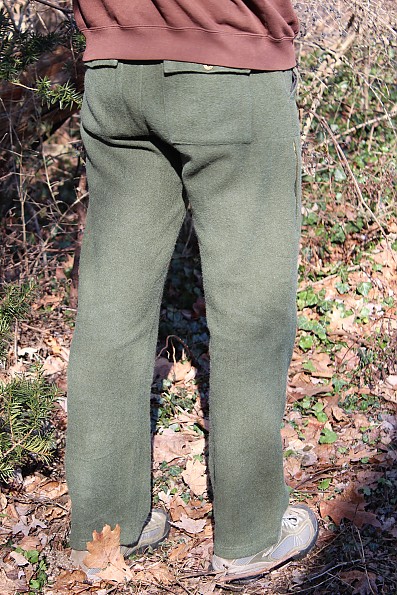 Although these fit me to a T, the sizes available to men are only even waist sizes between 32 and 42 inches and inseams of only 32 (regular) and 34 (long). I'm fortunate enough to fit one of these sizes, but I realize not everyone does. Woop!Wear produces a women's version of these pants as well. 
The pants are comfortable and non-restrictive, but are ideally worn with a base layer underneath (more on that below). The 70/30 blend (70% baby alpaca wool, 30% merino wool) is soft enough to wear without a base layer, but I find that in the colder temps, a base layer not only gets rid of the initial itch, but also adds warmth.
Snow-Ready and Water Resistance:
The truest test of how these handle snow was on a 3.5-mile loop hike in 18-20 inches of fresh powder (some were calling it a 10-year storm). Underneath these pants, I wore a polyester base layer, wool socks, and my 10" hunting boots. It took us nearly two hours to complete the 3.5-mile loop (yes, it was slooow going). In those two hours, my pants were covered 3/4 the way up my shins, and a couple times up to my knees, but my legs never soaked through. My legs remained warm, even when resting for upward of ten minutes.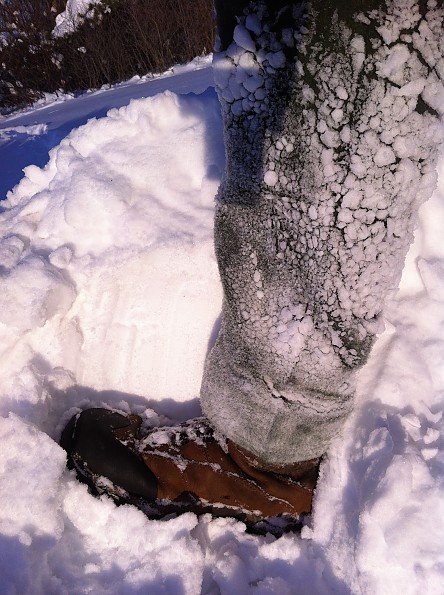 When hiking in deep powder, snow has a tendency to clump. Easy to brush off though. 



Warmth: 
I put these pants to three different challenges in order to test their ability to keep me warm. It should be noted here that I am generally warm-bodied, and try to be mindful not to overheat.
1) Hunting in 30-40°F (with base layer):
At this temperature, I tested it both while moving, and while still. When moving, these pants kept me warm, no questions asked. They were simply great. If anything, I had to be careful not to overheat, but that was mostly due to the steep inclines, descents, and rocky terrain that I was walking in.
I was carrying my rifle, as well as a pack with ~10 lbs. of supplies. While inactive (i.e. sitting motionless for hours on end staring at every little movement in woods), these were a good compromise of warmth, comfort, and lack of bulk. While I could have added my winter hunting overalls for additional warmth, the overalls also add considerable weight and bulk and I was fine without them.
2) Fly fishing in 30°F (with base layer and beneath a pair of chest waders) (water temp was 36°F):
These conditions were a bit tricky, but the pants, in combination with the waders, kept me fairly warm. I wish I could say the same for my feet. Mostly standing still for long periods of time with cold water rushing around the legs requires a warm bottom layer. These did a fine job and fit under the waders with ease, although some tighter-fitting waders may be snug.
3) Hiking in 15-20°F (with base layer) with 18-20 inches of snow:
As stated above, these pants did the job at keeping my dry, but they also kept me warm (which tend to go hand in hand in these kind of conditions). Even though these were cold temps, I was more worried about overheating than anything. 

The only time I felt these pants weren't keeping me warm enough was when I was still hunting in 20°F temps without a base layer underneath. I was sitting on the edge of a field and the wind turned on me head on. After a couple hours of this, I decided enough was enough and called it a day. I was cold head to toe, mostly due to the stiff, cold wind cutting through my layers, including the pants. With that said, they generally do fine in light to moderate wind, but will not keep out a cold, stiff wind like the one described above.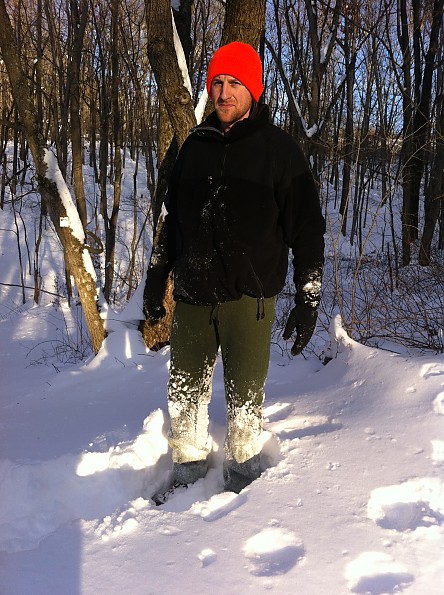 Layering: 
Although they are softer on the skin than most of the old school-style wool pants (think old school mid-70s black and red buffalo checkered hunting pants), I still felt a slight itchy at first without any full-length base layer on underneath. The slight discomfort went away, and I actually got used to them against bare skin. However, most of the time, the low temperatures required a base layer anyways, so more often than not, I was wearing a pair of polyester/spandex long underwear or a merino wool base layer underneath. Even in the thinnest of base layers, the itch is gone. 
These should not be viewed as shell pants, as there is not meant to be lots of room underneath for layers. One doesn't put these on top of their hiking pants, they themselves become your hiking pants. 
Because of this, they are easy to add an additional layer on top of. In my case, I added chest waders when fly fishing and my winter overalls when hunting (although I ditched the overalls due to being too warm).

Abrasion:
Putting on a drive while whitetail deer hunting will certainly give you an idea how your gear handles abrasion. Pushing through thick briar patches laden with thorns, whip-like shrubs, knot-strewn patches of vegetation, and up and over boulders, there is simply no way not to encounter some abrasion. Some hunters believe the big bucks hide out in the thickest of vegetation, so that's where I often hike through in order to get the deer moving.
Needless to say, these pants encountered rocks, thorns, logs, mud, and other elements. No rips, tears, or other visual signs of wear. Occasionally thorns would break off in the pants and I'd feel them scratch at my legs and pull them out.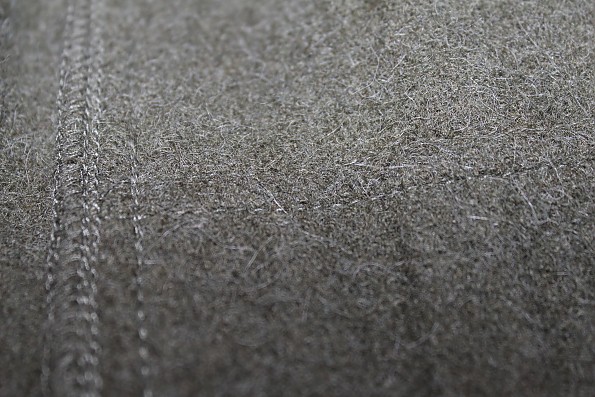 Close up of seams and material. 

Function:
There are six pockets on these pants:
Two standard angled hip pockets

A small coin pocket above the right hip pocket, which I've never used mostly because I never remember it's there and who carries change around anymore anyways?

A zippered inseam cargo pocket on the right side, which I used once for testing purposes, but didn't really care for. I'm accustomed to only having things in my front hip or rear pockets, so it was an abnormal feeling to have things in the cargo pocket. The pocket never got in the way though.

Two rear pockets, both with flaps and metal buttons (same button as the front fly). These work well and the button is very sturdy. I think the external seat pockets along with the flaps and buttons give these pants a slightly bulky look, but they function well nonetheless and are secure. Surprisingly, the metal buttons are not noticeable when sitting. Prior to testing, I thought for sure this would be an issue, but it was not. 
All buttons (except the coin pocket one which is plastic) and zippers (YKK) are metal, so they get cold to the touch, but function well. The pockets are easy to access with light gloves on, even rear ones with the buttons, but when wearing bulky gloves, it's easiest to remove them in order to access the pockets. 
Overall, the pockets work well and are adequate size. I think the coin pocket is somewhat unnecessary and the cargo pocket is neither here nor there. One area of concern is that the internal hip pocket fabric seems to be made from a lightweight cotton fabric that doesn't quite fit with the overall ruggedness and durable construction of the rest of the pants. While the pockets haven't been an issue thus far, I do worry about having to replace them over time.

One of the areas in which I don't particularly care for are the large belt loops. It's not so much the width of the loop (which is large and accommodates wider belts, that's fine) as it is the diameter of the loops. In general, belts lay flat and don't take up too much room. I can fit three finger inside the loops with room to spare. I just don't see the need for this and think it adds some bulkiness as well as potential snag hazards. 

Noise, or lack thereof:
As a hunter, I am very aware of what kind of noises my clothing makes during activity. For example, a jacket might keep me really warm, but if it's loud while moving (i.e. swishing sounds), I'm not going to wear it while hunting. Likewise, some packs have plastic buckles that are simply too loud and squeaky for hunting trips. These pants are VERY quiet. They are the best hunting pants I've owned to date in terms of being noiseless while active. 

Compressibility: 
This is an area where wool pants like this simply cannot compete with their down competitors. These aren't pants you'd want to carry around just in case, as they will take up considerable room in your pack and weight on your shoulders. You either know you'll be wearing them, or you leave them at home. In many cases, it's easier to just put them on and wear them all day. As I said before, these aren't external shell pants, they become your hiking pants.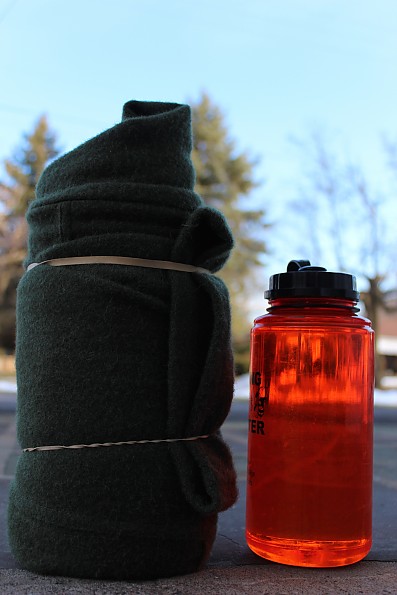 Pants rolled with rubberbands next to 32oz. widemouth bottle for size comparison.

Weight:
On my scale, the 32x34 size weighed in at 1.76lbs (28.2 oz., or 800g)
Construction & Style:
Upon first sight, I noticed the simplicity in the design and construction of these pants. Nothing seemed fancy about them. The more I looked them over and later tested them in the field, the more I realized I was right. They are simple, well constructed, and nothing frivolous. They don't scream "look at me," to passersby, which I kinda like. Stylistically, these wool pants are much more in line with my grandfather's circa-1960s wool hunting pants (although these ones are much, much softer on the skin) than most other hiking/hunting pants on the market today. 
The seams appear well stitched, and remain perfectly intact after three months of use. 
The knees are double layered to provide some extra padding and fabric in the area which typically wears out first for a lot of men (e.g. my jeans always rip in the knees before anywhere else). The extra layer in the knees doesn't seem to add any noticeable bulk.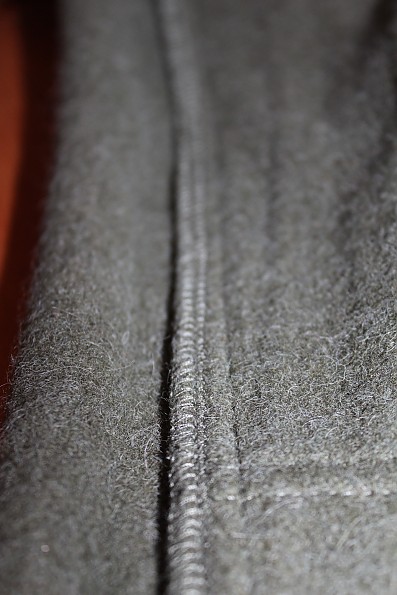 Care: 
Machine wash, air dry. Simple as that. Many hunters use a scent blocking detergent for their hunting garments, but for testing purposes, I kept to my regular mild detergent. While field dressing a deer, I got some blood on them. That evening, I tossed them in the washer with no stain remover whatsoever and all signs of blood were gone. 

Value:
MSRP is $189 and I feel that is a reasonable price to pay for these well-made wool pants. Many older winter weather hunters are still wearing their wool pants made in the 1960s, '70s, and '80s, not because these men and women are cheap, but because wool pants tend to last for many years when taken care of. While I'm not making any long-term claims of these pants, I do have every reason to believe that they will perform for many years to come. That is something I try to consider when making any gear purchase. 
As for the $189 price, my research suggests this is perfectly in line with others in this field, and I would add that most competitors don't offer full-wool pants. Most others have nylon, acrylic or other synthetic blends. When comparing to high-quality down pants, the price tag remains competitive.   
Conclusion/Recommendation:
For hunters who are willing to think beyond camouflage, these pants are perfectly suited for cool and cold weather hunting, either active hunting or on stand. For hikers and campers, these are great for cold conditions, especially in snow. For anglers, these fit easily under chest waders and add a considerable amount of warmth when cold weather fishing. In all circumstances, I recommend a base layer, but it is not essential like it is many other wool field pants.
Acknowledgment: 
Many thanks to both Trailspace and Woop!Wear for the opportunity to test this product
Source: received for testing via the Trailspace Review Corps (Sample provided by Woop!Wear for testing and review)

Your Review
Where to Buy
Help support this site by making your next gear purchase through one of the links above. Click a link, buy what you need, and the seller will contribute a portion of the purchase price to support Trailspace's independent gear reviews.
You May Like
Specs
| | |
| --- | --- |
| Price | MSRP: $189.00 |
| Fabric | 70% baby alpaca wool and 30% merino wool |
Recently on Trailspace