Zamberlan Civetta GTX

The Civetta GTX has been discontinued. If you're looking for something new, check out the best backpacking boots for 2023.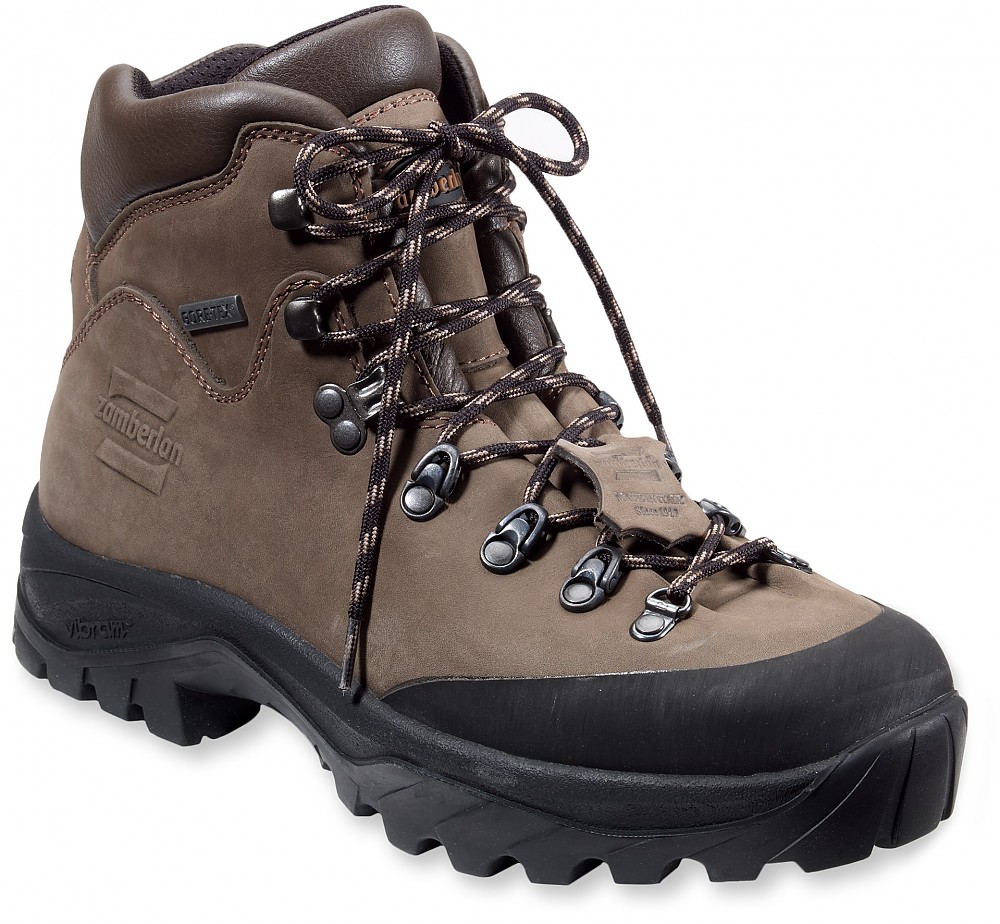 I've owned a pair of Zamberlan Civetta GT Boots for two years now and have worn them for 12 to 15 hours a day, seven days a week, where the boot were almost constantly wet.
I got them because I was on my feet so much and walked several miles a day walking dogs, etc. I had developed such bad foot pain that I was becoming very limited in what I could do until I got these boots.
After two years of this type of use, they have about had it. I gave them moderate to good care. The only problem I had was with the wrap around sole near the ball of the foot that is molded up on the side a bit. Since I was re-finishing an old house with them, they were bending at the ball area constantly so some separation occured. A little "Shoe Goo", which I used two times, worked well to keep them together.
I see REI offers another model now called "Pro Trek" that looks to be the same construction but has a toe shield that comes past the ball area... this might help, but this boot isn't Gortex lined..... The Civetta did start leak after about 1 1/2 years of this use... I killed them and will own a new pair soon!
The design of the boot allow the addition of a thicker insole then came with it, a Sorbothane Ultra sole...... The boot seems to allow any size sock as well and they fit like a glove.
Materials: Leather
Use: Medium Hiking, every day use
Break-in Period: Very little
Price Paid: $170

Version reviewed: Gore-Tex
When shopping for a pair of boots for the AT. I was encouraged by all the members at my local REI store to go with these instead of my original favorite, Vasque. T
he boots are almost a year old and I have used them on and off for work and day hikes. They've been on several weekend trips, and wear very well, but the fit is all wrong. Also, I just got done doing an overnight sub-zero camping trip in the snow and was not impressed with how they held up to cold conditions. Also, the boots don't form-fit at all, and it feels as if they still need breaking in (not at all possible. I've walked over 100 miles in them.)
Overall I would probably give them a 5.5 on a 1-10 scale. The biggest complaint I have: they don't fit, still. I'm a straight 9 1/2 shoe size with no irregularities with width or arch, and wouldn't dare take these out for longer thatn a two day hike.
My next pair will probably be Vasques again.
Materials: Leather
Use: heavy pack
Break-in Period: 3 mos.
Weight: 67lbs
Price Paid: $175

Boots were extremely comfortable in the store and on short walks following purchase. Gave me a false sense of security so wore them on a week-long 45 mile trek, that included a number of steep passes. Got blisters on my heels the first day, so heels hurt the rest of the week—thank goodness for duct tape.
I do have boney heels though, although it's been years since I've had a blister. No other blisters, however, despite very rough decents, and the boots now seem to be broken in quite nicely.
Oh, boots were extremely water tight. Went through several small streams, and my feet stayed completely dry.
Materials: Leather
Use: general backpacking, including rough trail w/ heavy pack
Break-in Period: 50 miles
Weight: 3 lbs
Price Paid: $175

Version reviewed: Gore-Tex
These are amazing boots. I wore them for a day to the office and right after that to a rough trail in Sierra. I did not get any blister despite really strong support these boots provide. I carry medium format photo gear with me, pretty heavy stuff, I'd say 65 lbs or so, and it felt like walking on a flat concrete, not rocky trail.
The boots are absolutely waterproof (I treated them with nixwax, the water-based variety for nubuck), I stood in a raging stream with water running of the boots as if they were some kind of futuristic force field from StarTrek! Thank you, Zamberlan.
Materials: nubuck leather
Use: rough trail/cross country w/65lbs pack
Break-in Period: Zero!Zilch!Zip!None!
Weight: 1.5kg
Price Paid: $190 US

Version reviewed: Gore-Tex
These may be the most comfortable shoes I have ever worn in my 51 years. I know they're boots but damn I love 'em. I work in an office and I wear them to work. No break in period; good ankle support; absolutely waterproof through stream, snow, ice, etc; clean up very easy. I bought mine at REI and would recommend these to anyone. For the price they are a steal.
Materials: Leather (Nubuck)
Use: Hiked to Everest Base Camp and Kala Patar. Many, many hikes in SoCal.
Break-in Period: Absolutely none.
Weight: 3-4 lbs.
Price Paid: $195

Pros
I never got a blister, did not rub from day 1. Extremely comfortable.
The sturdy sole is great if walking on rocky or uneven surfaces. There is no way you would get stone bruising.
Cons
Although sturdy, these are heavy boots, and for a female I felt the soles were too thin for the length (or I didn't have enough weight to put behind them). After walking for 2 weeks the soles still were like walking on slabs and unable to bend. I found this difficult for downhill hikes or stairs.
These are great boots. My overall impression was that these were great boots (if they would give a little in the sole) and probably made for a heavier person. 
Materials: Gortex
Use: Rough trails, short day hikes

Your Review
You May Like
Specs
Men's
Price
Historic Range: $139.83-$199.93
Reviewers Paid: $170.00-$195.00

Weight
800 g

Women's
Price
Historic Range: $184.93-$264.95

Recently on Trailspace