Zelph's Stoveworks Modified Starlyte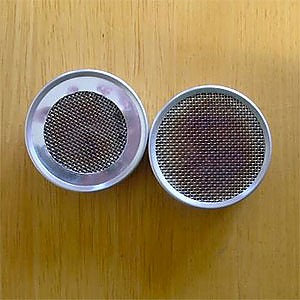 The Modified Starlyte alcohol stove from Zelph's Stoves is a great stove mainly for water boil that is ultralight, very fuel efficient, and safe to use. It holds fuel inside of it and won't spill, and it comes with a plastic lid to seal it off and minimize fuel evaporation when not in use.
Pros
Ultralight
Very fuel efficient
Stable
Spill-proof—safe
Holds fuel in suspension
Lid seals fuel in, minimizes evaporation
Minimalist design—no moving parts, nothing to break
Great for water boil only
Cons
Like any alcohol stove, can't fine-tune the flame
Not large enough for melting snow
Potentially could be crushed (but it's plenty sturdy)
This is a review of the Zelph's Stoves Modified Starlyte alcohol stove. Zelph is a true "cottage" manufacturer, just one guy (Dan) who tinkers in his hobby shop to come up with mostly alcohol stoves and sometimes re-worked cooking pots. Oddly, Zelph's website is woodgaz-stove.com (even though none of his current offerings are wood-burning stoves). I am not affiliated with Zelph in any way.
The Modified Starlyte is one of several alcohol stoves that Dan makes and sells. The old, original Starlyte stove had a built-in pot stand, but the Modified Starlyte differs in three ways:
no pot stand
has a simmer ring
comes with a lid
Otherwise it is identical to the original Starlyte (BTW Dan has re-worked the original Starlyte so that it no longer has the built-in pot stand and also now comes with a lid). The Modified Starlyte is less than an inch high, 2.125" in diameter and weighs 0.59oz on my scale with lid.
The Modified Starlyte is a great stove for water boil for 1-2 people. It can be used for cooking as well but does not have the adjustability of a valve-operated canister stove. The Modified Starlyte is non-pressurized and requires a pot stand (you cannot sit your pot directly on top of the stove).
Compared to other alcohol stoves, the Modified Starlyte stands out in several ways. The stove has a porous material on the inside of it (I believe it is carbon felt but I'm not actually sure) and a small plastic lid. The porous material inside the stove does not burn up, and it will "hold" the alcohol fuel in suspension, which has a few distinct benefits. EDIT: just read a post from Dan, make of this stove, on another forum that he does NOT use carbon felt as a wicking material in the Starlyte.
First, it means that the stove can't spill if tipped over (unless it's overfilled), and spilling is one very dangerous downside to alcohol stoves in general that this stove overcomes. Second, it means that you don't have to worry about exact fuel measurements because whatever fuel you put into the stove that is not used on a given burn will be held there until next time to be used. So, no wasted fuel, and no need to fiddle with trying to recover unused fuel. Third, the lid seals the top when not in use so that any fuel left inside the stove won't evaporate away. In fact, for a short overnight trip you could put fuel in the stove before you leave and not even need to bring a fuel bottle.
The simmer ring that distinguishes the Modified Starlyte from the regular Starlyte cuts down on the surface area of the stove's burn area, effectively choking the flame down to a smaller diameter. This makes the already fuel-efficient Starlyte stove into an even more fuel-efficient stove (with the tradeoff of longer boil time). And, with the lid preventing evaporation, you are guaranteed to be able to use every drop of fuel you put into it.
I must admit that when my Modified Starlyte arrived when I bought it in 2014, the first thing I did was to pull the simmer ring out of the stove's housing. I don't recommend you do this, honestly I'm not sure how I did it without destroying the ring or the stove but somehow I did. This gives me the flexibility to use the stove as a "regular" Starlyte without the simmer ring or to place the simmer ring on top of the stove to still use it to trim in the flame's diameter for ever greater fuel efficiency (if you want that flexibility I suggest you ask Dan to not install the simmer ring inside the stove housing and to send it loose in the box).
Still, without the simmer ring, in my Caldera Cone setup my Starlyte stove will bring two cups of water to a boil on only a half fluid ounce (15ml or about 12g) of fuel in about seven minutes (this is without using the simmer ring—with the simmer ring the boil will be about 10 minutes and will use even less fuel).
So clearly the Modified Starlyte is extremely fuel efficient—by needing very little fuel to achieve a boil, by preserving unused fuel in the stove, and by prevents the fuel from spilling or evaporating. It also saves weight by not needing a stove snuff to extinguish the stove, you can extinguish it with a single quick puff from your mouth, a little strong than blowing out a candle.
The Modified Starlyte is recommended in particular for Caldera Cone type setups, which traps the heat from the stove very well and also serves as the pot stand. In fact, it was the cone that inspired Dan to develop the "Modified" version of the Starlyte in the first place to keep the temps from getting too hot inside the cone. However, I have found that the Starlyte without using the simmer ring does not get too hot for my setup (the Fosters beer can pot "Keg-F" Caldera Cone) and gets me to that boil a little more quickly.
The stove fits inside the Fosters beer can when I pack up my cook kit to keep everything organized and protected.
Another great feature of this stove is that it cools very quickly once extinguished—depending on outside temps, within just a couple of minutes after extinguishing it I can pick up the Starlyte with my bare fingers and put the plastic lid on without it melting or deforming. Keep in mind that the reason it cools so quickly is that it is made of very thin aluminum (think of the little metal holders that tea light candles come in). Since the metal is so thin there is the potential to crush this stove if you stepped on it, but it is plenty sturdy for normal handling.
I've used this stove on all trips for over three years and it has performed flawlessly. The stove is well made and has had no performance issues in my usage. It's great for 1-2 people—I have the 750ml Fosters pot for solo and a larger "Conquistador" beer can pot (945ml) that I can bring for two people to boil about 3.5 cups.
You can cook real food with this stove, however as with other alcohol stoves you do not have the ability to fine-tune the heat like with a valve-operated canister stove. At least by having the simmer ring separate from the stove you can have two "settings" with this stove for some flexibility.
If you need to melt snow for drinking water on a winter trip then this stove is not your best choice, simply because its fuel capacity isn't large enough to burn long enough to melt as much snow as you'll probably need to.
Zelph does sell two larger versions of the Starlyte, one that is a little taller and holds 3 fl oz of fuel in suspension, which is a great choice for melting snow, and also one that has a larger diameter that can be used for a larger pot when cooking for multiple people.
The Modified Starlyte: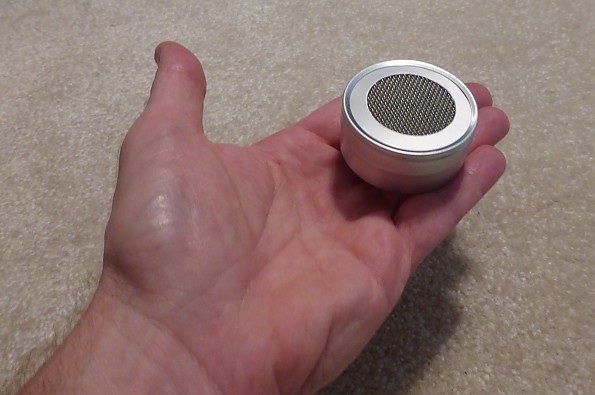 With the simmer ring separated: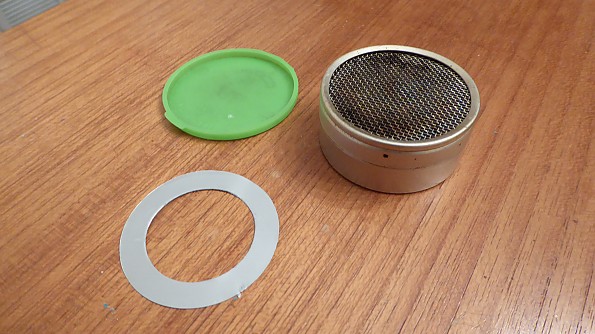 I can still use the simmer ring by placing it on top of the stove: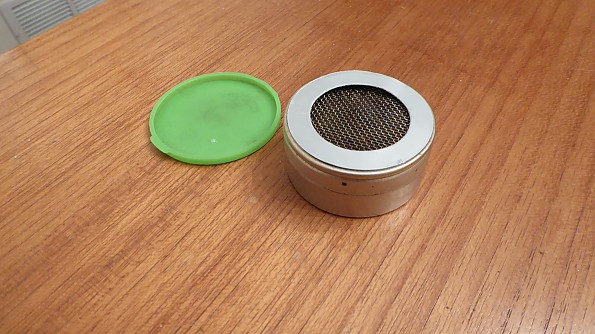 It fits nicely inside my beer can pot (which is one of the narrowest pots people use, so it will fit in just about any pot):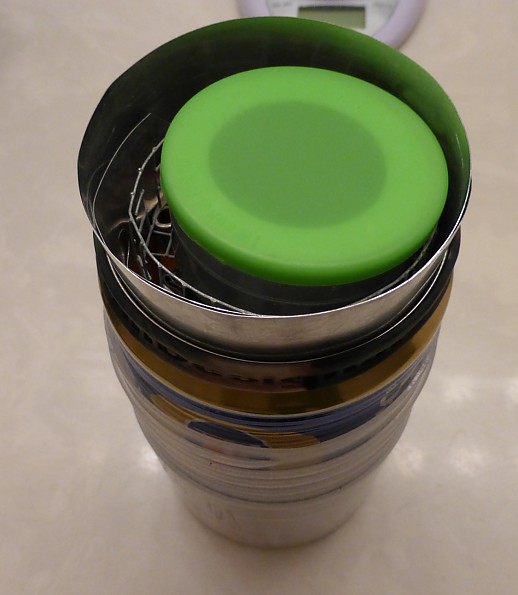 I don't really have any "action" shots of this stove in the field because it's always inside the Caldera Cone, here is a shot where you can see it inside the cone, on top of a little stove stand I made out of hardware cloth: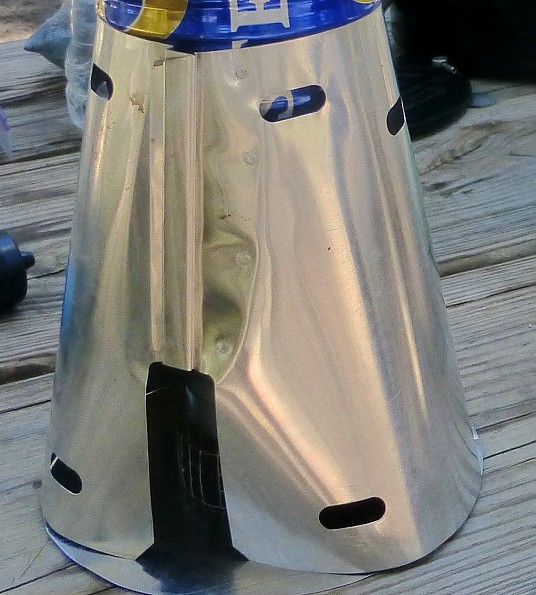 EDIT: As a follow-up to my reply to Phil's comment (see below), here is a pic of the stove stand I made out of hardware cloth. Each square is 1/4", so so the height of 3 squares raises the stove by 3/4", such that the top of the Starlyte is now the same height as the top of the 12-10 stove that comes with the Caldera Cone (and that the cone is optimized for):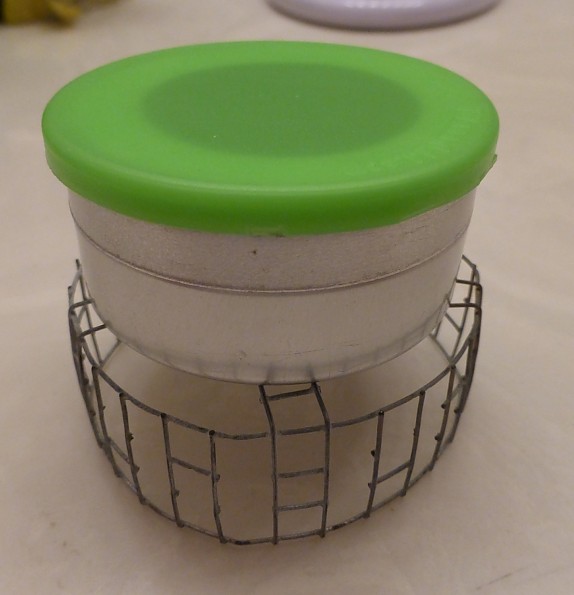 I made the stove stand slightly wider than the stove itself, for two reasons. First, it gives the stove a little better footing to be sitting on top of the stand, and second it allows the stove to nest inside the stand for storage: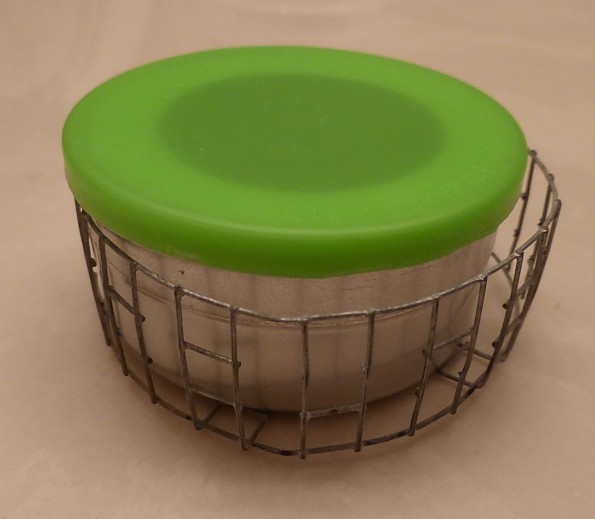 The stove stand adds only 0.14 oz (about 4g), which I figure I can more than save in fuel weight for the extra efficiency it provides.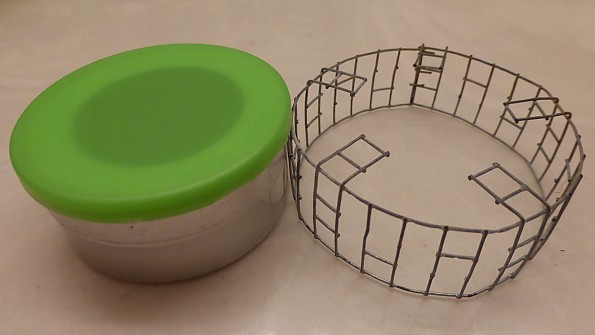 Source: bought it new
Price Paid: $13

Most fuel efficient alcohol stove I have found so far and absolutely safe in use.
Pros
Lightweight
Ease of use
Safety
Economic
Cons
Needs potstand and windshield
I've had this stove for about two years and use it in summer when the country is dry and the fire risk high also on long trips as it is by far the most fuel efficient and that saves weight.
Use is simple—pour fuel over the fill and ignite, no waiting time just put your pot on. The burn time is about 25 minutes with a full fuel load and a boil time varies from 4 minutes for 350 ml water to 6/7 for 700 ml. The screw cap serves as a snuffer and also saves unused fuel.
Cooking as such is not possible, but boiling water for dehydrated food is what it excels in. Ironically the best pot for efficiency is my stainless steel GSI mug with a lid added; boil time is faster with this than my 750 aluminium pan, and the worst by far the Toaks titanium; at a guess this is all about heat transfer efficiency.
I love the safety of this stove—non-spill, no leaks, and wide area for filling. For added safety I use a foil placemat under it.
Experience
I have a Trangia, a super cat, an Alocs set, and a penny stove and have used alcohol stoves for many years.
Source: bought it new
Price Paid: $5.00 nz

Your Review
Where to Buy
Help support this site by making your next gear purchase through one of the links above. Click a link, buy what you need, and the seller will contribute a portion of the purchase price to support Trailspace's independent gear reviews.
You May Like
Specs
Price
MSRP: $13.00
Reviewers Paid: $13.00

Dimensions at lid
2 1/8 in / 55 mm diameter x 1 1/16 in / 27 mm tall

Weight w/lid
.6 oz / 17 g

Capacity
1 oz / 30 ml

Recently on Trailspace