ZJ Sport Epic Medium Wing Paddle

#7 in Kayak Paddles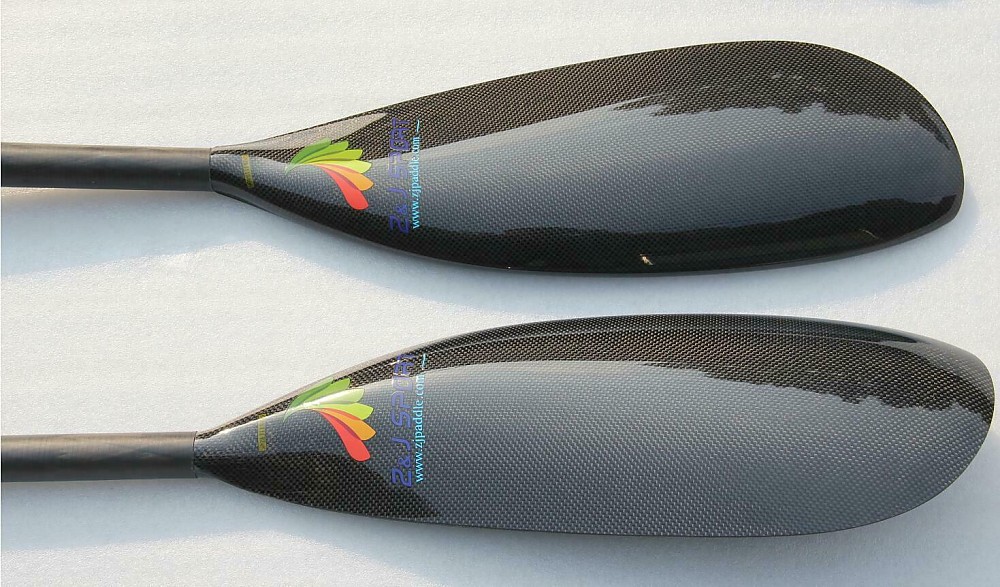 Specs
| | |
| --- | --- |
| Price | Reviewers Paid: $330.00 |
Reviews
1

review

5-star:

1

4-star:

0

3-star:

0

2-star:

0

1-star:

0
Amazing build quality at any price and cheap to boot...
Pros
Beautiful
Lightweight
Customizable
Incredible build quality
Comes with paddle bag
A third cheaper than competition
Cons
Mail order from China
May be difficult to demo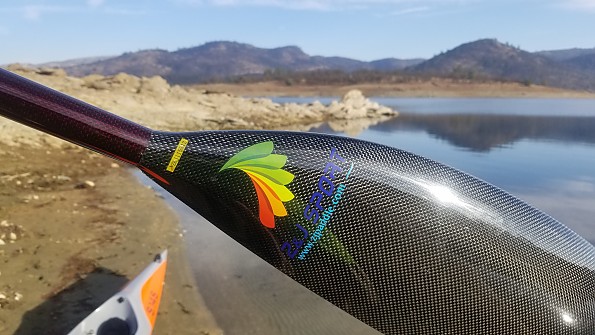 I recently purchased a Stellar S18S from a Florida shop and the owner wouldn't take no for an answer on a wing paddle, since I didn't already have one. I told him I have a very nice Werner Cyprus paddle that I'm quite fond of, and I'd maybe check out and purchase a wing paddle at a later date, but he'd have nothing to do with it. He sent the paddle along with the boat (I live in California) at no additional charge and told me if I didn't absolutely love it he'd take it back no questions asked; and if I did love it I could just send him a check whenever. So how do you turn that down? I surely didn't.
When everything finally arrived, I was intrigued by the nice, embroidered paddle bag because I'd never heard of the brand before; though the shop I purchased from is extremely high end. So I looked them up and was quite surprised to learn that they are a Chinese manufacturer who sell mail order; mostly on eBay. I contacted the shop and was assured that the product was the same as the name brand guys, but a lot cheaper. Well, what I found in that paddle bag did not disappoint....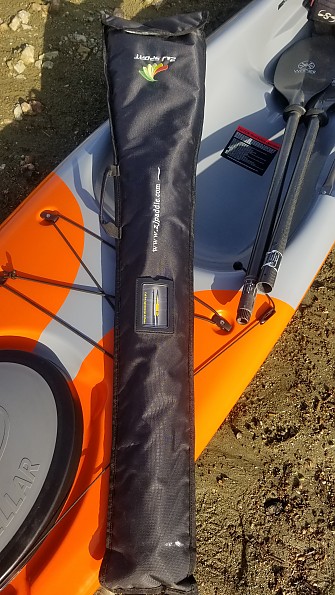 Z&J Sport is a paddle manufacturer located in China. From what I can tell they sell direct to the public, predominately on eBay. They have been in business since 2007 and state that they strive for perfection, put the customer first, and believe in service after the sale. You can learn more about them here....  http://www.zjpaddle.com/en/proclass.asp?pid=7
So what is a wing paddle, anyway? Well, it's a specialized paddle made for paddling longer, more narrow boats, straight and fast. Everything else is an afterthought; in fact everything else isn't even considered. It actually has a leading edge and creates lift just like an airplane wing, which is where it derives its name from. This translates to more thrust per input.
It's not very good for a sweep stroke, sculling, etc. It also requires more pull than a standard touring paddle. While it will not automatically make you faster, it will help you develop a better technique, and cause you to use more appropriate paddling muscles in your core. As a result you will eventually become more powerful in the water and thus faster.
You should understand that it does not do slow. Even at a reduced cadence you will be moving quickly. If you are into fitness, this is your paddle. If you're a leisurely paddler, not so much. It not only requires more effort to pull, but also a completely different technique. Do it wrong and it might just pull straight down and flip you over! So wing paddles are not for everyone.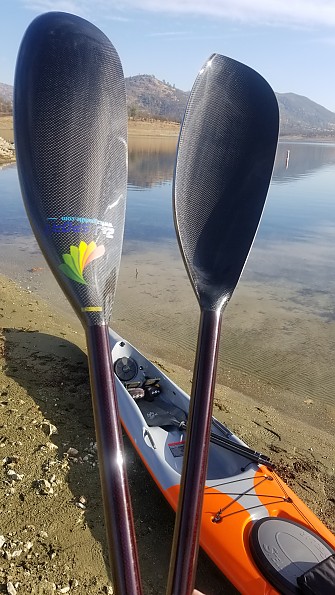 So with that out of the way, let's talk about this Z&J. The paddle is basically flawless. The fit and finish are perfect. It is truly a work of art. Even my non-paddle friends and family have marveled at how pretty this thing is.
All cuts are clean and square. All edges and surfaces are smooth as glass. The layup is even and straight. I could find no obvious flaws in any of it. The entire paddle is expertly polished to a high gloss. The company logo and serial number appear to be decals placed under the resin.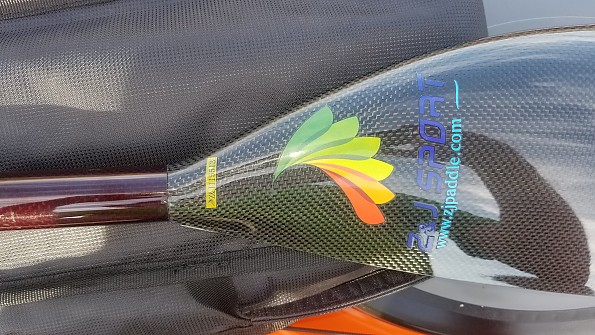 This is a two-piece paddle, and to me the ferrule is of major concern. I've had two-piece paddles that you can definitely tell are made from two pieces when you use them, as there is a sloppiness you can feel where the two halves join. In fact, this is the case with many if not most "no-name" paddles, and one of the reasons I'm so fond of Werner two-piece paddles as they are rock solid.
I'm happy to report that the ferrule used on this paddle is as sturdy as they come. The paddle feels as solid as a one-piece design while allowing both feather angle and length to be adjusted; not to mention the convenience of a two piece design. The ferrule is made of aluminum, with feather angle increments etched into the surface and filled in with white paint. I do wish the paint were black instead of white though, as that would make it easier to read. Z&J Sports also sells the ferrule as a spare part, available on eBay, which I think is a testament to their stated goal of service after the sale.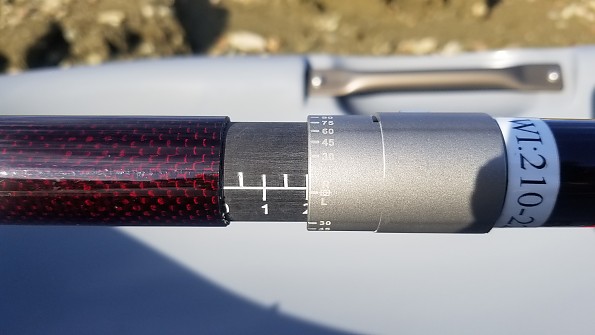 The two halves of the paddle slide together easily with a very precise fit and zero play. The inside half is marked with lines every half centimeter and these too are engraved into the surface and filled with paint. Here the white contrasts nicely against the black background making it easy to read.
Engraving the numbers and filling with paint as opposed to just screening them on takes more time, costs more money, and is definitely something you'd tend to find on higher end products. You can expect this to outlast screened on numbers, particularly on the inside shaft where the two halves rub together every time you assemble and disassemble the paddle.
You'll find a small lever on the back side of the ferrule, which is used to lock the two halves together and in position. There's really not much to say about it; it moves smoothly and stays put when in the locked position.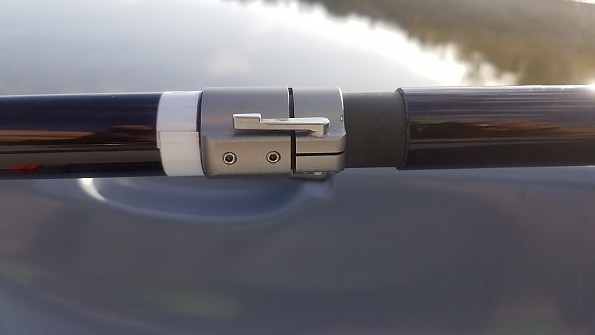 The shaft is not perfectly round but is instead slightly oval, though round shafts are available on other offerings. Because the angle of the wing in the water is critical, an oval shaft aids in keeping it properly aligned in your hands. This is actually true to a lesser degree with any paddle and I prefer a slightly oval shaft for that reason.
Shaft stiffness is also of concern as too much flexibility will waste precious energy and too little will tear up your joints and muscles. When ordering a paddle from Z&J Sports you have three options (yes, even on eBay). A green shaft is 100% carbon fiber, extremely stiff, and recommended for sprinting. The red shaft is 90% carbon fiber, a little flexible, and the most popular choice. The blue shaft is a 40% carbon fiber hybrid and quite flexible. That one is recommended for surf competitions and the like, where heavy bracing and impacts occur frequently. Finally, you get to pick a length range.
The paddle I have is a small-mid wing which obviously means the blades are smaller than a mid or large wing paddle. A larger wing would require more effort to pull in trade for more thrust. Think large wing for sprint racing, mid wing for marathon racing, and a small-mid wing for a sea kayak. My S18S is a fast sea kayak-surfski hybrid and I do like to travel far, though I'm not a racer. So the small-mid wing made sense for me.
As noted earlier, they have an odd shape that makes them immediately recognizable. They're also tilted a little to one side on the end of the shaft, for lack of better terminology. They are attached to the shaft cleanly and securely and bestow total confidence in their reliability.
In the water this paddle handles with authority and power. It works as designed and has no weakness that I could find. It feels just a wee bit heavier than my Werner Cyprus but the extra weight seems to be in the center, probably due to the aluminum ferrule and associated hardware. The longer end of the adjustable shaft probably adds a bit to it as well.  The difference is marginal and the actual swing weight feels very similar to me, so it's definitely not a deal breaker.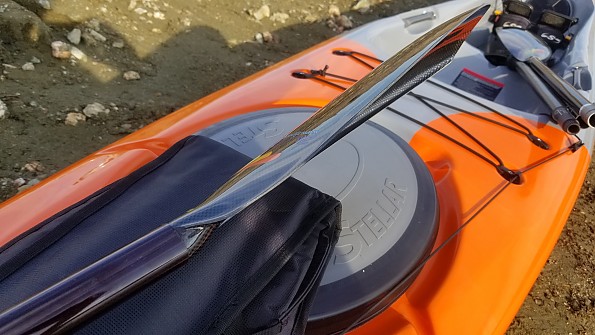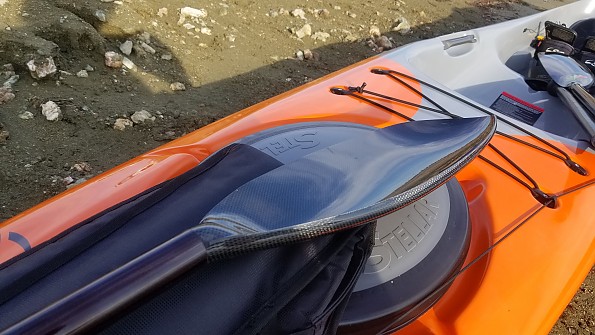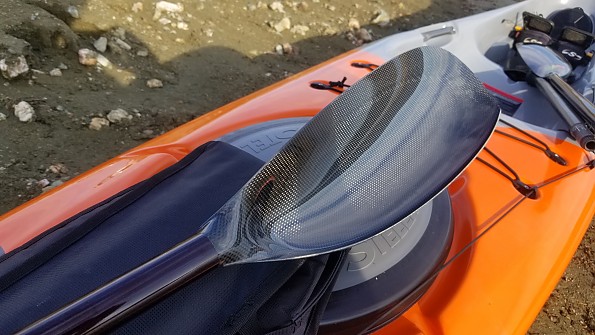 So about all that's left is the price. A paddle like this one from Epic or Stellar will set you back about $500. At $330 with a nice paddle bag it's an amazing deal; and to be clear that's $250 for the paddle and bag plus $80 for shipping. I can not flaw it in any way.
The shop owner I purchased it from was correct. There is really no reason to shell out almost $200 more. For a third less I truly believe there have been no compromises. Add to that parts support and it's a no-brainer for sure. I wouldn't hesitate to purchase any paddle from these guys. They really do seem to live up to their claims.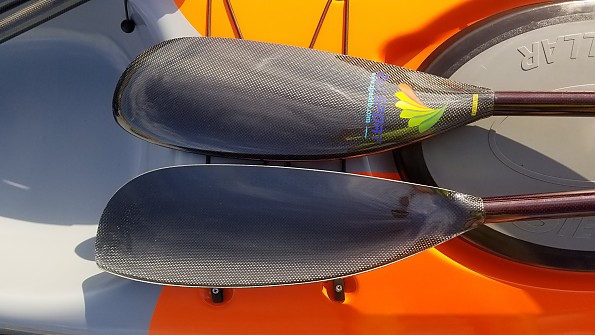 Experience
I'm just a guy who loves to paddle, and I've been at it for quite a while. Not a guide, a racer, or an expert... always a student.
Source: bought it new
Price Paid: $330

You May Like
Recently on Trailspace