Is Your Aluminum Bottle BPA-Free?
So you switched out your old plastic water bottle for a supposedly healthier aluminum bottle. That means no BPA, right? Not necessarily.
Even if you bought your aluminum bottle next to a BPA-free display, if you're using a SIGG or Laken aluminum water bottle manufactured before August 2008, or any other company's aluminum bottle, your bottle's inner liner contains some level of the endocrine disruptor BPA (Bisphenol A).

All aluminum bottles use an epoxy liner, unlike stainless steel bottles which need no liner. Until August 2008 all epoxy liners, even water-based ones, contained BPA. As of August 2008, all bottles manufactured by Laken and SIGG are being made with new liners that are certified to be BPA- and phthalate-free.
However, both old and new versions were still available in stores after August 2008. So, here's how to tell the difference with a Laken or SIGG bottle.
Look for this logo on a Laken bottle: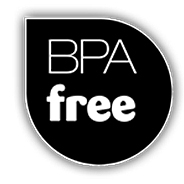 Look at the lining inside a SIGG bottle:
New SIGG EcoCare Liner

Dull pale yellow coating
Special powder-based co-polyester liner certified to be 100% BPA and Phthalate Free
Utilized in the manufacturing of SIGG bottles since August 2008

Former SIGG Liner

Shiny copper bronze finish
Proprietary water-based epoxy liner, showed no leaching of BPA
Found in SIGG bottles manufactured prior to August 2008
If you're using another company's aluminum bottle, most likely it is coated with an epoxy lining that contains BPA, regardless of when it was produced.
For more information:
Laken BPA-Free explained and testing proof

via SNEWS "Aluminum bottles you are selling may NOT be BPA-free" (subscription required)