Black Diamond Sprinter headlamp for light, fast, local runs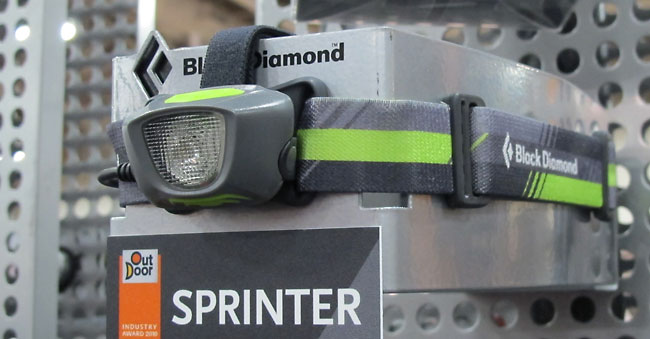 Where Black Diamond's forthcoming Icon-Polar is your light for the Iditarod, the Sprinter, is better for a two-hour trail run in your local state park or an early morning skin up your local peak. The Sprinter headlamp is all about light, fast, and local.
The 75-lumen headlamp is waterproof and designed for high-impact use, especially running. Its headband wraps over the head, in addition to around the temples, to provide extra stability, and Black Diamond claims it has "excellent fore-aft balance."
A red taillight strobe feature is available for runners who have to travel busy streets to get to the trailhead or who just want to be more visible to other runners and bikers on the trail. The rear-facing LED's strobe continuously when on, though the feature can be turned off.
The light's internal lithium polymer battery is rechargeable through a USB port in five hours, so you can leave your Sprinter charging in preparation for a quick dash out the door. With a max burn time of six hours on high (42 on low), the Sprinter is designed to light your way on quick, local, outdoor jaunts.
Weight: 3.5 oz / 100 g (with enclosed battery)

Lumens: 75
Max Distance: 45 m (high), 7 m (low)
Battery: Internal Lithium-Ion Rechargeable
Max Burn: 6 hr (high), 42 hr (low)
IPX: 7 (submersible to 1 m)
MSRP: $69.95
Available: Now