Black Diamond Icon-Polar lights up cold-weather climbing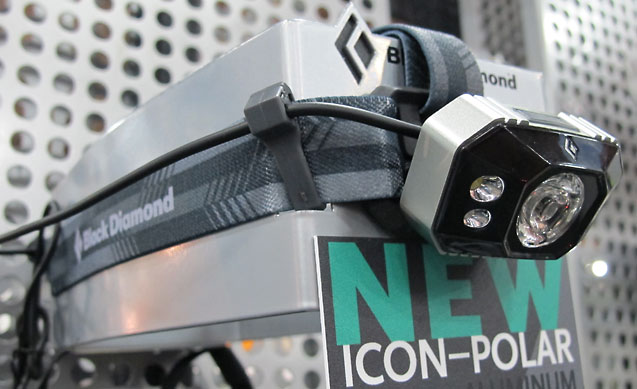 Black Diamond took its professional-level Icon — a waterproof headlamp with impressive 200-lumen output — and for winter use moved the battery pack from behind the head and into a separate compartment.
The resulting Icon-Polar headlamp is made for climbers and adventurers venturing into bitter-cold environments, and who prefer less weight on their heads.
The Icon-Polar's battery pack features a long lead that enables it to be worn close to the skin, a welcome feature for cold-weather pursuits.
It moves the battery pack out from underneath a climbing or skiing helmet or winter hat. Plus, it helps keep batteries warm and conserves their energy, increasing cold-weather performance.
The blazing Icon-Polar seems tailor-made for winter expeditions. Besides the battery pack move, it boasts all the same features as the original Icon from Black Diamond.
Quad-power LED's throw an impressive 200 lumens at max power, which is enough to illuminate the trail nearly 100 meters ahead. This might not be enough for dog sledding, but it's certainly enough for winter hiking, biking, and mountaineering.
Two single-power LED's throw 35 lumens, providing a softer option with longer battery life. Settings include full strength in proximity and distance modes, dimming, strobe, red night vision, and lock mode.
A three-level power meter shows you your remaining battery life for three seconds after switching on the headlamp. And like the Icon, the Icon-Polar is protected against water immersion down to one meter (3.3 ft) for 30 minutes (IPX 7).
Icon-Polar
Weight: 230 g / 8.1 oz (with batteries, same for Icon)
Lumens: 200 (max)
LED's: 1 QuadPower LED spotlight, 2 SinglePower white LEDs, and 2 SinglePower red LEDs
Max Burn: 250 hr
Batteries: 4 AA's
Available: August 2012
MSRP: $89.95