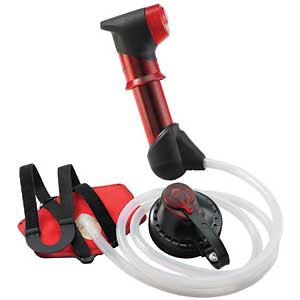 Earlier this year I reviewed a prototype of the MSR HyperFlow Microfilter. While the prototype generally performed very well, the outflow coupling (which attaches the filter to a water bottle) broke during normal use. At the time MSR said that problem would be fixed before the filter went into production.
Well, we've been testing a production HyperFlow, and the outflow coupling seems to be much stronger and better-assembled than the same part of the prototype. Even when I put it under exaggerated stress -- beyond what one would expect during normal operation -- the HyperFlow remained solid and performed well.
That said, it's worth reiterating that the HyperFlow should be handled carefully. The manual warns that the hollow-fiber filter element can be rendered ineffective if it's dropped on a hard surface -- even if you can't see any outward signs of damage.
Luckily the HyperFlow comes with instructions on how to test for filter damage. It's a rather lengthy process, so it's a good idea to practice the required disassembly and backflushing procedure before taking the filter into the backcountry. By practicing the filter test at least once you'll have a baseline "good" test with which you can compare if you think you may have a damaged filter. The difference can be pretty subtle.
On the upside, the warning about dropping seems to be overly-cautious: after intentional rough handling and dropping, our test filter passed MSR's filter self-test with no signs of damage.