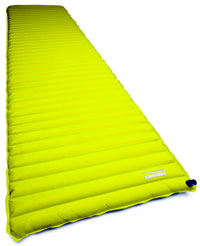 Three decades ago Therm-a-Rest rethought the air mattress, adding foam and creating the self-inflating, insulated sleeping pad. Now they've rethought the concept again and come up with another novel approach to adding warmth to an air mattress.
The Therm-a-Rest NeoAir utilizes a reflective barrier embedded in the middle of a 2.5-inch thick air mattress. Heat from the sleeping user is reflected back upward instead of radiating to the cold ground. The NeoAir also reduces convective heat loss within the mattress by utilizing a multitude of small chambers arranged head-to-foot in two layers, instead of the 4 or 5 long tubes typically found in other air mattresses. Internal baffles of semi-permeable fabric divide the chambers (Therm-a-Rest calls this the "Triangular Core Matrix") and inhibit air movement within the mattress. This design is also said to improve stability and comfort.

Therm-a-Rest claims that the NeoAir is three times warmer than any other non-insulated air mattress, with an R-value of 2.5. It will be available in April 2009 in four sizes, ranging in price from $120 to $170.
Small: 20 x 47 in. (51 x 119 cm), 9 oz. (260 g)
Medium: 20 x 66 in. (51 x 168 cm), 13 oz. (370 g)
Regular: 20 x 72 in. (51 x 183 cm), 14 oz. (410 g)
Large: 25 x 77 in. (63 x 196 cm), 1 lb. 3 oz. (550 g)
Therm-a-Rest has also redesigned and re-named their ProLite pads for Spring 2009. The ProLite 3 will become the ProLite and the ProLite 4 will become the ProLite Plus. The new versions of both pads will be lighter, and the ProLite Plus will be slightly warmer: angled perforations make it so that at every point on the pad there is at least some foam between you and the ground.