Outdoor Retailer: Thinnest extreme suit for Everest
Picture the summit of Mount Everest. Now picture what you'd plan to wear in the cold and wind on the top of the world. It's likely an extremely puffy down piece, not a 3-millimeter thick one from Hanesbrands.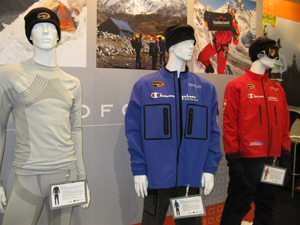 This spring, mountaineer Jamie Clarke will lead an expedition to the summit of Everest, where he'll wear the thinnest extreme weather suit ever developed. The Champion Super Suit is a 3-mm thick one-piece insulated with Zeroloft Aerogel and developed by Hanesbrands' research and development team. (Hanesbrand is the parent company of DuoFold and Champions.)
When the company decided to sponsor Clarke's Everest expedition, CEO Rich Noll reportedly said he didn't want Clarke to look like the Stay Puff marshmallow man. Thus began the quest for a man-made insulation that could compete with down and be windproof.
Mike Abbott, director of research and development for Hanesbrands, said it took three months to locate the right insulating material, Aerogel. Originally developed for NASA, Aerogel essentially is puffed glass (98% air and 2% silicone), and the lightest solid on earth. Natural gas and oil companies use it to insulate deep-water pipelines. It also can be found as a component in Pacific Outdoor Equipment's aero sleeping pads.
It's taken another two years for R&D and testing to develop the suit. Clarke, who I met at the booth today, said he's tested iterations as high as 17,000 feet so far.
The Super Suit has four layers: 1) a hard-shell outer, 2) the Zeroloft Aspen Aerogel, 3) a metallicized foil membrane that reflects body heat back to the wearer, and 4) a wicking polyester inner lining. Hanesbrands says the suit will provide equal insulation, greater mobility, and superior wind resistance compared with a typical 40-mm-thick goose-down parka.
A Super Suit jacket prototype was on display at the company's booth today, and I had the chance to wear it for several minutes, until I got too warm and took it off. Hanesbrand developed all five apparel layers for the expedition: a seamless baselayer with graduated compression zones, an insulating layer, a soft shell, a hard shell, and the Super Suit. None of the seams on the five-layer system overlap with another layer of seams.
To feel the insulating properties for yourself, a box of dry ice was set up where you could test an Aerogel mitt and a polyester microfiber mitt. I donned one on each hand, put my hands on the dry ice and could immediately feel the ice through the poly mitt, but not the Aerogel. I instinctively tried pressing my Aerogel mitt harder against the ice to feel it, but felt no cold. Abbott told me that Aerogel actually insulates better as it gets weighted down, versus down or synthetics which rely on their loft to keep you warm.
Hanesbrand took on developing the Super Suit and expedition layers to push the boundaries of its R&D team. Now it's bringing that technology back to its consumers. The same seamless baselayer will be sold under the Duofold brand this fall. The insulating mid-layer is just a heavier version of Duofold's Varitherm Mid-Weight Dri-release Wool. Champion will introduce Cold Weather Gear layers in the fall.
No word yet on when you'll be able to buy your own Aerogel jacket.