Water — getting on it by kayak, canoe, or paddleboard, or keeping it out with a waterproof case — was a mainstay of the Open Air Demo at Jordanelle State Park near Heber City, Utah, today. Here are a few highlights of the day.
As expected, an abundance of paddling companies were in attendance, all taking advantage of the demo's prime location on Jordanelle Reservoir. It seemed like at least half offered stand-up paddleboards, which were very popular with users, but plenty of kayaks and canoes could still be found on the water.
Pakboats makes foldable canoes and kayaks, including its Puffin line of recreational open kayaks. The Puffin kayaks have optional decks and use a hybrid design of an aluminum frame with inflatable side tubes for light weight (see picture at right). I was assured they are easy to assemble, though I did not have the chance to try this out myself.
Their design makes them relatively lightweight for a boat (20-30 pounds) and packable when necessary for travel or long-term storage. My kids and I had fun paddling around in the 12-foot Puffin Saco (20 pounds, single seat, 280-pound capacity) and the 15-foot Puffin Saranac (28 pounds, two seats, 400-pound capacity).
Waterproof Cases: If you're going to paddle a kayak with a toddler between your legs, take pictures, and try to avoid other paddlers, while a rain cloud passes over, you should first check out the many waterproof cases and pouches for electronics being offered. Dry Case makes a vacuum seal pouch for electronics good to 100 feet. Its clear plastic allows you to take pictures or use your phone or camera. Pelican, known for its durable waterproof cases, also has a new, hard iPod case.
But, only Save-a-Phone can help you after your camera or phone has taken a splash. Place your wet phone or camera in its pouch and the drying agent absorbs the water from your phone to "get the water out." After 72 hours an indicator on the bag changes color, letting you know the water is gone from your device.
Specs: 3.3 oz, 10" x 5.25" x .5, $19.99
(Hey, owner of the iPhone we found submerged in a stream on Sunday's hike, you'll want one of these.)
Mountain House launched a line of food for wraps earlier this year. Samples were out at lunchtime and the buffalo chicken was delicious. "This is good!" I heard numerous people say while I was busy gobbling down mine with pita chips. Mountain House will have new meals, including chicken salad, this week at OR.
Raptors: Two representatives of HawkWatch International in Salt Lake City were in attendance, along with a beautiful Peregrine Falcon (below, left) and a Red-Tailed Hawk (below, right). Since both birds also live back home in Maine, I was interested to see them up close, particularly the once-endangered Peregrine Falcon. HawkWatch's mission is to conserve the environment through education, long-term monitoring, and scientific research on raptors as indicators of ecosystem health.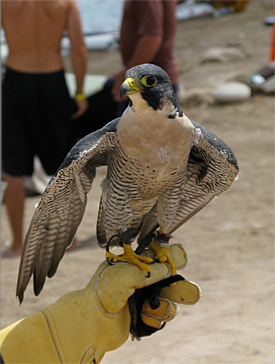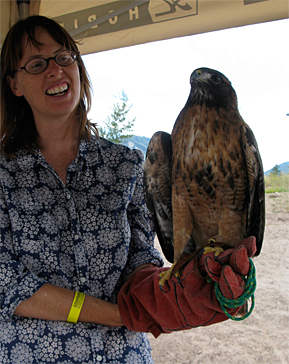 127 Hours: I capped off the evening watching a brief teaser of 127 Hours, the Danny Boyle-directed movie about Aron Ralston's Utah canyon survival story. "It's an action movie, where the hero can't move," said Boyle in the teaser of Ralston being trapped by a boulder.
The footage was brief (supposedly this was the first semi-public showing), the chairs in the small air-conditioned tent were plush, and the audience small (namely me and a few Fox Searchlight reps when I stopped by). Sonia from Fox Searchlight told me that much of the movie was filmed on or near the location of Ralston's experience, and that Ralston was on set for some of the filming.
Boyle of Slumdog Millionaire directs. James Franco stars as Ralston. 127 Hours (Tagline: "There is no force in the universe stronger than the will to survive") will premiere November 5. With the interest in Ralston's story and Boyle's reputation, I expect there will be a lot of interest in this film come fall.
Stay tuned for more dispatches from OR, including a report on my hike with the DeLorme Earthmate PN-60w With SPOT Satellite Communicator.