Sorry to break it to those of you who lament the incursion of electronics into the backcountry -- clever ideas for juicing portable devices just keep coming. Here's a look at notable portable-power products featured last week at Outdoor Retailer Summer Market 2010 in Salt Lake City, Utah.
nPower PEG - Tremont Electric
PEG means portable energy generator. It's the brainchild of Aaron LeMieux, an entrepreneur/engineer who created Tremont Electric to capitalize on something he learned while hiking 1,500 miles on the Appalachian Trail: Walking with a heavy pack generates lots of untapped energy. The result is coming on the market in a few weeks: the nPower PEG, which captures kinetic energy from walking and stores it in a battery that can power small electronics like cellphones and iPods.
The tubular PEG has springs on each end and a magnet in the middle -- the motion of walking pushes the magnet back and forth against the springs, keeping the magnet moving and generating electrical current. A microprocessor keeps the current steady enough to charge a lithium polymer battery that recharges an electronic device.
So, how much power does it generate? Depending on the device, five minutes of walking can empower one minute of talking, LeMieux says. (According to Tremont Electric's press materials, the more power-hungry iPhone 3G needs 10 minutes of walking for one minute of talking.)
Here's LeMieux demonstrating the PEG:
The PEG sells for $149.99 and weighs just under 12 ounces. It's 9 inches long and 1.5 inches wide (the narrow sections are 1 inch wide). It can be charged via a computer's USB port, or via a USB wall charger. The package includes an iGo cable and adapter for an an individual brand (Apple, Blackberry, etc) but you'll need to buy an extra adapter if you own multiple brands.
Note the PEG is primarily designed for smartphones, MP3 players, and PDAs. It can't recharge AA batteries, which power many GPS receivers and digital cameras, nor can it power larger devices like laptops.
Goal Zero Nomad 7M, Sherpa 50
Goal Zero pairs portable solar panels with high-tech batteries to power everything from an iPod Nano to a field hospital (the company sent a shipment to Haiti after the earthquake). Here's a look at some of the company's line best suited to backcountry travelers: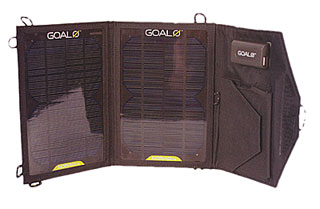 Goal Zero will soon release the Nomad 7M solar panel (right), which is billed as the most efficient on the market. The Nomad 7M is designed to deliver power directly to a device's battery (it has no power storage of its own) via either USB or 12-volt power inputs.
The Nomad 7 weighs 13 ounces and sells for $99. Recharge times:
1 hour: Cellular phone
2 hours: iPod, Garmin GPS receiver, satellite phone
4 hours: GoPro camera.
Goal Zero's most practical power storage unit for the backcountry is its Sherpa 50, pictured at top left. The Sherpa 50 has a lithium-iron phosphate (LiFe) battery that can be daisy-chained to other Goal Zero storage devices for expansive storage options. (Another exhibitor told me LiFe is the "Cadillac" of battery technology). The Sherpa 50 weighs 2.2 pounds and retails for $249.99. According to the company, it can be charged with a wall outlet in two hours, or in eight hours with the Nomad 13.5 solar panel; it can power a laptop for two hours, an iPhone for 50 hours, and a handheld GPS receiver for 92 hours.
I'll grant you this is a lot more juice than most backpackers will ever need, but if you're in the business of producing outdoor-related content like videos and photo essays, it could be worth a look.
Tech 40 Pocket Power Pack
Tech 40 is introducing this all-in-one solar package in mid-December. The Pocket Power Pack mates a solar panel with a lithium-ion battery that can be recharged by sunlight in eight hours or a wall outlet in 1.75 hours; retail will be $99.99.
It comes with a zippered carrying case and also includes LED lights that can provide up to 30 hours of white light.
Two nifty features:
The battery pack's electronics allow simultaneous charge and discharge, so you can use your device while its charging.
Lots of universal charging tips: male USB, female USB, mini-USB, micro-USB, Apple 3G, and battery charging boxes for AA & AAA rechargeable batteries.
So that's a quick look at portable-power highlights from OR. I heard that Petzl and Brunton added a few products, too, but I'm waiting on word from the companies to get all the details.