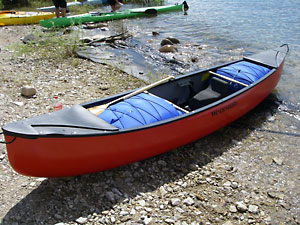 In 1971, a young paddler named Jim Henry won the National Whitewater Open Canoe Championship in a canoe he designed and built. He called the canoe a Malecite, and it was the beginning of Mad River Canoes. Forty years later, Dana Henry, Jim's son, has designed his first canoe, for Wenonah.
The Wenonah Recon is an entirely new design and a bit of a departure for Wenonah, as they traditionally have had few whitewater boats in their lineup.
The younger Henry, who has worked at Wenonah for two years, learned his lessons well and has designed a boat that fits a niche in the whitewater canoe market.
First, the Recon is a big solo boat. In an era when open whitewater canoes are getting smaller, the Recon bears some similarities to the Outrage X designed by Dana's father. It is a skosh wider at the gunnel, and a bit deeper. Forward, the boat is slightly fuller than the older Outrage X. In a nod to a trend happening in whitewater canoes, this boat has large decks that help to keep the water out.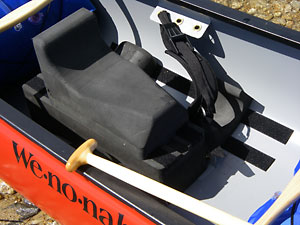 One of the issues with most whitewater outfitting, is that adjustment is time consuming, if at all possible. And if you paddle on an overnight trip, getting your gear in and getting proper trim on the boat can be a hassle.
With the help of Kurt Renner, Northwest rep for Wenonah, the Recon can be had with outfitting (thigh straps, foam saddle, and ankle blocks) that velcro into the hull.
On the water, the boat is very stable with a shallow arch bottom. It is also fast, so attainments are easy. Secondary stability is very good. Lean the boat in a turn and it carves very well.
For paddlers looking for a solo whitewater boat capable of overnight trips and one that will stay dry in big water, this is a great boat. It doesn't look like the little creeking boats that are ubiquitous today, but it carves and accelerates like a much smaller boat. A plus is that with its 13-foot length, it'll leave smaller boats eating your wake.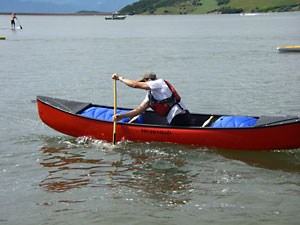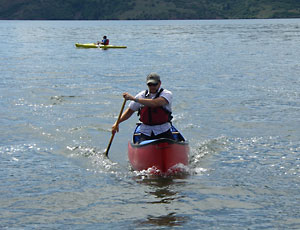 Video with canoe designer Dana Henry
Wenonah canoe designer Dana Henry talked with us at Outdoor Retailer about how he created the new Recon, a 13-foot solo whitewater canoe.
Recon Dimensions:
Length: 13 feet
Rocker: 6+ inches
Depth: 18 1/2 inches bow, 15 1/2 inches center, 17 inches stern
Width: 28 inches gunwale, 29 inches waterline, 29 inches maximum
Available only in Royalex for a weight of 57 lbs.
MSRP: $1,099 (hull only); $1,899 (fully outfitted)