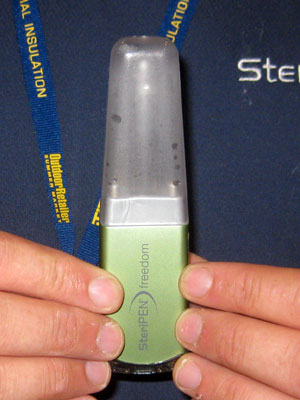 SteriPEN introduced its smallest, lightest, and first rechargeable water purifier: the Freedom. Like SteriPEN's other products, the Freedom uses ultraviolet (UV) radiation to scramble the DNA of many waterborne pathogens and purify your water. But this product includes some unique features.
A built-in LED flashlight turns on with a few flicks of the wrist, and the built-in lithium ion battery (non-replaceable) charges with a convenient USB cable, using your computer, an AC outlet, or compatible solar charger.
To use the Freedom, remove the lamp cover, immerse the quartz-encased UV lamp in a half liter (16 ounces) of water, and stir. In 48 seconds the germicidal UV light will destroy more than 99.9 percent of bacteria, viruses, and protozoa. To disinfect one liter of water, treat twice.
Kayla Moore demonstrated the SteriPEN Freedom for us at Outdoor Retailer:
SteriPEN Freedom
Weight: 2.6 oz (74 g)
Dimensions: 5.1 x 1.4 x 0.8 in (13 x 3.5 x 2.2 cm)
Treatment time: 16 oz (0.5 L) in < 1 minute
Treatments per charge: 40
Battery/UV lamp life: 8,000 16-oz uses
Available: Fall 2011
MSRP: $119.95