Q&A with Kerry McClay, SnowSchool Director for Winter Wildlands Alliance
Kerry McClay has a "passion for outdoor experiences that expand our horizons and force us to grow as individuals." As director of Winter Wildlands Alliance's SnowSchool he introduces those experiences to kids, getting them outdoors and on snowshoes to learn about winter ecology and snow-science.
Trailspace annually supports environmental nonprofits important to backcountry recreation, like Winter Wildlands Alliance—maybe you do too. But, do you know the people behind the outdoor organizations, the individuals that professionally steward, support, and advocate for the mountains, crags, forests, rivers, and lakes we enjoy exploring?
In our Q&A with McClay below, learn what it's like to work for the first and only national organization for human-powered snowsport enthusiasts and winter wildland conservationists.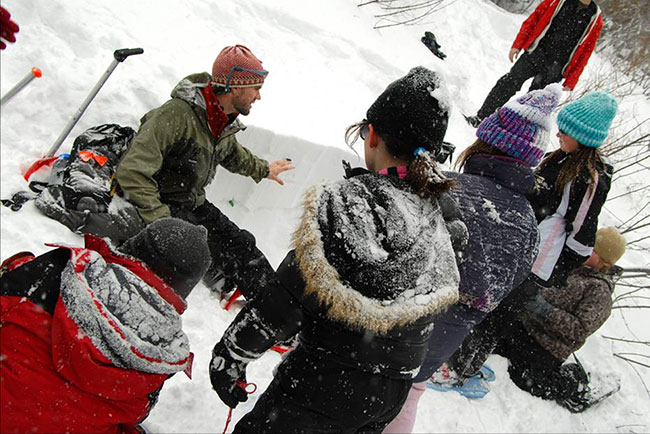 What do you do as

Director

of WWA's SnowSchool?
My job is focused on running and expanding WWA's SnowSchool program. SnowSchool is an outdoor education program designed to introduce America's youth to the natural wonders of the winter landscape. A growing network of approximately 45 sites operating around the country serves nearly 30,000 students annually. SnowSchool students learn about winter ecology and snow-science all while exploring their local winter wildlands on snowshoes.
What's a typical workday? Is there such a thing?
There is truly no such thing. One day I might be out on the snow training SnowSchool volunteer educators, another day I may be meeting with our program partners to provide snowshoes to sites, and on another day I could be working hard to develop new program science curriculum.
What's the best part of your job?
The best part of my job is feeling like I make a real difference. I have a passion for outdoor experiences that expand our horizons and force us to grow as individuals. I believe all youth should have the opportunity to experience the natural world in a real and meaningful way. To be a part of SnowSchool, a program that is doing just this, is a dream come true.
"All youth should have the opportunity to experience the natural world in a real and meaningful way."
—Kerry McClay, National SnowSchool Director for the Winter Wildlands Alliance

I see former SnowSchool students around town all the time and they are always so excited to tell me about their winter adventures. I have stacks and stacks of thank-you letters from kids in which they say things like "I'd never been snowshoeing before and this was the best field trip I've ever been on. I can't wait to go again with my family."
It's a great honor and privilege to be a part of a program that has this type of impact.
Worst part of your job?
The worst? I can't complain really, but if I had to choose I'd pick climate change. If we get hit with a permanent tropical heat wave then there won't be much use for this amazing SnowSchool program we've painstakingly developed.
Anything unusual your job involves?
I feel like anyone who works in outdoor education gets to do plenty of unusual tasks. Teaching other educators how to build igloos is definitely a unique thing I find myself doing from time to time. An igloo has a certain magic about it and watching the faces of kids and adults light up as they crawl inside a massive igloo is one of my all-time favorite pastimes.
It's summer! What are you—and WWA—doing now?
There's a lot going on! Right now I'm doing a broad array of things from setting up SnowSchool sites with snowshoes to developing a new high school snow-science curriculum. And, because the program is expanding, I'm doing a lot of work coordinating upcoming activities with our many organizational partners across the country.
The rest of the WWA crew is also working hard in preparation for the launch of our fall Backcountry Film Festival tour and on pressing national policy issues that impact the places we all enjoy. But of course, everyone here has taken a little time off this summer to hit the rivers; at WWA we also appreciate melted snow!
How would you describe the mission and work of WWA?
As a national nonprofit organization our work at WWA is focused on promoting and preserving winter wildlands and quality human-powered snowsports experience on public lands. We have a strong presence on multiple fronts.
SnowSchool promotes wild winter places and human-powered recreation through introducing thousands of students to snowshoe exploration each year. Our national policy work is focused on preserving and protecting the places backcountry enthusiasts enjoy. And our Backcountry Film Festival celebrates the human-powered snowsports experience with an annual film tour around the country.
How did you get involved?
I first began working with WWA in early 2007 while working at Bogus Basin Mountain Recreation Area near Boise, Idaho. At the time I was very focused on creating an outdoor education program that would engage underserved youth from Boise and the surrounding areas.
With help from WWA we established a highly successful SnowSchool program at Bogus Basin that continues to thrive today. I recently climbed on board with WWA to help promote the SnowSchool program model on a broader national scale.
What do you think is the biggest threat to the outdoors now?
Experience. I think people form a connection to the outdoors through personal experience and immersion in nature. When our connection is strong we tend to reinforce it through further time spent recreating in the outdoors and we tend more to care about protecting the wild places we love. If our connection starts to weaken, for whatever reason, we risk losing one of the great things about life on this planet.
"People form a connection to the outdoors through personal experience. ... If our connection starts to weaken, we risk losing one of the great things about life on this planet."
—Kerry McClay
Certainly screen-time and the abundance of information technology play a role in this, but today's youth are also several generations out from people like my grandparents who grew up on farms. To make outdoor experiences a part of our lives today we have to take some intentional steps. That's what SnowSchool is about.
Why/how is your work relevant to snowsports enthusiasts and conservationists?
SnowSchool is about establishing the next generation of snowsports enthusiasts and conservationist. Through SnowSchool we are introducing youth to the joy of winter exploration, increasing ecological literacy and contributing to the development of conservation minded citizens. This is work that is relevant to anyone who cares about the future of conservation and human-powered snowsports.

What do you personally like to do outdoors?
Building igloos is one of my all time favorite outdoor activities. I'm also obsessed with primitive skills like foraging and fire-craft.
I find outdoor recreation is one of the best ways to spend time with friends and family. I'm lucky to have people in my life who, like me, love to ski, snowshoe, kayak, fish, raft, hike, bike, backpack, climb, and camp.
How did you get started exploring outdoors? Any favorite stories, memories?
My parents moved us from the Midwest out to Idaho when I was about nine years old. One summer shortly after that I went to a sleep-away camp in the Sawtooth Mountains. I learned some skills in the camp, but my friends and I spent a big chunk of the week deep in the forest building our own shelter/fort out of downed logs.
It was a simple but very powerful experience for me. I left the camp feeling like I wanted to live in the mountains forever. In a way I've been chasing that dream ever since. When I reflect back on this event it always reiterates for me the importance of outdoor experiential learning.
What are your favorite outdoor spots?
Idaho's Sawtooth Mountains, the North Fork of the Boise River, More's Mountain in the Boise National Forest, Glacier National Park, and the redwood forest of California's Santa Cruz Mountains.
Describe your ideal day outside.
I always know when I lived out my ideal outdoor day. Those are the days when adventure runs thick and my skills are tested to the limit.
Those are days when I'm surrounded by laughter, stories, and in the company of people I care about.
They are days that are so full of life that when the time for sleep finally arrives I fall into a deep state of slumber as soon as I crawl into my sleeping bag.
What are your favorite pieces of outdoor gear or apparel? Why?
Good boots. I learned early on that a good pair of boots can take you anywhere and a bad pair will take you nowhere fast.
What's in your backpack right now?
Right now my work-bag is filled with stuff to fix flat tires. I cycle to work every day and have had a nasty streak of goathead induced flats (be thankful if you are reading this and don't know what goatheads are!). My backpack at home is sitting by the door cued-up with climbing gear for an outing with friends later this evening.
Any interesting, good (or bad or epic) gear stories?
"A good pair of boots can take you anywhere and a bad pair will take you nowhere fast."
—Kerry McClay

I'm always striving to be a more efficient minimalist and get by on my own knowledge and a good pair of boots. A couple of summers ago I planned a trip with a group of friends to backpack a hundred miles across Idaho from the City of Boise to Redfish Lake in the Sawtooth Mountains.
A key theme of the adventure was that we planned to forage and eat only what could be found along the way (berries and fish). There were plenty of misadventures including nasty blisters, skunk encounters, people getting lost, and epic bushwhacks. When we finally arrived my boots were so shot I peeled the soles right off the bottom.
What's your favorite outdoor book?
The Earth Speaks. It's a collection of great short stories, quotes, and poetry from some of the great outdoor writers of our time. Whenever I'm looking for a bit of inspiration that book delivers.
What's your favorite quote?
Edward Abbey's "One Final Paragraph of Advice":
"It is not enough to fight for the land; it is even more important to enjoy it. While you can. While it's still here. So get out there and hunt and fish and mess around with your friends, ramble out yonder and explore the forests, climb the mountains, bag the peaks, run the rivers, breathe deep of that yet sweet and lucid air, sit quietly for a while and contemplate the precious stillness, the lovely, mysterious, and awesome space."
What role do outdoor recreation enthusiasts play in WWA's mission?
WWA is built upon the passion and values of winter outdoor recreation enthusiasts. Our membership is largely comprised of those human-powered explorers who enjoy recreating on our nation's winter wildlands (big surprise, I'm sure!).
Additionally we work with grassroots organizations around the country to help promote and protect the places we all enjoy and care about. Also, through SnowSchool hundreds of volunteer educators donate their passion and time to help teach the next generation about the wonders of winter.
Why should Trailspace members join WWA? How can they get engaged?
A membership with WWA helps support SnowSchool and all of the work we do to protect the places backcountry snowsports enthusiasts love. We keep members updated on all of our progress and on hot-topic issues happening around the snowbelt.
To find out how to sign up, donate, or become a SnowSchool site/educator, please visit our website www.winterwildlands.org.

[Image Above: Sawtooth Range winter landscape (Credit: Owen Jones)]
[Top Image: Kerry McClay performs a snowpit analysis with Bogus Basin SnowSchool students (Credit: Bogus Basin)]