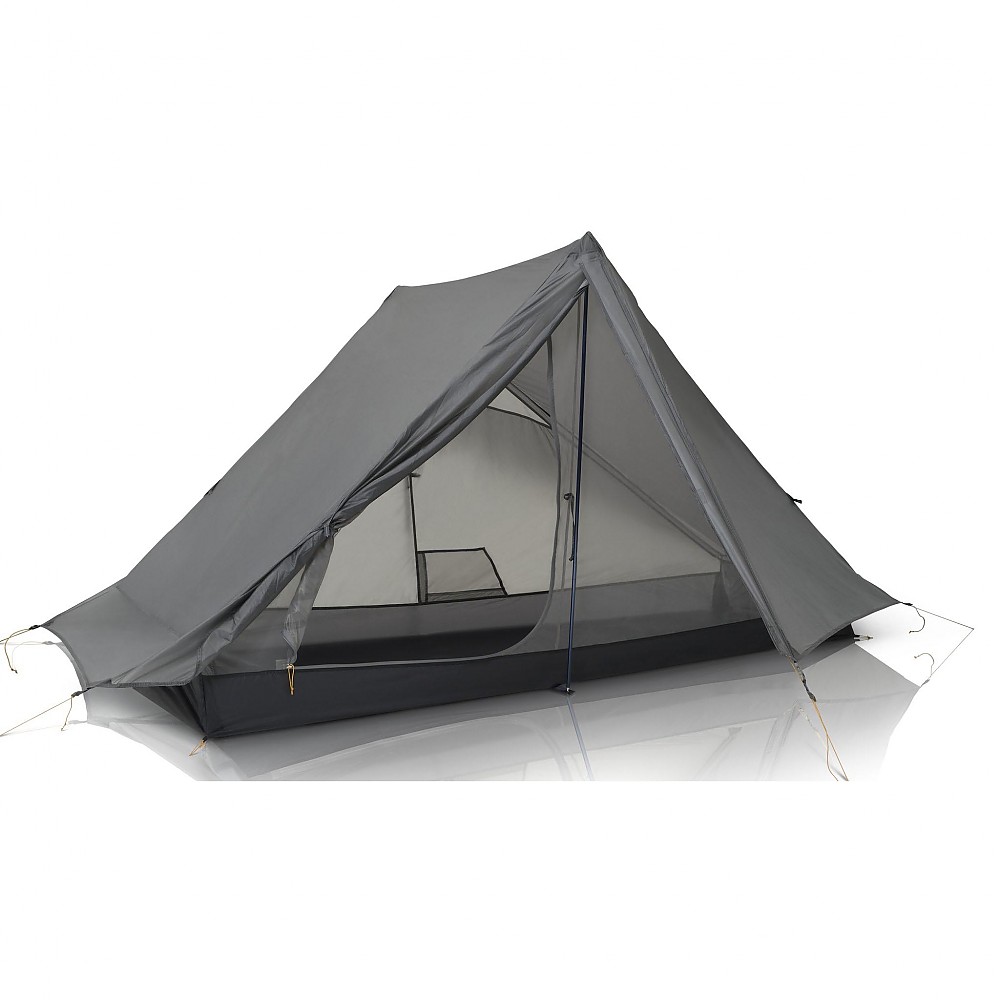 Specs
Price
MSRP: $299.25
Reviewers Paid: $275.00-$295.00

Shelter Weight
22.4 oz / 635 g (includes factory-taped seams)

Lines (already attached)
.60 oz / 18 g

Stuff Sack
.3 oz / 10 g

Extra tie outs
( 4 ) not attached .45 oz / 14 g

14 Stakes in stuff sack
5.6 oz / 158 g

Packed size
6 x 9 in

Floor size
36 in at the head, 24 in at the foot x 88 in / 19.55 sq ft

Vestibule area
16.2 sq ft

Head height at peak
46 in (using 125 cm poles)

Reviews
5

reviews

5-star:

3

4-star:

2

3-star:

0

2-star:

0

1-star:

0
This shelter is outstanding! I could not be more happy with it. (Well, I could, but I'll get into that later.)
It is ultralight, provides full bug protection and wonderful weather resistance. The bathtub floor is big enough for my regular sized NeoAir mattress, and leaves plenty of room to my left for a book, my lightweight radio, and my crocs. The stitching is extremely high quality, and it was VERY easy to seam seal.
The "no-see-um" mesh is of great quality and it will clearly stand up to quite a bit of abuse. I was initially nervous about the spinnaker fabric being able to tolerate my ham-fisted nature, but after a dozen or so pitches and a couple actual bag nights, it is standing up very well.
This tent takes a couple tries to get pitched right, but once you get it, it's like riding a bike!
I have two gripes about The One...
I am 5'11". On my NeoAir (2.5" thick) with my spring/fall quilt (Jacks R Better Hudson River) the footbox of the quilt touches the fabric of the tent wall. This is only a problem if it is particularly cold and rainy, however.
The vestibule "beak" is pretty high off the ground, and it is difficult to get it much lower than 10 inches high. Due to the angle of the fabric and the distance involved there is no realistic chance that precipitation might enter the tent, but if it is particularly windy and cold you will have to choose your site, and pitch carefully, with the back into the wind.
These gripes are not major, however, and I am very comfortable rating this shelter somewhere between 4 and 4.5 stars, the weight/protection/ventilation ratio is outstanding, and Gossamer Gear products in general are outstanding in quality!
Design: three season, non-freestanding
Sleeps: 1
Ease of Setup: From 1 to 10, 10 being the hardest. 5.5.
Weight: 19.5oz. with six stakes, and a polycryo ground cloth.
Price Paid: $275

I just finished a 625-mile section hike of the PCT from Saddle Junction (approx mile 178) to Mount Whitney, exit Whitney Portal from May 27 to June 25. The One was the only shelter I carried the whole way.
I set it up probably about 70 to 80 percent of the time. At first I found it a little fussy to set up, but as I got more familiar with it, I got into a routine that worked well for me.
Since most of this hike was in desert or pretty dry climate the tent didn't get tested real hard in rain. I got rained on one night and a few nights of drizzle. Not a drop of water inside. On some of those misty nights in the "June Gloom" I had some minor condensation issues, but nothing that I couldn't wipe dry with a bandana or small microfibre towel.
I never did succeed in getting the backside as tight as I would like. I don't have high speed internet so haven't seen the video. Maybe that would help. (I'm waiting for the new one.)
At any rate, I always was glad that my whole shelter only weighed about a pound when I asked everyone else what they were carrying. In my opinion, lightness will cover a multitude of sins.
Only reason for not a full 5-star rating, tensioning the back and vent at the top.
Great tent, Gossamer Gear! It is easily my favorite lightweight shelter and will definitely get used on my next go at the PCT.
Chuck Shugart
Yellow Grass, Saskatchewan, Canada
Design: three season
Sleeps: 1
Ease of Setup: takes some getting used to.
Weight: 17 ounces
Price Paid: about $350 Canadian

I really like this tent. I just spent two weeks with it on the Tahoe Rim Trail and cannot say enough about the tent.
Here are my raves:
Pitches very easy and consistently each time. Just a few minutes and it was pitched. Has a smaller footprint than some other hiking pole tents.
Roomy. I found I had enough room in the tent to store my gear and still move around. I am 5'10". I can fully sit up and sometimes stand up bent over to move the sleeping pad.
Ventilation. Since the tent pitches reliably each time, I found ventilation was very good. While I did not encounter any damp nights in the Sierras (a rarity), I did feel breeze coming in the tent from the bottom and top as it always pitched with about 4 inches of clearance to the ground. The slightly higher in the front vestibule contributes to what I feel is better airflow.
Wind handling, I camped on some high ridges with nightly gusts around 40mph, had no problem with the tent standing up in those conditions.
Lightweight. Hey 20oz total (groundcloth, tent and stakes)—what else can you ask for in a totally enclosed tent?
Cons:The spinnaker material is kind of noisy in the wind. Oh well, insert ear plugs and take to sleeping pills.
Design: Hiking Pole Tent
Sleeps: 1
Ease of Setup: Excellent
Weight: 1.25 pounds
Price Paid: $275

The One tent from Gossamer Gear met all of my expectations for a solo tent. I found it to be easy to set up, comfortable to be in, and lightweight. It has all the headroom and storage space I need, and I liked the open views and ventilation from the front.
Pros
Lightweight
Plenty of extra room to store belongings
Lots of headroom
Open views from one side
Easy to set up
Has a pocket for small items
Comes with a pre-installed clothesline
Cons
Like all single wall tents, some condensation can collect on the walls
You must remember your trekking poles
Gossamer Gear's The One tent is a one-person tent that hits all of my requirements in one small package. I'm picky about one-person tents, more so than with a two-person tent. Most two-person tents I've tested inherently feel bigger and have enough headroom, if only because they are obviously wider. One-person tents, however, can look coffin-like to me if they are very narrow and/or have a low ceiling. Like any piece of equipment, it's a tricky balance between size, weight, features, and price.
Here's my list of requirements: plenty of headroom, space inside to store my gear, a vestibule large enough to keep my pack and boots out of the elements, a view so I don't feel claustrophobic. It has to be at or under three pounds (preferably under two pounds). It doesn't have to be free-standing but the setup can't be too fussy. It doesn't have to have a separate fly and it doesn't have to come with a footprint as I consider them to be optional. I jumped at the chance to test a Gossamer Gear The One tent as it appeared to meet my preferences. However, the proof is in field testing.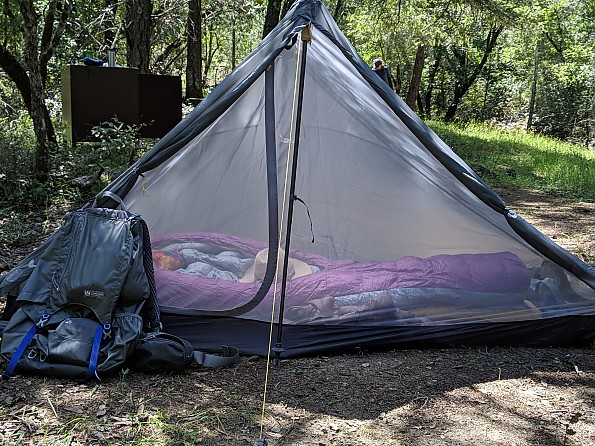 The One and The Two are Gossamer Gear's one- and two-person tents, respectively. The names are very descriptive, aren't they? The One is a non-freestanding tent that uses two trekking poles to provide structure and comes with 14 tent stakes (though it requires just six stakes at a minimum). The waterproof tent is made with silnylon fabric coated with polyurethane and has factory-sealed seams. It weighs 1 lb 13 7/8 ounces including stakes, lines, and stuff sack, but not the trekking poles.
The tent has a bathtub design, meaning that the bottom is made of thicker silnylon and that piece rises up a few inches from the ground to prevent water from seeping into the tent (see specs and materials below). There are plenty of extra loops for additional guy lines to keep the tent secure in high winds. There is an internal mesh pocket and clothes line along the ceiling. The Two looks similar but is wide enough to accommodate two people and has two doors.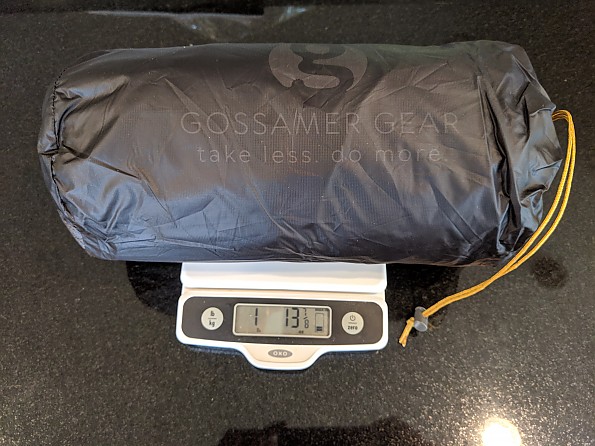 Field Test
I set up the tent a couple of times in my backyard. The first time I set up a new tent, I try to do it without looking at the directions to see how intuitive it is. Then I do another round with the directions because I can almost always pick up some tips from the experts. In addition, my Gossamer Gear rep gave me a handy tip that I followed: once I got my Gossamer Gear LT trekking poles to the correct length (125 cm) for setting up the tent, I scored the metal so I could quickly twist them into place.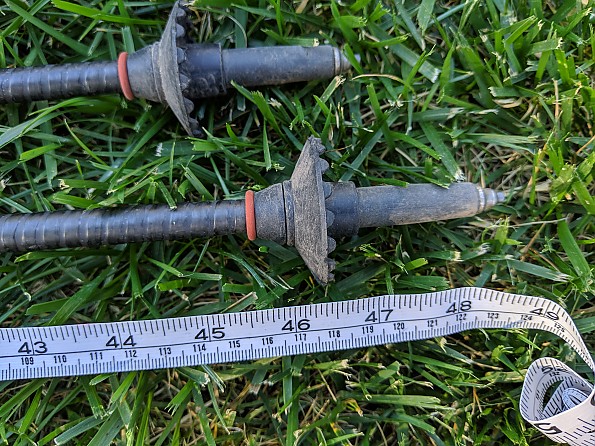 It was pretty easy to lay out the tent and figure out the general shape. I found a pocket on each side that accepted the top of the trekking pole and I set up the two poles first, inserting the tip into grommet tabs. There is a white circle of what looks like reinforcing material near where the grommet tie inserts into the tent which also makes it easy to visually identify the location. Then I started staking out the ties at the corners.
The only tricky part was that there are two set of tie outs at each corner and I started with the inner/lower set. It's more efficient to stake out the outer/upper set first as they provide the basic structure. The upper set flares out a bit forming a skinny skirt of sorts, which provides ventilation for a mesh layer. The body of the tent can left hanging free but if desired, the inner corners can be staked out as well. There are ties near the trekking poles that need to be staked as well. The minimum number stakes that can be used is six.
The door is a side entry opening near one of the trekking poles. A mesh panel can be zipped to keep bugs out. A solid nylon panel zips to another panel to meet one of the tie outs to completely enclose the interior in case of rain but my assumption is that this would result in significant condensation. The only outside viewing opportunity is from the side where the entry is but the entire length of the tent can be opened up with a mesh wall. The solid panels in the front can both be rolled up and tied back. The other three sides are solid nylon panels.
I will take care to position the tent (1) into the prevailing wind for stability, as suggested by the instructions and (2) for the view from the door.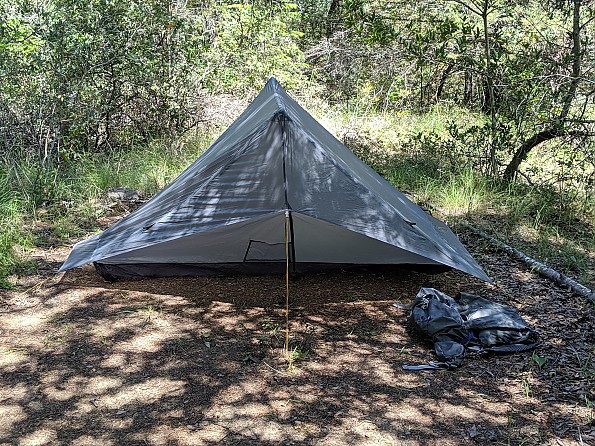 In a rainstorm, it would be relatively fast to unfurl the tent, insert the trekking poles, stake out the four corners and then the front and back. The tent would be up quickly for all intents and purposes. The gear could be protected, you could jump in the tent, and hopefully the storm would ease enough to fine tune it later.
On a backpacking trip that I was guiding, I had a group of ten, most of whom were novice backpackers. Speed was of the essence so I could get my tent set up, then assist everyone else with their gear, some of which was coming out of brand-new packaging. I was able to pop the poles in place, stake out the corners, do one more round to fine tune the stakes, blow up my pad, and toss my gear inside.
Much later, when I finally got back to the tent to go to bed (exhausted), I was really impressed with the headroom of 46 inches at the peak. I tested a tent last year that grazed my head when I sat up so I was most pleased with this aspect. With my Therm-A-Rest NeoAir X-Lite sleeping pad, I found that I had an enormous amount of room on the side and end, almost enough for another skinny pad it seemed. For those looking for a one-person tent large enough to accommodate a dog (or even a small child), this tent could work.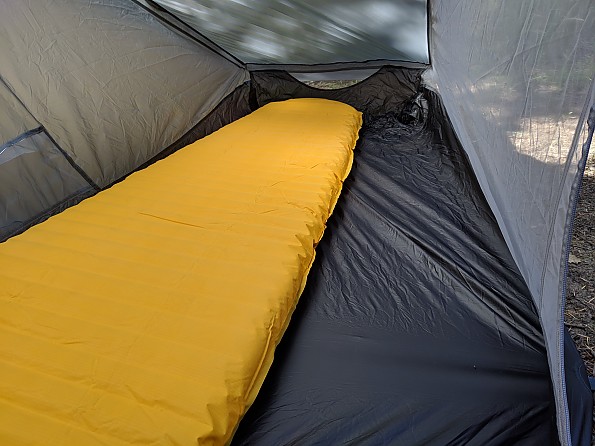 The zippers worked flawlessly. One minor feature that I liked a lot was the pre-installed clothesline across the top with a small clip for hanging things. This is usually the first thing I set up in a new tent so I can hang socks, my sunglasses, and other small items out of the way. I also appreciated a gear pocket for storing my phone and ditty bag. I know the little things have a weight cost, but I love the convenience.
Since it was a warm Northern California night, I left the vestibule doors open and did not experience any condensation. I positioned my tent away from the group so I had complete privacy, with a view into the woods. I didn't get a chance to test it in wind or rain yet, so I'll have to report back after I can get the tent out on more trips.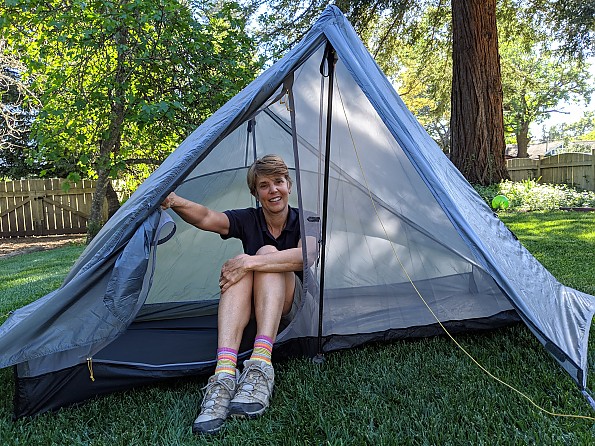 When I got home, I added one small item. The mesh door could be rolled up and secured with a tie, but there wasn't one for the outer door. I added a short length of thin cord with a loop so I could secure both doors.
Summary
The One tent from Gossamer Gear met all of my expectations for a solo tent. I found it to be easy to set up, comfortable to be in, and lightweight. It has all the headroom and storage space I need, and I liked the open views and ventilation from the front.
So far, I can't identify any downsides in terms of my requirements. However, to mention a few considerations that factor in for a tent of this type, I can say that the ultralight crowd will note that there are slightly lighter, though generally more expensive, tents out there (e.g. sub-one pound), there are free-standing, though generally heavier tents and in any single wall tent, condensation can be an issue if the doors are fully closed and it's a moist environment. It requires trekking poles or optional poles that can be purchased from Gossamer Gear.
Specs per Gossamer Gear
Average Weight:
Shelter Weight: 22.4 oz / 635 g (includes factory-taped seams)
Lines (already attached):  .60 oz / 18 g
Stuff Sack: .3 oz / 10 g
Extra tie outs: ( 4 ) not attached .45 oz / 14 g
14 Stakes in stuff sack: 5.6 oz / 158 g
Dimensions:
Packed size 6" x 9"
Floor size 36" at the head, 24" at the foot x 88" (19.55 sq ft)
Vestibule area 16.2 sf
Head height at peak 46" (using 125 cm poles)
Materials:
Tent body: Custom-formulated 7d high tenacity nylon blended sil/pu coating waterproof to at least 1200mm.  
Tent floor:  Custom-formulated 10d high tenacity nylon blended sil/pu coating waterproof to at least 1200mm.
Guylines:  2.5mm reflective nylon sheath, 1mm dyneema core
Zippers:  First quality, robust  #4.5 double-pull zippers
ITW lineloc3 tensioners on all main tie outs
Experience
Lots of experience with similar tents (e.g. one-person, single walled tents that use trekking poles).
Source: tested or reviewed it for the manufacturer (Kept it)

The author of this review received a sample of the product from the brand or its representative in exchange for a review.
I used this shelter for my thru hikes of the Pacific Crest Trail and The Continental Divide Trail. This tent survived. I used it in snow and hail in the Sierra Nevada. Washington, Colorado, and Montana rainstorms, as well as high winds everywhere on those trails. The One never let me down.
There is a learning curve to setting this shelter up taut, but the reward is a veritable bomb shelter.
The spinnaker fabric is only noisy at first. But the material ages well, gets quieter, and never wets out or stretches in the rain.
One neat trick with this tent is to leave one half of the door open and shift the floor to the back allowing you to get a lot of ventilation yet stay dry in light rain. I also liked being able to leave the doors open in mosquito country, like the Wind River Range in July! The whole front of the tent becomes one big mesh window. It was always nice to know that at the end of every day there would come a moment when I would zip the mesh door shut and be at peace from the mozzies!
The full coverage integral fly creates a vestiblue area for wet shoes and pack. There are plenty of places to hang wet socks inside as well. This is not a free-standing tent but I found it could be set up anywhere. Sometimes by tying it out to vegetation instead of stakes or even using rock anchors.
This is a very versatile tent and it can be set up on uneven ground easily. If you are going to live in a tent for four months the Gossamer Gear One, at 17 ounces (tent body alone before seam sealing), would be a great choice.
If you are looking for something with more wind protection than a tarp but less weight than most tents this could be for you.
Another advantage of this shelter is the way it does not feel claustrophobic inside. You can set it up to be any height you wish and I tended to set it up so I could see out from under the fly. 
After having used this tent for so long I would definitely say it is worth every penny.
Design: Three Season
Sleeps: 1
Ease of Setup: Somewhat Complex
Weight: 17 oz (tent body only before seam sealing)
Price Paid: $295

You May Like
Recently on Trailspace