Trails don't have to be on land. Fay Augustyn helps communities access, connect to, and protect their rivers through the creation of Blue Trails.

Blue Trails are rivers adopted by communities to improve family-friendly outdoor recreation, like paddling, hiking, fishing, and wildlife watching. But Blue Trails aren't only for recreation. They also can stimulate economic growth, bolster existing land and water conservation efforts, and improve the quality of life for communities.

river adopted by communities that are dedicated to improving family friendly recreation such as fishing, boating, hiking, and wildlife-watching, and to protecting rivers and surrounding lands. They are voluntary, locally led efforts that improve community quality of life. - See more at: http://www.bluetrailsguide.org/what-is-a-blue-trail/#sthash.UbVeKDAt.dpufrivers and surrounding lands through the creation of Blue Trails.

In our Q&A below, we talk with Fay about her role as the Intermountain West Blue Trails Manager for American Rivers.

Meet Fay Augustyn
Tell us a little about yourself.
I am an outdoor enthusiast — running, hiking, paddling, and just enjoying the outdoors with friends and with my dog, Henry.
When I'm not outside, you can often find me in a yoga studio, either practicing or teaching. I really enjoy being around friends and family, cooking, and learning more about food and urban gardening.
What do you do at American Rivers?
I have the great pleasure of helping communities in the Intermountain West connect to their rivers through recreation and protect their river and surrounding lands through the creation of Blue Trails. I provide guidance and training to communities interested in embarking on these efforts.
Blue Trails are rivers adopted by local communities that are dedicated to improving family-friendly recreation such as fishing, boating, and wildlife watching and to conserving riverside land and water resources. They are voluntary, locally led efforts to improve recreation and tourism, benefit local businesses and the economy, and protect river health and wildlife.
How did you get involved?
I started working with American Rivers after I graduated from college. Last year I moved from Washington D.C. to Denver to help oversee our Blue Trails efforts in the Intermountain West. It has been such an adventure and a ton of fun learning more about the rivers and communities here.
What's a typical workday? Is there such a thing?
Not exactly — I have the great opportunity to work with communities around the Intermountain West. So my average day consists of working closely with communities that are looking to improve recreational opportunities and protect their rivers and surrounding lands. It's a lot of fun to work with all of the different stakeholders that come together to create a Blue Trail in their community.
What's a Blue Trail?
A Blue Trail is a river adopted by communities that are dedicated to improving family-friendly recreation such as fishing, boating, hiking, and wildlife watching, and conserving rivers and lands.
We have just launched our new Blue Trails website (www.BlueTrailsGuide.org), which is a great resource for communities around the country that are interested in improving recreation and protecting rivers, and for those who are interested in exploring Blue Trails.
Through this new website, we have an online forum where Blue Trail explorers, builders, and others that are interested in learning more can talk about opportunities and successes, as well as some of the challenges they've had to enhance recreation and protect their river.
Additionally, we will have training webinars, a funding database, and a library of helpful resources for communities interested in building or learning more about a Blue Trail.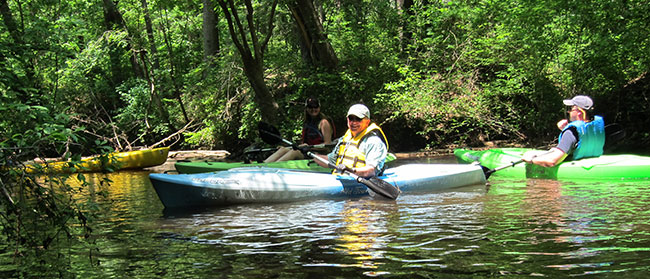 What's the best part of your job?
Learning about all of the amazing ways communities around the Intermountain West are connecting to their hometown rivers. Rivers are so intertwined in the livelihood of communities across the West, so it is a real pleasure to help communities continue to build upon the connections they have with their local river.
The worst?
There are so many challenges facing rivers and streams across the country. It can be very daunting thinking about all of them and the impacts they have on communities, clean water, and river health.
Can my community build a Blue Trail?
Visit
www.bluetrailsguide.org
for info and resources on identifying potential Blue Trail rivers and planning, building, managing, maintaining, and promoting a Blue Trail.
Anything unusual your job involves? Skills or education needed?
The biggest skill I think my job involves is working with people — listening to them and understanding their wants, needs, and any concerns they have.
What are you most proud of in your work?
I'm really proud of the way American Rivers and my team works with communities.
Why is your work relevant?
Rivers flow through our towns, provide clean drinking water, support fish and wildlife, and give us opportunities to fish and paddle, making memories to last a lifetime. Our rivers are vital to our health and happiness.
What do you think is the biggest threat to the outdoors now?
There are so many threats to the outdoors, but the one that is very concerning to me now is the lack of connection people and kids have to nature. It's important to give people the opportunity to enjoy the outdoors because once that connection is created people are more likely to feel a sense of ownership and work to protect and restore the places they love.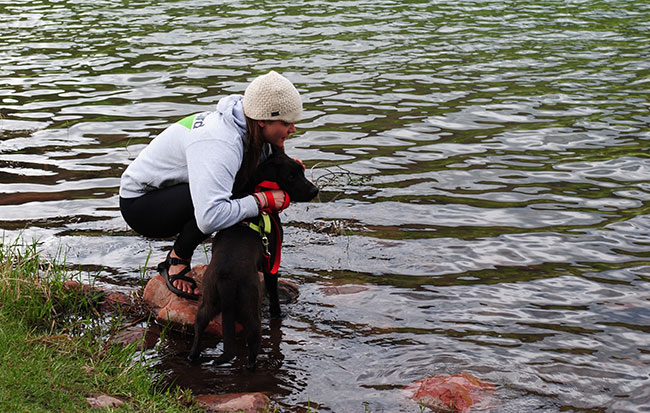 What do you like to do outdoors?
I just love being outside, so really anything I could do inside I would rather be doing outside. I'm an avid runner and hiker and enjoy getting out on the water as much as I can! I also love yoga — and yoga outside is that much better!
How did you get started exploring outdoors? Earliest memories?
I grew up on Lake Michigan, so my earliest and some of my fondest moments are exploring the dunes and splashing around in the lake with my brother and our dog.
Any favorite stories?
Kayaking with my brother is always an adventure and ends up with one of us in the water with the other one laughing really hard. Rivers are such a great place to connect with friends and family and enjoy the natural beauty that is surrounding you.
What's your favorite outdoor place?
Really anywhere with a river or lake nearby!
Describe your happiest moment outdoors (and/or proudest or hardest).
That's easy — guiding my first raft trip. I was so nervous I was going to flip our boat. When we finally took out I was so happy and proud of myself.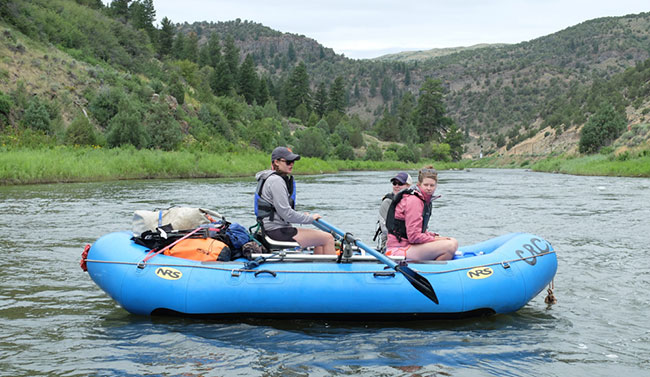 Do you have any outdoor regrets?
Not being outside enough!
Describe your ideal day outdoors.
A hike on a perfect fall day that meanders next to a river or stream. There is nothing better than that sound of trickling water running alongside you.
What's your favorite piece of outdoor gear? Why?
This old Patagonia fleece I've had since high school. I have so many memories from when I've worn it and it still (!!) keeps me warm.
What's in your backpack right now?
My Kleen Kanteen water bottle, notebook, my camera, and a change of yoga clothes!
Who has been the biggest influence on your life?
My parents have made such an impact on my life. I can't thank them enough for everything they have done for me.
What's your favorite book?
The Wind in the Willows by Kenneth Grahame
What's your favorite quote?
"So this is a River."
"THE River," corrected the Rat.
"And you really live by the river? What a jolly life!"
"By it and with it and on it and in it," said the Rat. "It's brother and sister to me, and aunts, and company, and food and drink, and (naturally) washing. It's my world, and I don't want any other. What it hasn't got is not worth having, and what it doesn't know is not worth knowing. Lord! the times we've had together."
—From The Wind in the Willows
Why should Trailspace members join American Rivers?
Being a member of American Rivers is fun and so important to make sure we have healthy rivers and clean water for recreation and to leave for future generations. You can join on our website www.AmericanRivers.org where you can take action on important issues and learn more about the work that is happening around the country and in your backyard.
And explore our new Blue Trails site. Maybe we can work with you to create a Blue Trail in your community.
---
American Rivers protects wild rivers, restores damaged rivers, and conserves clean water for people and nature. As a member of 1% for the Planet, Trailspace annually supports American Rivers and other environmental nonprofits important to human-powered backcountry recreation.
Read more outdoor nonprofit Q&A's with the dedicated people who professionally steward, support, and advocate for the mountains, crags, forests, and rivers we explore.
Wide photo captions above: 1) Kayakers enjoy the Hitchcock Creek River Blue Trail in Rockingham, N.C. (Photo: American Rivers). 2) Fay and her dog, Henry, on Sylvan Lake, Colo. (Photo: Peter Hartman). 3) Fay rafting on the Upper Colorado River (Photo: Sinjin Eberle).