Think you're too busy to give back to the trails?
In addition to running two businesses, Tammy Turner volunteers up to 100 hours a month as Volunteer Coordinator for the independent Mount Hood Chapter of the Pacific Crest Trail Association (PCTA).
This year alone her chapter's volunteers spent more than 11,000 hours clearing and maintaining the 217 miles of the PCT from north of Mt. Jefferson in mid-Oregon to just north of Mt. Adams in Washington.

We managed to pin Tammy down for the Q&A below to learn more about coordinating more than 100 PCT trail crews annually, her favorite gear, the "Wild" phenomenon, and making this planet even better.
Tammy on Her Many Roles
Tell us a little about yourself.
I absolutely prefer to be out hiking in the woods than anything else. It makes me happier than anything I can think of.
I own and run two businesses, a pet care business and an all-natural, handmade, dog biscuit company. I also work at a vineyard and recently helped harvest more than ten tons of grapes! I'm also working on starting up a nonprofit to help older, terminally ill, or chronically ill people keep their pets in their homes.
I am a feminist and I would love to help educate women and girls throughout the world.

What do you do as Volunteer Coordinator?
As Volunteer Coordinator (an unpaid position) for the Mount Hood Chapter, I send out e-mails to our volunteer base about upcoming trail maintenance work crews.
During the trail maintenance season, that's two or three crews going out every week. That's a few folks to get out working on the trail!
I also coordinate outreach events about the PCT and the PCTA's mission – to protect, preserve, and promote. We hope to get more folks to sign up as volunteers to help us out on the trail.
What's a typical workday?
I get up early wherever I am and check my PCTA e-mail. I answer a lot of questions about trail work, the PCTA, the PCT, and hiking. If I can't answer a question, I find someone who can.
We have an Annual Party, a celebration of all the work we've done, where the three Forest Services we work with (Gifford Pinchot, Mt. Hood, Columbia River Gorge) hand out thank-you gifts. We also have a Volunteer Appreciation BBQ. We're big on potlucks!
Plus, we have an Annual Trail Skills College. We train and feed up to 100 volunteers for three days and it's free to them! It's months of work with a great committee.
My hours vary throughout the year, but I work an average of 50 hours a month. During the trail season (May through October) I work up to 100 hours a month.
What's the best part of your job?
Getting to talk to people about the PCT and the PCTA.
The worst?
When I can't get enough volunteers to fill a work crew. It is very frustrating.
Anything unusual your job involves?
It's a pretty straightforward job, but I do get asked a few odd questions every now and again.
Last year I was asked about replacing a larger trail marker for a couple getting married on the trail. There was a trail marker missing above Timberline and the wedding couple really wanted to have it replaced on the trail before they had their pictures taken. Our Caretakers didn't have enough time to get up there and do it, but they found a marker and handed it off to the couple to replace on the trail in time for their wedding.
We replaced it for them as a wedding present!
What are you most proud of?
I love when a hiker tells me how easy our section was for them to hike through; no trees down or washouts and they really enjoyed their hike.
How would you describe PCTA's work?
I always tell people: The PCTA is here so that you can hike on the PCT! We want to be sure that the trail is available to hikers and equestrians for years to come.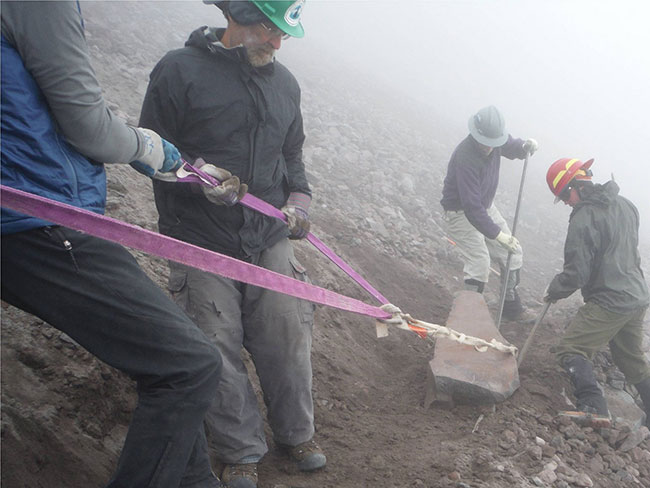 On Getting Out There
How did you get involved?
In 1996 a friend and I hiked the Timberline Trail (a trail that circles Mount Hood). As we finished the four-day hike, we met a man with a very large beard and backpack. We were so excited that we had hiked 42 miles and were dancing around. He sincerely congratulated us! I asked him where he was going and he said he had 500 miles left of his hike and he told me about the PCT.
I got so excited that there was a long trail on the West Coast. I found the Mount Hood Chapter of the PCTA and joined them, and then about 10 years later the chapter asked me to take over as Volunteer Coordinator.
What do you like to do outdoors?
Hike, sleep, eat, just be there!
What's your favorite outdoor place?
I love the Wallowas here in Oregon and the Pasayten Wilderness in Washington. But any place in the wilderness is a favorite.
Describe your happiest moment outdoors.
I was never happier or healthier than when I was hiking the PCT in 2007 and 2008.
But I have to say that this July's trip up Mount Kilimanjaro might rival it. It was probably the hardest thing I've done in that amount of time, nine days on the mountain, but I got to the "Roof of Africa" and I'm very proud I made it.
How did you get started exploring outdoors? Earliest memories?
My earliest memory is exploring our neighbor's frog pond in Florida. I was 3 or 4.
Then when we moved to Massachusetts (5 and up), I would go down to the end of our street and play in the woods there. I thought it was a huge place, until I got bigger and found it was just a small copse, but it still felt like the wilderness to me.
Any outdoor goals you want to share?
I'm hoping to go back out and do the PCT as a thru-hike as I originally planned. I had to get off in 2007 due to a back injury, but finished it in 2008. If I wait until 2019, I could do it to celebrate my 60th year and out on the trail!
Do you have any outdoor regrets?
No, not really. Except that I don't go out more often because of my work, both for PCTA and myself.
Any favorite stories?
I was in the Sierras and had been hiking all morning to get to this one place for lunch on the other side of this lake. It was gorgeous. The sky was an unbelievably blue, not too hot, and no mosquitoes!
I had been hurrying along trying to "get there" for lunch when I heard this sound. It was familiar. I realized it was an osprey and a red tail hawk vying for position. I stood there watching them fish for almost forty minutes— the "great lunch place" forgotten.
It was the most amazing thing to watch them swoop down and try for a fish. The osprey almost got one, but it slipped out of its talons. I made this "aahh" noise, like I was watching the Packers miss a touchdown! Finally it got a good one, a nice big fish, and took off up into the air.
Suddenly the red tail was there trying to steal it from the osprey. I yelled, again like I was watching a game, "Hey, you can't do that, he worked hard for that fish!" Then realized I was yelling in the wilderness and walked on to my lunch spot.
While sitting there a ranger came up and I thought, "great, I don't know where my permit is." But he just stopped to say that he was upset at the red tail too. Very embarrassing!
On Gear, "Wild," and More
What's your favorite piece of outdoor gear?
I love my pack. It's an Osprey. I loved my pack so much that when I needed a smaller one for the Kili trip, I just went and bought another Osprey. It fits perfectly and has great suspension. The new (new to me) pockets on the waist belt are great.
Before this pack, I'd say my Jansport external frame was my favorite piece of gear right next to my Therm-a-Rest mattress!
What's in your backpack right now?
My tent, stove, and sleeping bag, waiting for me to add some food so we can go out!
Who or what has been the biggest influence on your life?
My parents. My dad because he was willing to take us places. He would work hard to have at least two weeks vacation and then worked hard to be sure we got to see new places.
My mom because, well, she was the best. She was concerned about the environment and caring for the earth long before others were. She instilled in me a love of the world and being aware of what was going on out there.
And they both loved to play! Games, cards, sports, whatever, just have fun. We did as much as possible.
What do you think of Cheryl Strayed's book Wild?
I've met Cheryl Strayed and she has done fundraising for PCTA. I like that she is using this to help the PCT and PCTA. And I like her! I've started the book twice and keep thinking I'll read it all, but I know many people that read it and really loved it—saw about 200 of them at the fundraiser last year!
Do you expect the movie to affect the PCT and PCTA?
As for the "Wild Effect," I'm all for it! Especially if it will help the PCT and PCTA. I am worried about the number of people that will head out to the trail. The PCTA is working with Cheryl to get the word out about everything PCT and PCTA. I'm hoping it will bring a lot more awareness about the need to keep the wilderness, just that — wild.
The thing is, the PCT has seen an increase in the number of hikers in the past few years without the book or movie due to the ease of information sharing that the Internet has created. The number of trail journals that are posted has jumped amazingly in the seven years since I first hiked the trail. But Wild is going to make the trail even more popular.
I just hope that it doesn't make us more work, that people will use Leave No Trace principles while they are out there. [Editor's Note: Last week PCTA launched a Wild awareness site.]
What's your favorite book?
The Lord of the Rings, not really a good hiking book. I listen to audio books when I'm in my tent for the night. I like to hear nature when I hike!
What's your favorite quote?
I saw this one and kept it, so I guess it's a favorite:
"Some people walk in the rain, others just get wet." —Roger Miller, musician (1936-1992)
On Making the Planet Better
Mount Hood Chapter of the PCTA
Chapter volunteers maintain the 217 miles of the 2,650-mile Pacific Crest Trail between Midway Meadows south of Washington's Goat Rocks Wilderness and Breitenbush Lake north of Oregon's Mount Jefferson Wilderness.
Why is your PCTA work relevant?
What we do is important because it allows people to get out in the wilderness and be in nature. I find that it brings me back to what's important in my life when I get to do that. I'd like everyone to be able to do that on some level.
What do you think is the biggest threat to the outdoors now?
Human ambivalence.
Why and how should Trailspace members get involved?
If everyone that liked to backpack, hike, horsepack, whatever, spent just two weekends a year working on the trail of their choice, that would make the work so much easier! And the trails so much better.
If Trailspace members were to join the PCTA or any other trail association or work with the Forest Service and help them keep the trails available for all, that would great. And they might find that working on the trail is as satisfying as hiking, biking, or riding the trail! I do.
Go out and volunteer to make this planet a better place!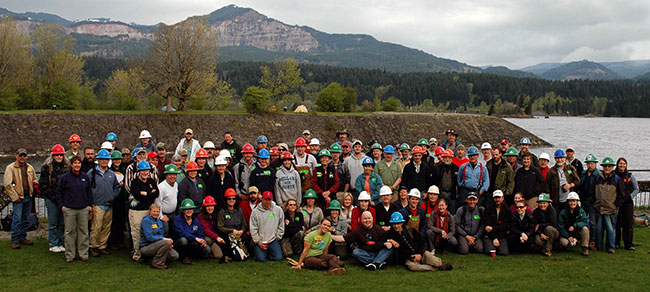 ---
The Pacific Crest Trail Association's mission is to protect, preserve and promote the Pacific Crest National Scenic Trail as a world-class experience for hikers and equestrians, and for all the values provided by wild and scenic lands. As a member of 1% for the Planet, Trailspace annually supports PCTA and other environmental nonprofits important to human-powered backcountry recreation.
Read more outdoor nonprofit Q&A's with the dedicated people who professionally steward, support, and advocate for the mountains, crags, forests, and rivers we explore.
Wide photo captions: 1) Packwood Glacier project, Goat Rocks, Gifford Pinchot National Forest, Washington 2) Columbia Cascades Trail Skills College group 2010. All photos courtesy of Tammy Turner, the Mount Hood Chapter, and/or the PCTA.