Congratulations to Peter Himmelman of Nova Scotia, Canada, winner of a Helle Wabakimi fixed-blade knife designed by "Survivorman" Les Stroud, plus a sustainably-produced Kupilka FireSteel 8.
Peter's review of his Trangia 25-3 UL stove ("easy to use and maintain...incredibly durable") was randomly selected from the outdoor gear reviews submitted by Trailspace members October 1 to 20.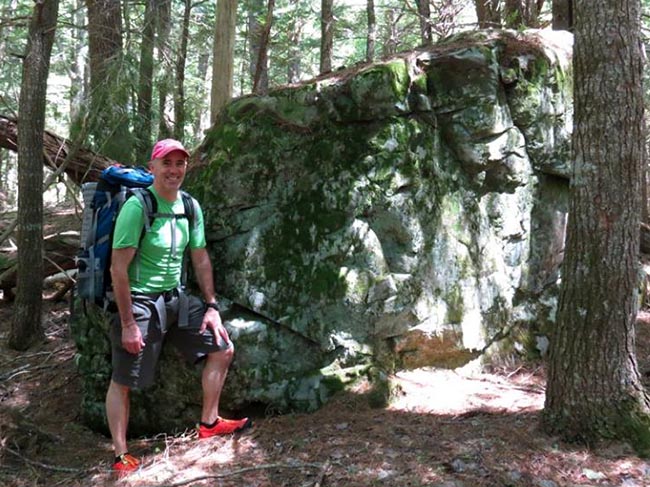 Meet Peter

"That's great! I expect both of these items will become indispensable parts of my regular kit," said Peter, a high school teacher and youth outdoor leader, on learning he won.
We asked Peter to introduce himself to the Trailspace community:
For the past ten years, I have been a Duke of Edinburgh Leader here in Nova Scotia. The Duke programme is designed to increase young people's skills and self-confidence by having them volunteer in their community, learn a new skill, be physically active, and challenge themselves by taking part in an Adventurous Journey. At my school, the journey usually takes the form of a backcountry camping trip that lasts from two to four days and covers from 20 to 60 kilometers, depending on what level the student is working towards.
Taking youth into the backcountry—many of whom have limited camping and hiking experience—is the high point of my school year. My goal is to provide them with exposure to an activity that they can carry on with in their adult lives, and to have them return to the school with a better understanding of what they are truly capable of. Dependable, low maintenance gear is extremely important to me as I need to devote most of my attention and energy toward ensuring that the students are being safe, and learning the skills they need.
Trailspace has been a huge benefit to me, since it provides good, unbiased reviews of gear from people who are actually using the items on a regular basis.
Thank you, Peter! Good luck to you and your students on your Adventurous Journeys, and enjoy your Helle Wabakimi and Kupilka FireSteel 8.
---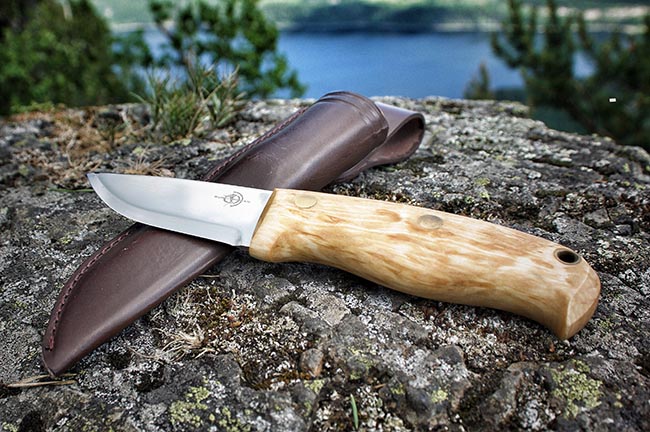 photo: Camilla Nilsen/bushcraftandcoffee
Helle Wabakimi Knife
Helle has been making knives in Holmedal, Norway, since 1932. Its Wabakimi is a Scandinavian-style, fixed-blade designed in collaboration with survival and primitive skills expert "Survivorman" Les Stroud.
A medium sized, well-balanced knife, the Wabakimi is small enough for hip carry, yet amply sized for precise cutting and long carving sessions.
It features a 3.3-inch drop point blade made from triple laminated steel, and it has a three-quarter, partial tang reinforced with two robust pins. The curly birch wood handle includes a lanyard hole. A leather sheath is included.
The Wabakimi is the third Helle knife designed with Stroud, fitting between the larger Temagami wilderness knife and the light and compact Mândra neck knife. Stroud field-tested numerous prototypes of the Wabakimi over months to produce its final design ($184).
Kupilka FireSteel 8
For easy fire-making, even with gloves on or in humid weather, the Kupilka FireSteel 8 creates serious sparks up to 3000 degrees Celsius.
Made in Finland, the sustainably-produced FireSteel 8 features a European ferrocerium rod, an ethically-produced reindeer leather cord, and a compact striker that's a byproduct of the metal industry.
It was designed in collaboration with Karu Survival, Finland's leading company specializing in teaching bushcraft and survival skills. Weighing 1.66 ounces, there's no excuse to leave this essential behind ($21).
One More Chance to Win:
There's still time to win one of our premium Scandinavian gear prizes this month. On Friday, November 1, we'll give one Trailspace member a Hults Bruk Jonaker hatchet ($129) and a Premium Nordic Pocket Saw ($119). All complete, qualifying reviews received October 1-31 will count as entries.