Aarn Guiding Light 60L

Top 25 in unisex Weekend Packs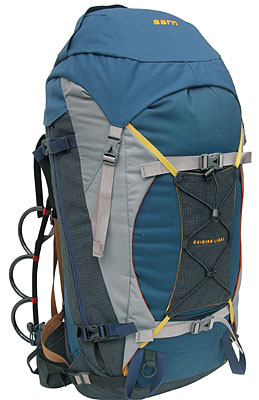 Specs
Price
Historic Range: $189.00
Reviewers Paid: $480.00

Reviews
2

reviews

5-star:

2

4-star:

0

3-star:

0

2-star:

0

1-star:

0
I am writing this review for one simple reason, it works. It works not just as a backpack but as a true weight load carrying system. By way of background I have been hiking for many years, firstly for fun and then in various careers including a long military career. I have used many different brands of packs in the past 30 years.
At Christmas time I purchased two traditional model packs in preparation for an April 11 New Zealand Milford Track tramp(a quaint kiwi term for hiking) for my wife and I. After several practice hikes all the usual aches and pains had come back. These packs were sold on eBay shortly thereafter.
Being a long time gear freak I went out and researched my Internet off. After finding Aarn I knew this was the way to go, better load distribution, greater balance, no fighting of the pack. I purchased the smaller Peak Aspiration for my wife and the 60l Guiding Light model for myself. We also purchased 2 sports sized front pockets each. The packs initially took about 15 minutes to set up, bending the frame to your spinal shape, adjusting the belts and cross straps. It took another 3 minutes to put the front pockets on. A very simple process. One piece of advice, buy the correct size for your back.
The front pockets are great and each morning I loaded them up with day snacks, 2 x 1litre collapsible water bags, sunscreen, camera and gear and away we would go. Not having to take the pack off all the time to get at some small nicknack or day snack was just brilliant. In the backpack I carried spare clothing, the lightweight Mont Helium 450 sleeping bag ( a great truly lightweight bag), jetboil, assorted travel items, eating utensils and toiletries. Being the pack mule in this relationship I also carried all the food for the main meals and a 2 l of water in a hydration bladder.
Each evening I would do a body scan and I found that my back didn't ache, my neck wasn't sore, I felt less fatigued and not as stiff. Sure I knew that I had been moving and working out for 6-7 hours each day but each morning I was ready to hit the trail again. For me, using an Aarn pack has put the joy back into hiking.
Price Paid: $480 including pockets

I have the "luxury" of testing gear professionally for outdoor magazines. Rarely have I been as impressed with a pack as I have been with the Aarn Guiding Light.
I began backpacking  in the late 1970's when the externally framed packs were being ushered out in favor of the better balancing internals. While the externals could carry heavy weights, they limited one's freedom of movement, feeling like a ladder strapped to one's back. What the internals did to the old externals is what Aarn does to most of today's internals. The Guiding Light is the first time I've felt "free" with a full load (forty pounds-one fourth my body weight).
Unlike any other pack that I've used, this one does not inhibit one's motion. The shoulders and hips can move freely. After using the Aarn Guiding Light, most other packs I own feel as if they are locking me in a straight jacket.
The hip belt pivots with you and allows you to bend, twist and really stretch forward. The shoulder pads are linked together at the bottom by a web that slides freely through a slot in the bottom of the pack. You can reach up and down when climbing or freely swing your arms as in cross-country skiing and the pack enhances rather than inhibits your freedom of movement.
The Balance Pockets that attach to the top of the shoulder straps and to the hip belt help equalize the pack's load. Unlike most packs where the center of gravity is behind you forcing you to lean forward to compensate. The balance pockets enable you to walk comfortably, erectly, almost as if you wore no pack at all. Also, I could conveniently grab items without having to waste energy taking my pack off and then having to sling it back on.
The pack has a plethora of other cool features including a removable waterproof liner and a quiver for ice tools, wands and trekking poles. Just as an archer does not have to take off his quiver every time he needs an arrow, I can reach over my shoulder and grab an ice tool without having to take my pack off.
I have walked across America and have walked from Mexico to Alaska. If I ever decide to walk around the world, I would choose the comfort and convenience of an Aarn pack.
Larry Amkraut
Price Paid: sample tested

You May Like
Recently on Trailspace