ALPS Mountaineering Microfiber Mummy Liner

I can't believe no one has reviewed these liners! This is one of the best liners on the market! I have two of these, and I've had them for several years. They cost less, are lighter, more comfortable, easier to get in and out of, and out-perform the Sea To Summit Reactor (I have one of those, also).

I highly recommend this liner to anyone that doesn't have a liner, and also to those who have the Reactor and are ready for a better liner.
Pros
Inexpensive
Lightweight
Simple yet functional design
Smooth, snag free material that has an excellent "next-to-skin" feel similar to silk
Lifetime Guarantee
Cons
The only "gripe" I can find about this product is very minor—the stuff sack is bigger and heavier than necessary.
--> Before I start the review, let's get the education and words to the wise out of the way:
Always, always, ALWAYS use a sleeping bag liner! A sleeping bag is an investment, usually an expensive investment. The insulation in a sleeping bag, whether down or synthetic, has to be able to create dead-air space to keep the warm air in and cold air out. A bag's insulating efficiency is dependent upon its ability to "loft". "Loft" is the "fluffiness" of the insulation, and is what creates that dead-air space. The insulation is easily damaged, and therefore the loft decreased, by: dirt, sweat, natural oils on your skin, and the stuff we all like to put on our bodies in the outdoors, such as sunscreen, bug spray, etc. Every time you get in your sleeping bag, you transfer these contaminants from yourself (and your clothing) to your bag. In other words, without a liner, every time you use your sleeping bag you are decreasing its ability to insulate by degrading its loft. So... ALWAYS USE A LINER!
*Reviewer note: Throughout this review, I will be referencing, and comparing to, the Sea To Summit Thermolite Reactor Liner. The reason for this, is that The Reactor is one of the most popular, well known liners on the market, and it is (in my opinion) the closest thing to competition that the Alps Microfiber Liner has. Plus, I own and have used the Reactor, so I feel qualified to use it for comparison.
It is NOT my intent to bash or otherwise degrade Sea To Summit, or any of their products. I own several STS products, and like them. They make good stuff. I just believe, from firsthand experience, that the Alps Mountaineering Microfiber Mummy Liner is a superior liner, and only reference the STS Reactor for comparison purposes.
Okay, first let me provide the manufacturer's claims, then I will give you my actual findings.
Microfiber Fabric

32" X 86"

11 oz

Mummy Shape

Stuff Sack Included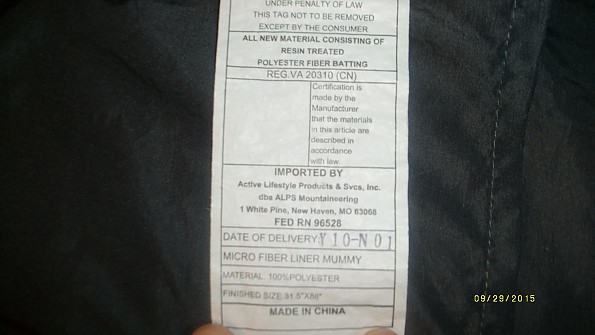 Typical mattress/sleeping bag "legal" tag
Resin Treated Polyester Fiber Batting

100% Polyester

Finished Size: 31.5" X 88"
Let me first address the confusion on the stated dimensions, by giving you what I came up with when measuring:
Width: 32" at the widest point (head end), tapering to approx. 16" at the foot end.

Length: 86" total; approx. 14.5" from top, to edge of top sheet (see picture); approx. 71.5" from edge of top sheet to foot end. (*note: 86" is SEVEN feet plus 2 inches!! If you can't fit in this liner, then my advice to you, Sasquatch, is to give up camping and pick up a basketball!)
Weight: This thing is so light, that my scale gave inconsistent readings. Twice the scale read 9.5 oz, twice it read 10.2 oz, and four times it read 9.8 oz. So I'm going with the 9.8 oz.
By comparison, my STS Reactor Liner consistently read 10.2 oz: higher than its claimed weight of 8.7 oz. (both liners were weighed IN their stuff sacks)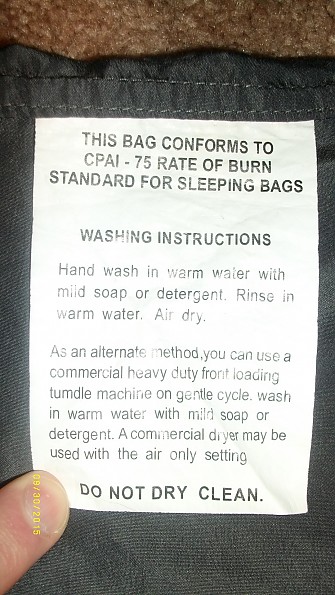 Standard, typical, sleeping bag washing instructions... Um, why??
This I do not understand: The "Washing Instructions" tag attached to the product gives standard sleeping bag washing instructions, but that contradicts the purpose, and one of the benefits, of a liner. And even the manufacturer's website says "Liners are easy to remove and toss into the washer when you get back home (a lot easier than trying to clean the whole inside of your bag!)"
I've owned two (2) of these liners for several years, and I just wash them in my top loading machine at home. They still look new, and I haven't noticed any damage or decreased performance. Of course, I set the washer to the gentle cycle, and I use Nikwax products for the care of all of my outdoor gear. So... ??
Okay, enough specs... on to the product itself.
Fit/Comfort
Starting at the top...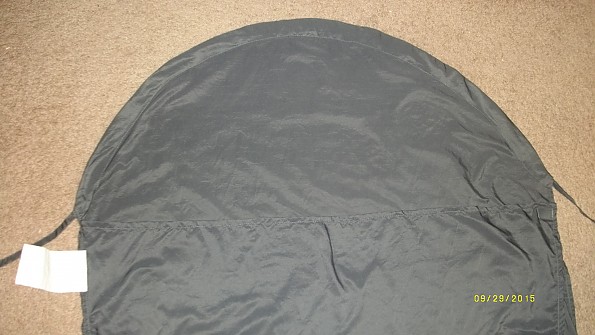 32" wide at the shoulder area—plenty of room! Notice the large (14.5"), round, hood area of the Alps Liner. By comparison, the STS Reactor liner...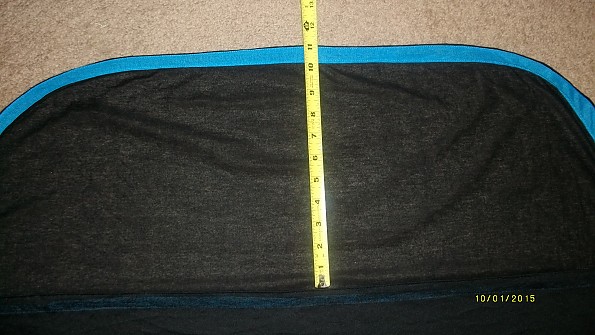 ... has a very boxy, 11 inch hood area.
Now it must be noted that with most liners, the hood area is just a flat continuation of the bottom material—nothing like the hood of a sleeping bag. In order to use the hood of a liner, you must tighten the cinch cord around your head, and it will then form a hood similar to what you are used to seeing on sleeping bags.
Please refer again to the picture.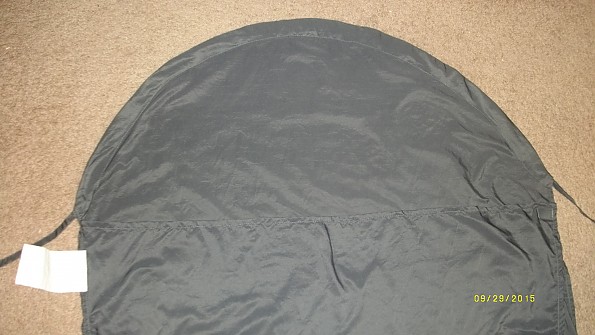 Notice the two (2) cords/straps, one on each side. When you pull on these (only one side actually moves, the other is stationary), while lying in the liner, the fabric forms a hood around your head...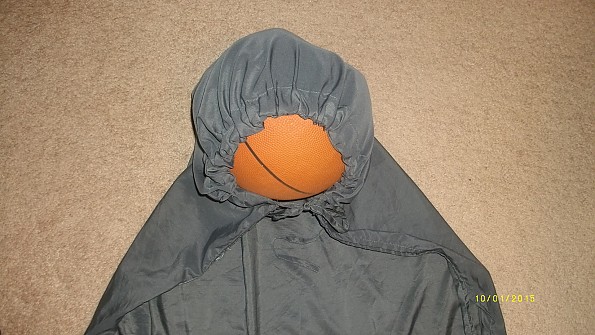 ... like so! Sorry, the ball was the best I could do on short notice! (and besides, you wouldn't want to see MY ugly mug peeking out at you!) And by the way, I know a few people with big 'ole heads, but if this thing will wrap around a basketball, I'm sure it will fit any head out there. LOL
Moving on to the foot end...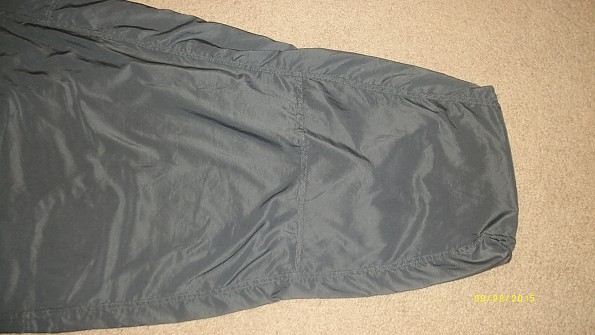 As stated above, the liner tapers to approx. 16" at the foot end. It is, after all, called a "mummy liner", and is designed to be used in mummy style sleeping bags, and is therefore shaped accordingly.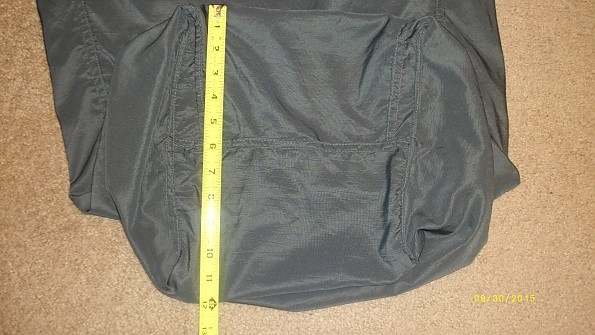 Notice the foot box area—an adequate amount of space—12". Plenty of room for my size 10 feet to point up while lying on my back, without feeling confined.
Entry & Exit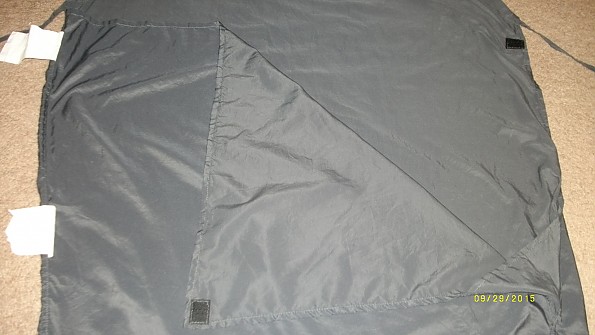 Notice that the top sheet opens. Unlike the STS Reactor, and several other liners (some of which I own), the Alps Mummy Liner is NOT just a sack that you have to wriggle your way into, and fight your way out of. There is a separation of the top and bottom sheets for approx. 15" down one side, allowing the top sheet to be folded back. This makes entry and/or exit much easier.
They also wisely added a piece of fabric between the top and bottom sheets at the point where the two meet, thereby reinforcing the seam/stitching at that point. You are now less likely to blow out that critical seam by pulling the top sheet too far, or by accidentally pushing on it with your foot.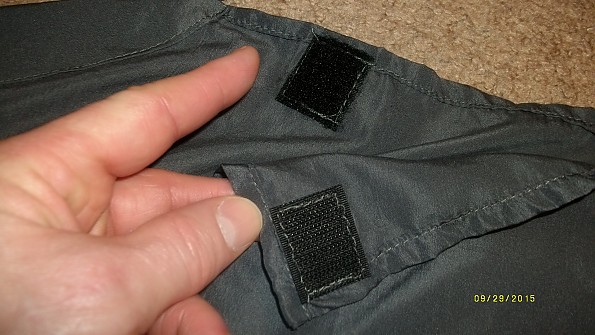 The top and bottom sheets stay together with a simple hook and loop closure patch.
Fabric/Construction/Durability
The fabric this liner is made of is very smooth, and very comfortable. By smooth, I mean it is not rough, nor does it snag easily on anything. By comfortable, I mean that except for my silk liners, and my silk blend liners, this is the most comfortable liner I have. It has an excellent next-to-skin feel similar to silk and silk blend liners. The manufacturer calls it "Resin Treated Polyester Fiber Batting (100% Polyester)."
Although lightweight, it does not have that typical flimsy feel of lightweight material. On the contrary, it feels very solid and durable. From what I can tell, the stitching looks top-notch (which is surprising for a product made in China). I bought two (2) of these liners in 2010, and have washed them several times in a standard top-loading washer, and they still look new.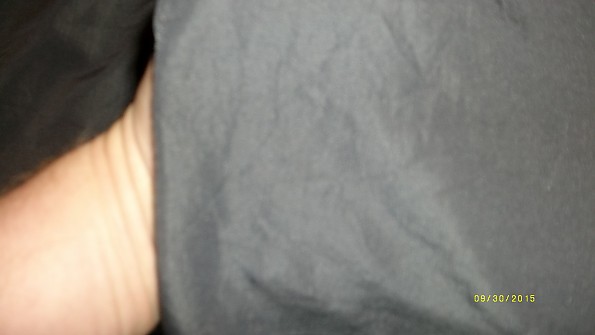 This is the Alps Microfiber Mummy liner...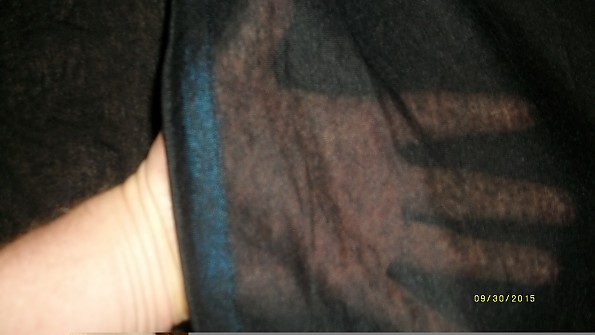 .. and this is the Sea To Summit Reactor Liner.
Even an out-of-focus picture can't hide the fact that the STS Reactor Liner is SEE-THROUGH! Not so with the Alps Microfiber Mummy Liner.
Features/Accessories
Alps has included a stuff sack for this liner, which is overkill, in my opinion. Don't misunderstand, there is nothing wrong with the stuff sack. It's a very nice little sack. It is just too big for the liner, and includes a shoelace-type cinch cord with a regular sized barrel lock/cam lock. While durable, these are big, heavy, out of date materials.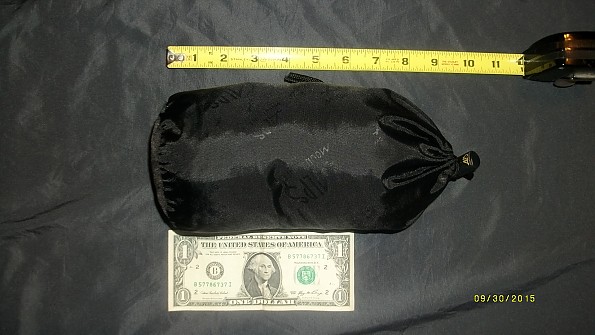 The liner stuffed into its included stuff sack.
What the picture does NOT show, is that the entire thing can be easily (with one hand, actually) compressed to about half that size.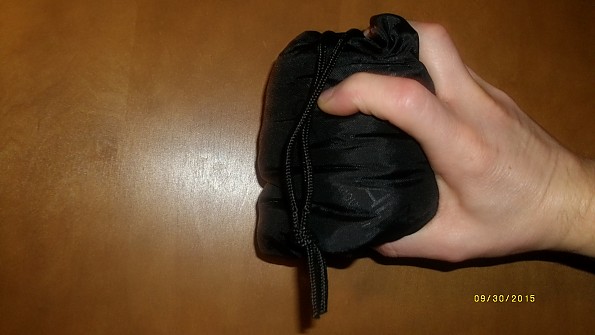 And there you have it! If you could find a compression sack small enough, you could easily get this thing down to somewhere between orange and grapefruit size.
I, personally, don't use the stuff sack. I insert the liner into my sleeping bag before I pack, and then stuff them together into the sleeping bag's compression/stuff sack. This method takes up less space in my pack, eliminates the need for the liner stuff sack, and automatically puts the liner right where I need it when I unpack my sleeping bag. 
Conclusion
I own about a dozen sleeping bag liners of various materials and shapes/sizes. Admittedly, I use my silk and/or silk blend liners more than any of the others, but that is only because the majority of my camping is done in warm to very warm conditions (I live and play in the Southeast). But when the temperature starts to drop, the Alps Mountaineering Microfiber Mummy Liner is the liner I always reach for first.
The lightweight, durable, smooth, fabric is very comfortable against the skin, does not catch or snag on clothing, and is easier to get in/out of than many other liners. The Alps liner costs less and weighs less than most liners comparable to it. I've owned and used two of these liners for five years, so the durability is without question.
I see absolutely no reason NOT to own an Alps Mountaineering Microfiber Mummy Liner!
 *Note/update - This page states that the Alps liner is not available. While it is true that it is no longer available at REI, this liner IS still available to be purchased.
As of 1745 on 10/01/15...
In addition to being available on the manufacturer's website (alpsmountaineering.com) for $28.99, I found the following;
outdoorsupply.net                    $16.20

howlandtradingco.com              $19.95

baileysonline.com                      $20.99

amazon.com                              $23.17

unclesams.com                          $23.19

rakuten.com                              $26.12

camping-gear-outlet.com          $26.99

sportsdealbox.com                   $27.23
I found these with just a quick Google search. There are plenty more.
Good luck!
Source: bought it new
Price Paid: About $20 each

This is a great liner at a much better price point than most. A must to protect and keep your bag clean. Perfect for summer trips, not much help for extra warmth.
Pros
Light weight
Easy in/out
Great price point
Cons
One color
Quite a bit tighter than my sleeping bag.
First things first, I bought this based on a Killer Review on Trailspace. It was super helpful, and there's no way I could do better, and I agree with all of his points, so definitely check his review out: https://www.trailspace.com/gear/alps-mountaineering/microfiber-mummy-liner/#review34340
My additional thoughts:
Entry & Exit: I'm a hammock camper and I thought it pretty easy to shimmy into the liner once in my hammock then get my sleeping bag around me and everything. (I sleep in a Hennessy Expedition). It was tight enough that when I chose to put on an extra pair of socks about 30 minutes later that it was near impossible to fit both feet, my hand, and some maneuverability to put on the socks without wiggling out of the liner a bit.
Do note that this was probably only possible because of the large opening that goes about a third of the way down.
Warmth: Ladies who are always cold (which describes me perfectly), it doesn't add a lot in the way of warmth. I think it added a little and I'm particularly looking forward to using it in the summer when you want to leave your bag unzipped, but don't necessarily want to be uncovered. I think it will be great for that situation.
Moisture: Two nights, it was basically impossible to get into the bag without wet feet, I feel like the liner did a good job of wicking the moisture away for a more comfortable sleeping environment.
Packability: Good size, good weight.
Conditions: I've used the liner twice now. Once in good conditions, once for 4 nights in cold (35 degrees F) and rainy. It performed as expected in both cases.
Notes: I'll agree with DLK again on the necessity of having a liner. Hiking on the AT in very humid weather leaves anyone "glowing", but getting into your bag that way can ruin the bag and make for some smells that make you not want to get back in it after a week.
Regardless of care instructions, I feel confident I could wash this on trail and know that it dries pretty quickly in warm weather. 
Source: bought it new
Price Paid: $21

Your Review
Where to Buy
Help support this site by making your next gear purchase through one of the links above. Click a link, buy what you need, and the seller will contribute a portion of the purchase price to support Trailspace's independent gear reviews.
You May Like
Specs
Price
MSRP: $28.99
Current Retail: $24.99-$29.99
Historic Range: $15.95-$29.99
Reviewers Paid: $20.00-$21.00

Weight
11 oz

Dimensions
32 in x 86 in

Material Choices
Poly Cotton or MicroFiber

Shape
Mummy

Recently on Trailspace