Hennessy Hammock Expedition Asym Zip

Excellent! Comfortable, rain-proof, bug-proof, easy to set up and take down.
Pros
Comfort
Very effective bug net
Easy to set up/take down
Stands up to rain and wind
Cons
Black fly lines hard to see in the dark
Doesn't include stakes
Me: 210 lbs. Female, 30 y/o. You don't have to be old to want to sleep soundly in the wilderness.
I used the entire setup as intended. I did pay attention to wind direction when choosing trees and setup. The asymetrical design made it very easy to point it in a wind-resistant position every time. Depending on wind, the lines to stabilize the fly work best staked and stakes aren't included (though I always find a free stake or two every time I go camping). In addition, those lines are black and hard to see at night, I may replace them with yellow or reflective lines. 
Setup: So easy to set up and take down. The first time the knots took a while using the instructions printed on the bag, but after doing it twice, it became second nature. I have noticed easier/faster knots on YouTube and haven't tried any out yet to see if they hold as well.
Stability: Didn't sag at all. Once set, it stays. 
Rain/Wind Resistance: Poured rain 3 nights in a row and stayed bone dry. One night had gusts of 25 mph, I was awoken by the large sway in the hammock, but stayed stable and dry all night long, though I was terrified of trees falling on me.

The fly sheds water VERY well. This helped it dry really fast when we got our 1 hour of relief from rain, which my companion's tent fly did not. 
Cold Weather Resistance: Slept in temperatures of 35 to 60 degrees F. I used a regular lightweight inflatable sleeping pad and normal sleeping bad rated to about 40 degrees and was warm enough. 
Ventilation: Plenty of fresh air. The one night it got down to 35 degrees F I woke up with a sore throat due to breathing in cold air all night, but felt great while I was in it. 
Room & Storage: Roomy for sleeping. Achieved comfort on my sides and back. I only tried it in bear country so I never attempted to store any gear inside hammock with me. Kept my journal and flashlight in the pocket provided.Was suprised at how much room there was to spread out. You can lay longways, diagonally, or I tend to lay in the middle with my knees out to one or more sides - plenty of room and support for all of that.
Packability: Snakeskins are included when you buy direct from Hennessy. I bought my separately, and totally worth it. Made setup and take down less than 5 minutes and made packing easy. About 3 lbs, but packed away nicely. Personally find it better than traditional solo tents.
Ease of Use: So easy! Can't say this enough. 
Construction & Durability: Well constructed. Took a beating on the rough trip, but still in its first few months of use. I'll update if time proves it to be less.
Bugs: Totally effective at keeping out mosquitos, no-see-ums, etc. The first night about 4 got in with me and I got all of four of them pretty quickly. Keeping my flashlight on though resulted in a solid layer of mosquitos on the inside of the fly (but outside of the bug net). The angle of the fly made for a VERY loud hum inside in the hammock which was quite annoying even though none could actually touch me. 
Features:
Tree Saver Straps: Included with hammock, fit all the trees I found wonderfully. Used them on trees with diameters from 5 inches to 25 inches.
Modifications: Aside from switching out the lines, the very last night was beautifully warm and clear, so I tied a straight line about half an inch above my hammock lines on the trees. This provided more room between the fly and hammock so I'd get more air and could see the sky by looking out the end.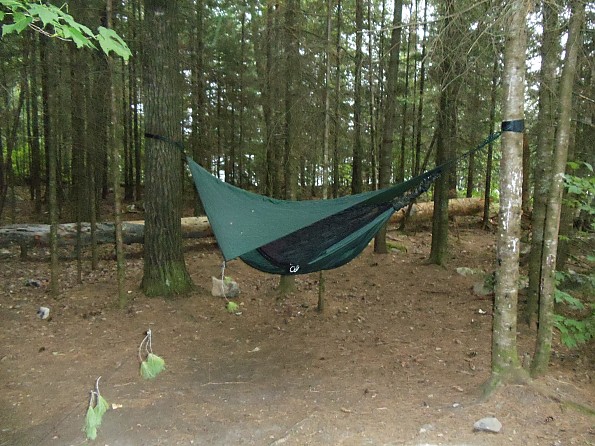 Hammock with pine boughs denoting tarp lines (to avoid tripping)
Source: bought it new
Price Paid: $160

An excellent all-in-one hammock system that won't break the bank. A little on the heavy side, and improved with some slight modifications. Overall a great introduction into the world of hanging. Protects from the elements, and is ideal for camping, hiking in most of the Northern hemisphere.

I recommend the Hennessy hammock system to anyone looking for a full on 3-4 season hammock/shelter system and that spends a good amount of time in areas with trees.
Pros
Versatile multi-season sleep system
Durable
Comfortable
Reasonably priced
Hennessy offers all components
Easily modified
Easy to set up
It's a hammock :)
Cons
No trees.. No hang
Heavy for a hammock
Provided suspension not the best
Shoddy weight rating
Ahhh Hammocks! Providing me with the best nights' sleep in the woods, a place to relax during the day and a swinging chair when I just want to sit and.. well...  swing.
Tom Hennessy and Hennessy hammocks provide a relatively easy and fairly inexpensive opportunity to break into hammock camping. The part I liked the most was that you can place one order and have everything you need to run out into the woods and "hang" out for the night. Mind you I have been sleeping in an ENO for some time and researched many, many options. It was the all-in-one package, along with a nice sale on the 4-season insulation system that sealed the deal for me.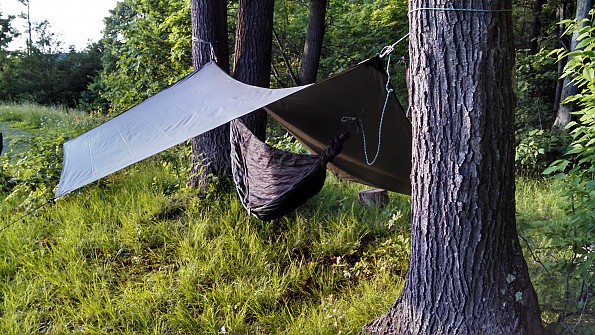 Here you have the Hennessy Expedition Asym (for asymmetrical) Zip model, I upgraded to the larger Hex fly, got the 4-season insulation and modded the support ropes with Stews "whoopie slings" and tree straps on a marlin spike toggle. Here is a pic; hanging off a section of the North country scenic trail in WNY.
What

 you get:

 

A basic order will get you your hammock; you can choose from a bottom entry or a side zip model, heavy duty climbing grade rope 

attached

 at each end (~10'), 42" tree straps ( essentially webbing straps to 

protect

 the tree bark), stuff sacks and a basic fly cover. All for around $200 shipped (depending on the model). Additional options include; larger tarp options, 4-season insulation system, snake-skins (tubing to slide over your hammock), and water catch funnels.

Setup: 

Setting up a hammock is by far one of the easiest chores of camping for me. Find two trees roughly 12-25' apart encircle each tree with a webbing strap, and tie in your provided rope at the desired 

height and you're done. Granted there is some fiddling to get it just right, learning the proper methods, knots takes a bit, but like anything else once you got it down it's super easy. Hennessy gives great tutorials on set up and the stuff sacks come or at least used to come with directions printed on them. 
Warmth/Ventilation: I have only had this hammock in temps ranging from 30f - 78f With the 4-season insulation system and my Therm-a-rest alpine down blanket I was always comfortable. Granted I hang my hammock slightly different than the fly to ridge-line method that is stock (also a nice easy and fully functional system, just not how I hang). But I never woke up wet or cold.

Now anything below 40f for me requires an under insulation, everybody is different with cold tolerance. Rest assured even the slightest breeze can literally suck the warmth from beneath you in a hammock. Sleeping bags DO NOT properly insulate. Once the loft of your bag is compressed it becomes useless. I promise, I learned the hard way. Here's me in ANF, PA. The nights hit around 9-15 degrees f. In my ENO and a military -40 sleep system, full thermals, fleece, down coat and I could still feel the cold at my back on the bottom.

Comfort: I had tent camped for years, eventually my back and my side sleeping habits put a halt to any real quality sleep in the woods. My first hammock (ENO SingleNest) was very nice and got me hooked. But the asymmetrical cut of most modern hammocks allows for a nice flat lay. You can still lie straight if you like, but I like the support of the asym hammocks.
Interior space: I am 5'8" 160#, I have more than enough room. There's a handy gear bag hanging from the ridge line that you can fit your phone, flashlight etc. into. I can slide side to side and up and down with no issues. I generally have my down top quilt, my clothes sack for a pillow, and what ever i had in my pockets go into the gear bag. The integrated ridge line (rope that runs the length of hammock from tip to tip) keeps the bug netting off your face and the integrated shock cords on either side allow you to "spread out" the width as well. If you've slept in a mummy bag you'll have no issues here.
Packing: Here's where the Hennessy lost points in my book. The hammock alone weighs in at 2.5#, once you have all your gear in there you're around 5# for a 3-4 season hammock. Which isn't terrible but definitely heavier than other (more expensive) hammock brands. Stuffing all this into the provided stuff sack is ridiculous to try to put into your backpack unless you have a huge pack. The hammock and fly take a lot of real estate.

My trick: I keep my hammock in the snake skins and snake the entire tube along the back of my pack, then make a bow-line or figure 8 with the suspension rope and clip it to the h2o clip for easy access. I then proceed to pack my bag like normal.

Side notes: I found the provided suspending ropes stretched a lot throughout the night and I would wake in the morning with my butt just skimming the ground. I swapped them out for Whoopie Slings; a stronger and lighter option. The standard fly is just plain silly in my book; it's just enough to cover the hammock, not even sure how it would perform in driving rain. I upgraded to the Hex fly, essentially creating a tarp shelter around my hammock, very versatile can be pitched lower or at various angles to provide better views etc.

This is the toggle setup. I went with the longest webbing straps offered, and the Easton aluminum cut toggles to get around the big tree issue. Looped around that are the whoopie slings which I swapped out the original suspension ropes for. It's also a faster set up.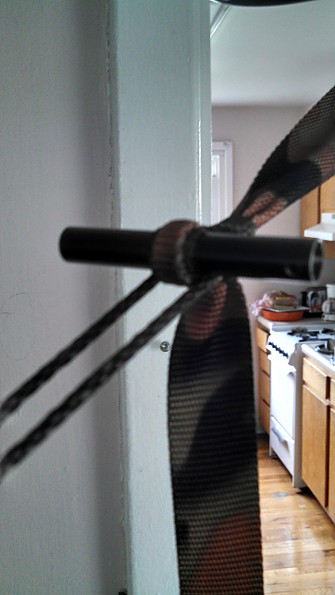 Final Thoughts: I really like this hammock, I take it everywhere I go when I'm solo sleeping. For me it is truly a comfortable 4-season sleeping system.
Note: I have decent cold tolerance. Not everyone can take this setup into below 40 or even 50 degrees. Additional gear may be required. Also, If you are taller than 6' look into the larger hammock options. They do offer ultralight models at a higher price tag as well.
I will say if I could have afforded it there were definitely other options I would have gone with. But, don't let that take away from the decent product Hennessy has. Please let me know if I missed anything.  
Source: bought it new
Price Paid: $169.95

An easily available hammock system that doesn't live up to its potential.
Pros
Durable material
Complete setup
Easy to deploy
Good instructions
Ridgeline organizer
Cons
Must know knots
Short tree straps
Small tarp
Weight
Cordage overkill
This was my first hammock, and I purchased it after limited research from REI online. While it's served its purpose (and still does) I wouldn't recommend a Hennessy for various reasons detailed below.
Unlike an ENO or a cottage vendor hammock, everything required to hang is included in the stuff sack the hammock comes in, which is great for a new hanger. The hanging system used does require the use of knots, however, which I immediately replaced with carabiners and heavy, multi-point attachment tree straps from ENO.
The included tree straps are far too short to be of any practical value. Below is a pic of one of my first hangs, notice how the ridgeline of the tarp isn't taut, it's sagging caused by the weight of my boots and a few pounds of gear in the hammock: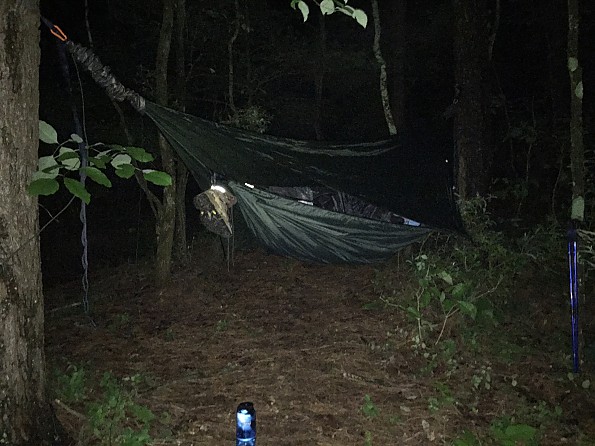 The sagging of the ridgeline can be remedied by tying the tarp directly to the trees, and not to the suspension system as it's shipped.  The tarp is a small, asymmetrical diamond shape made out of a heavy polyester that is overkill for weight and thickness.  
I've been in several thunderstorms with this tarp and for the most part stayed dry, though a little spray does come in on the head and foot ends where the tarp is narrowest. Wind is going to blow through this tarp no matter how tightly you deploy it so I wouldn't recommend it for cold temperatures.
If you buy the hammock directly from Hennessy, they will upgrade you to a larger, hex tarp for free or for a nominal fee, and this would be well worth it.
Below is a picture with the attached mosquito netting pulled off to the side, note the light ccf pad on the ground, which you will need to keep warm even in the mildest of temperatures: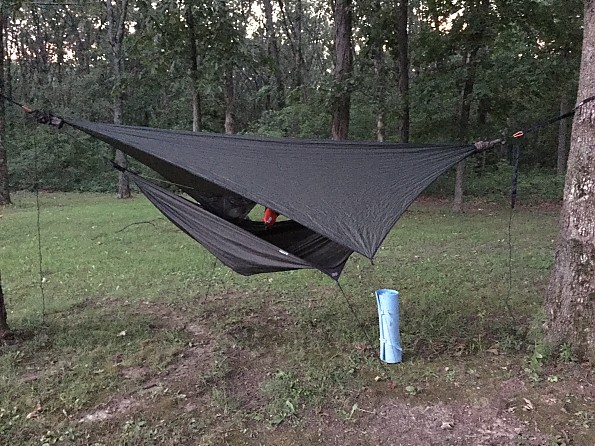 The Hennessy doesn't have clips or a attachment points for an underquilt. The tie outs for the hammock body also can't be deployed when using an underquilt, they don't really serve a purpose anyway other than keeping the loose fabric from gathering near your body.  
The body is made of durable material and rated up to 250lbs, which I believe is conservative. I did manage to snag the burly zippers in the material once, a piece of duct tape on both sides has patched it ever since. While shorter at 10.5 feet than most cottage vendor hammocks, the thickness of the material does make for a comfortable hang for me. I sleep well in this hammock.  
The rope used for the suspension is rated at 1500 lbs and is very thick and heavy. Below is an 85lb kid in hammock, note ENO Atlas straps, which I also don't recommend. Whoopie slings eliminate the need for them:
Everything about this hammock is heavy. With a listed weight of 2 lbs 13 ounces and more with Hennessy's Snake Skins for storage and deployment, for backpacking one can do much better with a little research.
In current mode this Hennessy has lightweight and user friendly whoopie slings replacing the old suspension, better guylines, super light kevlar tree straps, a much lighter and larger tarp, and is stored and deployed easily from a double ended stuff sack for a total of just under 2 pounds. All of these improvements have cost more together than I paid for the hammock.  
Shown below with silnylon tarp, pitched quickly at the beginning of a storm: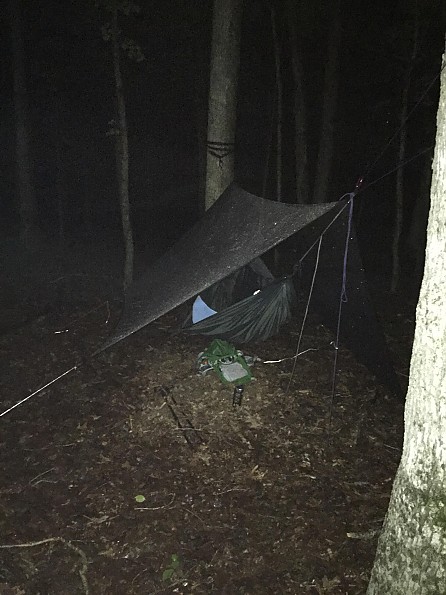 I don't recommend this product for backpacking because of the significant modifications needed to make it serviceable and light. It might be a decent product for car camping, but only because of its availability at a big box outdoors store. Much better options are available from cottage vendors.  
Source: bought it new
Price Paid: $180

Over-all a pretty sweet rig.
Pros
Comfortable (no sticks, rocks or snakes)
Stealthy (low impact visuals)
Well-made
Cons
Spendy
Tree straps are innsufficiant
Overall a pretty sweet rig.
I've used it as intended, also when the need arises it makes a pretty decent Bivy on the ground (esp. with hiking poles to keep the bug net high).
I like the Zip model better the the original as it's easier for chair-mode, and much easier entry exit on a cold night (yeah, you know what I mean).
As with all hammocks, it still needs a good under-quilt/over-quilt instead of a sleeping bag, but that's offset by not needing a pad.
I use the optional snake skins which is of major benefit to packing, setup and tear-down. With the snake skins setup takes about 3-minutes (w/o the underquilt) and teardown is about the same. That time includes the rain-fly setup too!
You don't store much gear inside as it would slide to the center, but shoes go into the end well and there's a bivy sack that hangs from the ridgeline taht is great for the nessaceries.
All in all it's a great rig for those that want the flexability of a hammock, but don't want to make or have made a custom setup.
Source: bought it new

Lightweight, versatile, comfortable, easy to use, but it has some drawbacks in certain areas.
Pros
Weight
Ease of use
Leave No Trace
Weathertight-ish
Great with the rain fly
Quick to deploy
Little to no ground contact
Cons
Pointless above the treeline or in treeless areas
Not good in the cold without supplemental insulation
Amuses bears
I've used this for over 10 years. I've even used it while taking a 47' Motor Lifeboat across the great lakes, and could manage to still put it up after a day of nasty Lake Erie sloughing waves. It goes up easy, is quick to use, versatile, and packs up really nice. Airline friendly as well.
The downsides are simple; you have airflow on all sides, so it gets cold easier. If there are no trees or hammock stands, it can be a real pain in the ass to use. It's not as good as a bivy sack if you have to bivy. It gets tree sap all over it, and you have to hang it up to dry from time to time.
However, since I typically forest camp below the treeline, this is a great platform to use. Keep in mind, this won't work for every situation, and it doesn't have a vestibule so it may not be the most ideal for inclement weather. I still recommend it, however, and I'm a big dude (6'1", 215lbs). 
It also works outstandingly for motorcycle camping.
Source: bought it new
Price Paid: 79$

I have used the Hennessy since 2010. I have suggested to the manufacturer five relatively easy modifications that would make this very comfortably hammock almost perfect, but none have been implemented.

I did have it on a canoe trip one fall in Upper New York. Very strong rainstorm filled the hammock with a gallon of water, and I and sleeping bag were drenched. If the rain is coming straight down, it is fine, but if blowing sideways, you will get wet. BUT there is any easy fix. I also had it for two 10-day trips along the AT.
Pros
Easy setup
Light weight
Very comfortable for sleep
Cons
Very cold during chilling weather
Thermal pads slide all over
User since 2010 on canoe trips in upstate NY and on AT, as well as other trips. Most comfortable hammock I've ever used; keeps bugs and critters out, better than military Jungle Hammocks I've used in Vietnam and Panama. Lightweight and strong
Rain fly will collect water in heavy rains no matter how tight you make the lines; a simple fix could be made by mfg to correct this.
When the wind is blowing during a rainstorm, the rain comes in under the rain fly through the side/top bug netting. A very easy fix by the manufacturer would correct this.
Difficult to line up the rain fly with the orientation of the main hammock (because of the asymmetric design);   again there is an easy fix that would correct this.
If you don't have some sturdy trees to tie to (like a beach, meadow, or above tree line in the mountains) you need a simple stand to tie to; when I first saw the hammock on display, there were about two dozen set up under a large parachute, and were all attached to simple stands, but I have not been able to locate where they can be purchased. 
Very cold sleeping off the ground when the OAT is low; Thermal sleep pads would handle this, but they keep sliding all over the place. I think the mfg could fix this with my suggestion, but I've gotten no response from them. They advertise a baffle shroud to go under the hammock for cold weather, but they are not carried in the stores I have visited.
Source: bought it new
Price Paid: $100+

Great to use, but difficult to set up. Very comfortable and quite rain proof. Good for picky backs.
Cons
Tree straps need certain trees
Set up is a bit of a pain
I enjoy this hammock for trips to places I'm familiar with. It is very comfortable for sleeping, especially with a pad to help keep in the warmth. I sleep on my sides, and have some solid hips, so the older I get the worst sleeping on hard ground is. A hammock is a great solution, and this one is the best I've found that resembles a tent for comfortable protection. I can even change in it without much difficulty.
The first time I used it was in a rainstorm. I stayed dry, and while I swayed a bit, I didn't sink any. The rain was coming in sideways, and the fly still kept it off completely. I was concerned since the top is open. This also opened it up for great ventilation, didn't get stuffy, and all condensation took itself away on the fly.
Trying to store your gear in it can be difficult, but I put it behind my knees and found that a good way to keep myself at the diagonal necessary for hammocks. This one is made for those under 6 ft. I'm 5 and a half and felt a perfect fit, so If you are 6 ft I'd recommend going up a size.
My biggest problem is setting this thing up. The straps provided only fit certain trees and tensioning all the parts can be complicated. I do not have the Snake Skins, and I'm planning on purchasing them in hopes that this'll make things easier. When packed it takes up a bit more space than I would expect, but it's so much lighter without poles. 
Source: bought it new
Price Paid: $135.89

Fantastic design for all types of weather. This hammock does a great job keeping the bugs out. I'm happy to see that it now has a water collection system available.
Pros
All-in-one system
Very rainproof
Versatile
Cons
The straps that are included make it hard to find the right tree
My Neoair slides all around making it nearly impossible to use for insulation
I wish there was some way to secure your sleeping bag or air mattress inside to avoid slipping
It would be great to have a way to hang using Nite Ize carabiner
The hammock is a fantastic design. Setup and tear down is simplified using the snake skins. There is very little sway to the hammock during sleep. I have used it in heat and cold and rain. Hammock functions great in the heat as you can get great airflow and its very water resistant.
I did have an issue when I tried to use my air mattress on a cold night. My sleeping bag and mattress slid all around in the hammock and I had only a few minutes of sleep as a result. I would like to be able to suspend the hammock with a Nite Ize carabiner so that I wouldn't have to "mess" with the suspension so much. As it is the right suspension is difficult for me to achieve as I am only 5 feet tall and can't reach high enough on the tree to avoid a sinking hammock. It's no fun to wake up on the ground in the middle of the night.
Overall, a well-constructed hammock (probably the best on the market) that travels well in my backpack. I just wish they'd fix a couple of issues.
Source: bought it new
Price Paid: 170 or so dollars

Your Review
Where to Buy
Help support this site by making your next gear purchase through one of the links above. Click a link, buy what you need, and the seller will contribute a portion of the purchase price to support Trailspace's independent gear reviews.
You May Like
Specs
Price
Current Retail: $169.95
Historic Range: $152.96-$169.95
Reviewers Paid: $79.00-$180.00

Recently on Trailspace