Altra Superior 4.0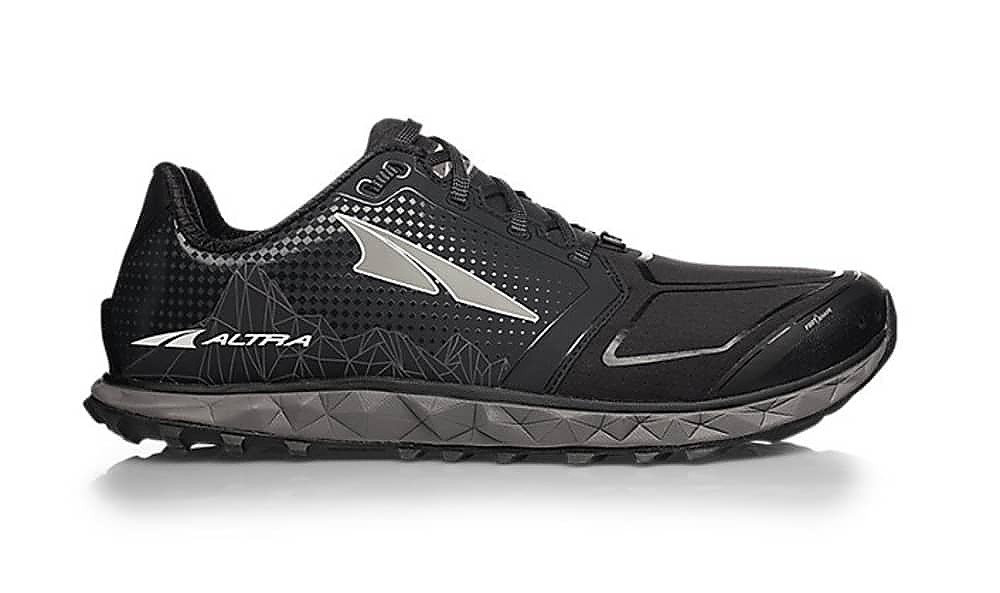 The Superior 4.0 is a supremely comfortable shoe, with many improvements over its predecessors (better fit, materials, flexibility). Yet the 4.0 maintains most of the best characteristics that make this model my favorite hiking shoe. They are responsive to the trail, fit my narrow feet perfectly, and the tread is excellent for gripping loose gravel and even snowy patches. They are lightweight and dry fast. My only disappointment is that they did not last quite as long as my Superior 3.0/3.5s.
Pros
Comfortable and great fit for narrow feet, while still maintaining wide foot-box for toe-spread and foot-swelling
Lightweight and minimalist
Flexible sole
Breathable, stretchy upper that conforms to foot shape
A great choice for thru-hiking
Bonus removable rock-plate (StoneGuard)
Cons
Slightly less durable than Superior 3.0/3.5s (separated at the sole/upper seam at inside midfoot at 500 miles=blowouts)
Easily allow water inside (also dry fast)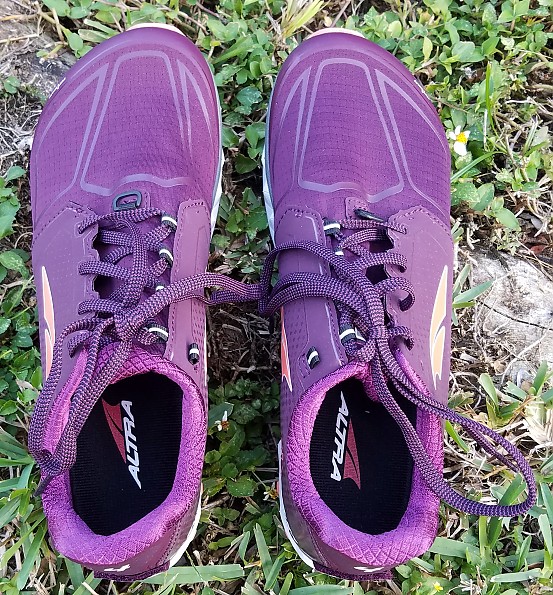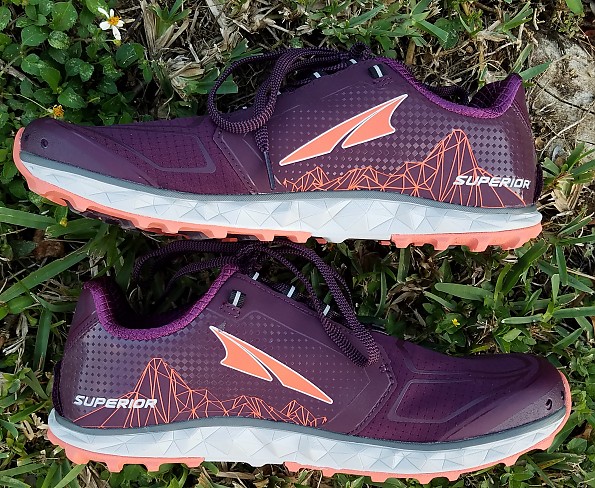 Description & Specs: The Superior 4.0 is the most recent version of Altra's low profile trail running shoe. The 4.0s have been updated quite a bit from the 3.0/3.5 version, with the goal of producing a lighter, grippier, and sleeker shoe. Superiors will probably appeal to those that value minimalist performance such as good trail feel and sensitivity, low-to-the-ground stability, and a streamlined, lightweight profile.
Weight (of my sample pair, size women's 9.5): 14 oz. (w/out removable StoneGuard)
Heel-to-Toe Drop: 0 mm (Note: most all of Altra's shoes are zero-drop, which means they have the same height in the heel as in the rest of the shoe)
Stack height: 21mm
Multi-point attachments for use with trail gaiters

Disclaimer: Writing a review of trail shoes is difficult, in the sense that a lot is subjective. Opinions range all over the board and what works for me will definitely not work for everyone. The ideal amount of cushioning and the balance between underfoot protection versus sensitivity for the ground depend on the terrain, activity, and duration, but are also a matter of personal preference.
Background: I want to first mention my breath of experience with the Altra Superior line. I have used several versions of Superiors (2.0, 3.0, and 3.5) exclusively and extensively for long-distance thru-hiking, totaling about 7,000 miles thus far. Their suitability for hiking and backpacking will therefore be the focus of this review. I will make some comparisons to the 3.0/3.5, since the bulk of my experience is with these (8 pairs so far). I tested and reviewed the Altra Superior 3.5 in 2018, while hiking the PCT.


4 versions of Altra Superiors that I have worn, from left to right, the 2.0, 3.0, 3.5, and 4.0s


Comparison of Altra Superior 4.0 to 3.5s (what's changed?):
The Superior 4.0s have generally improved with several design modifications that I find appealing and more comfortable. Yet they have retained their slim profile, wide toe-box, and excellent aggressive tread. They also still work well with Dirty Girl gaiters, with attachment rings at the toes and Velcro at the heels.
Fit & Comfort: I've just outlined some of the Superior 4.0's new design changes and how they contribute to better fit and comfort. I think these are the most comfortable Altra shoes that I've worn yet. Despite some very challenging trail conditions (snow, hail, mud, steep slippery slopes, rocks, and wet-feet for days on end), I did not experience any slippage, blistering, chafing, or sore spots in these shoes. (Granted, my feet were also pretty trail-hardened from earlier thru-hiking/day-hiking before I started southbound on the CDT).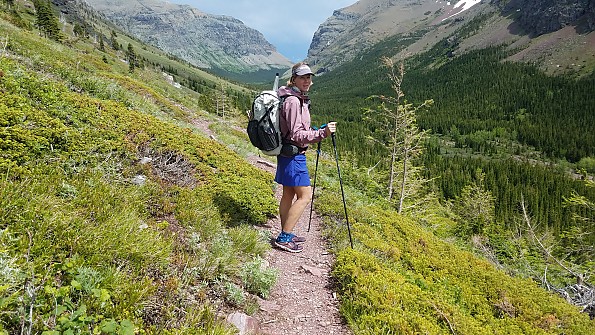 Some beautiful trail tread in Glacier National Park, with very happy and light feet.

Support & Protection: The Superiors, by design, are pretty lacking in the category of support. They are a lightweight, minimalist trail runner, which happens to be the kind I most prefer for long-distance hiking. Due to a pretty light baseweight, the aid of trekking poles, and the blessings of forgiving anatomy, I do not require much in the way of ankle protection, arch support, or a bullet-proof toe-box...don't look to these kind of shoes if those are highly-prized traits.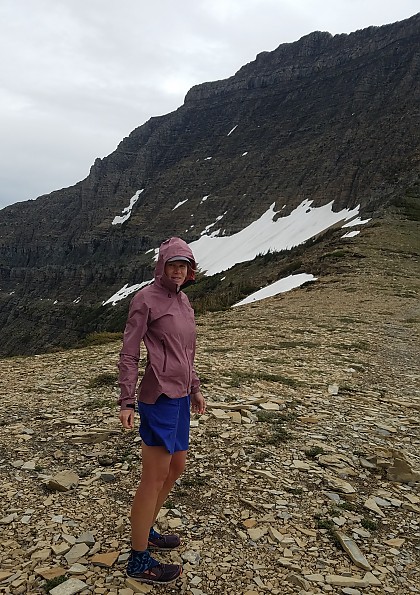 A windswept ridge on Triple Divide Pass, GNP. I like to travel light and fast, so light trail runners suit my style.


Water-Resistance: The Superior 4.0s are not designed to be water-resistant but rather to easily shed water if they become saturated. The knit upper allows water in...but also dries quickly. Drain holes at the front of the toe box allow water to seep out.
I started the CDT while the snow was still melting in Northern Montana, so I pretty much had wet feet for the first three weeks. Between the melting snow, periodic rain and hail, and numerous stream crossings, I almost gave up on the idea of ever having dry feet again. Luckily, these shoes perform just the same when wet...though I suspect they also wore out prematurely because of the wet conditions.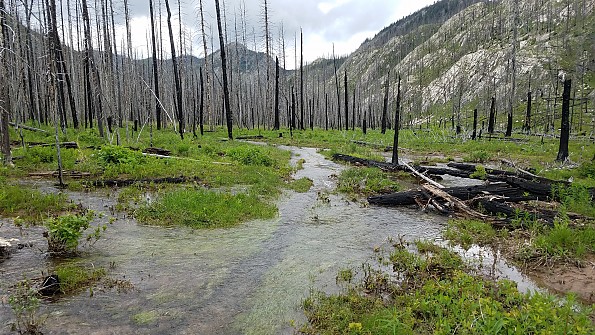 Yup, this is a part of the trail through the Bob Marshall Wilderness, Northern Montana. But I don't mind walking in water in the Superiors because they drain quickly and are still lightweight.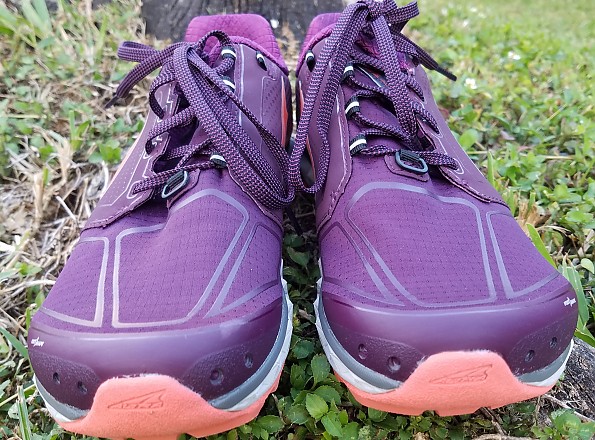 See the drain-holes up front?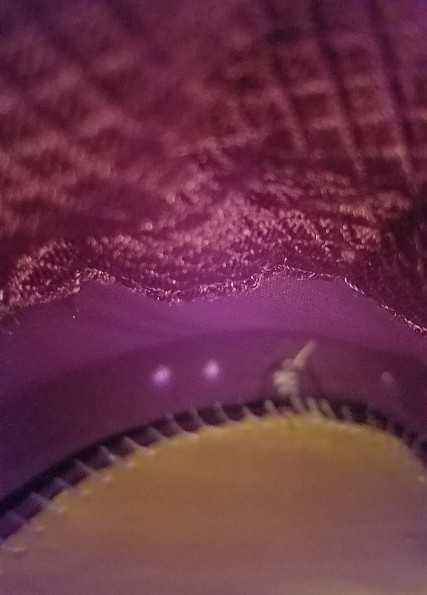 Here's an inside look at the airy mesh and drain holes...yes, these shoes let all the water (and some mud/dirt) in but also let it out.

Traction: The Superior 4.0s have a pretty similar tread design compared to previous versions, resulting in the excellent grippy performance I have come to expect from these shoes. Other hikers that I have traveled with have actually switched to wearing these shoes, after seeing how little I slip on the trail. Altra has catchy names for their tread design: Maxtrax and TrailClaw. I just know that the design works well on snow, gravel, scree, boulders, and in creek beds. Just beware of wet algae-covered rocks, which are the bane of almost any shoe tread.
Not a whole lot has changed with the tread layout: 4.0s top, 3.5s bottom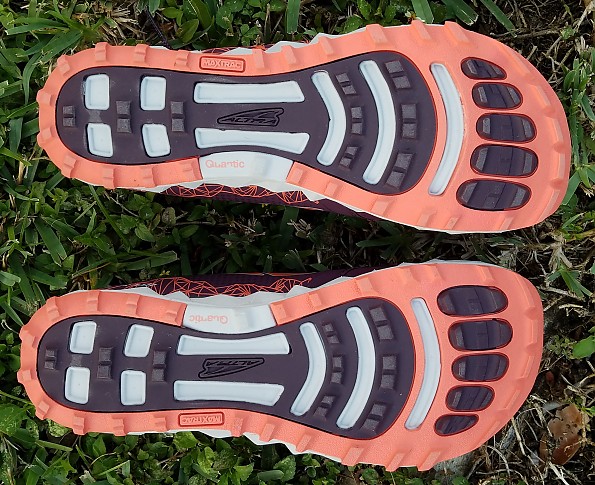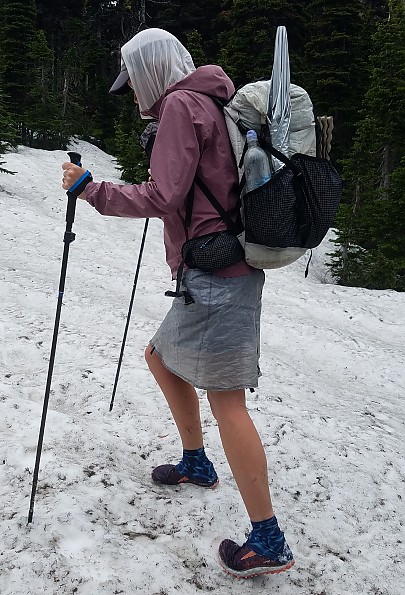 Putting the tread to the test on remnant snowfields in Glacier National Park.
One Last Feature: Altra StoneGuards. These are hard plastic inserts that come with Superiors and are placed under the cushioned insert. I did not use them with my sample of the Superior 4.0s but I did use them to hike other parts of the CDT in Superior 3.5's. The CDT has some pretty rocky stretches and I found them helpful to reduce stress on my feet. They basically make all the small pointy bits of gravel on the trail hurt less. They also keep ridiculously long cactus spines (like the kind I frequently encountered on the Arizona Trail) from piercing your foot. On the downside, they add weight to the shoe. The best part is that they are removable, so the user can make up their own mind. I like that Altra provides these as an option with the Superiors.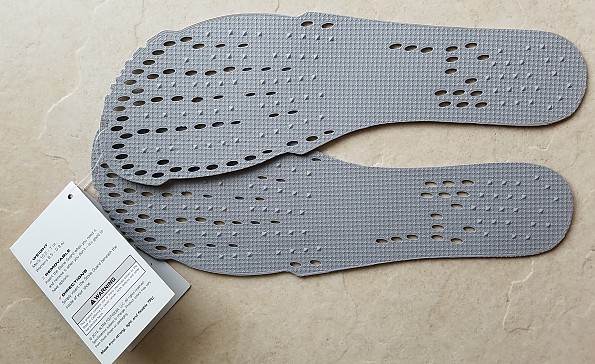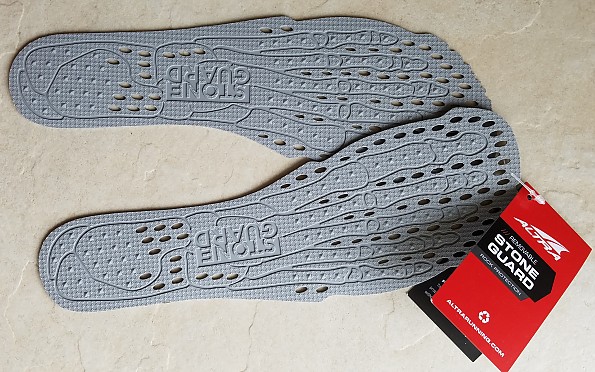 Construction & Durability: My biggest disappointment with the Superior 4.0s was their durability. Through a whole lot of trails, trials (and some errors), I can confidently say that a pair of Superior 3.0/3.5s will reliably last 800 trail miles, sometimes even more. But the 4.0s only made it about 635 miles. In fact, I noted blowouts at the sole-upper seam at around 500 miles on both shoes.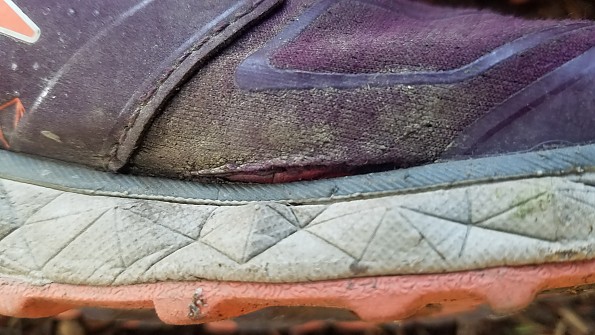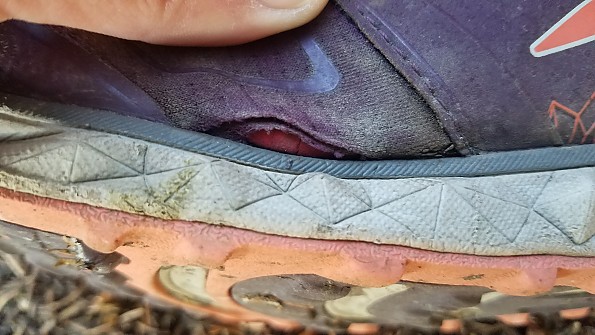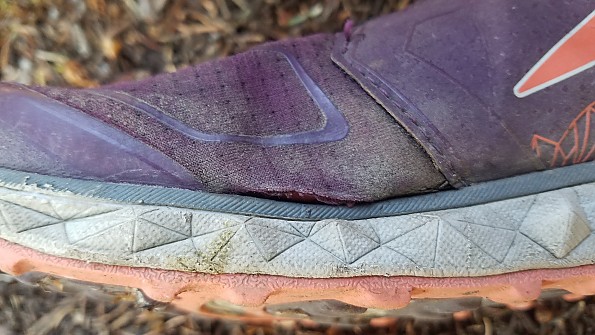 I managed to get another 135 miles out of them by super-gluing the holes closed. Miraculously, this field-repair actually held and prevented the blowouts from getting worse. I was hoping to get a few hundred more miles out of these shoes but I'll also have to concede that they were subjected to some pretty harsh trail conditions.
I wonder, had they not been wet and literally dragged through the mud for weeks on end, would they have lasted longer? Perhaps so. A pair of 3.5s were similarly bedraggled after hiking through all the snow, water and mud at the start of my PCT hike in 2018. But if there was one thing I could change on the 4.0s, it would be to add a heel-bumper all the way to the mid food, as is found on the 3.5s.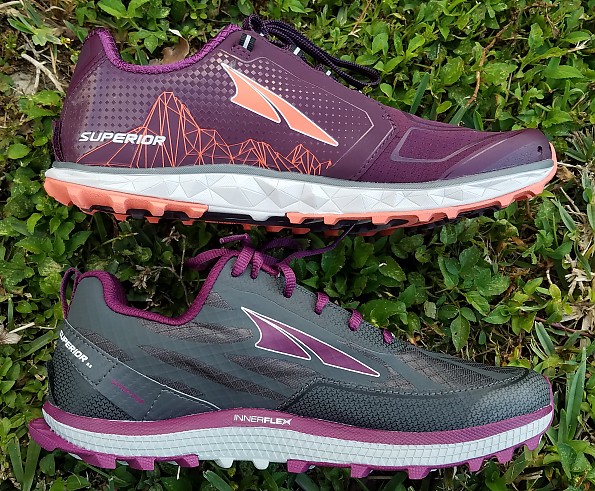 Basically the only bad thing about the 4.0s is that the heel bumper stops too short, allowing blowouts of the mesh material at the connection with the sole. Please Altra, can you reinforce this area so I can be your most loyal fan of the 4.0s?

All things considered, the 4.0s were reasonably durable. The tread lasted as expected and the inner lining had fewer holes than my 3.5's after similar mileage. I reverted back to using the 3.5s for the rest of my thru-hike, mainly because I can find said version for $60-70 online and get more miles out of them. Going through 4-5 pairs of shoes on a thru-hike represents a significant cost, so miles made and money saved is my bottom-line. In the future, I hope to hike more in the 4.0s.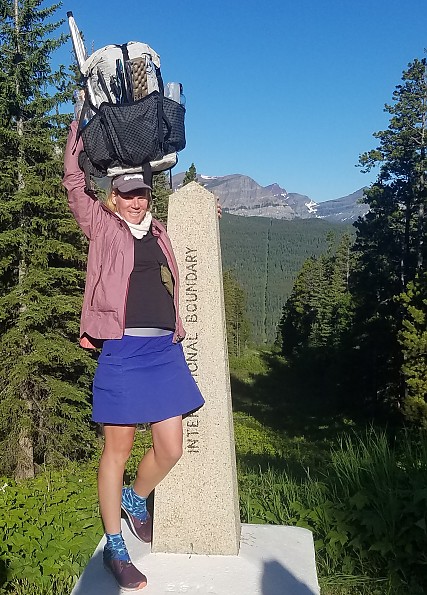 A fresh start at the Canadian border, the Superior 4.0s ready to conquer Glacier National Park!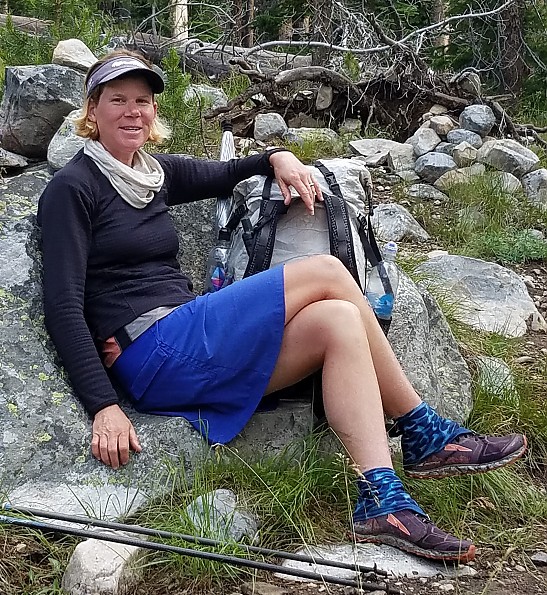 Taking a rare break off my feet to enjoy some rock furniture. These poor shoes look pretty trashed here, at around the 500-mile mark.

Thanks to Trailspace and Altra for the opportunity to test the Superior 4.0s!
Experience
I tested this pair of Superior 4.0s for the duration of their effective lifespan. This amounted to approximately 635 miles and 25 days of continuous use while thru-hiking the Continental Divide Trail (Canadian border to Leadore, Idaho, June-July 2019). This stretch of trail included a variety of challenging trail conditions, from snow to mud and a whole lot of sopping wet miles. I crossed many streams, walked in rain and hail, and climbed many steep and slippery surfaces in these shoes. As trail conditions go, these were some of the worst I encountered on the CDT, or anywhere for that matter. For comparison, I have used multiple pairs of Superior 2.0/3.0/3.5s to complete the CDT, PCT, Arizona Trail, and Colorado Trail (about 7,000 trail miles in total). I wore Altra Lone Peaks when hiking the Te Araroa trail (2,000 miles) but find the narrower fit of the Superiors much better suited for my feet.

About: Leah Harman is an avid long-distance thru-hiker. Since 2017 she has completed the Te Araroa, Colorado Trail, Pacific Crest Trail, Continental Divide Trail, and Arizona Trail. When she's at home she volunteers as an activity leader for the Florida Trail Association.
Source: received for testing via the Trailspace Review Corps (Sample for testing and review provided by Altra)

Every day and twice on Sunday.
Hands down the most comfortable running shoe I've ever worn. You won't be disappointed. The large toe box is different from most brands, but I'm sold.
Experience
amateur runner
Source: bought it new
Price Paid: $110

Your Review
Where to Buy
Help support this site by making your next gear purchase through one of the links above. Click a link, buy what you need, and the seller will contribute a portion of the purchase price to support Trailspace's independent gear reviews.
You May Like
Specs
Men's
Price
MSRP: $110.00
Current Retail: $87.96
Historic Range: $54.83-$110.00
Reviewers Paid: $110.00

Weight
7.9 oz / 224 g

Insole
6 mm Contour Footbed with removable StoneGuard

Midsole
Quantic

Outsole
MaxTrac Rubber with TrailClaw

Cushion
Low

Stack Height
21 mm

Upper
Seamless wrap-around engineered knit

Women's
Price
MSRP: $110.00
Current Retail: $87.96
Historic Range: $54.83-$110.00

Weight
6.6 oz / 187 g

Insole
6 mm Contour Footbed with removable StoneGuard

Midsole
Quantic with InnerFlex

Outsole
MaxTrac Rubber with TrailClaw

Cushion
Low

Stack Height
21 mm

Upper
Seamless wrap-around engineered knit