Asolo Piuma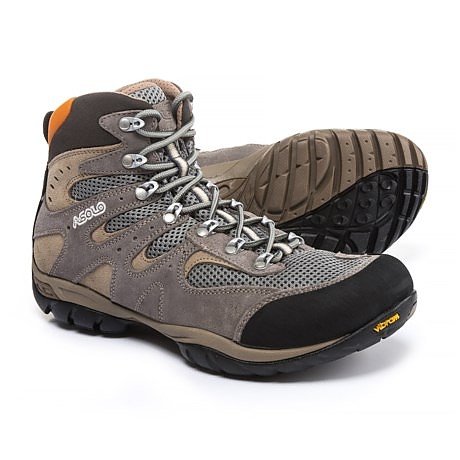 The Asolo Piuma is a light, articulate mid-height boot well suited to hiking, backpacking, and general outdoors use. Despite some minor issues with traction, I'd recommend it to any hiker or backpacker it fits. This is the closest thing to an "all purpose" boot I've encountered.
Pros
Unique, "articulate" construction.
Lightweight
Breathable body
Fits this tester well.
Lacing structure prevents slipping.
No break-in required.
Cons
Slightly "iffy" traction?
Fit:
I've got a very neutral, average foot: Average arch, average volume, average elongation, etc. My stride is very neutral and balanced too. Though I measure a 10, I prefer a 10.5 in most shoes to accommodate a thicker sock and some swelling that typically happens after 10 or more miles.
Asolo didn't take my word for it though. In order to ensure that I was testing the shoe — and not the fit — their representative made the journey to my office (an hour's drive!) and fit the shoe to me in person. I agreed to meet him in a public market near my home and asked how I'd find him. He replied: "I'll be the guy holding the Brannock device!"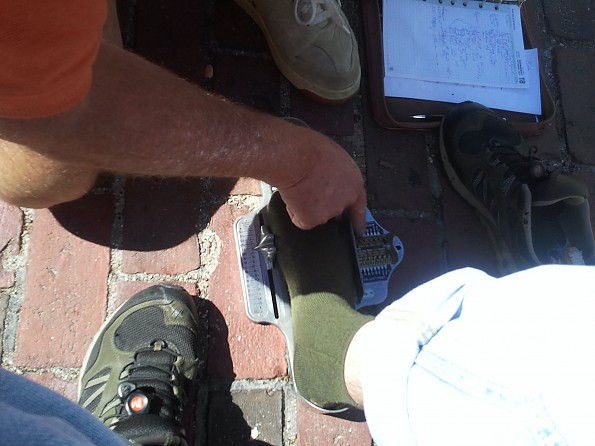 My first public foot-measuring experience, courtesy of Henry Barber at Asolo.
After a very thorough measuring (I've sold shoes for years, and this measurement was more thorough than I typically gave) and a more thorough interrogation, I was issued my shoes. They fit very well out of the box, but just to be sure I wore them around the house for a few days, and didn't notice any problems. The mid-height ankle wraps smoothly around my ankle, there is no bunching in the tongue, the arch is well-placed, a perfect fit!
Asolo's Henry Barber took a solid 10 minutes to work through a number of calculations to determine the ideal fit.
The Asolo Piuma has a unique shape, much closer to a climbing shoe than a traditional hiking boot. The toes are noticeably narrower, and the entire shoe curves toward the big toe slightly.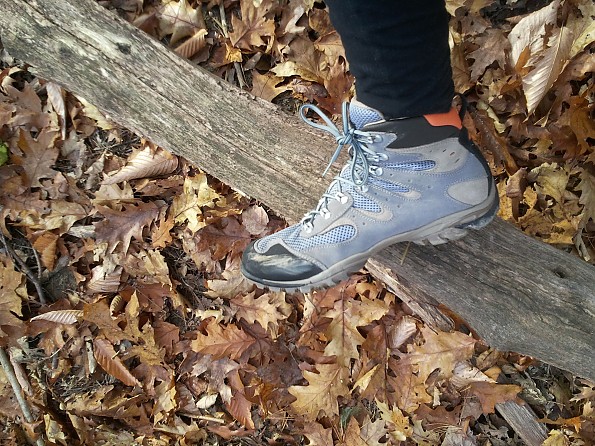 The Piuma in its natural habitat, right out of the box!
My first vigorous hike on a local trail showed the boot needs little break-in. It's supple, flexible and nimble out of the box. A fast 5-mile hike over marshy ground, rock staircases, packed dirt and roots proved that this boot requires almost no break-in.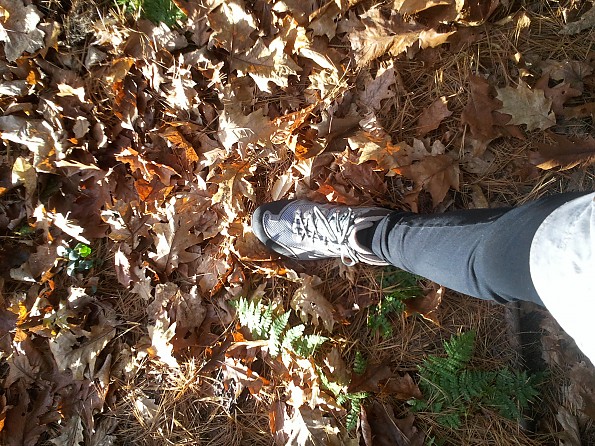 A great first hike. Showing the curved rand and the articulate toe.
Support:
This boot is minimally to moderately supportive. I don't rely on my boots to prevent ankle rolls, but if you do, I wouldn't rely exclusively on this boot. To be fair, this boot doesn't claim to provide the sort of prosthetic ankle support some people like. Structurally, the top is light and flexible, allowing my tendons to move freely and making me feel as footloose as a dancer, rather than feeling like I'm wearing "moon boots." I prefer my boots this way. If you're looking for a heavy, rigid boot, this isn't the boot for you. If you like a lighter boot, stop reading and try this one on!
Water Resistance:
The Piuma isn't designed to be water resistant, though it does resist water better than I would have thought for a mesh boot. A light rain took more than an hour to penetrate. My foot stayed dry hiking for a few hours on a packed, snowy trail, and brief exposures to icy mud didn't seep in. Stepping into a deep puddle clearly shows this is a mesh boot, though!
Traction:
This boot has decent traction. It grabs compact dirt, rough rock and steep slopes well. However, on wet rocks, the traction fell a bit short of what I expected. The lugs are of moderate depth, and the tread texture is moderate overall, so this boot does not appear designed to offer "extreme" traction. Additionally, the slope I tested them on was a veritable slip-and slide of wet leaves, ice and river stones. Everyone I hiked with fell at lest once.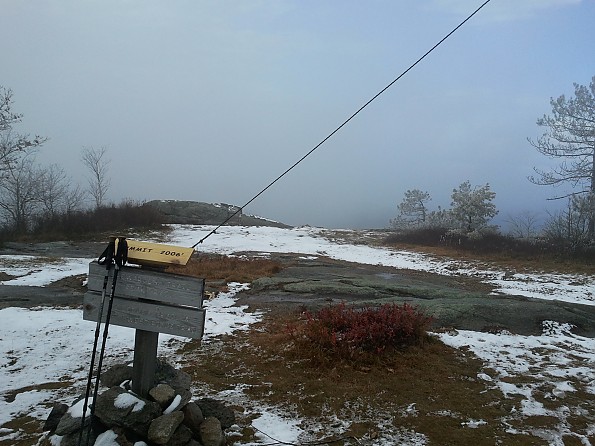 Slippery rocks alert! I did a little slip-and-sliding on the iced over rocks and leaves on a local mountain.
Temp Control:
This boot shines as a warm weather boot. On a steamy July backpack, my sweaty feet dried INSIDE of these boots within an hour. On regular fast hikes on a rail-trail, these boots dissipated sweat rapidly. In cold weather, they offer little in the way of insulation, but for those of us with perpetually, hot, sweaty feet (ahem.) in moderate climates, these would serve as a reasonable year-round boot. After a 2 hour hike at 30 degrees, my feet felt cold, and I wanted a heavier boot, but I don't think I would have needed a heavier boot.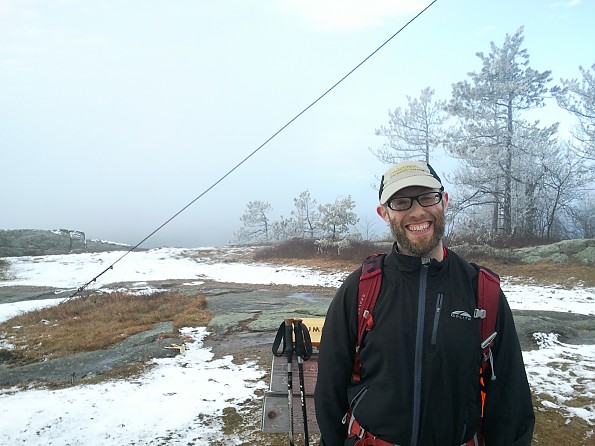 Feet felt cold, but not too cold!
Ease of Use
The Piuma is easy to put on and lace up. The tongue is well-anchored, and doesn't need to be "set" in order to prevent bunching. The lace eyelets and laces are well designed, sos they snug up quickly and don't come untied easily.
Construction & Durability:
During a year-long test of these boots, and very regular use, they show little signs of wear on the tread, uppers, laces or footbed. They hold up very well for a modern fabric boot in general, and exceptionally well considering how light they are.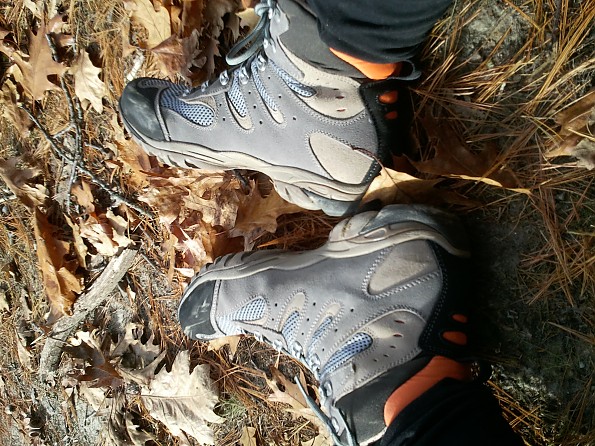 Still kickin! These boots have proven durable.
Conditions: Where, when, and how long have you used this gear?
5-mile hike in 30-degree dry weather in southern Maine.

6-mile hike in 35-degree wet, snow weather in central Maine.

25-mile backpack in 80 degree weather in Western Maine.

6+ months weekly 5-mile walks on an urban rail-trail.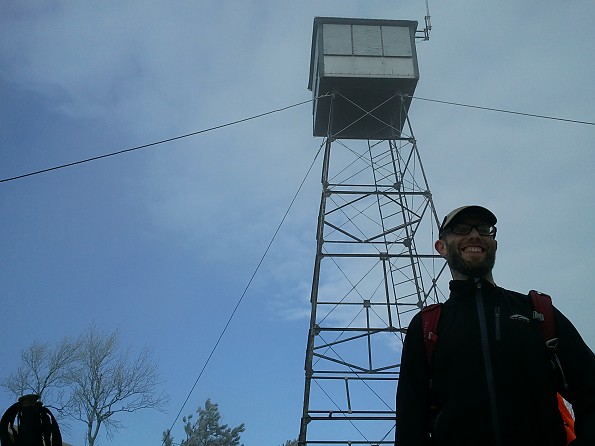 Testing the Asolo Piuma on a freezing day at a local peak.
Conclusion:
Years ago, I made the switch from heavy, leather boots to lighter fabric boots, and finally running shoes for nearly all of my hiking and backpacking needs. I haven't worn a higher-ankle boot in some time.
The Asolo Piuma has really opened my eyes to the possibilities of mid-height boots by incorporating many of the positive features of boots, while retaining the lightness and nimble, articulate feel of a much lighter running shoe.
The unconventional last shape works well for me. If it works well for you, you may have found a boot that will accommodate the vast majority of your hiking and backpacking needs. 
Source: received for testing via the Trailspace Review Corps (Sample provided by Asolo for testing and review)

A light, flexable, breathable, welcome departure from Asolo's traditional offering, with a wide toe box and well supported heel. May be perfect for light backpacking, dry summer hikes, or long-distance hikes where a quick-drying boot is desired.
Pros
Not waterproof
Fast drying
Asolo's new "Natural Shape"
Cons
Not waterproof
No cushioning in footbed
Background:
I've hiked 1,318 miles of the AT, and innumerable day hikes over the last couple of years, mostly wearing Merrell Moab trail runners, and Salomon Fastpackers. The Fastpackers are high-top, Gortex-lined boots that are really like high-top trail-runners. They never fit my heel very well, and I kept trying different lacing techniques to lock them in.
The Moabs are very comfortable, and fit me well, though I would invariably get a glister in my little toe, calluses in the sides of my heal, and sometimes blisters under the calluses. I also experienced tendon pain around my heal and ankle. And I twisted my ankle really badly three miles into last year's section.
Now, I'm not blaming the boots for all those issues. I am nigh unto 60, and often start hiking without the benefit of a rigorous training regimen. I consider myself a lightweight backpacker, generally carrying 24 lbs with food and water. Whether a high-top hiking book actually provides meaningful ankle support is controversial, and I tend to subscribe to the idea that feet need to work naturally for balance and to make sure the rest of the skeleton works as it's supposed to.
I also have decided that for me, "waterproof' boots are not very useful on long-distance hikes in the Appalachians.  When they get wet, they stay wet, and that sets up all kinds of foot problems.  Better to have a boot that dries quickly. Imho, hyoh, etc …
I hiked into Outdoor Trails outfitter in Daleville, Virginia, last year with a pair of Moabs that were ready for the trash bin.  They had a great selection of hiking shoes, and they indulged me in trying on all kinds … Till I walked out with a new pair of Moabs …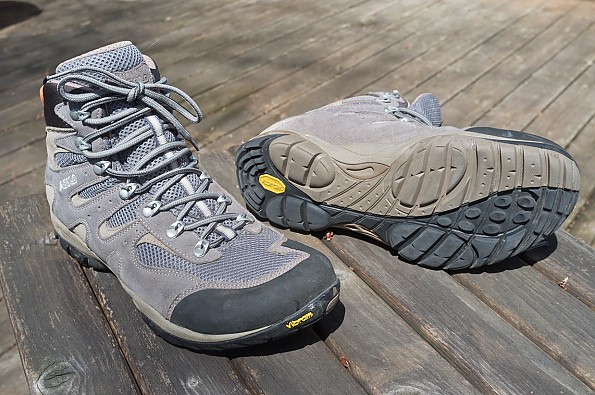 A New Kind of Asolo - In the process, I saw these new Asolos, and was intrigued. They weren't like any Asolos I'd seen before. Asolo is an Italian company, tho the Piumas are made in Romania, and their boots are well known and respected in the hiking community.  Typical Asolos are sturdy, medium-to-heavyweight boots with a narrow fit.  These Piumas were light, flexible, and had a wide toe box. And they cupped my skinny heels too! I almost bought them then and there. But you know, better the devil I knew …
But when I got home, I started researching the Piumas. Asolo calls their basic design a "Natural shape," "Light Hikers." They tout a natural shaped footbed and last, that together are designed to mirror the shape of the foot, cradling and supporting it. A flexible sole and wide toe box is designed to allow the foot to move naturally.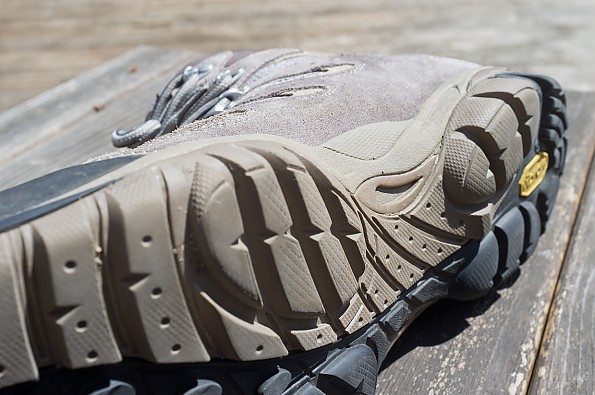 The uppers are constructed of a water-resistant suede and nylon mesh.  a velveteen lining is designed to wick away moisture. Classic lacing with really nice, metal hooks and eyes, padded cuffs for the ankles, gusseted tongue, and hard rubber toe fenders. They are not waterproof, and reviewers said they are fast drying.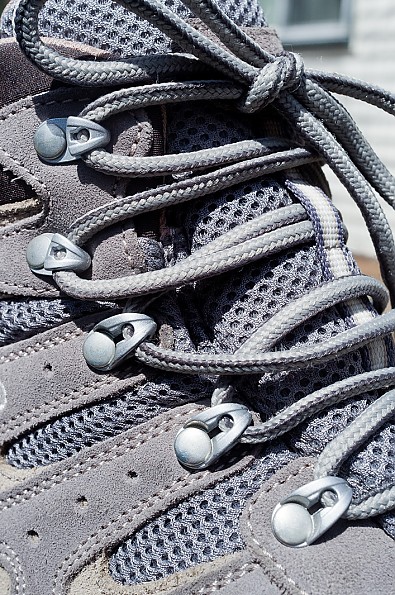 The outsole was developed in conjunction with Vibram to support their new "Natural Shape" fit. They claim the multi-layer design reduces stress on the main points of impact, and that its structured shape offers support and improves foot control on the sides and the back. The bottom sports self-cleaning lugs, designed for optimum performance on varying types of terrain.
I was intrigued enough to push the button.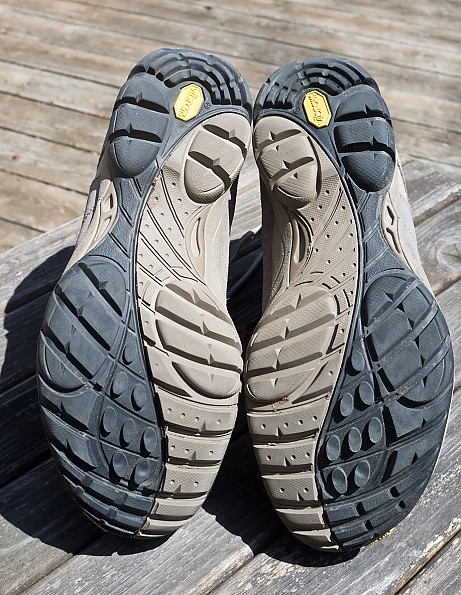 My limited Experience:
The fit on my feet is astounding. The wide toe box allows my toes to spread, without excessive movement, and my heal is cupped perfectly, and without any slippage. I've been wearing them on daily walks on sidewalks, and day hikes in trails around Western Michigan. I love the way they seem to roll from heel strike to push off, while still allowing my foot to flex naturally. 
The footbed itself does not seem to have any cushioning, tho the outsole does seem to do its job in reducing shock. I have been wearing well-cushioned hiking socks, and they've been comfortable. The uppers do feel supportive. No blisters or soft tissue injuries, but I haven't worn them with a 25 lb pack in the mountains yet either.  I'll get back to you on how the soles grip in that environment.
I'm kinda disinclined to put any footbeds in them, cause I want to give that "Natural Shape" the benefit of a good trial. But I might put a pair in my bounce box …
The mesh in the uppers, definately lets them breath.  I could feel a breeze pushing thru.  Nice on a hot day. Probably not the best boot for a cold wx hike ...
Piuma is Italian for Plume, by which I assume they mean feather, So, of course, I had to put them on my scale, and they came out to 16.75 ozs ea. For comparison, My Moab mid-heights with original footbeds are 16.51 ozs ea. Light as a feather is all relative, eh? [Shrug]
I'm thinking these are going to be great for hiking and light backpacking in summer and shoulder seasons.
Source: bought it new
Price Paid: $189.50

This boot is lightweight, extremely comfortable, and fairly quick drying. Used hiking over 1,400 miles on the Appalachian Trail — so it's durable too!
Pros
Lightweight
Comfortable
Durable
Cons
Loses some sole protection and support after 1000 miles
This boot was purchased for use on the Appalachian Trail, and so it needed to be comfortable and last well. Thankfully, it fit from the start, with very good ankle and arch support and virtually no heel rub — no problems with Achilles tendons at all. This meant that there was essentially no break-in period needed.
It produced no blisters even with high mileage days from the start. The only blisters came from wearing them wet with no sock liners after over 1000 miles on the boot.
This boot is not designed to keep the foot dry, nor does it, but in reality, no boot really keeps the foot dry after hiking all day in rainy conditions. This boot DOES dry fairly quickly, quicker than most of my companion hikers' boots on the AT; usually it was fully dry overnight. 
It handles a variety of terrain really well, with good protection on rocks. The sole stayed well connected with no seam problems, and even the laces were durable. The lightweight aspect of the boot made it easy to hike big miles with no problem.
The first pair lasted well over 1400 miles! On the second pair now in Western Mass.
Source: bought it new
Price Paid: $190

Your Review
Where to Buy
Help support this site by making your next gear purchase through one of the links above. Click a link, buy what you need, and the seller will contribute a portion of the purchase price to support Trailspace's independent gear reviews.
You May Like
Specs
Price
Historic Range: $47.36-$189.95
Reviewers Paid: $189.50-$190.00

Recently on Trailspace