Asolo Sasslong GV

The Sasslong GV has been discontinued. If you're looking for something new, check out the best backpacking boots for 2023.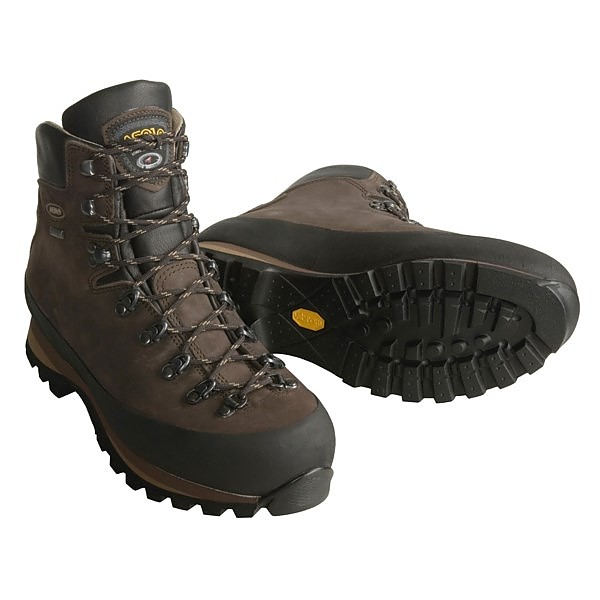 I'm a traditionalist and like a heavy and stiff boot. I bought these for the good sale price to get me by till I'm ready to purchase a custom boot. (Getting hard to find a good traditional boot!)
These are my first pair of injection-molded sole boots. They are also my first Gore-tex-lined boot. I prefer a leather-lined boot for the better breathability. I'm typically hard to fit, as my foot is between a 12 and a 13 U.S. size. For example, Nike running shoes don't fit me at all as their 12 is too small and their 13 too large.
These boots in a size 13 fit well. When I put my foot as far forward as I can, there is a good finger width behind my heel.
My first impression is that it's a good boot. So far, I've hiked 6 or so miles over two days through the woods in Northern Ohio in wet snow conditions. The terrain is variable: hilly, rocky, wet, muddy, deep snow. The boots had good support and were comfortable. The heel is tight and the boot is fairly high on the ankle.
The sole is stiff, so if you don't like that quality, maybe look at a lighter more flexible boot. Though the Sasslongs are stiff, the sole has a nice "rocker" to it, so that walking is easy and springy.
They are warm. I wear them with a heavy wool sock.
We'll see how they hold up. I don't expect they'll last 20 years like my old Goodyear-welted Vasques (not made anymore), but my cobbler can just sew a new sole on. (That's how he handles the injection-mold type of sole.) I think they will stand up fine to daily short walks in the woods of Northern Ohio (average 3 miles) and to longer hikes on any terrain.
Price Paid: $120 on sale

These are fantastic boots! I see everyone is complaining that these are stiff. Guess what? They're supposed to be. These are BACKPACKING boots, which means they are for carrying the additional weight of a backpack!!! These aren't "lightweight hikers," not even regular hikers.

Also, it was mentioned that these don't have insulation. That's because some people hike in summer! These aren't suppose to have insulation.
Pros
Very supportive
Extremely comfortable
Great traction
Waterproof
Fit was great. These are extremely comfortable, but stiff. They are supposed be worn when hiking with a heavy load. Excellent support. 
These boots utilize Gore-Tex for waterproofing. Vibram sole supplies great traction. They are comfortable worn year round, except maybe when standing/sitting still in sub-zero temps. Easy to use, and very simple. Super durable. I've been using these for over a year now.
To reiterate, if you want super lightweight, get a trail runner. Need slightly more support? Get a lightweight hiker. Want something more durable, get a leather hiker (no nylon/suede). Do you need to carry a heavy backpack for days at a time? Get a BACKPACKING BOOT, like these. Are you climbing K2? Get mountaineering boots.
Source: bought it new
Price Paid: $299.99

Great boot, if super stiff and narrow is your thing.
Pros
Very well made
Vibram sole
Supportive
Durable
Cons
Narrow forefoot
Excessively stiff
I have quite a bit of mileage on my Sasslongs. I really like these boots, but to me they do have their downfalls.  
Since converting to a minimalist shoe for my trail running my forefoot has gotten quite a bit wider. These boots are really narrow in the forefoot, and my toes feel pretty cramped in them now. They are also ridiculously stiff, which is great if I'm wearing crampons. Some people like a really stiff boot, but I'm 180 lbs and wore these for about 9 months almost every day, plus numerous backpacking trips, and it still takes almost everything I have to flex these things under the ball of my foot.
I find them to be too clunky on the trail for my liking, and I actually find myself needing the ankle support because I can't feel the trail under my feet, leading to stepping on things I would normally be able to adjust my posture for and recover, but instead stumbling over them because I simply can't feel the ground under my feet at all.  
The Vibram sole wears well and grips equally as well. These are a very well made boot, but keep in mind they are STIFF.
Source: bought it new
Price Paid: $229

Don't buy Asolo just because of the name... try them on for a while!
Pros
Good initial impression
Vibram sole
Cons
Poor ankle support
Narrow sole/not stable
Not sufficient insulation
Rand peels
I really l thought I had a winner with these, and gave up after trying for over a year. Size and fit is fine (I immediately put in aftermarket insoles). After a typical break-in period, I found these boots comfortable for wearing around town. The Gore-tex lining does its job, and they breathe as designed as well. Overall traction is sufficient.
And for the sub-par... The generic quick-lace loops don't secure laces, requiring frequent re-torque. I found during cold weather hiking and backpacking that these boots don't cut the mustard. Within two to three months, the rand began peeling on both boots at the top.
I contacted Asolo about this, no response. This was my first red flag with their company, after happily owning two previous (different model) Asolo boots.
During my first backpacking trip with these boots, I found them extremely unstable under load. The tread, although sufficient, is far too narrow. The leather is not supportive by itself at the ankle flexion area, making them prone to rolling. It's a shame that these 'backpacking' boots have become my yard work boots.
Source: bought it new
Price Paid: $150

Solid support for hiking or backpacking.
Pros
Excellent leather
Full rand
Great lacing system
Easy break in
Heavy and supportive
Cons
Fairly narrow toe box that makes them feel short
Footbed is a throw away
I'm on my second pair. I find these to be an excellent, heavier hiking boot. Good traction, very waterproof, and a full rand. I have a size 12, narrow foot, and a size 12 boot fits well except they were a bit short and the toe area is snug from the top and sides. I hike in the mountains, mostly, and downhill walking was problematic because of the toe area.
After using the size 12's for a year or two, I bought a pair of 13's. I gave up a little fit in the heel and gained the needed length. The lacing system is one of the best I've used. I like to adjust the fit for uphill/downhill and sock weight, and this lacing system is my favorite.
Background
Lots of day hiking in the mountains. Have owned numerous brands of boots.
Source: bought it new
Price Paid: Don't remember

I've had these boots for a few months now. Done 50+ miles in them. I still don't consider them worn in.
Last hike I did 13 miles round trip in 90-degree weather. I got a HUGE blister on the back of my right heel, both big toe nails felt like they were going to rip off, even though they had been trimmed, and I got hot spots on the left heel and right and left pinky toes. Oddly enough they are very comfortable, enough to just wear around during normal operations.
The boots' water resistance is great, as well as their support, which is why they take so damn long to break in. I've certainly beaten on them and they show no signs of wear, except on the sole, which is totally normal.
I will continue to break them in and hope that at some point they will stop giving me blisters. Though perhaps I should wear thicker socks?
Use: Day hikes, rough trail, lots of heat
Break-in Period: Long time! 50+ miles and still blisters.
Price Paid: $140

Great boot for backpacking and even used for 10-mile snowshoe in 20 deg Catskill weather!
Pros
Quality
Rugged sole
Waterproof
Rubber toe
Great boots overall! I basically bought these for fall and early winter hikes wearing a daypack. They have performed flawlessly and I even used them for a multi-peak snowshoe day in the Catskills without issue.
Source: bought it new
Price Paid: $129

I used these backpacking boots on an extensive hike that required a 5000 foot vertical climb over about 24 miles—one way. During this climb we had to go through some extensive boulder fields, go through snow, and carry heavy packs as well.
These boots held up well. They kept my feet dry, protected my feet and ankles from rocks, and prevented injury. I did not develop any blisters and my feet where comfortable the entire hike. I would highly recommend these boots to anyone engaged in serious backpacking in rugged, mountainous areas.
Materials: black leather with gore-tex
Use: I wore these boots for a rugged mountain hike with a heavy pack.
Break-in Period: Two days before the hike I mowed my lawn with them.
Weight: 3.75 pounds
Price Paid: $155

Very comfortable and waterproof boots.
Pros
Waterproof
Tough
Comfortable
Bought them before a trip to northwest Montana during November. So they saw rain, snow, and a lot of miles. And my feet were dry and comfortable the whole time. They did have a little bit of a break-in, which I did before the trip.
They have great support and a very good sole, and the boot is tough as nails.
Source: bought it new
Price Paid: $225

Great boot for hiking.
Pros
Comfort
Durability
Traction
I have owned these boots for two years. They are very comfortable great to hike in. The leather softens up nicely and the sole loosens up after a few hikes. They are extremely comfortable and offer great traction on trails in Glacier NP, Yellowstone, Zion, and the Grand Canyon. I would highly recommend them.
Source: bought it new
Price Paid: $129

I've only owned the Sasslongs a few days. Fit was very good right out of the box (men's 10 wide). I put 4 miles on these boots and they feel almost broken in. Typical high quality European workmanship, stitching is very even with no overruns or drifting.
I plan to do a follow-up review after I've put some real miles on these boots under more rugged terrain.
MtnHtr
Materials: Nubuck leather, Gore-tex lined
Use: Backpack hunting
Break-in Period: Very quick, 4 miles
Weight: 3lbs, 9oz
Price Paid: $131

Three months in with daily use and the boots are not broke in. Frankly, the boot will never break in - is there a steel plate in the sole, you can't even force flex them? There is zero flex on the sole of these so get used to walking like Frankenstein. 
Another losing feature of this boot is the sole itself which is so small that it underscuts the footbed, creating a very wobbly base. The traditional vibram sole mucks up quickly. 
I hope you're getting the picture - these things are downright dangerous for trail hiking - stiff, no flex or feel boots with wobbly soles that are like skies in all but the driest weather. Absolute garbage! Do not buy these mail order rip-offs!
Price Paid: $120

Your Review
You May Like
Specs
Price
Historic Range: $199.95
Reviewers Paid: $120.00-$299.99

Recently on Trailspace