Asolo Shiraz GV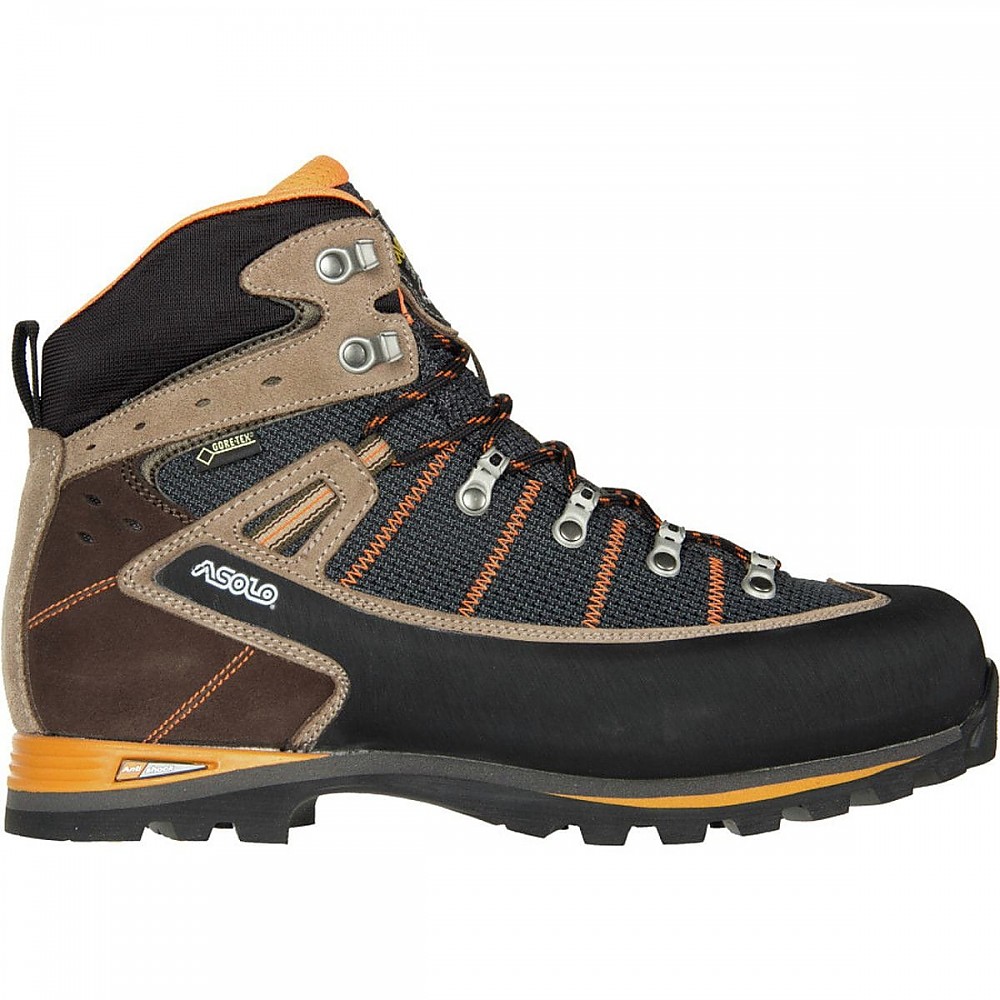 Awesome boot for getting off the beaten path. Aggressive sole design and moderately stiff lasting board will keep you climbing all day. Would recommend for steep and rocky settings with moderate to light pack loads.
Pros
All around tough boot for tricky terrain
Dries (relatively) quickly
Very comfortable for medium-narrow width foot
Cons
Insole doesn't have much cushion
Footbed liner can get pushed around after time
Potentially weak seams
Sole is slippery on wet and icy surfaces
Purchased the boot around March 2016, after deciding to replace my old pair of Asolos that treated me so well. 
Here are some things you may notice right away when they show up at your door-
Fairly rigid shank and tough rubber construction of the sole and toe give the boot a really sturdy feel
Quite comfortable, no need to expect trials and tribulations to break the boot in
Narrow fit, folks with wide feet should certainly give it a test fit
Soft uppers/ weak ankle support, long days + very heavy loads could be trouble for your ankles
Cross between standard backpacking boot and a mountaineering boot
Some things I have experienced with the boot-
It's pretty easy to overtighten the top of the boot and have it pinch the front area of your ankle. However the entire boot can tighten to a snug fit, eliminating extra space for  your foot to slide around in. 
I wear the boot year round in Finland and Alaska, and while it is decent for snowshoeing, inevitably it will get cold if you stand still for long enough. Also, the mountaineering sole is narrow and rigid so it punches through the snow more easily than other boots, occasionally I find myself in snow conditions where I am postholing considerably more than my wife who wears Salomon Quests. Also very slippery on ice.
I managed to tear the seam on the inside of the left foot over the summer, but at that time they were my daily commuters in alpine/ sub alpine terrain so I was really putting some wear and tear on them. Regardless the Kevlar is tough as nails, but the stitching is clearly a weak point for failure. Fortunately the warranty covered the seam tear and they resoled my boots while they were at it. *After scrambling up and glissading down several scree slopes and spending days on steep hillsides, it becomes really apparent how valuable the mountaineering style sole is. The way that the sole is rigid with stiff edges directly under your feet allows for great control of the boot on inclines. 
The water resistance started off great but really tapered off as I started to put them through some punishment. After the repair under warranty, they are back to normal, which I would rate at 7/10 where 1 is standard tennis shoes and 10 is a pair of water tight rubber boots. Hiking through soaking wet tall grass will wet them out within 10 or 20 minutes. But the upside is that they dry quickly compared to other boots.
I have dried them out numerous times by removing the insoles out and hanging them upside down from a clothesline adjacent to a diesel stove and they usually manage to dry overnight. I didn't get to test it, but it feels like a bit of sunshine and body heat could really dry a pair up throughout the course of a day.
9/10—would recommend if you want a pair of boots that climb as well as they hike.
Source: bought it new
Price Paid: 180 Euro

Solid, off-trail, 3-season backpacking boot. Kevlar performance for those who know.
Pros
Flexible but stiff shank
Good lace adjustability
Leather alternative just as tough
Heel cup fits well
Cons
Miniscule footbed liner
Easy to mis-route the laces.
Cordura lace eyelets not my first choice.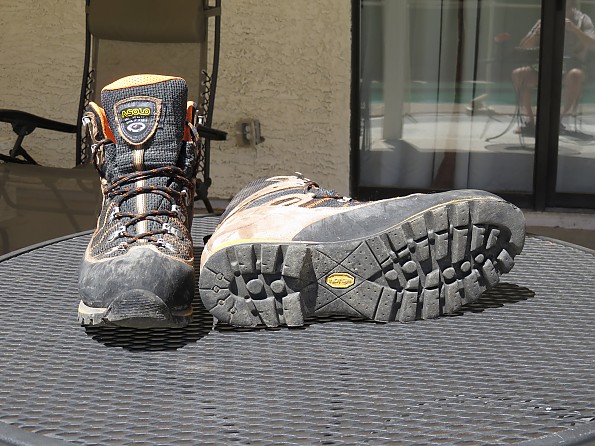 I wear euro size 46 and that's the boot size I own. Compared to others I have tried the fit is snug but correct for my medium volume feet, using the 3/4 length Birkenstock orthotic essential to my foot health in preventing heel blisters ascending.
The boot is made of Schoeller Keprotec fabric instead of leather, with suede stitched onto the rand and heel, with rubber glued to the suede on the toe running about 2/3 of the length of the boot. Keprotec, a weave of kevlar and cordura, was developed for motorcycle wipeouts. I owned a similar Keprotec boot from another brand I subjected to off-trail full pack Sierra Nevada hikes and hundreds of other gnarly hikes over eight years. The only part that failed was the sole. Re-soles won't stick. Fabric and leather have another decade in them.
I am partial to the material as a result of my experience and pounced on these Asolos upon learning they were made of Keprotec. Trekking poles will not scratch this stuff. They skid off.
With about 50 miles on these boots carrying a 25-30 pound pack on rocky trails in the Spring Mountains in southern Nevada I rate the comfort: acceptable underfoot in terms of cushioning; zero intrusion from rocks or roots.
My ankles took a few bruises molding the Keprotec cordura/ kevlar fabric to fit. No foot injuries from rocks or debris falling on my feet. Glued boots permit variable rate softness in the sole, but I'd still like a better footbed liner. This one is like fuzzy construction paper.
No water crossings in these mountains so I cannot vouch for them in deep water. Drips roll right off. Unlike leather this fabric does not hold moisture and hence pairs with laminates like Goretex like any other nylon. The only time my old boots (above) leaked was after a day in deep wet Sierra Nevada snow in 2010 and I got soaked. Cannot foresee these new boots leaking any differently.
The deeply lugged Vibram/Asolo sole redolent of montagna bloc makes the boots very comfortable and stable on rock. Poseurs and lightweights may complain about the stiffness, but I am 225 pounds and I think it is perfect. I am not worrying where I place my feet in terms of rocks. Joint in the ball of my foot gets excellent support as it bends. Stiffer is better.
Temperature control is a major reason I like this fabric. My feet never roast even in the high desert in summer. Most of the top/instep is fabric only and it will shed heat, and moisture even if you don't feel wind.
For the three-season, off-trail hikes I do feel these boots are excellent. Very minor scuffs on the rand so far. No scratches anywhere else. I can easily picture myself living of these boots on a multiday hike. Full grain leather boots have served me well over the years but to me aramid fiber is stronger,  lighter, breathes better, and pretty much won't scratch.
I do not like Cordura nylon loops for lace eyelets and this boot uses them where it hinges.Trickier than it needs to be lacing them up because I am looking for a metal eyelet. No reason for anything but all metal eyelets on a boot this tough.
Update 6/16/2016: I was reminded why I like stiff boots on a recent day hike in the Sabrina Basin in the Eastern Sierra with solid snow above roughly 10,500 feet. No substitute for stiffness kicking footholds ascending/descending in Sierra cement and Shiraz GV excels.
Comfortable ride descending loose rocky trail. Reasonably secure water crossings. There are nicks and bites in the edges of the Vibram soles, but after the repeated abrasive whitewashes in snow the uppers look new. They are not wearing at the runaway pace of my old Keprotec L.L. Bean Speed Guide Gore Tex Hikers.
Those boots are sitting in my garage waiting for a second resole that isn't coming. First resole disintegrated in about 70 miles. No point in another without a vastly harder rubber compound. First resole adhesive failed in the mix making the boots kevlar moccasins. Full grain leather it attaches to appears too permeated with waterproofing for anything to stick. Pity as the uppers are just broken in. Beans has pivoted to kayaks and short-armed metrosexual fashion victims. See my Cresta Hiker review.
Keprotec in backpacker boots is a bit like Olefin in wick socks. Manufacturers don't let them spread because they last too long. Original Montagnabloc soles lasted years and they're now an oddball choice.
Source: bought it new
Price Paid: $236

My first pair of Asolos and so far this is a nice boot right away. If you can't find them to try on, they are built on the same platform as the 520, but with a different sole.
Pros
Look great
Comfortable right out of the box
Fit true to size
Stiff sole / last
Light
Cons
Lacing is sensitive to over tightening (has improved)
I'm a heavier guy, about 260#, and was looking for a stiffer backpacking boot to replace my Merrells. This boot is the baseline or starting point for the mountaineering boot line and seemed like a good choice. Unfortunately, I couldn't find the Shiraz to try on.  
I chatted with an Asolo rep online. She said they are built on the same platform as the 520 and should fit the same. I found the 520's locally to try on and the rep was spot on. If you try the 520 and it works for you, then you will be fine with this. Sole is different from the 520 though and is a little stiffer and more narrow at the heel. The width and sizing of fit is still like the 520 and seems to be true to size.
I'm a 10.5 and between med and a wide width. Add insoles and proper socks and they are snug-ish and perfect. Uppers are great right out of the box and the soles/last are on the stiffer side, which is what I was expecting. I'm a heavier guy, so backpacking turns most boots to sneakers after 50 miles. I'm wearing them at work to break them in, but they don't seem to need much.
Lacing system works well but is pretty sensitive to over tightening. Will be taking a couple 3-5 mile hikes this week with no pack to see how they do, but expect no issues. This is my first pair of Asolos and I am looking forward to putting them through their paces.
Gave 4.5 stars for the moment, will adjust up or down later. 
06/22/20 Update:
After 5 years of abuse my Shiraz just keep going.
Firm bottom still prevents intrusion from rocks and a sturdy platform to support my weight with gear. Even  with the stiffer setup, the boot still has enough flexibility to hike with a natural gait but has not turned to mush.
The lacing system goes far enough down the boot to pull tight in front of the wide part of your food so your feet do not slide down into the toe box on descents, which has always been a pain in the butt with most boots. The rubber rand has also been a great feature. Over the years I've climbed rocks and mountains, day hiked and backpacked, muddy slopes, up and down tree stands, dragged several deer considerable distances and these boot perform beautifully!
These boot needed almost no break in. I do replace aftermarket cushioned insoles periodically. The thin stock ones were inadequate. With aftermarket ones, my heel still lines up in the heel cup unlike some other boots I've owned.
Boot still feels light and solid, but waterproofing has waned. Long walks through wet grass and I get a little moisture. I just spray the upppers periodically. I still put these boots along side with my Danner Acadias for best boots owned. The Acadias do some things better, but the stiffer platform of the Shiraz has some distinct advantages. They are both excellent boots. 
 Traction best on: above 40 degrees F -rocks, hard pack, mixed terrain even when wet. Snowy or cold wet stuff can be a little slippery.  
Again...if you are a heavier person and spend time with a backpack, or need a stable, stiffer lighter boot this is a great choice and will not turn to mush and after five hard years have proven they can take whatever I dish out. 
Experience
I spend a lot of time in outdoor boots. I have 10 years of military service USMC and US Army and have countless miles of rucking/backpacking than I can count.
Source: bought it new
Price Paid: $259

Your Review
Where to Buy
Help support this site by making your next gear purchase through one of the links above. Click a link, buy what you need, and the seller will contribute a portion of the purchase price to support Trailspace's independent gear reviews.
You May Like
Specs
Men's
Price
Historic Range: $203.49-$324.95
Reviewers Paid: $236.00-$259.00

Women's
Price
Historic Range: $162.48-$324.95

Recently on Trailspace