Bergans Okla Lady Pant

Top 50 in women's Soft Shell Pants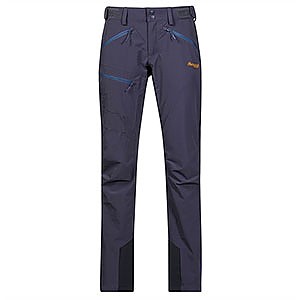 Specs
Price
MSRP: $159.00
Historic Range: $158.95

Weight
370 g

Fabric
88% Polyamide and 12% Elastane

UPF
50+

Reviews
1

review

5-star:

0

4-star:

0

3-star:

1

2-star:

0

1-star:

0
Designed for ski touring and mountaineering, the Okla does not live up to expectations when it comes to these activities. The cuff is too narrow to comfortably accommodate a ski touring boot, and the thin, lightweight material is unlikely to provide adequate insulation in higher elevations.

However, the Okla is an excellent option for those on the market for a lightweight, breathable soft-shell pant that can be worn across a variety of other winter activities such as snowshoeing, backcountry nordic skiing, and hiking.
Pros
Flexible for ease of movement
Comfortable
Adjustable waist
Versatile
Reinforced cuffs
Wind and water resistant
Cons
Not compatible with alpine or alpine touring boots
Not likely to provide adequate warmth above tree line
Testing Conditions
I tested the Okla Pant from late October through early February in and around the White Mountains of northern New Hampshire. I've spent a lot of time in them on the trail: hiking, snowshoeing, backcountry nordic skiing, and alpine ski touring. During the time of spent testing, I've worn the Okla in temperatures ranging from 0 to 50 degrees Fahrenheit.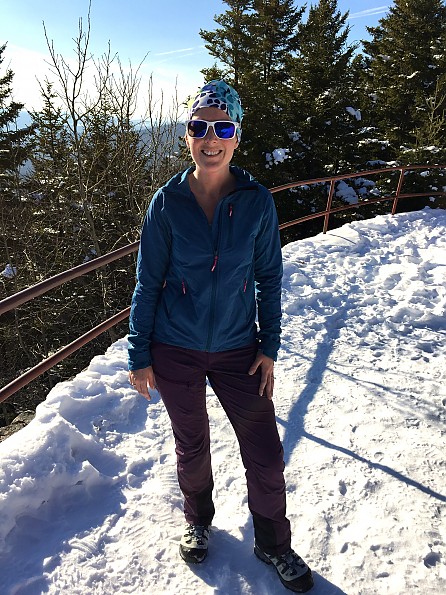 Fit & Comfort
Size options range from women's XS-XL (men's S-XXL). The pant fits true to size. I usually wear a women's 4 (25" waist, 35" hip) and the size small fits me perfectly. The pant is fitted, while offering enough breathing room to remain comfortable on the trail. The inner cuffs are reinforced to prevent unnecessary wear.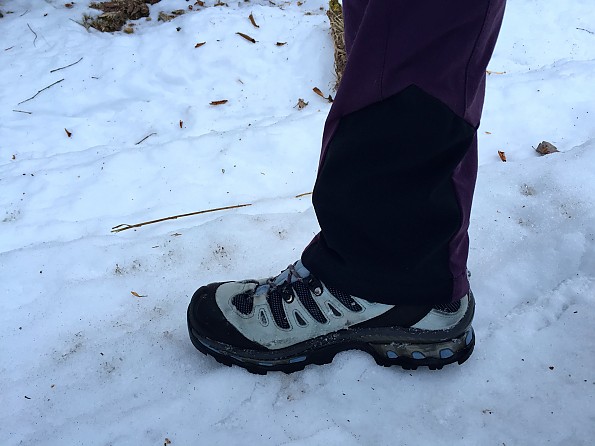 Reinforced cuff
There are two hip pockets, and one thigh pocket (discussed in greater detail below), each of which zip open and closed. I'm impressed by the flexibility of the soft-shell fabric (a nylon-spandex blend). It allows me to move freely even on steep terrain. The articulated knees also provide ease of movement as I bend, slog, and grunt my way to my destination.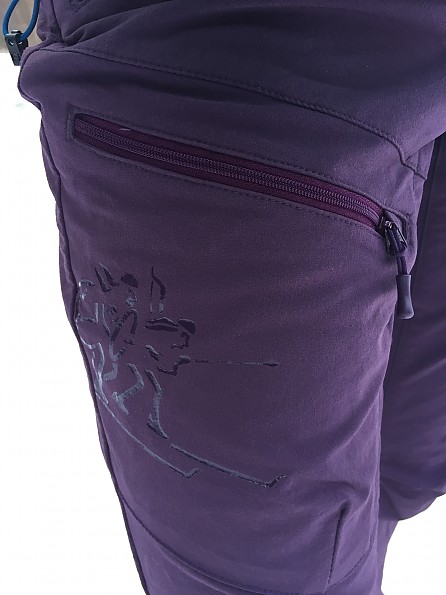 Thigh pocket
The Okla includes belt loops and attachment points for suspenders. I don't own suspenders and prefer not to wear a belt, but the features are available if you're so inclined. I appreciate the high-waisted back panel, which prevents snow from sneaking in.
Suspender attachment points (on the inside of pant waist) 
Adjustable Velcro tabs on the waist offer a customized fit that can be altered according to the layers I'm wearing (or the amount I consumed for lunch) on a given day :) The tabs are located on either side of the front of the pant (just above the hip pockets) and are connected by an elastic "belt" that runs from one tab around the back of the pant to the other. The elastic is sandwiched between two layers of soft-shell fabric, which allows it to be adjusted easily without catching on base layers or on my pack.
Thus far, the Velcro tabs have held securely. When the tabs are fully tightened there is some minor bunching along the back of the waist. However, the material is so thin that I haven't experienced any discomfort or chafing, even when wearing a pack.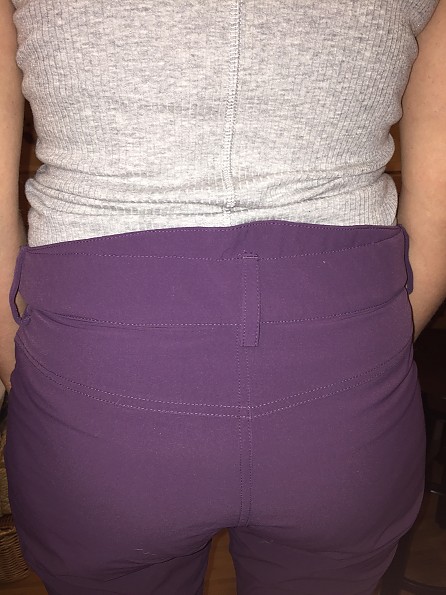 High-waisted back and elastic "waist belt" the connects to velcro tabs (excuse the shot of my derriere!)
On one full day hiking excursion, I found the Okla seemed to lose its shape, stretching out around the hips and waist. However, the Velcro waist adjustments were useful in in such circumstances as I simply tightened them a bit and continued on without issue.
The material regained its shape after washing. I've machine laundered the pant in cold water a handful of times with no signs of wear. It dries on the line. No obnoxious odors that I'm aware of…at least my husband hasn't complained yet (and he's my primary outdoor companion).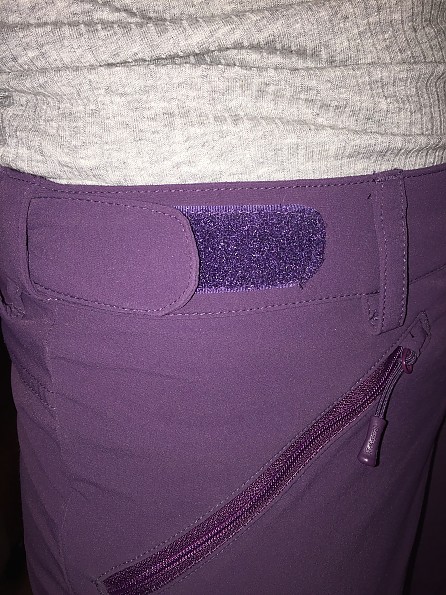 Velcro tab (one of two) at waist
Ventilation
The soft-shell fabric resists light rain and dries quickly. It sheds snow effectively, keeping me dry during winter blizzards. However, as with any soft-shell pant, I wouldn't suggest wearing the Okla in heavy rain or wet spring snow conditions if you expect to remain dry.
I appreciate the breathability of the lightweight soft-shell material during warm conditions (35-50 degrees) as it prevents me from overheating. There are no ventilation zips, but the pockets are lined with mesh and can be unzipped to dump heat during particularly strenuous climbs.
Pockets
The two hip pockets are of adequate size for storing a trail map and car keys. They're both lined with flexible mesh, which provides some give when pocketing large or oddly shaped objects. Each of the three pockets include zippers, which works smoothly without snagging.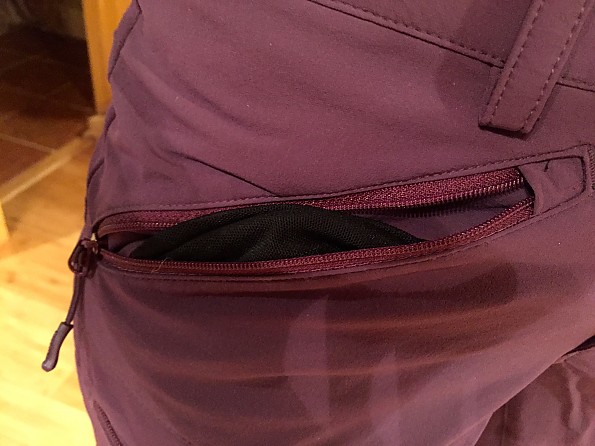 Hip pocket with flexible mesh liner
When the pockets are closed, the zippers can be "housed" beneath a small layer of softshell fabric to prevent moisture from leaking in. When I'm outdoors I find I'm not always careful enough to stow the zippers away into their homes, but the enclosures work easily as long as you remember to use them.
The thigh pocket is designed to incorporate avalanche gear. It includes a loop to which the beacon can be attached and an internal pouch for stowing it away. The avalanche gear I own (Pieps DSP Sport) is incorporated into a harness (and doesn't detach), so while I can't make use of the pocket when it comes to avy gear I stowed it in the pocket and took a few photos to give an impression of how it would fit.
The internal pouch stores the beacon securely and the pocket zips closed, offering an extra layer of security. To me, the pant feels a bit snug with the beacon in the thigh pocket, but this will vary depending upon the size of your avy gear. For reference, the dimensions of my beacon are 3" x 4.5" x 1".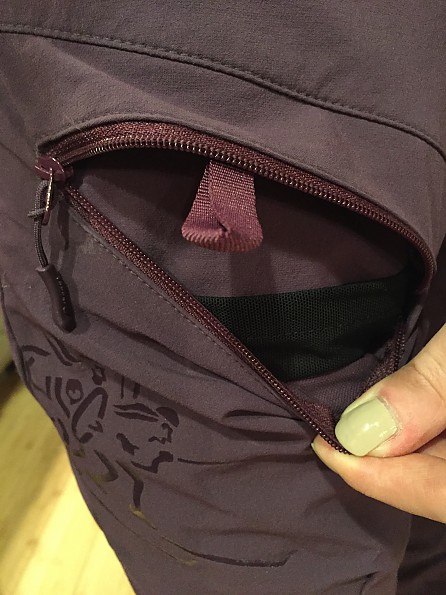 Avy pocket with inner pouch (black) and loop
Avy beacon stowed (zipped and unzipped)
Layering
I consider the Okla a lightweight pant (according to the website the women's medium weighs 370 grams or 13 ounces; men's large weighs 420 grams or 14.8 ounces). The thin soft-shell material offers little insulating capacity, which is a bonus during high-intensity activities and/or mild weather conditions.
However, I add a pair of merino woolies as a base layer when temperatures range from zero degrees through the mid-20's. I find myself unable to stay warm wearing the Okla in below zero temperatures, even with the addition of a wool base layer. The pant is wind resistant, but I'd gravitate toward a heavier duty pant in high winds, especially if planning to spend a lot of time above tree line.
According to the Bergans website, the Okla is "specially developed for Ski Touring and Mountaineering" and is described as "also suitable for Alpine and Telemark, Lifestyle, Outdoor."
I've worn the Okla pant on full day winter hikes (elevation around 4,000ft) and found them to perform well. They seem to provide adequate insulation ski touring as long as temperatures are above zero. I am not into mountaineering or winter camping. However, in terms of insulating capacity, I wouldn't trust the Okla mountaineering in my area. I say this knowing that the White Mountains are known for some of the coldest temperatures in the country and I just don't see the Okla holding up to these conditions. In milder climates perhaps they'd be more suitable.
Versatility
I've enjoyed wearing the Okla pant hiking, snowshoeing, and backcountry nordic skiing. During these moderate to high intensity activities the lightweight, breathable qualities of the Okla shine. The flexible fabric provides unrestricted movement, keeping me comfortable throughout my backcountry excursion. 
The Okla is "specifically developed for Ski Touring and Mountaineering." When it comes to alpine ski touring, I look for either a lightweight hardshell pant or a heavier-weight soft-shell. A quality ski touring pant must provide ventilation to release heat during the climb, while also being capable of insulating against the elements, especially when above tree line. The leg of the pant must be wide enough to easily accommodate a ski boot, while also incorporating a method for keeping snow from seeping in (such as an internal gaiter). 
The leg of the Okla is too narrow to comfortably accommodate ski touring boots. I wear the Scarpa StarLite, which is a standard sized alpine touring boot. As you can see from the below picture, even if I were to keep the cuff unzipped while touring, the pant has to really stretch to fit over the upper portion of the boot.
I'm concerned that over time this will cause the lower leg of the pant to lose its shape. If I really work at it, I'm able to zip the cuff closed over my boot, but find that this places significant strain on the zipper. While I'm not trying to win any beauty contests in the backcountry, I've found that if an item doesn't look right when performing a given activity it probably isn't appropriate to be used in that context.
In line with this line of thinking, I feel a little ridiculous wearing the Okla while alpine touring. It looks as though I've taken a pair of nordic ski pants and tried to stretch them over an alpine boot. The Okla certainly neither looks or performs as if it were designed for alpine touring.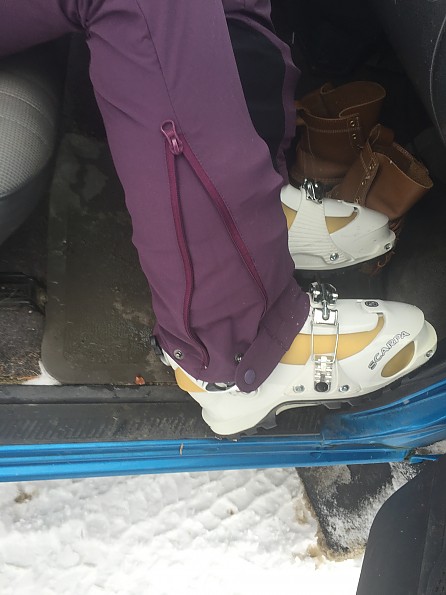 Cuff over ski boot, unzipped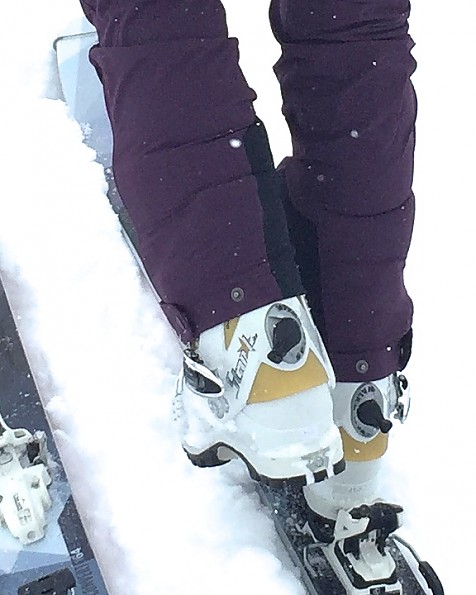 Zipped cuff over ski boot

The cuff of the Okla provides adequate room when worn with my hiking and nordic ski boots. The width of the cuff comfortably accommodates these boots without being so loose that snow is allowed in. It should be noted that there is no internal gaiter, and therefore when post-holing through deep powder some snow is likely to find its way in through the cuff. However, I haven't had the chance to test this theory as there just hasn't been adequate snowfall in New England this season.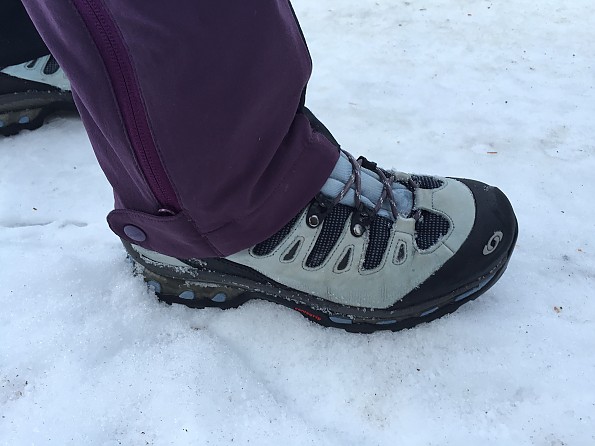 The Okla cuff over a hiking boot (Salomon Quest 4D Gore-Tex)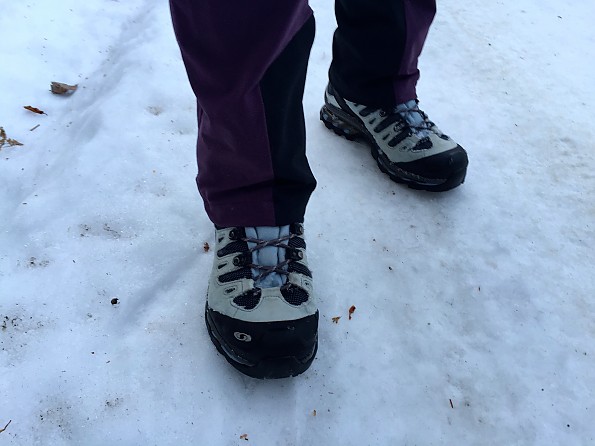 My other concern surrounding use of the Okla when alpine ski touring and mountaineering is the lack of wind resistance and insulation. I find the Okla to perform well while skinning, as my main concern is being able to dump heat while I climb. However, my legs had difficulty staying warm during downhill runs. While I'm not into mountaineering, as I mentioned while discussing the pant's insulation, I would be concerned about becoming cold (both due to low temperatures and higher winds) when wearing the Okla above tree line.
One could make the case that the Okla would be appropriate for ski touring and mountaineering in warmer temperatures. However, the wet snow conditions that accompany spring skiing would surpass the water resistant capacity of the pant, leading to a wet or clammy excursion.
Take Home
Overall I've enjoyed my time testing the Okla pant. As a lightweight, flexible, breathable soft-shell pant, it performs well in moderate to high exertion winter activities such as hiking, backcountry nordic skiing, and snowshoeing. However, I can't wrap my head around the fact that it is being marketed as a pant designed specifically for alpine ski touring and mountaineering.
Quite honestly, I find this claim deceptive and completely off base. I would have provided a significantly higher rating of the Okla if the description were more reflective of its true performance. If you're on the market for a pant to use below tree line in a variety of cool and/or cold weather excursions, I'd highly recommend it. 
Thanks to Trailspace and Bergans of Norway for the opportunity to test out the Okla pant!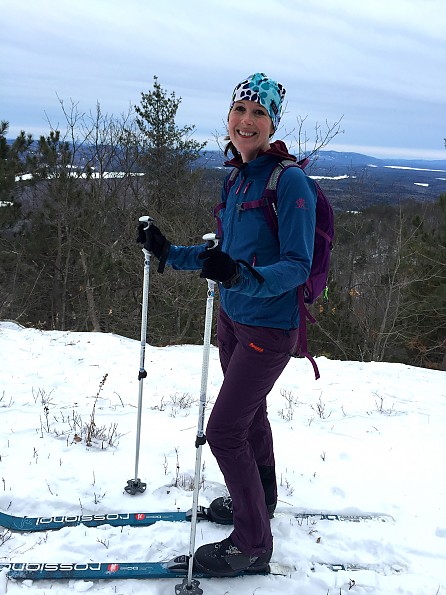 Source: received for testing via the Trailspace Review Corps (Sample provided by Bergans for testing and review)

You May Like
Recently on Trailspace