Berghaus Expedition Light 80

Top 50 in unisex Expedition Packs
Reviews
1

review

5-star:

0

4-star:

1

3-star:

0

2-star:

0

1-star:

0
The Berghaus Expedition Light 80 is a large capacity pack with a lightweight design. It has a surprisingly supportive suspension system which provides comfort in the hips and shoulders. It has a low, stable profile, even while strapping everything from skis to my dog's pack to the outside. It can be warm during hot days.

I would recommended the Expedition Light to backpackers and mountaineers looking for a large capacity pack that is functional with heavy loads in the 50 plus pound range all seasons of the year.

Pros
Large capacity
Lightweight
Glove-friendly
Cons
Chest strap "walks"
Side pockets struggle with large water bottles
Specifications:
Capacity: 80 Liters

Weight: 3 pounds 5 ounces

Material: Dyneema X

Frame: Removable foam padded aluminum
Fit and Function:
The pack fit my 19 inch torso very well. The only area that took some getting used to was the lower back support padding. The design cupped my back in a "V" that felt awkward at first but eventually became very comfortable.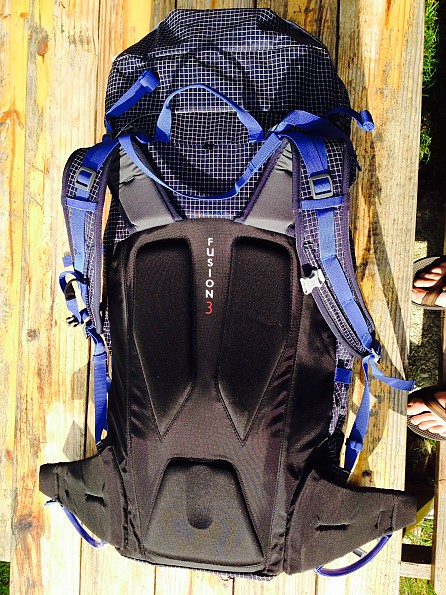 I found the suspension to be more "truck" than "Cadillac." By this, I mean that it is a bare bones system with not a lot of extra cushion that can stand up under a heavy load. I felt comfortable carrying loads in the 55 pound plus range. To be honest, a little more padding always helps with comfort, but this system worked well and by reducing the amount of padding it lowers the overall weight of the pack and allows for the user to wear puffy layers without feeling restricted.
The multitude of compression straps and cords held large loads secure. I was able to cinch the pack down so that my load was compact and free from movement. In order to provide this amount of security, Berghaus did need to provide a number of straps and cords that can get busy if not left in check. Luckily, they include small features like an additional clip on the cord clasp and additional nylon loops to secure strap ends.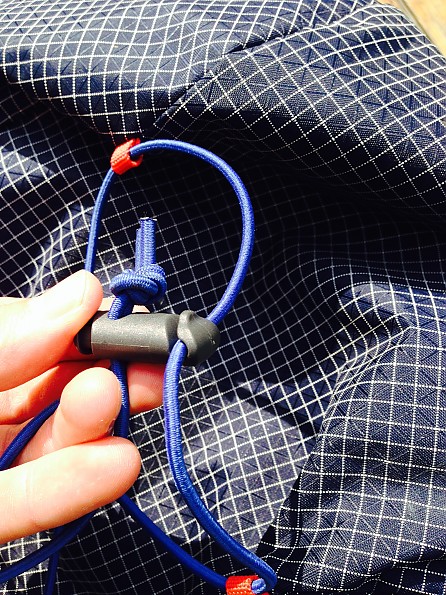 This pack forces the user to be organized because there is only one large internal compartment for all of you gear. Once again, by not adding extra pockets to the main compartment, Berghaus is able to reduce the overall weight of the pack. Additionally, this design allows the pack to perform as a half-bivy in case of emergency. At 5'10" I would say that the word half might be a stretch since I was only able to fit to about mid thigh. But, it would work if needed. 
There are two large pockets in the top lid, one outside, one inside. These are able to fit all of the quick use items like headlamps, snacks, cameras, compass and map, sunglasses, etc.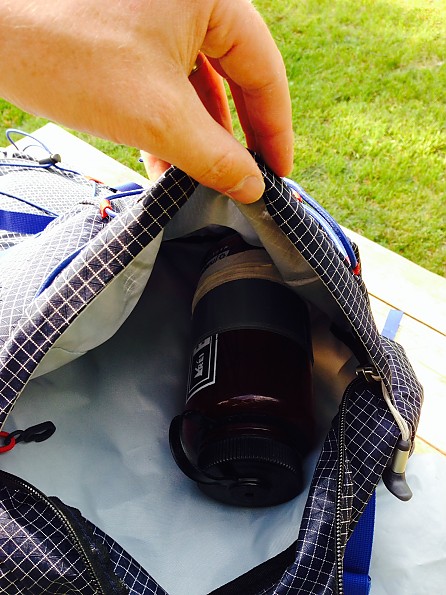 Features:
There are a handful of unique features included in the design of the Berghaus Expedition Light 80. The most unique of these was the waist buckle, known as the "Bergbuckle." It has a quick release system that slips together as opposed to clips.
This system is convenient and easy to use. Also, I suspect that this buckle will be extremely easy to attach and detach while wearing gloves in the winter. This is an important feature since I do a lot of backcountry skiing and winter hiking.
Another feature that I have seen in other packs that come from Europe is a decal on the inside of the top lid describing different methods to signal for help.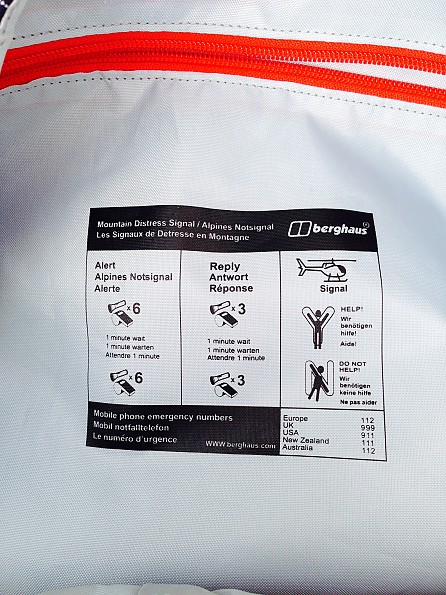 While not a required feature in a pack, it is nice information to have if you need it.
Berghaus consider the cold weather when they constructed this pack. This can be seen in the buckle described above as well as glove-friendly zipper pulls, tool attachments, A-frame style ski attachment.
In order to attach skis, the user is required to use the compression straps on the side of the pack. This does take a little away from the compression capabilities of the pack. This is not ideal but is functional. The straps are also long enough to attach snowshoes to the side of the pack.
The pack is set up to be hydration reservoir compatible with a generously sized internal pouch and a port for the hose over the right shoulder.
Additionally there are two side pockets for water bottles. However, the design of these pockets is too shallow. My 40 ounce Klean Kanteen was not able to fit and my 32 ounce Nalgene did not fare much better. I was able to wedge the Nalgene in on its side so that it did not slip out. However, this made it inconvenient to take out when I was thirsty.
The internal frame is easily removed and consists of a shaped plastic sheet with aluminum structure and foam support.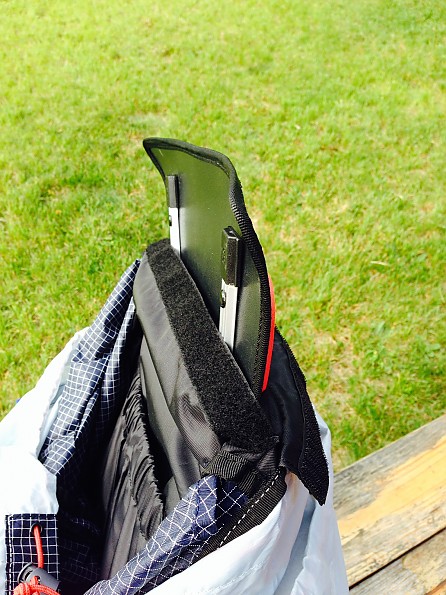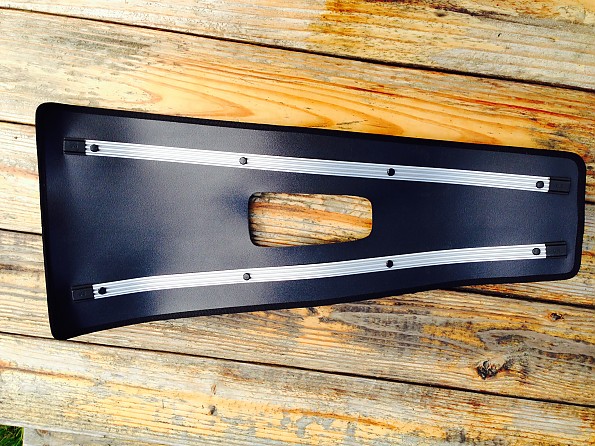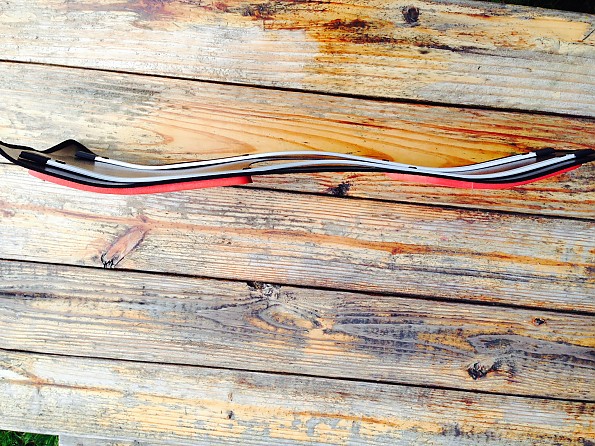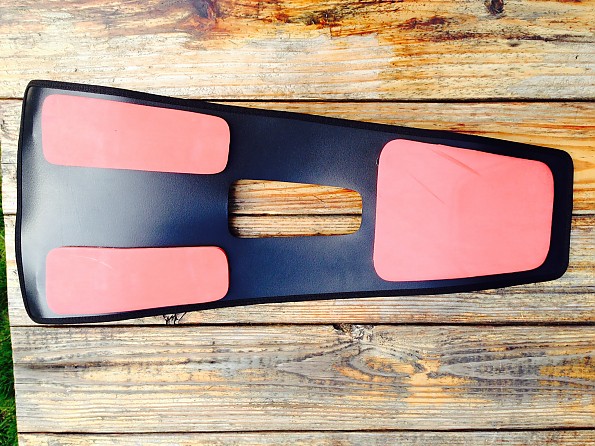 In the Field:
I have used this pack throughout the White Mountains of New Hampshire and I have found that the Dyneema fabric holds up well against the sharp granite rocks and sharp branches that line many of the trails here.  One recent trip was during an overnight in the Pemigewasset Wilderness that saw soaking rain, narrow trails, and rugged rocks. Through it all the Berghaus Expedition Light 80 held up well.
During the first day we walked through thick cloud cover and occasional heavy rain. I was amazed by how well the pack shed water and even after a few hours only barely began wetting through. Considering this was the first day of the trip, it was nice to have a pack that kept the contents relatively dry.
Additionally, none of the straps on the pack loosened while they were wet. I have used other packs which have had issues with straps becoming loose when wet and it can be a constant struggle. The one exception to this was the sternum strap. It continually slid up my chest as I hiked.
The large capacity was more than enough to swallow up a two-person tent, stove, pot, meals, and extra layers. While the top lid was large enough to hold snacks for the day as well as my first aid kit and headlamp.
I took advantage of the multitude of attachment points to carry out my dog's pack and dry out some outer layers on the second day of the trip.
Even with everything attached to the outside of the pack it felt snug and secure, a helpful trait during tight rock scrambles.
One of the best characteristics of this pack is that after a long day on the trail I am not rushing to take it off. The fit is still comfortable and I do not have any hot spots or raw areas that are causing irritation.
Since Berghaus designed this pack with winter tool capability in mind, I look forward to the opportunity to test it this upcoming winter during backcountry skiing, snowshoeing, and winter camping trips.
Summary:
Overall I enjoyed testing the Berghaus Expedition Light 80 pack. The ratio between suspension design and capacity was perfect because I could fill the pack and still have it fit comfortably. I appreciated the fact that it is tool compatible and will look forward to testing that out in the future.
My only criticism is that the side pockets struggled to hold larger capacity water bottles and the sternum strap slides up while hiking.
Besides those two issues this is a well-designed back and I would recommend it for anyone looking for a bag capable of carrying equipment during summer overnights or winter adventures.
Source: received for testing via the Trailspace Review Corps (Sample provided by Berghaus for testing and review)

You May Like
Recently on Trailspace