Bibler Ahwahnee

Bibler is no longer in business, and the Ahwahnee has been discontinued. The Bibler Ahwahnee was renamed and is now called the Black Diamond Ahwahnee.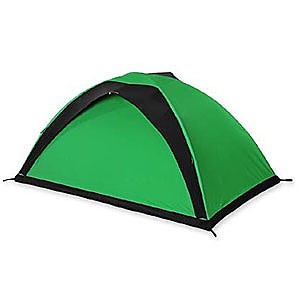 Specs
Price
Historic Range: $417.82-$649.95
Reviewers Paid: $330.00-$1,036.66

Reviews
13

reviews

5-star:

6

4-star:

3

3-star:

1

2-star:

3

1-star:

0
Loved it til it leaked.
Pros
Extreme headroom
Comfy
Bright
Super easy to set up
Well made
Excellent ventilation and views
Cons
Leaking after some years, DWR renewal no help.
Awning grommets too tight
Chemical smell, even after years of frequent use.
They won't even accept my very generous and fair review on their website, so I'm rewriting this to warn people away from the company's crappy attitude and unfriendliness, as well as a tent that has major problems.
I loved this tent for years, but now can't recommend it.
The major theme: it will leak after the dwr coating wears off, and just with time, even after application of new dwr finishes.
They won't stop it and the todd tex will use its magic water drawing power in reverse, and flood your tent with water. It will leak like a sieve, right through the walls. You will have a small lake in your tent. This is not what a 700 dollar tent should do after a few years.
I took immaculate care of my tent, kept it fanatically clean inside and out, kept it out of the sun as much as possible, always packed it 100% dry (even carried a small hair dryer on all my bike tours for that purpose), and it just went to hell over time.
If you pack this tent at all damp, and the toddtex is always damp in a cool night, you will have a rotten tent in short order. This happened to my first one, when I couldn't dry it in mornings in ireland (before I got clever with a hairdryer).
I highly recommend looking at some Hilleberg tents like the Allak 2, which is basically the same as this, just much better in every way. It's my next tent. I just tried it out and read up on it, and it puts the Ahwahnee to shame for innovation, build quality, and durability. And it has just as much or more headroom and weighs about the same. Rolling it up a bit damp won't wreck it, like the Ahwahnee and reviewers say it stays very dry inside.
Experience
I've used many tents, and had two Ahwahnees for years.

Source: bought it new
Price Paid: $650

Have traveled all over the world in this tent in all conditions and have never found anything better or more versatile.
Pros
Very light 4-season tent
Bomb proof in all conditions (very high wind, snow, ice, rain, and heat)
Very versatile! Tight as a clam shell or open it up like a wind tunnel to just give shade on the hottest days
Can be set up from inside the tent
Cons
Tight fit with the fabric makes it much easier to pitch with two people (can be fixed)
Expensive! (but worth it)
Interior is tough to clean because of the Todd-Tex
The vestibule is a must for two people and packs due to space (get the vestibule!)
We have been using this tent all over the world and in every condition for the past 7 years and it is still going strong. We are avid travelers and we have used this tent in snow, ice, rain, high wind, desert, high and low altitudes, saltwater and fresh water trips, cycling trips, alpine, and everything else you can think of. We even lived in this thing for 2 years when we walked around the world.
Okay, I will get on with it. The point is that this tent has seen a lot of action and has been put through the ringer.
This is hands down the best tent that we have every used. It is built like a rock and still going after all of these years. We have slept in this tent with the bottom sitting in water and stayed totally dry. One of the other reviewers said that the fabric was leaking on their tent but, this is very unlikely.
What was probably happening was that they did not have proper ventilation happening in certain conditions (especially in humid climates, like Ireland). It is best to leave a slight opening at the top of the door (with the mesh door still closed all of the way). A person breathes out a good liter and a bit of water when sleeping and it will condense on the walls and such if there is not proper air flow. Leaving this little opening at the top of the doors will keep everything nice and dry (even in inclement weather).
One feature that we were especially grateful for (many times over) was the ability to set up the tent from the inside. There have been many days when really bad weather hits and you just want shelter as fast as possible. You can fling out the tent, dive in it with all of your gear (zipping the door behind you), and take your time pitching the tent while staying dry and warm. This is also an absolute lifesaver when you are being swarmed by thousands of insects that have chosen you as there next meal.
On the downside, the fabric is a bit tight so it can be a lot of work to get the tent up from the inside with one person. This is actually not so bad in cold weather because it is a great way to warm up the body. As the tent ages, the fabric will get worked in a bit and the tightness will lessen, which makes set up easier. 
This is an extremely light tent (just over 5 lbs), you cannot get this kind of ease and protection with many 4-season tents. The Todd-Tex material and single-wall construction is thicker than other tents, so it does not require the additional rain shell that many tents use. This reduces a lot of the weight and set-up time. The poles being on the inside adds greatly to the ease of set up and versatility. The additional, optional vestibule(s) are great additions for parties of two, because you have a sheltered place for expedition-sized packs, dirty boots, and a cooking area in bad weather.
The versatility of this tent is amazing. We went through the most diverse weather conditions. Heavy wind: which can be endured using the guy lines (total of four) without any issues. Rain: keep the top of the exterior doors open just a touch to prevent condensation build-up, the small openings will be covered by the tents built-in visors. Summer heat: open up both external doors, and you have an amazing sun shade with more air flow than any other tent. Snow: put down your sleeping mats and cuddle into your sleeping bags, it will be a nice dry night. 
One other thing to consider is that the mesh doors are kind of a tight weave. This can make a difference on a really hot day when the breeze is not very strong and you want to keep out insects, dust, and debris. The mesh weave is tight enough to keep everything out but, the wind flows through it less freely than with many other tents. This combines with the thick Todd-Tex to create warmer conditions compared to other tents with thinner side walls and mesh weaves that are more loose.
All things considered, this is the best, most durable, and most versatile tend that we have ever used. There are warmer expedition tents but, you would never want to try to carry one on your back (they are very heavy), they cost thousands, and you will overheat in hot weather (without a cooling system). There are lighter tents but, they are not nearly as tough or warm in extreme cold.
This tent truly does perform better in every condition and every environment. It does it all and it does it VERY well!
Source: bought it new
Price Paid: +$600

Ive just read the other reviews and agree with most everything said but I must say I have a serious love/hate relationship with this tent. I don't mind paying big bucks for quality and longevity but I do have some big issues with it. Love includes the quality of materials, bomb proof construction/wind capability, versatility of doors/screens for different weather and the yellow interior is very soothing when confined by bad weather.
When I think of all the good things about it I cant bring myself to get rid of it, However... The set up procedure is awful. Ive tried every way I can think of to make it faster/easier. I was told all the stories of easy rain setup etc and I don't see it. The necessity of cutting the material so tight to make it quiet makes pole insertion/positioning a large pain in the butt. Fear of missing the metal pole inserts; ripping the material and fitting the poles in a position where they wont eventually tear the plastic pole stays off is a big concern. I bent the top flap pole to shorten its length so I could easily fit it into the metal grommets.
Actually that works well now. If I have a friend assist it's easy but I am often out by myself and have exhausted all the colorful language I can remember. The other thing is that even in light rain it's like trying to sleep inside of a snare drum. Love it or leave it. Oh well!
Design: 4 season
Sleeps: 2
Ease of Setup: awful
Weight: not an issue

The design is bad if you have rain. Winter camp only.
The vestibule is not a good design. Water flows into the door area.
Big door good, design not good.
Bibler is expensive. Go with another tent, my friends. These tents are designed for altitude and Arctic. Go with Sierra Designs Hercules. Or something like it. Single walls are overrated.
Design: free
Sleeps: 2
Ease of Setup: easy
Weight: 7 pounds
Price Paid: A TON

After reading many such reviews, surfing the web, and trekking to a store that even carried them, I took the plunge. My friend even ran into Todd Bibler backpacking out in Colorado one summer. His story of weathering a fierce thunderstorm one night in his Bibler bivy impressed Todd. He didn't even know who he was talking to, until Todd introduced himself. I was impressed with how Todd quizzed my friend and listened to his comments BEFORE introducing himself. I think that is how all of his products have been developed.
There is an odd feeling when you plunk down so much money for a little shelter that could just as easily be purchased for as little as $100 or as much as $400 for a fairly good shelter. I guess there is comfort in knowing I have purchased a) superior materials and workmanship, b)functional design c) a unique tent d) admired by most all that know of them e) and that the tent will last.
I chose this Bibler tent for its door size/ventilation, vestibule size, and its peak height. While it claims to be a three-person tent, it would be a squeeze, even with three smaller people. Two is just right with room to spare. You can even be sloppy with the vestibule on. After a weekend in this tent, others with lower peaks will seem downright claustraphobic.
Setting the tent up fast takes some practice and I always worry about missing one of the corner reinforcing patches and shoving one of the poles through the side of the tent. But it hasn't happened. Practicing set up is worth it too. I once jumped in the tent, zipped it up and set the whole thing up from inside, dry and toasty, while a rain storm enveloped the rest of the group struggling with their conventional tents. That was fun.
All tents (not just Biblers) tend to weigh more than reported. Using a digital postal meter I recorded the following: Tent only (sealed) (with mesh door) - 4lb 6oz, Poles only - 1lb 3oz, Stakes (supplied) with guy lines and bag - 7 oz, Bibler ground cloth w/tension and attaching lines - 11 oz, Vestibule w/ pole 1lb 9 oz = 6lb 12.9 ozs all up. Heavier than light but lighter and larger than most tents that will take you where this one will.
Drawbacks of the design is that the tent narrows quickly at the top and seems awkward and confining at first. You get used to it. Also, the tent loses some of its tension when the back window and mesh panel is unzipped (the mesh panels keep out more breeze than you think) and the whole back wall sags annoyingly. Even zipped, the tent gets a little flappy in breeze on conditions (25+ mph) unless oriented correctly and guyed with all the points and tensioned hard. Then it will stand tall and firm. I also wish it had a second door, but the large window can be used as one in a pinch.
Overall, a wonderful tent that I look forward to using at every opportunity. So far I have used it in warm conditons (80+ degrees) and cold conditions (snow camping and 15+ degrees). Haven't seen one drop of condensation. Would buy another one without hesitation.
Design: Three Season
Sleeps: 2/3
Ease of Setup: Carefully quick
Weight: 6 lbs, 12 oz - everything
Price Paid: $1036.66 everything OTD

I bought the Ahwanee tent in the early '80s after extensively questioning Todd Bibler on the phone. Frankly, he was a bit of a bitch. He thought his tent was the best despite not being seam sealed.
Setup was average and without a fly there was always some moisture and the tent took to smelling pretty bad over time. The big bay window was a plus for the time and it has worn rather well.
It was a very good tent for its time—for now, not so hot. In strong winds it would take to "tumbleweeding" no matter how well staked down.
Source: bought it new
Price Paid: $365 in early 1980 dollars,so about twice that now

Having studied the other reviews of this tent to the present time, I find myself agreeing with most of the comments: an extremely versatile tent especially regarding hot weather and ventilation, while at the same time waterproof; modular, so that vestibule/s can be added at the discretion of the user; once connected, the vestibule/s are excellent in general.
Single wall design makes this tent very simple to pack and unpack. Being able to set up from inside the tent can be a great benefit in storms.
I wish this tent was less expensive, lighter, and that there was an optional vestibule with a window. The setup could be faster and easier.... but overall I feel that if I could start over with my tent choices, the Ahwahnee would have been either my first or second purchase. The other tent would have been along the lines of what I actually chose, the REI Clipper for 3-season use. I also have a TNF Mountain 24, which is an excellent but HEAVY tent.
Design: 4-season freestanding wedge
Sleeps: 2
Ease of Setup: moderately difficult
Weight: approx 6 pounds
Price Paid: $500 USD

The Bibler Ahwahnee is the best tent I've used for simplicity of design and ease of setup. I've used it in a variety of weather conditions, windy, hot, cold, wet, damp, and it performs as advertised. I read a lot of online reviews before making this purchase.
I especially like the fact that both sides open all the way for great views from a sheltered nook. I also enjoy the fuzzy yellow interior. It wicks moisture from the interior air and is very soothing to look at and to touch.
I have 3 tents...this Bibler, an REI Taj 3, and a solo tent of unknown heritage. I started camping in 1958, and really love this tent. Thanks for reading, and thanks to Trailspace for the chance to share this review.
Design: 4 Season free standing "wedge" tent.
Sleeps: 2
Ease of Setup: Either nearly impossible, or super easy. Depends on whether you follow the Instructions or not.
Weight: About 6 pounds. I didn't weigh it, I just carry it.
Price Paid: $585, online

Lots of gear is pretty good. A few pieces are truly great. And then there is a category, more akin to art than gear, that so few pieces fall into that it's is almost legendary. Gear that works, every time, gear that lasts. Gear that is functional and beyond -- almost beautiful in measure and method, in its fulfillment of purpose. That is this tent.
And I don't even like tents that much. This tent, a 4-season workhorse (though I'd go for the I-Tent or Fitzroy or Bombshelter for hardcore mountaineering) is super adaptable and super simple, and therein lies its beauty. It's single walled. It's fast to set up (once you try it a few times), roomy enough for two adults and a toddler, is light, solidly bombproof, and versatile as can be. From 100 degree f. desert nights to chilly 10,000 high winter camps, this tent can do it all--and all fairly well.
I've never had a problem with condensation, as the mesh netting allows plenty of air thru in warm months (it's like a beach cabana) and the fabric breathes well enough to zip it tight in bad or cold weather. It is simple, takes little space on a ridge or ledge, and its yellow color is light and pleasant on dreary days. I love the side door setup (I have the one door model, but would get the two next time). There is room for two full length Therm-A-Rests and some gear (I don't have the vestibule), and adding that it would be plenty of storage. You can fully stretch out.
The floor is bathtub style and sealed. The tent itself is waterproof and breathable, so storms are no worry. Its anchor points are solid and they can be fully guyed for serious conditions, but doesn't need to be for a simple camping trip. It packs small, only has three poles, and has inner mesh pockets.
I can't really think of anything bad to say--I love it! Even my wife, who flipped at the price (I got it used on ebay for $330), now loves it and refuses to even let me consider selling the Bibler. Save your pennies, buy one--it's all the tent most will need for 98% of the wilderness stuff most people do, year round.
Design: 4 season freestanding single wall
Sleeps: 2
Ease of Setup: super simple- after a few practices
Weight: about 5 pounds
Price Paid: $330

I have been looking at the tent for awhile. I owned a North Face Slickrock for years, and it was an awesome tent. Then, somebody stole it from my campsite (can you believe some people). So I was hunting for a replacement. I liked the two big doors on the Slickrock, and when I saw Bibler now making the Ahwahnee with two doors now, that got my attention. I waited and waited, and an online dealer put them on sale, sweet!!!
I have only used the tent under a few different conditions, but none of them would be what people would consider ideal single-wall tent environment. I currently live in Florida, and that is where it has gotten most of its use. YES, FLORIDA, can you spell hot and humidity, this place is the king of it. And the two-door Ahwahnee has done a fabulous job. Opening just the tops of the doors to vent while it is raining; rolling the doors completely down and using only the side mesh doors if I want to see stars; or zipping it up completely when it is windy. This tent does the job. Sure there is some condensation on the poles in the morning, but it isn't dripping like people would make you think.
Plenty of room for two people with some gear in the tent. All the inside seams are taped at the factory, but I took the few hours to seal the outside seams, and I am sure I am enjoying the benefits of that work because I don't have any leaks from rain.
Setting the tent up is somewhat interesting. Takes some practice and getting use to. I don't understand how someone could set this tent up strictly from the inside as people always talk about when they talk about single wall tents like Bibler's.
The vestibule design is a bit crummy. I think the guys at Bibler made the vestibule an afterthought instead of thinking about it in the beginning of the tent design. They can (and I hear they are) design a new vestibule for the Ahwahnee. If they are listening, the vestibule should clip on OVER the awning not under because for one thing it sags under its own weight. The awning would help support the weight and keep tension across the vestibule.
Probably some other minor points, but nothing truly to complain about.
Sleeps: 2
Ease of Setup: 4 out of 5 stars
Weight: 6 lbs.
Price Paid: $520

I bought this tent this week. This is a first reaction review.
Let me say that I have seen fire and I have seen rain. Some of the tents I have used for camping have ranged from miserable to fair. After setting up this Bibler (which was difficult my first time) I think I am in love. Its construction appears to be well thought out and its design gives a tall person like me room to live in whether it's snowing or blazing.
This seems like the optimal backpacker's tent. It's light, unbelievably waterproof (I really like the material they use; very similar to my Gore-Tex jacket only uninsulated) and it is very strong. I was able to compress the stuff sack, with the poles removed, to about half the size of a three-season tent. This is a gem.
The price should be the only thing to set you into a worry. Don't let it if you take camping seriously. This tent is built to last unlike some of the flimsy things I have tried to sleep in. It ventilates just as well as any other tent out there (almost).
If you have the guts to take the plunge I recommend the cosmetic blemished version at Northern Mountain Outfitters. I found it to be a little white mark on the top of rain awning not much bigger than a pinhead. That saves $130. No regrets yet.
Design: 4 season expedition single wall
Sleeps: 2.5
Ease of Setup: (medium) Will probably get easier with practice
Weight: 5 lbs. 4 oz
Price Paid: $637

This is the roomiest, lightest weight 4-season tent on the market. I used it on a recent trip to Mt. Baker, Rainier, Hood and Mt. Shasta. It kept me nice and dry on the first 3 mountains where it rained about 75% of the time. On Shasta, it held up easily to steady 40mph winds with frequent 70mph gusts.
A vestibule is optional, but I chose to save some weight--no regrets. Along with a hanging stove, I believe, you can go just about anywhere comfortably. Also, with the large side door open and the adjacent window open, it makes a great summer tent. The mosquito netting which covers the door can be removed for bug-free conditions.
Although it may seem a bit spendy, this is all you need for all tenting/all seasons.
Design: 4 season
Sleeps: 2
Ease of Setup: easy to set up after a few practice sessions
Weight: 5 lbs. 10 oz. packed
Price Paid: $725

Before heading off on a year-long cycle trip around the world, I purchased and tested a number of tents – the Black Diamond Hilight, Black Diamond Skylight, Nemo Tenshi, MSR Elbow Room and MSR Hubba Hubba.
We decided to take the Black Diamond Bibler Ahwahnee, which we found to be well designed, and possibly the only true four season tent (usable in summer) on the market.
Unfortunately for us the quality of workmanship has simply not matched up to its fantastic design.
About two weeks ago, whilst cycling across Ireland, our Black Diamond Bibler Ahwahnee tent began to let in water through the fabric. Now, even under light rain, water enters directly through all external surfaces of the Todd Tex fabric. All seams were sealed correctly and no water is penetrating these areas.
After a little research, I found that the problem with this tent has occurred for other people. (Read other reviews here)
Prior to the leaking, we also had a major recurring problem with the state of the eyelets either side of the tent that the awning pole is meant to sit in. The first time I set the tent up in the lounge room the pole was extremely difficult to get in, but I figured that it might have been intentionally made that way so that when the fabric stretched with use, the pole would fit perfectly. Well this never happened and it is still a constant struggle to put the pole in.
Now I have to use electrical tape on a recurring basis to hold in the eyelets to prevent them from completely falling out of the tabs (this has happened a few times). I tried a few different ways of making a permanent fix, like using glue, squashing the eyelets down tighter against the fabric and taking the tent to a number of different repair shops to see if they could permanently fix it, all to no avail.
I have not taken the tent to Black Diamond to see if it can be fixed properly before now because I haven't been able to. We've been cycling around the world for the last eight months, so we usually need it. It is also difficult to provide an address, particularly one for long enough to have the tent sent overseas.
Now that we're in the US (and it is leaking badly– which we can't live with) we've posted it with the receipt of purchase (it is still in warranty) to the Salt Lake headquarters. We are desperately hoping for a speedy resolution and return as we are due to continue our world tour through America and into South and Central America.
Our first reply from Black Diamond expressed disbelief that the tent has problems, and hinted that we have misused it in some way. Here are some quotes:
'Frankly I have never heard of this fabric leaking as you are describing.' 'I have not known the Todd-Tex fabric to leak unless it has been damaged by mildew or contaminated with some type of oil.' 'Please give me as much information as you can concerning the life/use of this tent that may explain why it has started leaking.' 'Please understand we just don't hear this. Something unusual has to be going on.'

The problems listed were not caused by misuse. When you spend a small fortune on a tent and it is the only home you have, you look after it well. We wash, with water, the tent occasionally, and always make sure it has dried before packing it up and riding each day. And according to online reports at least two other serious cases of this kind of leaking of Todd Tex fabric have been reported to Black Diamond.
For a large collection of photos of the tent in action in almost 20 countries around the world and a daily blog detailing our adventures up to this point please have a look at our website www.grandcycletour.com.
We will update this review as soon as we hear back from Black Diamond.
Design: four season free standing single wall tent
Sleeps: 2
Ease of Setup: Set up is relatively simple, if you are able to get the awning pole in without the eyelets falling out!!
Weight: 3.5 KG
Price Paid: $587 including ground sheet

You May Like
Recently on Trailspace