Bibler Tempest

Bibler is no longer in business, and the Tempest has been discontinued. The Bibler Tempest was renamed and is now called the Black Diamond Tempest.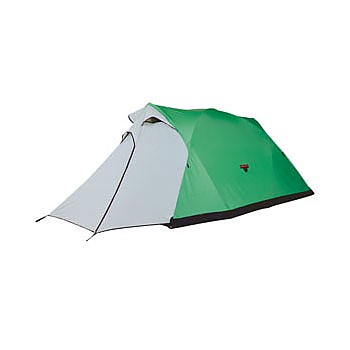 Specs
Price
Historic Range: $473.10-$499.95
Reviewers Paid: $80.00-$399.00

Reviews
6

reviews

5-star:

0

4-star:

4

3-star:

0

2-star:

1

1-star:

1
While this is a truly bomber tent, and all the other reviews nail it, the A-shaped end poles are prone to breakage.
Pros
Roomy
Rugged tent material
Cons
Prone to pole breakage
Complexity of setup
A few years back, a tent mate failed to heed my warning to "let me set this up" and snapped the shorter A-shaped end pole because he bent/bowed it from too close to the apex. Black Diamond, bless their souls, repaired it. 
Last week, I set it up at home. Since the first break, I've been extremely careful about tensioning the shorter end pole. I've set this up many many times, and have heeded all of BD's cautions about the setup. The shorter end pole snapped anyway, right near the first joint below the apex. 
I think the grade of aluminum is not robust enough, and it's possible they have the joints placed poorly, creating more stress at certain areas than can be sustained over repeated use. Either that, or there is a quality control issue with the pole manufacturer.
In either case, I'm not waiting for strike three. 
Source: bought it used

A good expedition tent, despite what the know-nothings say.
I've owned dozens of expedition tents in my life, and taken more than my share of laps on Denali. This is one of the best tents I've ever owned.
Good wind shear abilities, good ventilation (despite what certain flatlanders who don't know how to ventilate a single wall tent properly say), and generally a good tent in a storm. Plenty of vestibule room, and reasonably easy to set up in, well, a tempest.  
The yellow inside wall color keeps things cheery, which is critical when you're cooped up in a storm for a week or three on a glacier. Like all internal pole tents, you have to be careful with the poles or you'll stab a hole in your tent setting it up. This would be YOUR fault, not Black Diamond's. So Pay attention, kiddies. 
Source: bought it new
Price Paid: Can't recall. Wasn't cheap.

If you are looking for a bomb-proof two person tent for all year usage look no further. This tent is tight as a drum and offers great all weather protection including snow. Learning to set up and seam sealing were the only bummers associated with this tent.
Front vestibule is roomy enough for all your gear and provides plenty of circulation because you can leave it open in all but the worst storms. Tent is expensive but well worth it. If you were to own one tent; this would be it! Way to go, Bibler.
Design: 4 season geodesic
Sleeps: 2
Ease of Setup: 3 on scale of 1-5
Weight: 6 -1/2
Price Paid: $399

Yes, the price I paid is correct - picked up at a local REI "Scratch and Dent" sale, the problem - "customer said it was too heavy" - that took $310 off the price. I've always known that Bibler was the best tent that you climbing partner could buy - brand new they are bloody expensive, but now that I have one, I am tending to think that like most expensive gear, worth the price.
I've been using it for most of this summer in Sangre de Cristo and Jemez mountains of New Mexico. Have not yet had it in a really serious storm, but I'm hoping! Set up definitely takes some practice, do it at home to figure out the sequence.
I am marking it 4 out of five stars for two reasons: 1. The largest drawback is the "asymetric" pole design, that leaves one of the poles in the back shorter than the one in the front. (I marked the longer pole with some white electric tape, and the front of the tent. Makes setting it up in bad conditions a little easier.) 2. You must fully seam seal the canopy of this tent, why they don't apply a factory tape job is beyond me when the price for this tent at list is $389.
Since the poles are inside the tent, they say that you could just grab the poles and dive in if the weather was really bad, but I think that could get seriously claustrophobic. Once set up, the tent is roomy, stable even in high wind and quite comfortable. Not the lightest tent available, but it is strong, sturdy, and quite durable. With proper care I expect that I'll get at least ten years of use out of it - let's see that $8 bucks a year, 20+ nights per year, about 40 cents per night. Of course, at full price that would come out to more like $2 per night, still not bad.
Design: Internal Frame Free Standing Four Season
Sleeps: 2
Ease of Setup: Simple once you have done it once and marked the poles.
Weight: 6.5 lbs list, 7 pounds with extra stakes.
Price Paid: $80

I've been camping and backpacking for over 45 years all over the United States. Out of all the tents I've owened the Bibler Tempest is without a doubt the finest all weather tent.
Yes, it is just a bit heavy but that is offset in my mind as I hump it in the boonies because I know I have a bombproof shelter. I seam sealed it carefully (it's a pain) and I have no leaks after many stormy nights in New Mexico thunderstorms. When staked out properly I know it will withstand 55+ mph winds.
One thing I really like is that when it's raining the front and back doors can be opened and still stay dry yet get that beautifull smell and coolness because the front and back vestubules keep the rain out. I rate it at 4 stars only because of the weight. Buy it if you are a serious camper/backpacker!!!
Design: Bibler Tempest
Sleeps: 2
Ease of Setup: After some practice it's a snap!
Weight: with poles and stakes and footprint about 6lbs.
Price Paid: $290

I spent five days in this tent on Mt. Baker in September. The weather was wet and cold. This tent leaked badly, and its airflow with two people in it was terrible.
I know everyone raves about this tent, but I gotta tell you, I would never buy one.
Sleeps: 2
Ease of Setup: the two poles are cumbersome in setup

You May Like
Recently on Trailspace