Big Agnes Encampment 15°

The Encampment 15° has been discontinued. If you're looking for something new, check out the best 3-season synthetic sleeping bags for 2023.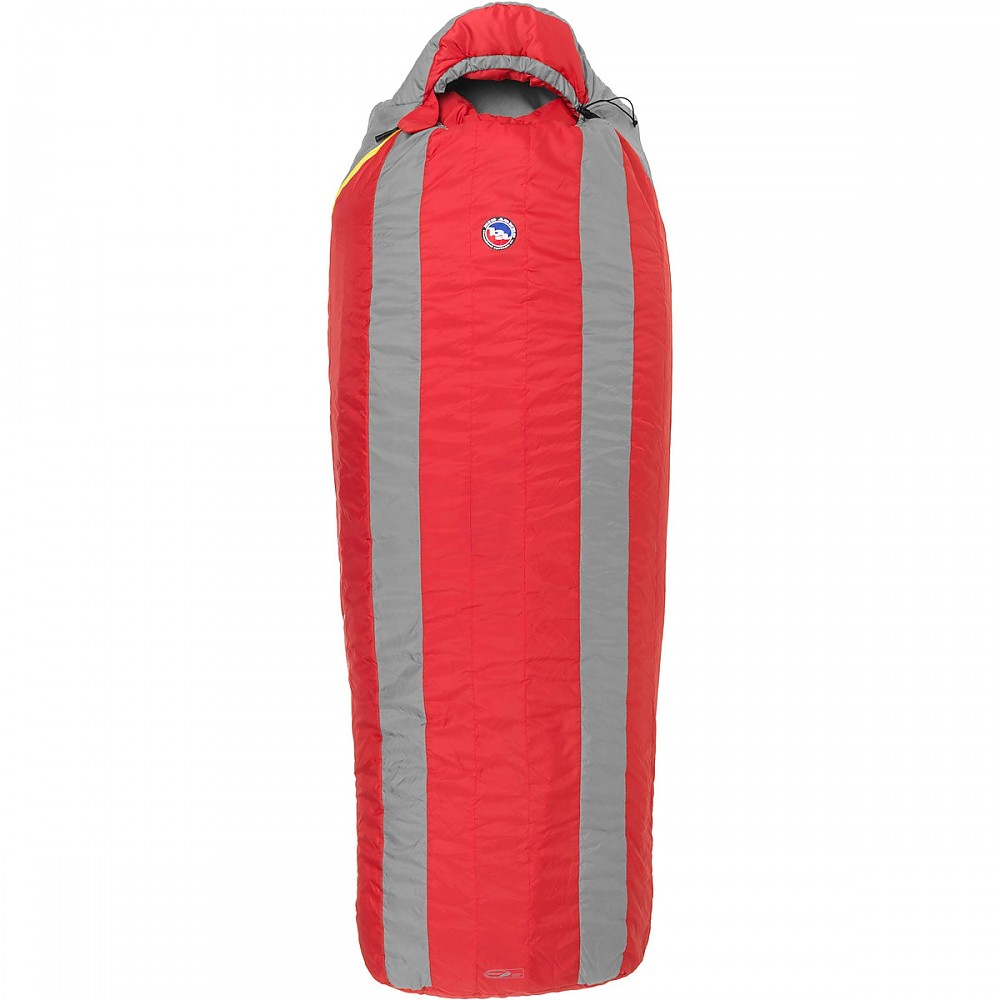 The Big Agnes sleeping system is surprisingly great. Reasons for buying it were advertised no slipping of the pad and extra shoulder room.
My biggest fear was that there is no insulation in the bottom so you really have to rely on a good pad. So what did I do? I took a very methodical approach to researching and ultimately deciding on this bag.
The bag wraps so tightly against the insulated air core pad you get no exposure to the ground. When used properly it will not dissappoint and feels like a splurge for comfort, but the weight is not significant, it all packs up tight, and provides for one of the most comfortable sleeps I've had out in the bush (read on).
Suspicious of being properly insulated with this Big Agnes sleep system, I first bought the dual-air core insulated pad and backpacked with it first to test its insulating properties. My review is under that product, but it's an awesome performer and well worth the money. It kept me warmer underneath than I was in my old sleeping bag on top at the time.
So I hit the store to try out the Encampment. The "roomy-ness" is quick since you can lay down and zip up in the stores nowadays. Tons of room to stretch out, flip over, etc. The zipper did not snag once after a ton of aggressively zipping and unzipping the demo model in the store. So I took the plunge and slept in my backyard one night (32F). In longjohns I was HOT!
The bag wraps so tightly against the insulated air core pad you get no exposure to the ground. Slept a couple more nights over several weekends coldest being 26F. It performed like a charm, though at 15F I would most likely throw some heating packs inside just to make sure I'm cozy. Took it on several trips and works great. After 1 year and 12 trips it's kept its loft just fine. I store it hung up in my closet when home.
Along these lines, one of the advertised pluses is that you don't slip since the pad is inside the bag. Well I slept several nights on inclines and declines on the trails to test this. It works! Pad does not slip, you really do feel like you are "one" with your bag and pad.
I packed it tight in my borther's 80L pack. Then I packed it in my 70L pack. The bag compresses great. Currently I keep the bag and pad in the bottom pocket of my Gregory Baltoro 70 when I'm out there. It's super tight fit, but they fit. This was shocking for a 15 degree bag.
I highly recommend it for anyone who will use it in conjunction with one of the Big Agnes air core pads.
I do not recommend it for anyone who sleeps without any kind of insulated padding underneath or for hammock campers since you will always need an under quilt.
Again this is a SLEEPING SYSTEM. Don't rate this bad on its bottom insulating properties without a pad as it is not designed by any means to do this. But rest assured with the pad you sleep hot and it's actually better than a conventional sleeping bag and foam pad.
Design: Mummy extra-wide shoulder area
Fill: Synthetic
Temperature Rating: 15F
Weight: light for this temp rating of bag
Price Paid: $119

Ideal for backpackers who toss around in their sleep and like the roomy bottom part to move their feet. Synthetic means you don't have to be too worried about getting it wet and pockets for pillow and a sleeping pad makes it simple to set up.
Pros
Light for 15°F bag
Packs down well
Strong zippers
Cons
No bottom insulation — by design
No inside pockets for small items
I've used this sleeping bag for the last two years, from summer nights to California winter nights (including frosty ground at Rose Peak). The draft tube on the side and the draft collar make sure that air inside stays warm and double zippers mean you can leave a little pocket open to let it ventilate on warm nights.
I'm a 5'6", 155 lbs, fit build guy and this bag is perfect. There is a lot of room at the legs part, but I toss around at night, so it makes it easy for me to get in any position I like. I also store my morning clothes in with me to keep them warm and extra room helps with that. It's a half-mummy design, so even at chest I have lots of room.
The bag itself keeps a lot of the moisture out, on a night at Rose Peak in Ohlone Wilderness trail I woke up with a wet outside but dry inside bag. 
The bag itself comes with a small sack that you can stuff it in after careful rolling up, or you can buy a compression sack which makes it far easier and packs it down to same size. Since it's synthetic, it is ready to use immediately after unpacking.
Zippers sometimes snag but if you knwo what you're doing and keep the draft tube out of the way, it's easy to zip open and close while inside.
Overall, I love this sleeping bag, if I ever upgrade, it would be to something lighter/down, but I've used this bag on kayaking, mountain bike camping, backpacking, car camping, climbing expeditions, and I am really happy with it.
Source: bought via a "pro deal"
Price Paid: 120$

Lots of room in this bag, but it comes at a price.
Pros
roomy
integrated pad
compact
light
Cons
15 degrees is pushing it
zipper can stick
There's a good reason people complain about this bag not keeping them warm to 15 degrees — it doesn't.  However, like nearly all bag manufacturers, Big Agnes takes the liberty of giving it a 15 degree rating based on the assumption you'll be wearing wool socks and base layers to bed, and maybe even that you have a bag liner.
One thing the buyer needs to take into consideration is that this is NOT a true mummy bag. What that means is you'll lose a fair amount of body heat to all the space you have inside it. A small price to pay for those of us who who equate sleeping in a mummy bag to being in a straight jacket. Give me my wool socks, base layers, a bag liner and enough room to turn over, please!
The bag/pad integration make a lot of sense. An insulated Big Agnes air core pad definitely improves the R-value, and insulating only the top half of the bag cuts down on weight and space. A continuous baffle along the full length of the bag stops cold air from leaking in between the bag and pad, plus the hood and draft collar block cold air and increase the comfort.  I also love the fact that I don't slip off the pad in the middle of the night, even on an incline.
If you want true warmth, go with a 0 rated down mummy bag ($400) and an insulated pad, but don't get it wet.  Water beads on the shell of the Encampment and even if the bag gets wet, synthetic fill means you'll still stay warm. 
One final observation — I've had the Encampment for three years and I don't have a problem with the zipper, but it's a sticking point (pun intended) for my partner who has the same bag. We've switched bags and I still haven't had a problem so I'm guessing it's a user, not a product, related issue.
Source: bought it new
Price Paid: about $120 on sale at REI

Roomy!
Light despite being big and relatively lofty.
Pros
I like having room to bend a little inside the bag.
I like the integrated pad concept
Cons
If you had a flat or bad pad or mattress, you'd be f****d
Over years I'd often wondered what good down or synthetic fill on the bottom of backpacking bags really does for you — generally it's flat and useless as soon as you lie down. When I saw how this bag resolved that design issue, I couldn't resist.
The design concept for this bag is: save some weight by NOT having any fill on the bottom side; use that weight to provide a roomier bag. 
This is NOT a mummy bag in the true sense of the word — it's boxy at the foot. It's still light enough for backpacking, because in lieu of fill on the bottom side, there is a sleeve for a pad or airmatress. I use a full length Big Agnes air mattress. 
This is BY FAR the most comfortable, back-packable sleeping back I've ever used. I switch from sleeping on my side, to sleeping on my back with knees up using a big stuffsack full of clothes several times through each night.  This bag allows me to move within the bag...a true mummy kind of follows you around, and I end up getting claustrophobic. Not so w/ BA Encampment.
I'm a summer backpacker, but up high in Sierra Nevada. Not too much really cold sleeping. Although I've never been cold in this bag, I doubt that it would be comfortable at 15 degrees...maybe at 25 degrees.
Source: bought it new
Price Paid: +/- $200

I did a ton of research on sleeping bags and I bought into the Big Agnes Sleep System. I love the idea of being able to slip the sleeping pad into the bag sleeve. It make total sense to me, that coupled with the realization that with other bags you're crushing the bottom insulation with your body rendering it useless.
The first real major camping trip me and my wife took was a portage in central British Columbia. I had 2 heavy duty sleeping bags and 2 doublewide sleeping foams, total weight for just those two items was about 22lbs.
The following year I bought a BA Encampment for myself 6'1" 223lbs. and a BA StormKing for my wife, she's a colder sleeper BS SK is rated to 0 degrees (-18C). Those along with a couple of BA insulated air mattresses weigh in at 11lbs and I fit both sleeping bags into one compression sack!!
I have ordered a couple of Sea 2 Summit Extreme bag liners to add a bed sheet feel, I do find that the liner in the bag has a "plastic bag" feel to it, its not a big complaint, but it would have to be my only one.
My brother-in-law and his wife loved this bag when I let them climb inside. He bought two Encampments.
I have bought two more for my mom and her husband, he's 6'4" 240lbs, he says there is tons of room in this bag for him.
Price Paid: $135

Pros
Lightweight
Warm
Very roomy and comfortable
Well thought-out design (except for the con)
Cons
How hard would it have been to include a small pocket big enough to prevent a cell phone/mini flashlight from disappearing at night?
Also bought the Big Agnes Insulated Air Core mattress. I've used it on the ground in a tent, and in my Hennessy hammock. The Insulated Air Core mattress eliminates the need for an underquilt with the hammock in cold temps, and the combination is much lighter than my -30 down sleeping bag and bicycle sack (which is overkill for all but the coldest nights.)
This is advertised as a three-season bag... it is if you unzip part or all of it half the year. I'm not sure about 15 degrees, but it is sufficiently comfortable at 30 degrees. The features that provide extra insulation around the neck, shoulders, and zipper are wonderful.
Below 30 degrees, I might want a nalgene of hot water or a few hot hands to help keep it warm... and once again, a pocket to store the hot hand packages and maybe a pair of earplugs in case you're sharing your space with the all-time snoring champion, would make this a full five stars.
Source: bought it new
Price Paid: $120

This is the first - and last - Big Agnes bag I will purchase. Why? Because the temperature rating is highly exaggerated.
Like other companies, Big Agnes has thus chosen to play fast and loose with the health (and potentially, the lives) of its customers in order to increase sales. I say shame on them, and on every other company, for doing so; and the sooner customers demand that they switch to the new standardized EN ratings, the better.
So, more details about my experience. This bag is rated for 15 degrees Farenheit. I camped last night. The officially recorded low for the night was 42 degrees. I had eaten a full dinner (lamb chops, carrots, bread and cheese, and s'mores) about an hour before turning in. I was in a tent. Underneath me, on the tent floor, I had sheepskin, an old synthetic sleeping bag, and a slim inflatable mattress. And inside the Encampment bag, I had the thermal inflatable mattress made by Big Agnes, just as they recommend, and I was wearing an Icebreakers wool shirt. That is, I cannot imagine any more charitable real-world test of this bag's temperature rating.
 And I woke up several times, too cold to sleep. Luckily, I had an old Wal-Mart bag with me, and threw that on top of myself. If it weren't for that, I would have had a very bad night. Fortunately, I wasn't using out on a far colder night with one of their other bags, relying on it to avoid hypothermia!
One other thing is that while it was nice to have the inflatable mattress inside the bag sleeve, I wasn't used to how much that restricted my movement inside the bag. So even if the temp rating was accurate, that restriction would take some getting used to.
I'll be returning this bag and getting a Primaloft bag from Integral Designs, which I understand is very conscientious with their temp ratings.
Design: Mummy
Fill: Climashield
Temperature Rating: 15 Farenheit
Price Paid: $160

I purchased this bag after minor research online and have not been disappointed. I was slightly concerned the bag wouldn't be warm enough after reading some reviews. The price was right so I thought I would take a chance and bought it anyway.
The first night of use was at 7000 foot elevation with an nighttime temps of 28 degrees, I was sweating inside the bag and had to loosen the hood and draft collar. The second night I partially unzipped the bag and slept in shorts and tee shirt and was very comfortable. The bag was very roomy and warmed up quickly for me.
I wonder if the complaints of cold were due to an inadequate sleeping pad.
Design: semi rectangular
Fill: primaloft synthetic
Temperature Rating: 15 degrees
Weight: 3 pounds?
Price Paid: $99

This bag rocks! Straight up - but it's probably best suited for normal use by bigger people or people who like a lot of space to spread out when thy are sleeping. Reason being this the bag is large, providing loads of space to roll around with out taking the bag with you.
Also, it stays in place, and doesn't get tangled up due to the pad insert on the bottom of the bag. With a good air sleeping pad, you will not get cold.
More over, this bag is great for all applications because left open in warmer weather, you'll have enough air flow, and some covers. In extremely cold weather, bring a lighter summer bag, and slip it into the BA - there's plenty of space,and there's a limited weight penalty.
Technically, it's great. The hood and draft collar are excellent, the pillow sleeve is a fantastic addition to the bag, and the coded draw cords are easy to sort out especially when it's below freezing and pitch black.
The YKK #7 zipper easily attaches to other YKK #7 zippers, so you and your lady can snuggle up in the wilderness. Kind of nice on cool nights.
The one draw back, worth only a quarter of a star, is the lack of stash pockets and an ipod holder, and ear plugs (not for back country use, but the park service campgrounds in NH are ANNOYING. I know everyone loves their kids, but not everyone loves your kids.Dogs on leashes, muzzles on kids before 8:30a.m., know what I mean?)
Design: mummy-ish
Fill: Synthetic
Temperature Rating: 15 deg. farenheight
Weight: light enough, small enough for backpacking
Price Paid: $90

this bag has served me well for 5 years. it is always good enough to get me to the end of the trip, but rarely feeling happy about every aspect of the bag.
the biggest plus is the room, i get a little claustrophobic in tight bags. and if you get a warm pad it's not that cold. if you try to get by with a super light pad in colder weather you had better sleep very warm. in snow i like to use 1 close celled pad on the ground plus a warm pad in the bag.
i complain about this bag every time i take it out, but i keep going back to it for its size, and the fact that it's still warm in the damp cascades with the right pad selections. i also use this bag in the oregon high desert from april to early nov. it's got to be the most versatile bag i have ever had and if i had not seen some of the high end offerings from feathered friends and western mountaineering i might have given this bag a 4.
good times to you out there, and if you are in damp cold (over 15 at night) conditions for more than 1 night you might want to try it. it's not that bad. and a plus if you have broad shoulders, or thick legs.
Design: semi mummy
Fill: syn
Temperature Rating: 15

Roomy and comfortable, as long as it's not too cold.
Pros
Roomy
Comfortable
Available in tall
Can't roll off the pad
Cons
Not really a 15° bag
Heavy
No bottom insulation
Zipper occasionally jams
Big, comfortable, heavy. They advertise it as a 15° bag, but honestly, I don't know how they get that. Even with the BA inflatable pad, it's only a 35° bag in my experience. Maybe they sleep in long johns.
Having said that, it's so comfy I still haul it around, but I'd advise a bag liner for anything under 35°. Nice that it's available in tall.
A previous reviewer mentioned mummies as confining, and I agree. It all comes down (for me) to being able to move my legs independently from each other a bit while I sleep. Maybe someone will make a bag that has a knee bulge similar to the ones for your feet in mummies. 
Source: bought it new
Price Paid: $175

Good for someone to move around in and the integrated pad is a brilliant design feature.
Cons
Sticky zippers
Nothing on bottom so you NEED the pad
I am about 6'2", 170 and got a regular and it fits snug height-wise, but roomy on the sides. I can store stuff in there to keep it warm (like tomorrow's clothes). I have a tall Insulated Air Core which is nice. It sticks out the top like a pillow without having to get a seperate pillow.
The integrated pad is a great feature. On other bags I tried bungee cords etc but always managed to slide right off them in the night. With only material between you and the ground a pad is a must, unless you like hard rocks poking you. The upside without the bottom is that it is not bad weight or size wise.
I haven't been in it too much in cold weather but I run cold and think 25 would be pushing it. 
The zippers do get stuck.
Source: bought it used
Price Paid: <40

Well to be honest I was reluctant on the purchase seeing some of the reviews they tended to be 50/50 so I gave the bag a try. In my Honest opinion I would stay away from this particular bag. The temp rating is way off. I was out overnight with temp of 41 degrees and was uncomfortable.
I think the problem is a combination of size of bag and lacking of insulation on bottom. Not to insult BA, the quality of their product is great, The performance when it comes to keeping you warm is poor. I am 6' 230 lbs so I do take up room in bag.
If I had the receipt I would return but don't and campmor doesn't carry Montbell which will be the next purchase. I hope this helps some of you.
Temperature Rating: 15 F
Price Paid: $159

If you're a bigger guy like me; 5'8" and weigh 265 lbs, you need a sleeping bag that has a wide girth. And this bag has that feature and then some! Received bag as birthday present prior to trip to Zion Nat. Park back at end of March. The temp was 19 degrees every night and this bag was great. I could twist and turn without too much hassle and the insulating properties were great!!!!
Also, you would think such a bag would not compress down that much? Wrong, it does!! If you're a big person and need a quality bag, look no further!
Design: Mummy
Fill: Polarguard, etc.
Temperature Rating: 15 degrees Farenheight
Weight: 3lb 10oz
Price Paid: Na

I am female, 5'8", 130 lbs, a veteran backpacker / camper in a variety of conditions. I bought this bag for expedition camping (i.e. staying in one place for a few weeks once you get there...). I rather like the stability of the Thermarest-like insertion and the bag is roomy and comfortable, however, it is not a "15 degree" bag - I was cold even in 30 deg weather.
Design: semi-mummy
Fill: synthetic
Temperature Rating: 15 F

This is the first bag that has fit my wide shoulders and 250 lb body. I slept in this bag last week when the temp dropped to 24 degrees and found it very comfortable. I strongly recommend this bag.
Design: rectangular
Fill: Synthetic
Temperature Rating: 15 F
Weight: 3 lbs 11 oz

Your Review
You May Like
Specs
short
regular
long
Price
MSRP: $179.95
Historic Range: $34.73-$199.95
Reviewers Paid: $40.00-$200.00

Weight
2 lb 12 oz / 1200 g
3 lb 1 oz / 1400 g
3 lb 6 oz / 1500 g
Fill weight
1 lb 6 oz / 620 g
1 lb 8 oz / 680 g
1 lb 11 oz / 770 g
Temperature rating
15 F / -9.4 C

Fill
INTEGRITY synthetic

Shape
rectangular

Max user height
5 ft 8 in / 170 cm
5 ft 10 in / 180 cm
6 ft 6 in / 200 cm
Shoulder girth
68 in / 170 cm
70 in / 180 cm
73 in / 190 cm
Hip girth
64 in / 160 cm
66 in / 170 cm
69 in / 180 cm
Foot girth
54 in / 140 cm
54 in / 140 cm
55 in / 140 cm
Recently on Trailspace