Big Agnes Lost Dog 50°

Top 25 in unisex Warm Weather Synthetic Sleeping Bags
The Lost Dog 50° has been discontinued. It was replaced by the Big Agnes Lost Dog 45°.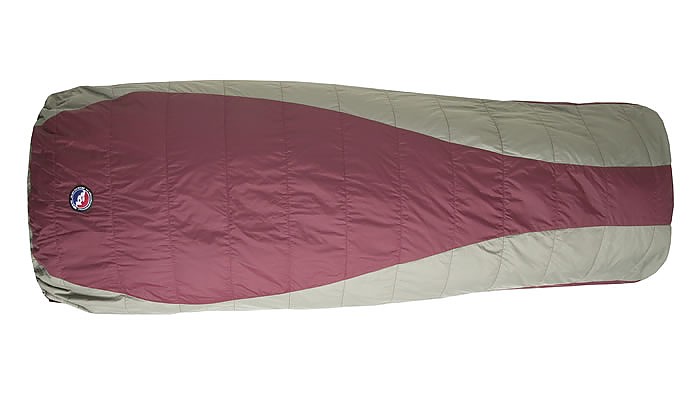 I have used this bag twice now and I am very pleased. I love how small it compresses and of course we can not forget the sleeping pad sleeve that keeps you from fall off your pad along with staying on it while tossing and turning.
Actually, the way these bags are made you will sleep so well you will not notice the tossing and turning. The bag is very roomy and lightweight.
The one con that it comes with is the rating. I sleep warm. This bag was used twice with temps in the high 40's F and low 50's F. The first time I used a summer non-insulated pad and was pretty chilly throughout the night. The second time it was used with a Thermarest insulated pad, again I was a little cold. I would give the bag a 55 degree rating. If I would have slept with a layer on it would have been perfect as I sleep in my birthday suit.
Great Bag. Big Agnes is the Mother of Comfort without a doubt. I also use the Lost Ranger and it's my favorite bag ever!!! I'm a gear junkie. If you like room, lightweight and more room than purchase Big Agnes sleeping bags!!!
Design: Lost Dog
Fill: Primaloft
Temperature Rating: 50 Farenheight
Weight: 22 oz
Price Paid: $109

2016 Update:
I have no idea where I got the 35+ temp rating as this is and always has been a 50-degree bag. Yes, I've used it in temps down to the upper 30's when wearing my Duofolds, beanie and merino wool socks, but I tend to sleep pretty warm anyway. This is still almost always in my pack when I leave on a backpacking trip for three reasons:
1) it packs so small and weighs so little, it's worth taking just in case
a) I need just a little more warmth,
b) someone else needs just a little more warmth, or
c) I need the water resistance.

Ten years later, it's almost always in my pack and gets pulled out a few times a year, at least.

I'm pretty impressed. Not being that warm a sleeper anymore, I was skeptical as to whether a 50 degree bag would be enough for me, but the Lost Dog has proven itself to temps below 40. I also use the Big Agnes Insulated Air Core pad that they claim a rating of 15 degrees for. The combo together weigh under three pounds and stuff together into a single 5"x12" compression stuff sack. I'm impressed!
I almost always sleep in a beanie and carry my silk longjohns or my Duofolds (or both in the winter) for warmth both at night when sleeping and during colder days. The Lost Dog seemed upon first pulling it out at home to be too lightweight and thin to possibly keep me actually warm at 50 degrees, but I figured I had enough "extras" with me to get by comfortably.
As for roominess, I was absolutely amazed. This is modified rectangular? It was roomier than my 13-year-old 20 degree Thermolite rectangular bag. (Should I have gone with a mummy?) When used in conjunction with the REM pad, not only was I more comfortable in every position than I'd ever been on the trail, but considerably lighter and roomier.
In the end, I was nearly as warm. I check my thermometer at night like some people check their watches. I can usually tell you exactly what the coldest temp has been during the night. The REM pad was SO comfortable that I ended up sleeping straight through the night most of the time. Something I rarely do, even at home.
My first use of the Lost Dog was in the Ventana Wilderness in late March/early April. Temps at night ranged from 42 and raining hard to 35 and clear.
I had not taken the time and care that I should have in setting up my tarp the evening it rained the hardest (it got down to 42 the last time I looked) and found in the morning that some rain water had been splashing all night onto the bag at about my waist and lower and collecting in a puddle on top of my Tyvek ground cloth. Not only had the water not even come near soaking through the bag on the top, but no water had wicked up the sides either. Despite my own carelessness, I was warm and dry.
The evening of the coldest temperature got down to 35 degrees the last time I looked. That evening, having seen that the clouds had cleared and the stars were out, I added my Thermolite bag cover (adds 15 degrees of warmth) and was plenty warm. The problem that evening wasn't being warm enough, it was having room enough. The bag cover kept twisting for some reason and restricting my movement inside the Lost Dog. Should have just put on my Duofolds. Live and learn.
All in all I'd have to say that the Lost Dog is now a permanent part of my pack. Its roominess, warmth, water repellency, small carry size, and weight have made it so.
Drawbacks/Cons: If you're a person who prefers not to wear any clothes when inside your bag. This might not be the bag for you during the early spring and late fall at elevations above 7000'.
Advantages/Pros: If you're looking for a lightweight, roomy bag that will take up virtually no space in your pack, add almost no weight and layer well with other bags (my old 20 degree Themolite bag fits inside this one like a glove for cold weather trips!), clothes and equipment. GET THIS BAG.
Design: Modified rectangular
Fill: Primaloft Sport
Temperature Rating: +35
Weight: 20 oz
Source: bought it new
Price Paid: $60 in online auction

It is well made, roomy, extremely lightweight, and highly compressible--all great features. But at 50 degrees (measured by a thermometer 8" above the tent floor, and with all windows zipped up), I had to add a fleece bag inside -- And still got up in the night to put on more clothes. It is being returned: I call it a 70 degree bag. I called the company (nice folks, willing to make things right for me) and they suggested that I had an incorrectly sized pad. This may be, but I still do not feel that this makes up enough difference for me to justify keeping it.
Design: rectangular
Fill: primaloft
Temperature Rating: 50 (ha)
Weight: 1lb 2 oz.
Price Paid: $109

Your Review
You May Like
Specs
regular
long
Price
Historic Range: $72.77-$119.00
Reviewers Paid: $60.00-$109.00

fall 2010
regular
long
Weight
1 lb 4 oz / 570 g
1 lb 6 oz / 620 g
Fill weight
5 oz / 100 g
6 oz / 200 g
Temperature rating
50 F / 10 C

Fill
Primaloft eco synthetic

Shape
rectangular

Max user height
5 ft 10 in / 180 cm
6 ft 6 in / 200 cm
Shoulder girth
70 in / 180 cm
73 in / 190 cm
Hip girth
66 in / 170 cm
69 in / 180 cm
Foot girth
54 in / 140 cm
55 in / 140 cm
Recently on Trailspace