Big Agnes McKinnis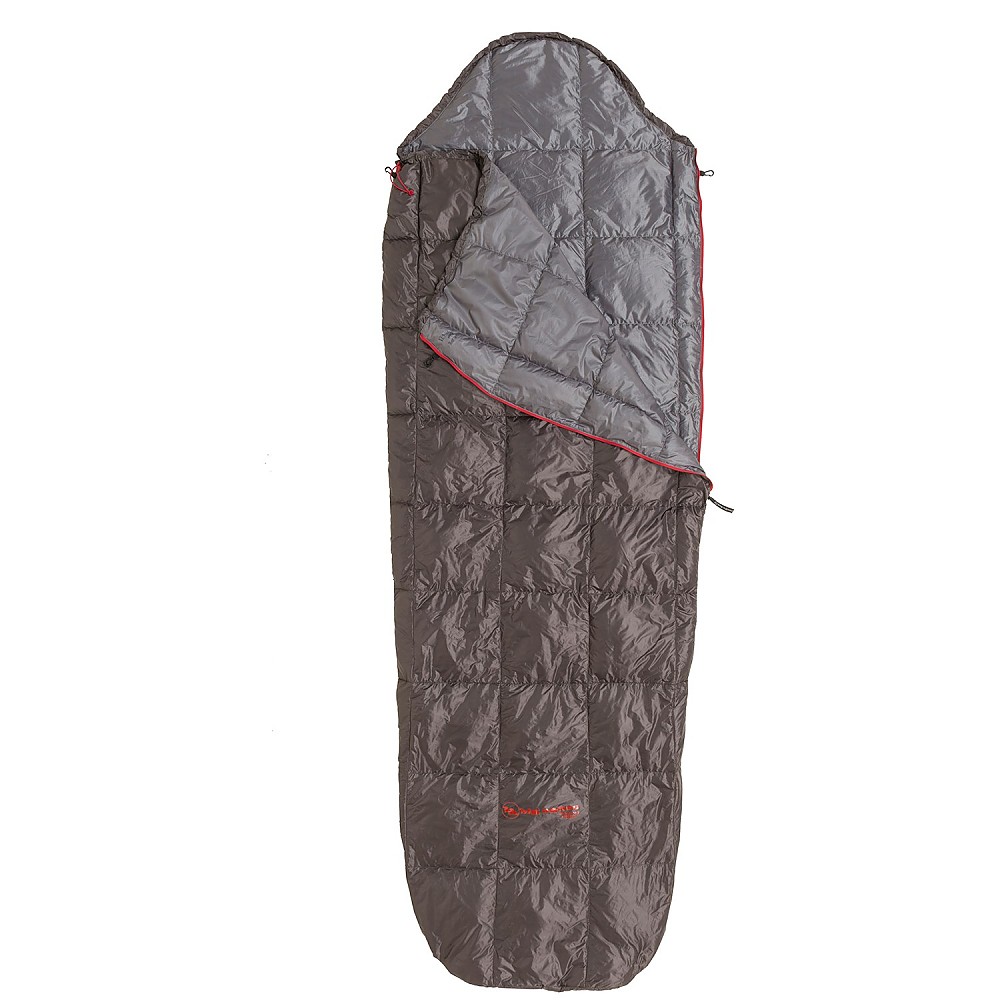 The Big Agnes McKinnis is a lightweight, down insulated sleeping bag designed for minimalist trips, bike packing, or any time some extra insulation is needed within your sleep system. Versatile enough to go from your warm weather summer bag to a winter liner, I believe the McKinnis would be an excellent addition to many people's kits. The main point I'd like to see redesigned is the hood shape as it currently doesn't add much function.
Pros
Incredibly lightweight
Non-existent pack size
DownTek water-repellant down
Two-way zip
Versatile
Cons
Uneven fill between baffles
Hood is useless
Stuff sack lacks compression straps
WARMTH
No temperature rating is given for the McKinnis so that kind of eliminates the whole "Does it keep you warm at its stated rating?" question. I received this bag for testing at the end of July, so right in the wheel house of this ultra light bag, and have purposely held off on this review until I could test it to its limits….I found the limits….in an uncomfortable way. 
If I were to assign the most unscientific EN ratings ever (please keep in mind these are just my opinion and everyone's sleep comfort is influenced by a number of factors), I would give it a comfort rating of around 13°c (around 55°f), and a lower limit at somewhere between 8° and 10°c (46° - 50°f). I have tested it a couple times around that range and started to feel chilled (I always slept with a thin pair of shorts and a synthetic t-shirt only) at anything below 10°c.
A huge part of that is the lack of a functioning hood. The "hood" is cut so it is just flat and does little to nothing to wrap around the head to add any insulation. I do understand that this is meant as an ultralight travel bag, but it either needs to be made more effective, or left off altogether to save some weight. Adding a toque or a layer with a hood helps greatly.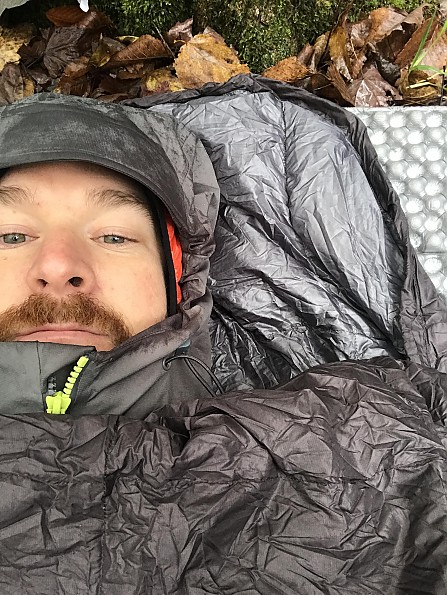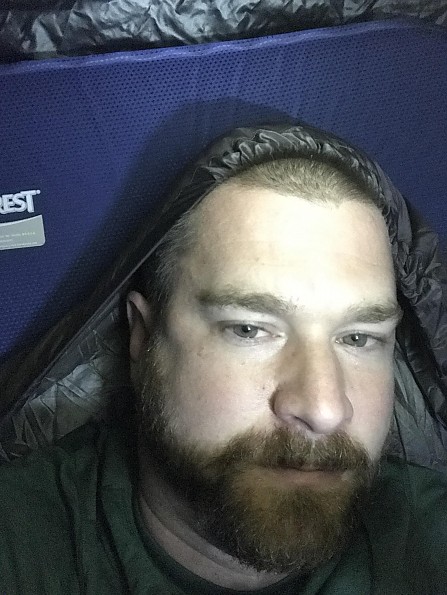 (The look of distain for the lack of a functional hood)


Now to the What Not To Do section. Determined, in the name of thorough testing, to find where this bag would reach its limits I decided to test out this bag on a cold and rainy night (the bag utilizes DownTek down, so I also was invested to see how it would handle the moisture. More on that below).
Overnight lows were expected to be around 4°c (39°f) with heavy rains, so I took this bag, a Therm-a-Rest Z-lite pad, and my tiny 5x7 Rab Siltarp out for an overnight. Pretty much I tried to stack the deck against this bag (the tarp I usually use as an emergency shelter or with a bivy, and the sleeping bag has a relatively low R value) and I lost, or won, depending on how you look at it.
I was absolutely freezing all night and eventually gave in to putting on not only my synthetic puffy but my dirty, and wet, rain jacket and soft-shell pants). I was already too chilled though so that didn't help much and it was a long, long night. Please keep in mind that this is not what the bag is designed, nor marketed for, this was just me wanting to push it, so I definitely don't fault the bag for this.
The McKinnis is being advertised as a summer/liner bag. The testing period has been over the summer so I haven't been able to test it as a liner, as the colder temps are just now arriving. I'll be sure to update this review once I have a further cold weather testing chance. It certainly makes this bag quite versatile and would simplify the need for too many bags—have one bag you use for summer (the McKinnis), purchase a three-season, and then pair the two for winter.
FIT AND COMFORT
Given the pack size and weight I'd expect this to be snugger. It gives you a surprising amount of wiggle room without being excessive. The length is 82 inches which includes the hood, so perfect for me (I'm six foot) with a little room to dry out some items along the bottom. It's 60 inches wide at the shoulders and 50 inches at the foot. All generous enough measurements for me not to feel claustrophobic without being overly large and having too much dead space to warm up. The lining (Polyester taffeta) feels buttery smooth against the skin which, as a warm weather bag, is nice.
The McKinnis also has a 3/4 length (45 inches) zip so you can open it up almost all the way to make it into a make shift quilt on warmer nights. I would like to see it made into a full length zip as the penalty of only a couple extra ounces. The zip is also a two-way, so for those in between nights the venting can be adjusted accordingly.
The only comfort area improvement, and it's touched on above, is the hood needs to be redesigned.
The footbox is thankfully well designed, especially as someone with perpetually cold feet. Amply filled and well cut.
ENTRY AND EXIT
It's a sleeping bag. If you can't get in and out of it you probably shouldn't be camping. The zip is only a three quarter length but I haven't found it to be considerably more difficult, or at least haven't noticed it. The extra roominess probably helps in wiggling yourself down to the bottom as well.
MOISTURE
As mentioned above I really attempted to test this bag to the limits (including some conditions I wouldn't expose a bag to normally). This is the first bag I've ever used that utilizes this "new" water repellant down. I say new in quotation marks because I am well aware that I'm late to the party. I've just never seen a problem with traditional down, and have always taken the steps to keep my insulating layers dry, hence haven't seen a dire need for the treated variety. With that said, this bag might have convinced me.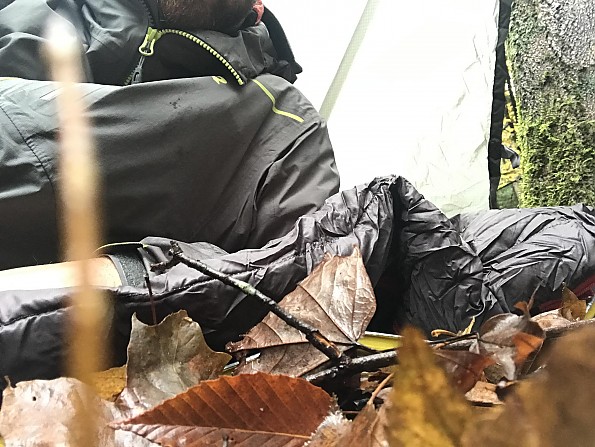 (My best attempt at showing the saturation of the leaves. Didn't show great, whoops!)


The night I mentioned above (in the Warmth section) was pouring rain all day, the ground was saturated with wet leaves, and the rain continued throughout the night. Between the smaller tarp and the minimal coverage offered, as well as the puddling underneath, the bag was exposed to a lot of water. The down still didn't clump up nearly as much as I would have expected, nor was any warmth lost.
I came away from that very impressed. I still believe that the water repellant down should be treated as a last resort and the steps should be taken to keep it dry, but should you happen to have some bounce back under a tarp or in your tent, or heavy condensation hitting the bag, it's nice to know that it will not negatively affect the loft of the down.
PACKABILITY
This bag packs down to the same size as a one litre Nalgene and only weighs a pound (singular!). It will absolutely disappear in your pack, which is why I think it would be such a great option for fastpackers, bike packing, or anything where weight and space are at a premium. This bag, a minimal sleeping pad and a tarp would be incredibly lightweight, and versatile, for a summer setup. It also advertised as a travel bag and while I haven't used it as such I do think it would be good for people utilizing the hostel system when venturing abroad. 
The bag does come with a stuff sack for carrying, but there are no compression straps on it and this bag could pack down even smaller; it would be an easy way to improve the product.
LOFT
No. I mean, not lots. Don't expect this to be one of those bags that explodes out of its storage bag and inflates like those wavy armed guys at a used car lot. It's a lightweight summer bag, you're getting about 3/4 of an inch of loft. That's why it packs down so small and weighs so little. Need more warmth and/or loft…look elsewhere.
One negative I have found is that there seems to be some discrepancy between the amount of down in the baffles. When held up to the sun you can see that some baffles are filled well while others let the light right through. It can lead to some unusually placed cold spots if you're taking the bag down to its lower range.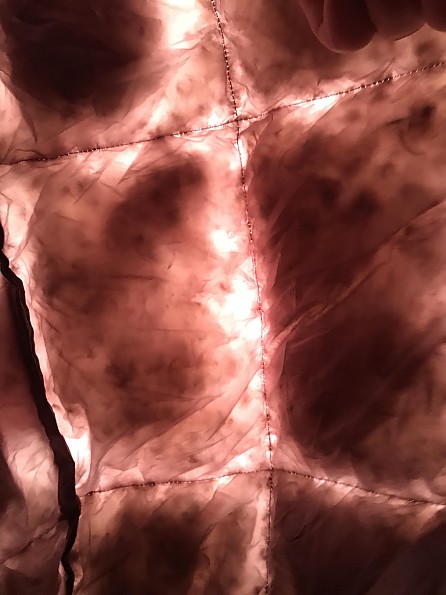 (You can see how filled the baffle on the right is, the left, not so much.)


FEATURES
Not the most exciting feature (but it didn't really fit anywhere else in the review), the bag has mitten hooks at the head and foot for attaching to another bag when using it as a liner. I've never used it, nor do I think I ever will, but they are handy for clipping to the guy lines of your tent when drying out your bag. The bag is so light it easily blows away in the wind…don't ask me how I know.
I do like that the McKinnis has a two-way zipper. Very smart on a warm weather bag to be able to vent some heat out.
CONSTRUCTION AND DURABILITY 
I'm confident in saying this bag is very durable (within reason). That's just a disclaimer to say that if treated the same way I would use any of my bags this will be useable for many years to come. Make sure it's dry before packing, store loosely and minimize dirt and grime inside. I haven't seen any problems throughout the testing period. Sewing looks top notch, straight and tight, and there has been no down leaking through. I flip flop a lot throughout the night and haven't ripped a seam, zipper still works great, so far so good.
CONCLUSION
Super light, highly portable bag for those warm summer nights, balmy locations, or wonderful if looking to travel minimally. The DownTek was a welcome surprise, and I found the bag quite spacious for such a small package. The hood needs a re-do and the baffling seemed to me to be unevenly filled.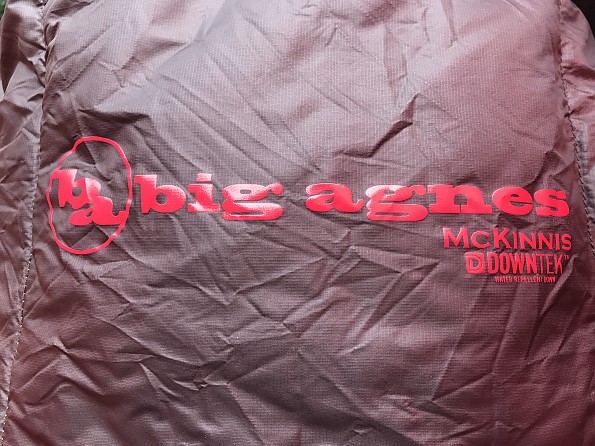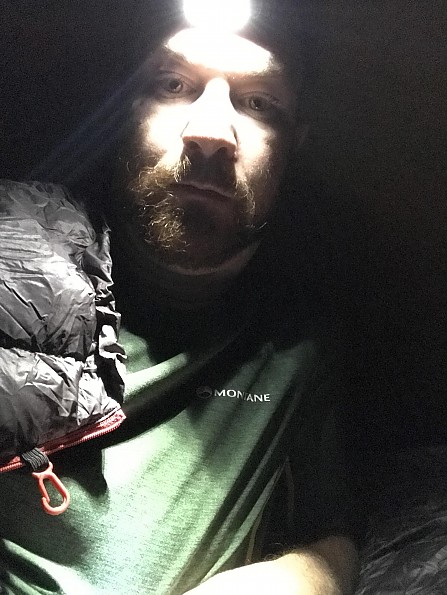 My thanks to Trailspace and Big Agnes for the opportunity to test the McKinnis sleeping bag.
Experience
CONDITIONS AND TESTER

The Big Agnes McKinnis has been used for more than three months (late July till now, mid-November) in temperatures ranging from overnight lows of 4°c all the way up to those sweltering August 25°c with high humidity nights. It has reached its limits as a standalone bag, at least for here in Canada, but I look forward to further testing as a liner bag, and will update the review once tested.
Source: received for testing via the Trailspace Review Corps (Sample for testing and review provided by Big Agnes)

Your Review
Where to Buy
Help support this site by making your next gear purchase through one of the links above. Click a link, buy what you need, and the seller will contribute a portion of the purchase price to support Trailspace's independent gear reviews.
You May Like
Specs
Price
Current Retail: $149.95
Historic Range: $115.39-$149.95