Big Agnes Third Degree Foam Pad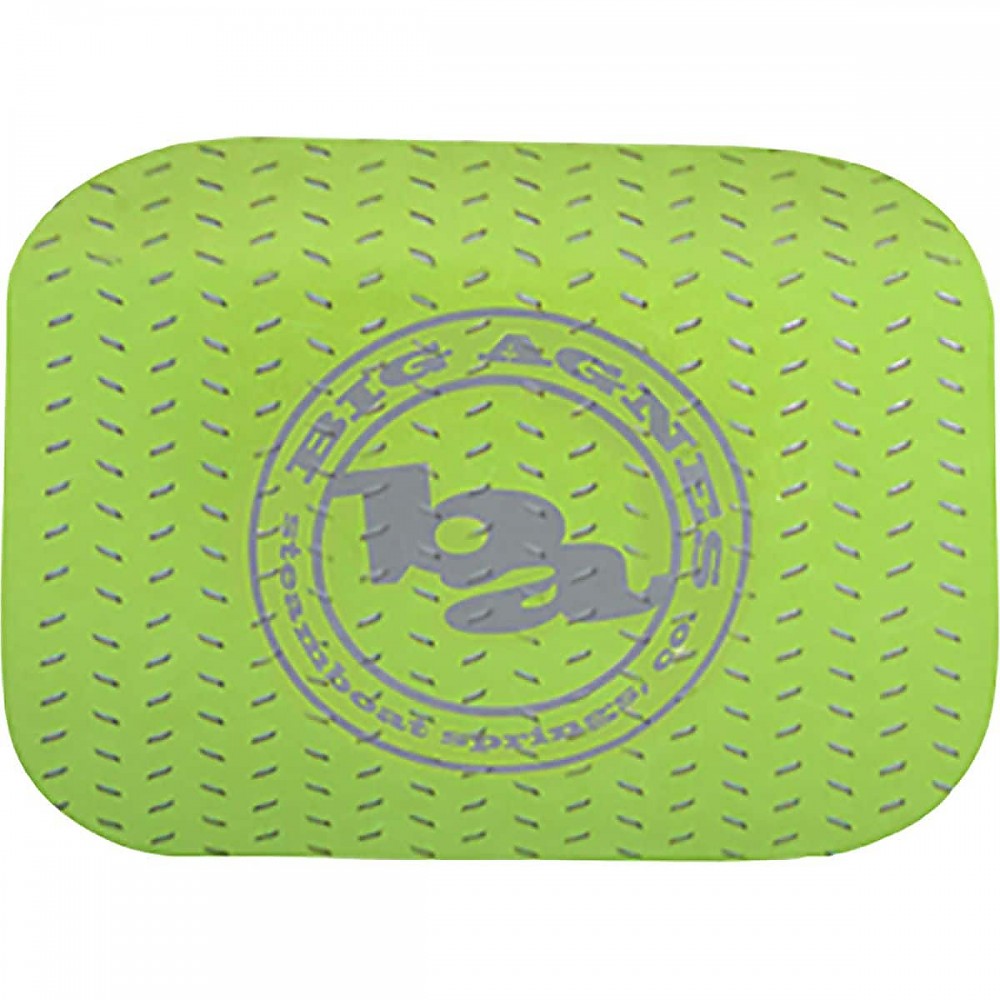 This is a nice lightweight sleeping pad that packs down relatively well (compared to similar foam pads) and provides excellent insulation. I would not use it as a primary sleeping pad (unless you are used to sleeping on the ground), but to supplement your air mattress in winter, or push your summer mattress into the shoulder seasons if you don't intend to winter camp.
Pros
Lightweight
Packs well
Warm dual foam layers
Price
Roll is less "catchy" than Z-folds
Doesn't leak!
Cons
Similar "nickability" to other foam pads
Not as comfortable without air mattress
Tendency to scuff/stain
Long term durability not known yet
No R-Value provided
The Big Agnes Third Degree Foam Pad is a very lightweight part of a cold weather sleep system. BA suggests it for supplementing another mattress in cold weather or as an ultralight option for a primary mattress.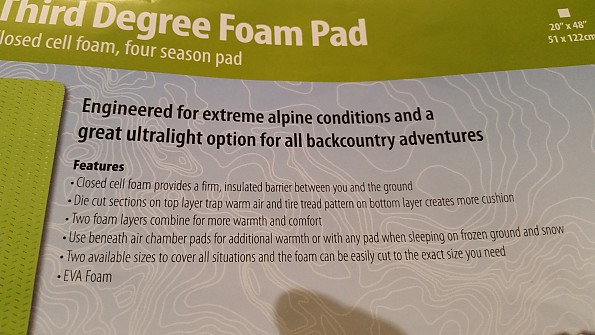 I definitely agree with the first use, but am too old and soft now to test out the second!
The pad comes in a simple plastic wrap with informative label with intended uses, specifications, and temperature rating.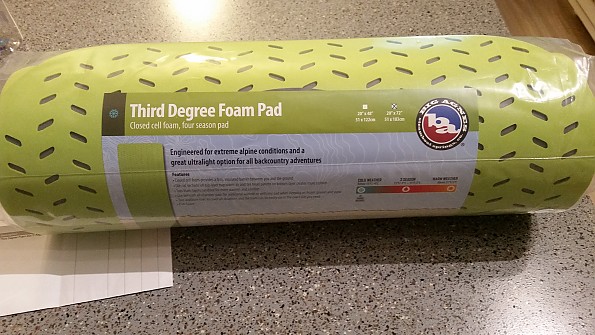 I do appreciate that they at least put a temperature range on the label, since there are no R-Values associated with this mattress. This seems to be a growing trend in the industry (my NEMO air mattress doesn't have one either) but I'm not going to delve into the reasons for this here...see the insulation discussion below for my evaluation of this feature.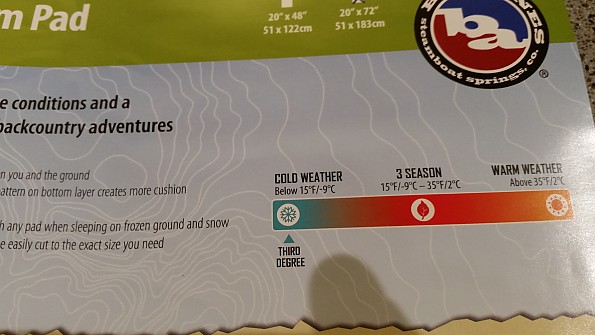 The pad is very light at either 8 (48") or 12 (72") ounces.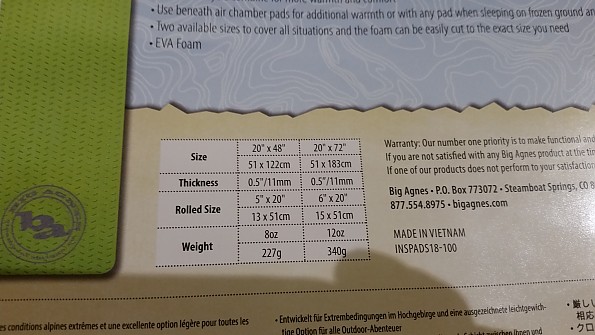 Compared to similar length pads (72") currently available (Therm-a-Rest RidgeRest SOLite sleeping pad and Therm-a-Rest Z-Lite sleeping pad both at 14 ounces), the Third Degree is two ounces lighter...minimal difference for me but for those who count grams that's a whopping 57!
Packability
A key feature for me of any closed cell foam pad is how it packs. I am not a fan of the Z-fold options as I find them clunky to pack and if carried on top or bottom of the pack they have sharper corners that catch more easily on branches (especially during off-trail wanderings that I tend to take).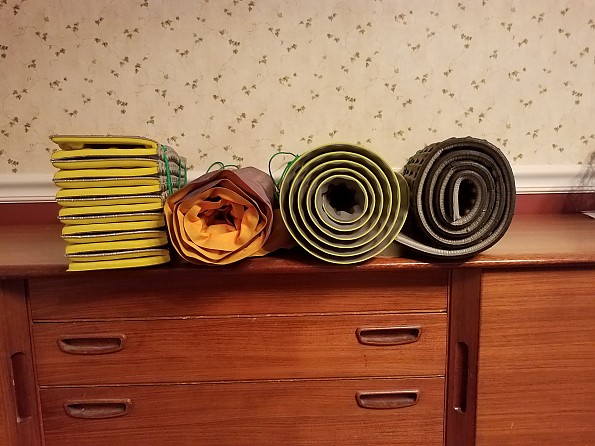 As you can see the Third Degree packs down quite well compared to other foam or semi-foam pads I own.  Pictured from left to right are the Therm-a-Rest Z-Lite 72" pad, REI Lite Core 72" air and foam mummy pad, the Third Degree 72" pad, and the RidgeRest 48" foam pad.
Discounting the REI Lite Core, which is a self-inflating foam/air combo, I would suggest that the Third Degree packs down equal or better than the Z-Lite (no sharp corners) and much better than the RidgeRest (since the one pictured is only 48").
I am able to quickly and easily roll the Third Degree up into about a 6-inch tall and 20-inch wide roll, and could probably make it a little tighter.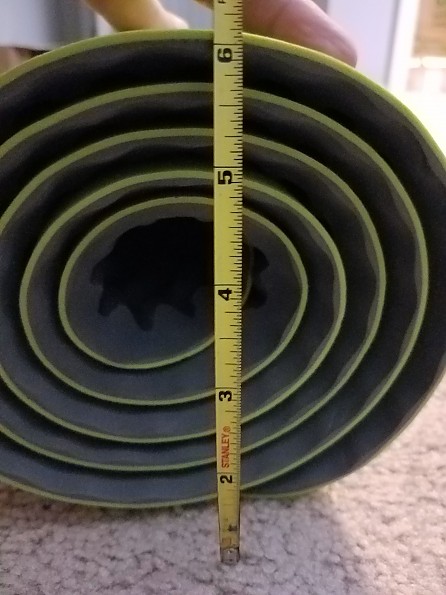 The Third Degree nestles as nicely on the top of my pack as any foam pad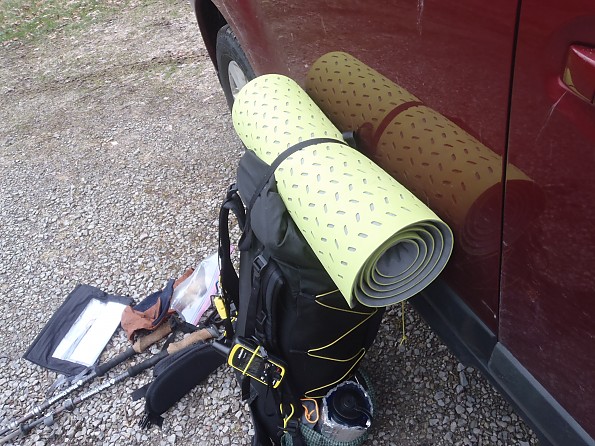 And fits well under my average-sized pack cover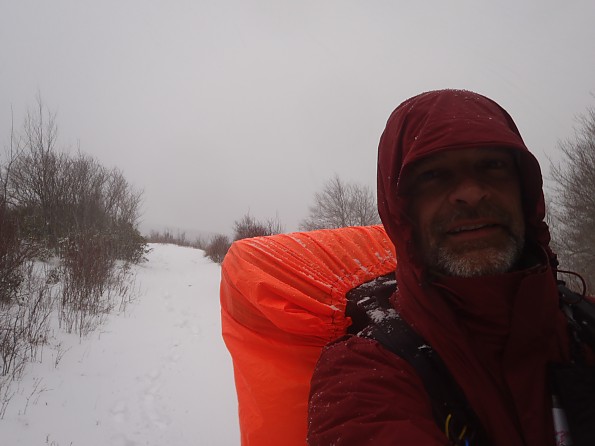 Features
BA says the die-cut pattern on the top of the pad helps to trap warm air.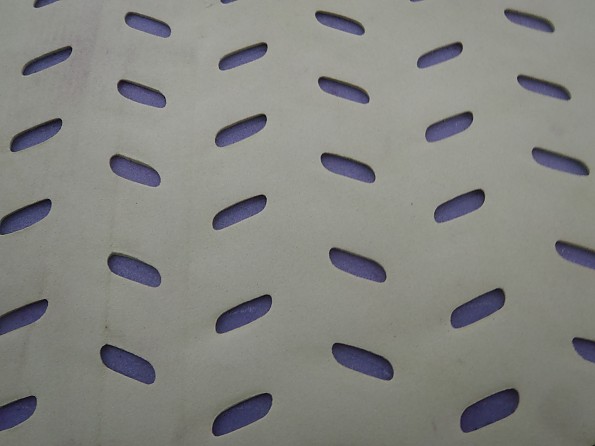 The tread pattern ridges under the pad are to provide additional comfort.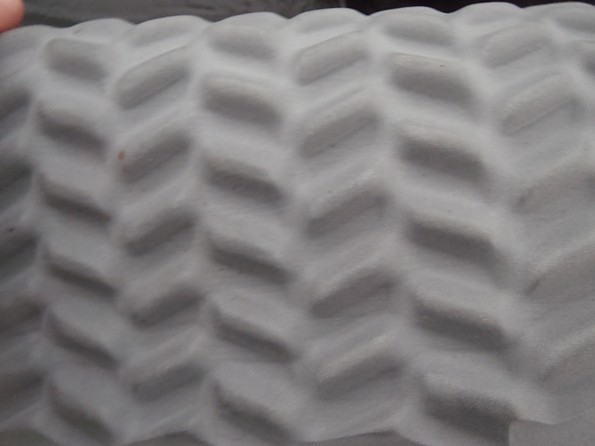 This dual layer system is supposedly more efficient than the traditional single layer pad. I can't fault the design features, as I found the pad to be warm (see below) in many situations down to single digits (F) on snow, which matches Big Agnes temperature recommendations ("below 15").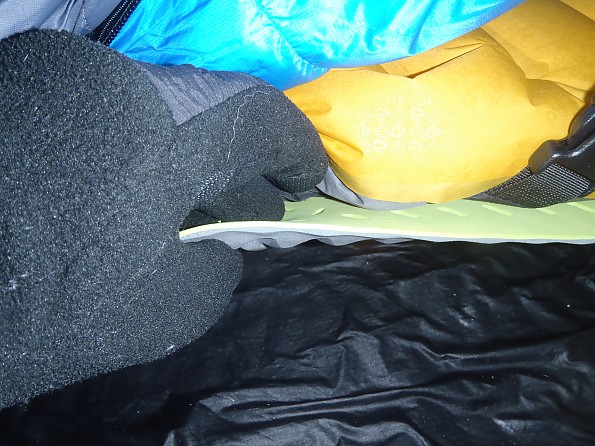 It's difficult to assess if the tread pattern ridges provide more comfort as I used this primarily to supplement an air mattress.  It is relatively thin so I wouldn't describe it as luxuriously comfortable. Testing the Third Degree at home versus my old RidgeRest foam pad and our Z-Lite pad had mixed results. The majority opinion was that the Z-Lite and RidgeRest were slightly more comfortable and the third person didn't like lying on either of them. The fourth tester seemed to prefer both the BA Third Degree and RidgeRest but was noticeably silent and may have just been waiting to get on the Z-Lite, or for dinner...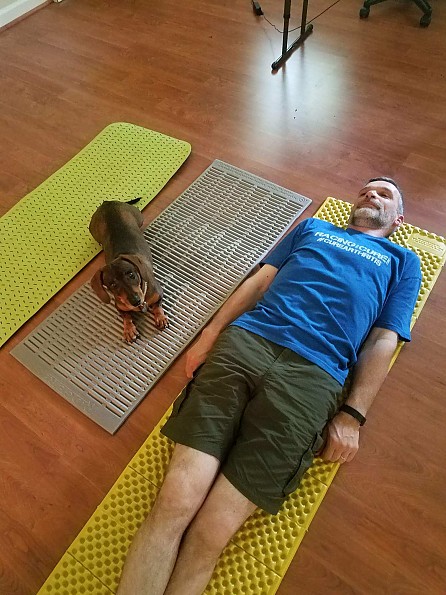 The tread did seem to help traction as I found it didn't shift at all on notoriously slippy silnylon tent floors.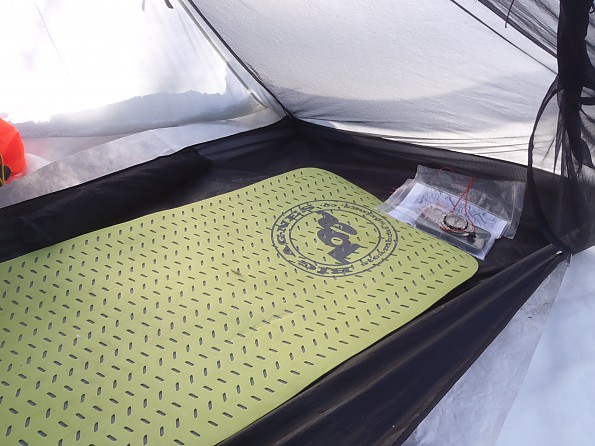 The downside (very minor) of this is it was hard to adjust it while lying on it…just get it right the first time.
It was about as difficult as any pad to slip into my wife's hammock pad pocket, but once there it didn't slide around unlike several others. We will continue to test this use out this summer/fall if allowed to keep the pad after testing, and report back.
I did use it a lot at lunch stops on cold days in shelters and on rocks etc.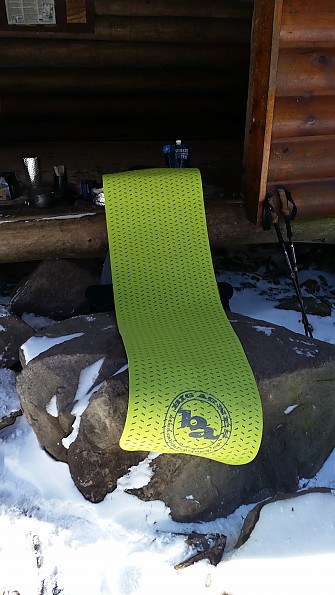 It is certainly more comfortable than sitting directly on a rock, but I would say it is slightly less comfortable than the RidgeRest and Z-Lite pads.
Insulation
The Third Degree Pad was used (see testing summary below) for several months of winter backpacking in the southeastern US. Not ideal alpine conditions, but I did take it to higher expose elevations for three trips—two in snow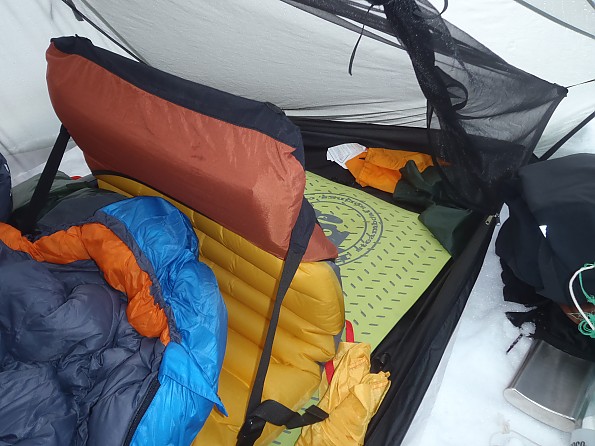 and one in rain with temperatures down to single digits (F). The pad performed at least as well as my prior option for a supplemental pad (RidgeRest) and I did not feel cold even when sleeping on snow.
While getting prepared for the day, I found the Third Degree pad kept me warm on a cold (15 degree morning) with just my baselayer on.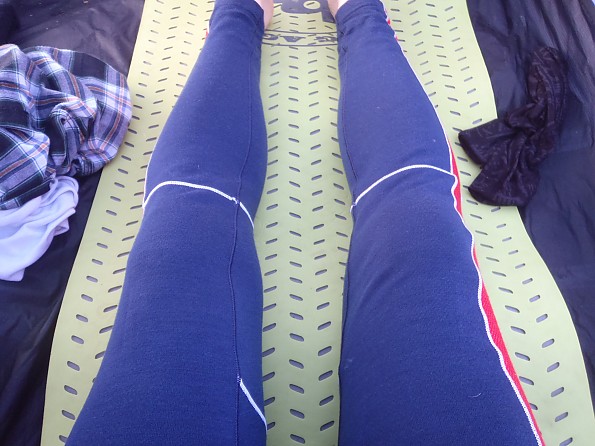 My notes from many day hikes also say similar things— "Not cold at all on rocks during one-hour lunch at 20 degrees."
At another lunch stop on a 20 degree snowy and windy day in an AT Shelter, a couple's dog took a liking to the pad so I am sure it was warm! He had to be evicted when I packed up to leave (photo below just prior to dog invasion—brightness due to snow and sun outside the shelter).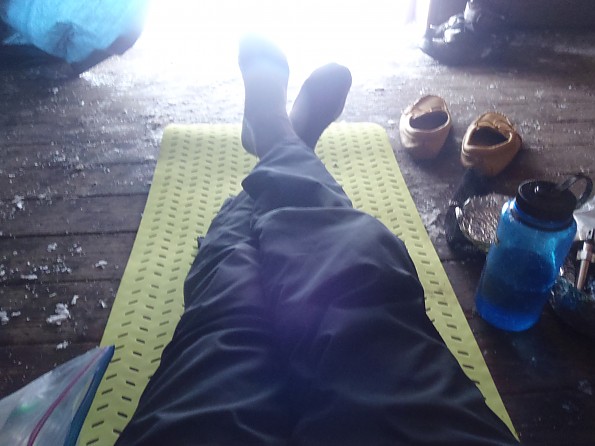 Overall, the Third Degree pad held up to BA's recommendation as "below 15 degrees" but they didn't define how far below. I would still prefer an R value to help determine my cold weather sleep system, but I can say that above 0 degrees F it felt at least as warm as my RidgeRest which has an R value of around 2.6.
Construction & Durability
The construction quality seemed very good—on initial inspection I found no flaws in the pad. The two layers seem to be joined together well. The Third Degree pad has held up well to testing from November through April. However, there are a few nicks and scratches similar to other foam pads, but keep in mind I tend to head off trail through brush etc quite a bit.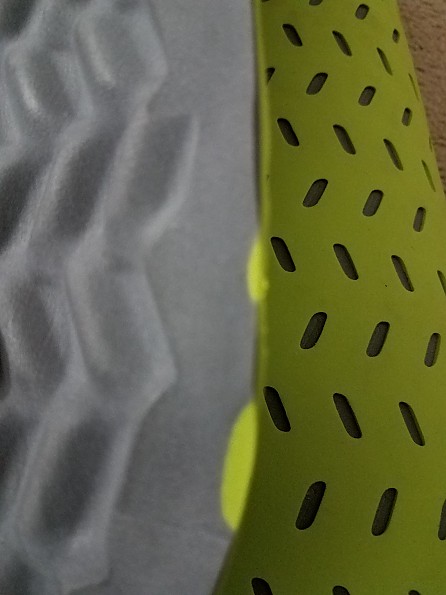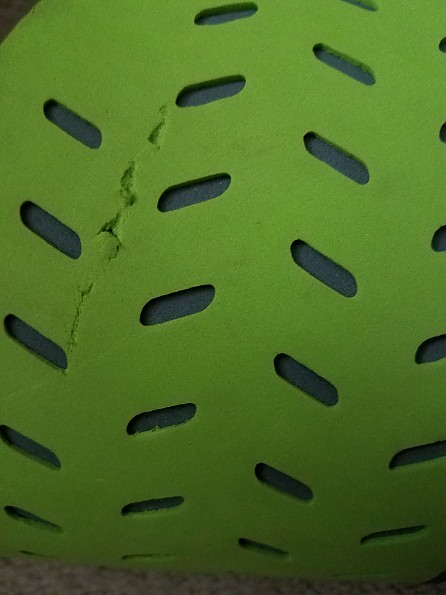 Note that the tears on the side have exhibited no tendencies toward separation of the layers. I cannot assess until I spend more time using this pad if these are more common or worse than those suffered by other pads as my old RidgeRest has similar scratches, but they have not seemed to impact the integrity or function of the pad.
I did notice that dirt and scuff marks, which make no difference in performance, are easy to pick up especially on the upper green surface.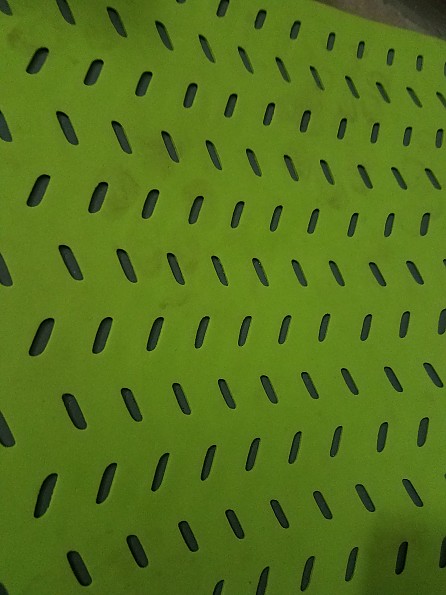 I wiped them down but much remained. I am not really worried about aesthetics so didn't work that hard at the cleaning. Not sure if I notice them more because they are easier to see on the green pad, or if the foam construction is just easier to scuff.
While it would seem that dirt could be trapped in the die cut sections, they are very shallow and bonded well with the second layer so I have not had this issue. Also unlike more dimpled pads, there is limited potential to trap water/snow etc in these areas and dampen your sleeping bag or clothes.

Testing Conditions
I tested the Third Degree Pad from November 2017 to April 2018 on five one to three night backpacking trips in a range of weather conditions including:
One-foot snowstorm with temperatures to the low 20s F and winds up to 30 mph.
Weekend trip that began as rain and 30 deg but dropped to below 10 with 20 mph and higher winds.
Weekend of 10-20 degrees F lows sleeping on prior snowfall.
Several tests of comfort and insulation were made at lunch and rest stops during many (around 10) full or half day hikes in temperatures from 0 degrees to 30 degrees F.
Primary use was as a supplemental pad to my regular air mattress (NEMO Astro Insulated Lite).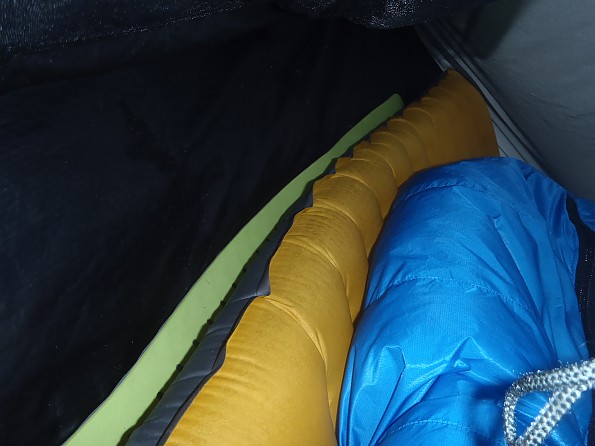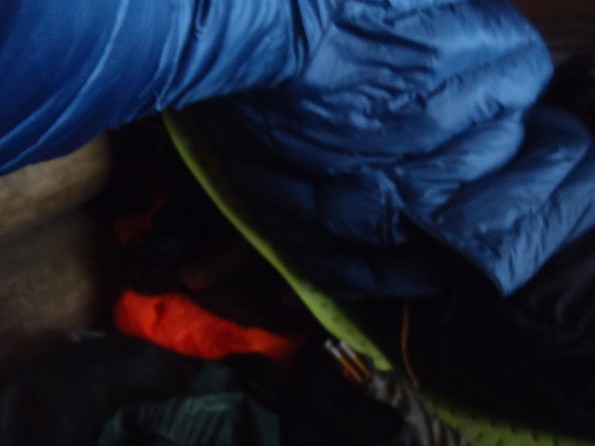 Recommendation
Overall, I would recommend this pad as a supplement to your air mattress with my only question being the long term durability of the foam. It is lightweight and warm, and packs relatively well. Below O degrees, I would definitely prefer to use a pad that had an associated R value so I wouldn't be testing it out myself. I would not recommend it as a primary pad to anyone but lean, mean ultralighters who are ready to shave an ounce or two to sleep less comfortably. I am testing a BA summer air mattress now and hopefully will use the Third Degree to see how far I can push that into the fall.
Thanks to Big Agnes and Trailspace for the opportunity to test the Third Degree Foam Pad.
Source: received for testing via the Trailspace Review Corps (Sample provided by Big Agnes for testing and review)

Bought one of these as an experiment. Looked high tech, but turned out to be nothing special. For the record, I can sleep anywhere and I sleep warm, but I found this one rung up from "no mat at all."

Cut it up for my Border Collie Max, who also wasn't impressed.
Pros
Light
Inexpensive
Looked nice when new
Cons
Wear and tear after one use was surprising. Nothing special.
Closed cell mats are cheaper, lighter (generally) and, of course, unpuncturable, but if they are only slightly more comfortable than "no mat at all," why bother?
This mat looked tatty after a three-day trip (pitching on grass, for chrissake!).
Not impressed.
Background
Significant. Mainly Therm-a-Rest, which are not as well-made as they used to be, hence this experiment. A Mountain Equipment mat failed after a week. In that instance it was the valve.
Source: bought it new

Your Review
Where to Buy
Help support this site by making your next gear purchase through one of the links above. Click a link, buy what you need, and the seller will contribute a portion of the purchase price to support Trailspace's independent gear reviews.
You May Like
Specs
| | |
| --- | --- |
| Price | Historic Range: $13.48-$80.00 |
Recently on Trailspace