BioLite CookStove

The CookStove has been discontinued. It was replaced by the BioLite CampStove 2+.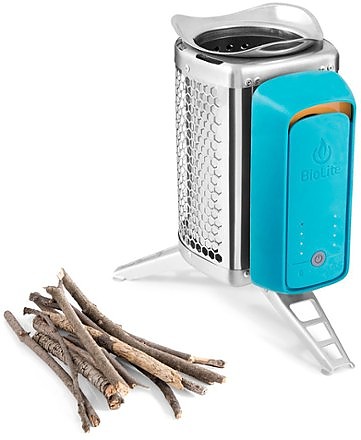 The top hook melted the fourth time it was used. Prior to that it was a lot of fun being able to burn wood both for cooking and having the ambience of a fire.
Pros
Portable
Quiet
Long run-time
Cons
It melts
No thermal charging on this model
Old-style micro USB instead of USB-C
I have only had the Biolite for a few days, however it has already melted the top hook so I now can't remove the fan unit.
Prior to that I used it at home and at a friend's house and cooked up some chicken on a frypan and the heat level was great once it was going well. It does burn through wood fairly quickly, however you can just build up a pile of sticks and wood ready to go.
If you allow it to burn down too much and then add another load of wood it will generate a huge amount of smoke until it gets going again (turning up the fan helps get it re-started quicker).
I hope they fix the hook melting issue on this model and also add USB-C charging. If they could reduce the weight further as well that would be a plus.
- UPDATE 6/2019 -
I took the Biolite back to the store. The manager at the store was happy to either give me my money back or a new one. However after a bit of discussion about how it was a great product to use (apart from it melting) I decided to take up the offer of a replacement and if the replacement melted then I could still get my money back within one year of the original purchase date.
They had not heard of others melting, however I also pointed out that this was a less popular model and after googling the issue I found several other instances of it happening. They were keen for me to give the replacement another go so I agreed. For reference these are the instances I found. I only found these after the cookstove melted. 
The first one was on youtube but has since been removed. The original link location was watch?v=W383Gvs3QpA 
The second one on Snowys in Australia cookstove-hiking-stove#reviews?pagenumber=
The third and foruth instance on Amazon US (in fact two instances on the reviews) BioLite-CookStove-Wood-Burning-Lightweight-Camping/dp/B019WDE0SI#customerReviews
The fifth on Amazon UK BioLite-0853290004261-CookStove/dp/B019WDE0SI (Review by PJ Miller)
The 6th on MEC Canada en/product/5046-037/CookStove
These pictures below were on the first use. I have to say it cooked the meal perfectly. It was a nice hot flame which is what I wanted for frying. I had an idea for camping I could take a zip lock bag of frozen pre-seasoned and oiled chicken or beef and make wraps seeing as these don't need to be kept cold. I could use a lighter hiking frypan or crepe frypan.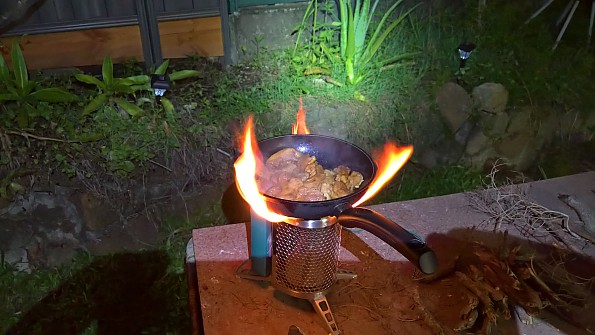 Hopefully Biolite will see this and update their design as its a fantastic product but just needs a few tweaks.  I will see how the replacement goes after a few months.
- Update 6/2019 -
After keeping the replacement device it sat around for a while. I was reluctant to take it on particularly long hikes due to the size/weight although I plan to do this in the future.
I took it firstly drive-in camping at a site where regular open fires were not allowed. It was great setting it up on a small table which gave us some ambient/light heat plus something to cook on.
It sat around for a while however on recent picnic I took it and it was fantastic.
We went to a lovely park that had no BBQ. With the cookstove I was able to cook up a great meal of sausages and onion using a small fry-pan and sticks I found in the park.
Originally we were planning on visiting a park that had BBQ's, toilets, and a playground. As it turned out it was harder than we thought finding all three. With the cookstove I made an amazing meal and it was a lot of fun. You get that great smell of wood burning when it gets going which then turns into a very efficient heat source with no smell once its up to temperature. I have found the fan can be turned down once its running which then means it's fairly quiet.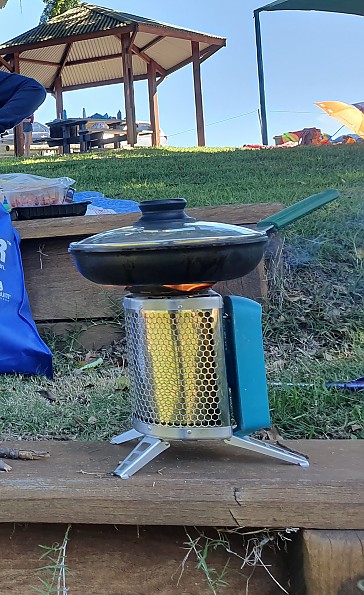 I have revised the rating seeing as its a somewhat unique product that I really like and has a very high-quality feel. I don't want a repeat of the hook melting, however as a product I can't help but feel whoever designed this thing was doing it out of a love of great ideas, adventure, quality, and the outdoors.
----------
Update 09/04/2022
I am still using this device. It holds its charge well and has had no further issues. I am however wary of pushing it too hard in terms of the hook melting again.
Note that I don't use it all the time, however it's fantastic for day trips, taking camping and on short overnight hikes where weight is less of an issue. Unlike a gas stove the nice thing with this device is you can use it as a bit of an ambient "mini fire" when camping as the fan runs for a long time—particularly on low. I think ideally if they could work out a way to make it lighter and add USB charging they would be on a winner (perhaps with a silicon hook too).
Background
I own one.
Source: bought it new
Price Paid: $79

Outside of those who share BioLite's concern about using biomass fuels cleanly, the BioLite CookStove is best suited for gadget lovers who like to play with fire. Being a wood-burning stove that requires electricity, this is an odd bird; This stove will keep you busy.

I would not recommend it for most recreational backpackers due to the listed cons, but for car camping, bug out / emergency use, or simply as backcountry entertainment, this stove could fit the bill.
Pros
Can be a fun device to play with in the right situation / entertaining
Capable of cooking / more than just water boiling
*No need to carry fuel (but you may want to if rain is coming)
Doesn't need a lot of wood for simple boils
Battery on fan lasts a long time
Could allow a nice small campfire where ground fires are banned but wood stoves aren't
Cons
Heavy(ish) for backpacking at 25.6 ounces / 725 grams
Requires electricity / battery charging
Smokes excessively with wet fuel
Heat output is difficult to control
Requires you to carry or find good tinder or fire starter
*Keeps you busy (only a con if you don't want to be)
Fan is a little noisy / can defeat pleasure of campfire in quiet places
Overview:
The BioLite CookStove is essentially the non-electricity producing version of the CampStove (which employs TEG technology to produce electricity).
The fan module uses an internal, rechargeable, lithium-ion battery.
Fuel is biomass: twigs, sticks, pinecones, wood pellets, etc.
Packed size is 7.75 x 5 inches / 196.9 x 127 mm
Weight is 1.6 lbs / 725 grams
The unit ships with a USB charging cable and a small pack of fire starters.
BioLite has an excellent overview video on its website:
And here is a short video I made during testing to show real-world use: 
Setup:
Setup is easy and intuitive: you simply attach the fan module to the side and fold out the legs.
Ignition:
This stove is not self igniting. The right tinder can be lit with a match, but I mostly used fire starters for convenience. BioLite warns against using liquid starters. I used a couple different types of fire starters after running out of the included starters. The small half dome shaped starters (such as the Lightnin' Bug brand) did not work well as they often went out when you tried to drop them in the canister; I found the longer stick shape to be much better (like Coghlan's Fire Stick).
Flame / Heat Control:
The fan module has four speeds. BioLite calls them Campfire, Simmer, Boil, and Turbo. However, the fan speed I used depended on how much fuel was in the stove and how it was burning. For example I was often able to boil water with the lowest fan speed. Hardwoods performed differently from softwoods, dry wood burned faster than wet wood, etc; the materials on hand were the primary variable and the degree of variability was huge. It was tricky to get the right amount and type of wood if I really wanted to control the flame.
Cooking:
I don't normally cook much on my trips; I'm usually just a water boiler type of guy. I took this testing opportunity to expand my activities a little and did some frying and simmering while in the backcountry.
Simmering: Too much fuel or too high of a fan speed and a simmer was very difficult. Learning what the right amount of fuel was to maintain a simmer took quite a bit of experimentation and this was a constant experiment from location to location. Different types of wood seemed to result in different levels of heat output.
I found simmering was best done by letting the wood burn down to coals (you don't want flames shooting out of the top of course), and sometimes dumping some coals out. I once actually achieved a good simmer by turning off the fan altogether and letting a few coals burn down.
Boiling: This was an easier matter as it didn't really matter if it got too hot. I didn't have a need to fully boil anything for more than a couple minutes, but you might need to remove the pot to add more fuel at some point if you did.
Boil time was highly variable; again because the fuel source was such a variable, but 2 cups of water (what I typically use for a small cup of coffee and oatmeal or rehydrating a dinner) would come to a full roiling boil in about 2 minutes or so with both the skillet and pot I used during testing. A fish-egg boil could be achieved in about 1.5 minutes. I only used two different vessels during testing and they performed similarly though the wider skillet seemed to boil a little faster.
Frying: This required a bit of setup and dexterity. I had to be ready to move the pan and add more fuel / or increase the fan speed to keep the heat level up. It was a pretty busy affair. 
Wind:
Once it was lit, the stove worked just fine in the moderate wind I tested in. The primary concern in windy conditions was keeping the flames from blowing onto the plastic fan housing (which BioLite warns against in the instructions).
Fuel Efficiency:
Though this depends on type of wood or biomass available (I mostly used fallen hemlock which is plentiful in my area due to adelgid infestation), it was astounding how little I needed to boil water with. After using smaller pieces to start with, adding about 4 or 5 four inch pieces of wood 1/2 to 3/4 inch in diameter was generally enough to make coffee and oatmeal in the mornings. A tad bit more was needed for a longer roiling boil. The first few times I used the stove I gathered way too much wood.
Power Efficiency:
BioLite claims that you get 30 hours of cooking on one charge. I didn't do 30 hours of cooking in my testing but I don't doubt the claim and think I could get more than that out of it with my two boils a day routine.
I initially charged the fan module per instruction via my computer USB port and it took about 3.5 hours to get a full charge.
I'm also testing a solar charger right now and decided to run the CookStove fan battery down to see how long it took to recharge with solar. That turned out to be a huge chore as the fan has a timeout safety feature. I had to keep powering it back on to run it down. I took it to work with me so I could keep powering it on; "hey man what's that noise in your desk?" (The BioLite Solar Panel 5+ charged this stove fully in about 4 hours. )
Stability:
This stove is relatively heavy which helps stability. You do need a wider bottom pot or pan; small diameter cups may not rest well on the wide burner opening. I did almost knock it over a few times by not being careful with inserting sticks, but if you exercise proper caution, no worries.
Packability:
This stove is about the size of a one liter Nalgene and is therefore a bit bulky in your pack. BioLite recommends storing the fan module inside the stove, but that makes it sooty so I either wrapped the module in a plastic grocery bag before inserting or stored it separately from the stove body.
Construction & Durability:
This stove seems solidly constructed and durable. They list the legs as aluminum and I think the canister body is stainless steel (they don't list it). The lines are all straight and the rivets plentiful and sturdy. I would describe this as high quality construction.
As a Campfire:
This really was nice to have on a few occasions but as stated in the cons, the fan noise could interrupt the ambiance at times.
Smokeless?
BioLite claims that you can "enjoy an instant portable campfire without the smoke". This is factually true, but only with the right wood. In wet weather it's neither instant nor smokeless. In fact, with really wet wood this thing is a heck of a smoke generator.
One morning at an AT shelter, my giant column of smoke drew a crowd as people came to see what was happening. I was trying to cook breakfast with very wet wood. It did eventually dry out the small pieces, but for a while it looked like a theatrical stage device. 
Testing Conditions:
I tested the stove over 8 short (mostly two-day two-night) backpacking trips from May 2016 to July 2016 in the Southern Appalachian mountains of Tennessee and North Carolina. I usually cook two times a day on my trips, but there were some trips where it was so wet that I didn't want to deal with the smoke from wet wood and opted for RTE food instead. I made between 20 and 25 fires with this stove and none were just tests; I used it for meal preparation every time.
I used an MSR Flex Skillet and .75 liter Coleman aluminum pot during testing.
Conclusions:
BioLite as a company is all about environmentalism with catch phrases like "Energy Everywhere" and "burn wood not gas" and they seem to be globally focused on providing "off the grid" power solutions and "clean cooking" solutions. I personally appreciate their passion and focus.
That being said, the primary design goal of this device is to burn biomass fuel and that becomes instantly clear with just a few uses.
I'm a recreational backpacker and reviewed this product from that (somewhat utilitarian) perspective and with no specific regard given to environmental impact philosophy or the humanitarianism of its creators.
Even so, I struggled a bit with my star rating for this product, primarily because BioLite views this as a packable product in their marketing materials. This stove performed almost exactly as claimed by the manufacturer (which is often surprising to me), but I honestly could not think of many…OK, any, situations where I would recommend this product to someone above another solution. Again, beyond environmental impact philosophy, I found its best feature was really entertainment.
My normal three-season weekend stove kit is a cat food can alcohol stove, a tin foil windscreen and two small bottles of denatured alcohol; that entire kit weighs about 8 ounces total (226.7 grams) and the weight goes down with consumption. So comparatively this 25.6 ounce (not counting fire starters) stove seemed a touch heavy.

This is a very well-built product that works as advertised but doesn't really fit any backpacking niche that I can think of.
Source: received for testing via the Trailspace Review Corps (Sample provided by BioLite for testing and review)

Terrible customer service
Pros
Could be great if they backed their products with better customer service.
Cons
The only customer service is a form you fill out on their website. If they don't answer, you are stuck. You get no acknowledgement after filling out the form. No proof you sent a support request.
As much as I want to love Biolite, and I have several products, there is something that you really need to know before you buy their products. Once you buy, you have no support whatsoever, other than a form you fill out on their web site. Then you are at their mercy to answer when they want to, if they want to.
They make promises that they don't keep and the customers are left sitting on defective products with no avenue for help other than the form. Please keep this in mind, because when your product is delivered defective, you are stuck with a defective product (as I am), money out the window and not a sound from Biolite. I have filled out the form several times and all I hear are crickets.
Source: bought it new (Direct from Biolite)

This is a win-win for backpackers that actually enjoy the outdoors who aren't afraid to work.
Pros
Don't weigh a lot at all
Packs up easily
Easy to cook on with minimal effort
Built strong
Nice design
Cons
I honestly don't think there are any cons, as I used it every day for 6 months on the trail
Honestly I don't understand why people give this stove a bad rap. I've hiked the entire Appalachian Trail using only this stove and it works great. It only smokes when you use wet or green sticks or leaves from what I've seen.
Battery life is amazing—battery  lasted 4 days, 3 meals a day, no sweat, before I had to recharge it with my folding backpack solar panels. It doesn't weigh a lot. It is pretty compact from what I noticed, unless you're one of these people who play on their phones constantly, or expect that it's going to cook by itself I think you'll be just fine.
Now if you're one of those people who whine about putting fuel into it constantly then you should probably just stick to campground camping, sleeping in your campers, and leave the backpacking to the real outdoorsman.
Does it smoke sometimes? Yes, it does. It is a wood-burning campfire after all. That's not a con in my book. It's a plus. You are actually camping right? I mean if you don't think you're going to have to work to make a fire and add wood to it, then I'd suggest maybe staying home and watching YouTube videos.
Background
I have loads of experience with this stove which is pretty simple. I've used the Jetboil, solid fuel stoves, propane stoves, and lots of others.
I own and operate The Bears Hiking & Outdoorsmans Club in Ranshaw, Pennsylvania, and I use all sorts of gear nonstop and put it all to the test all four seasons, as do my members. Hands down the Biolite CookStove works exceptionally well and outperforms every little biomass stove I've used, and we have been doing this since June of 1995 and it's now January 8, 2022.
Source: bought it new
Price Paid: $99

Your Review
You May Like
Specs
Price
Historic Range: $39.93-$79.95
Reviewers Paid: $79.00-$99.00

Recently on Trailspace