BioLite SolarPanel 5+

#8 in Solar Panels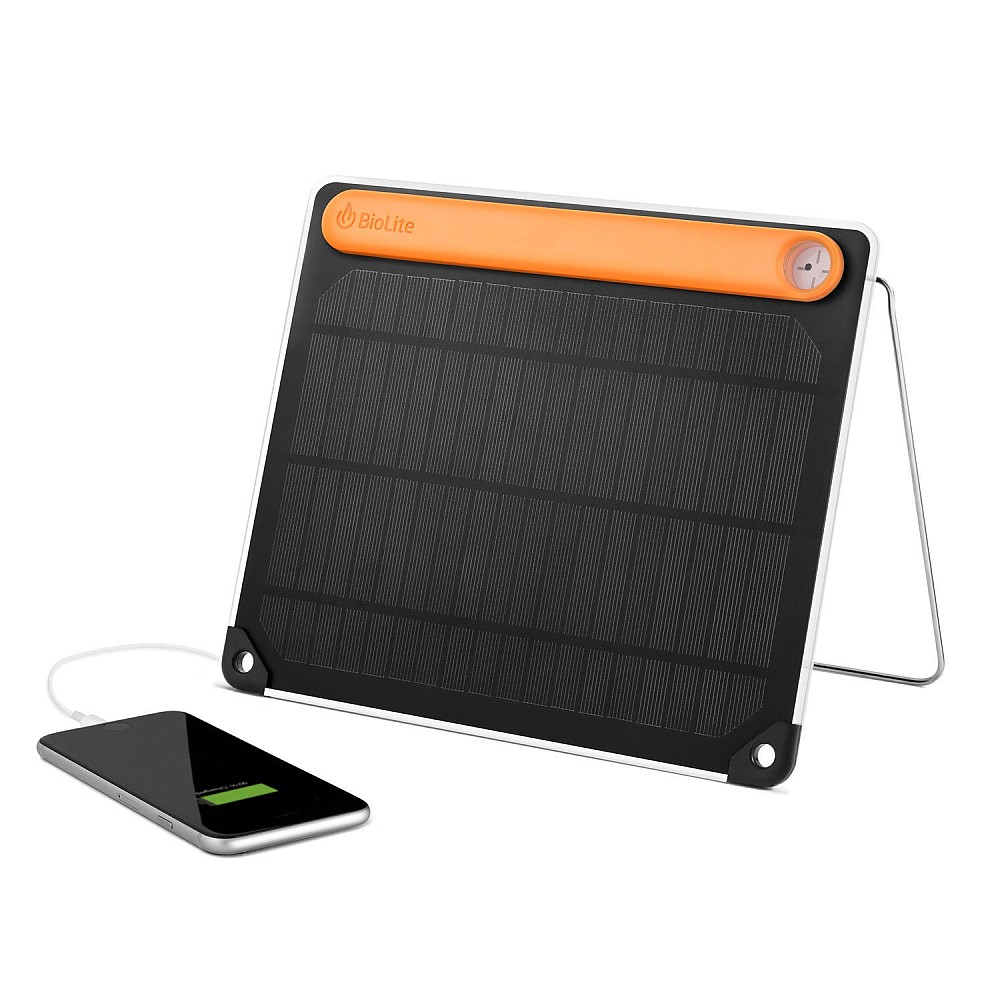 The SolarPanel 5+ is a sleek and cleverly designed solar panel/ small storage unit that works. Compared to other solar panels' specifications this unit seemingly isn't the best value in terms of cost and weight to power output, but having tested hands-on I can say that this device is as reliable as the available sunlight.

Given the durable design, light weight, reliability, but lower power output, this is best suited for off the grid travelers needing to charge a single device at a time.

Pros
Clever sundial and kickstand for proper alignment
Built-in battery allows storage for later use
Sturdy construction
Weather resistant design
Cons
Charges a little slower than advertised for some devices
Built-in battery is relatively small
Power-to-weight ratio is on low end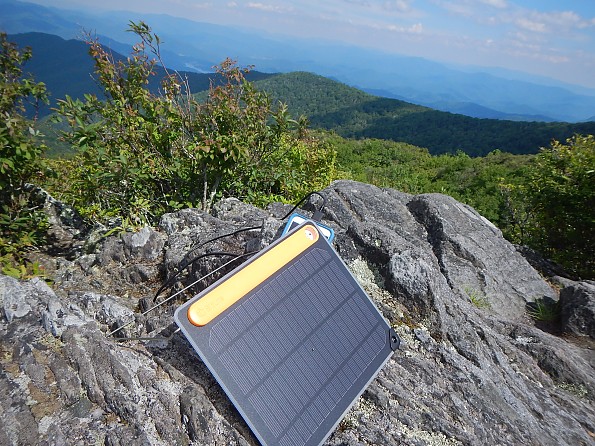 (on the Hangover Overlook in Slick Rock / Joyce Kilmer North Carolina)
Overview:
5W output

Monocrystalline solar cells

PET laminate for weather resistance

Sundial and kickstand for alignment

Built in 2200  mAh battery

13.76 oz (390 grams)

Size: inches - 10.12 x 8.19 x0.94 ( mm - 257 x 208 x 24 )
BioLite made a great video about the technology here:
Preamble
Though I have many years of extensive backpacking experience this was my first extended experience with a portable solar charger. I had read about the technology for a long time and examined a few devices in passing while on the trail but had never used one to this extent.
With only a few backyard exceptions, all of my testing was done on backpacking trips. I'm on call 24/7 for my job and primarily used this charger to keep my phone charged for work. I did carry my usual extra phone battery but tried not to use it so as to get the full solar experience.
A note about portable solar charging:
Compared to utility grid power and some battery packs, solar charging is slow (and of course weather sensitive).
In my opinion, this technology isn't the best available solution for everyone and every application. I tend to think of it terms of justifying the weight and slow charge times as compared to trip length and available power. Battery packs, extra batteries, or even wall chargers can be a better solution for shorter trips, trips with available utility power for a wall charger, or even trips that require long days of travel with no time to charge during daylight hours.
But solar charging has great utility for long term trips with no available grid power and as peace of mind / a safety net in case your needed devices run out of power unexpectedly.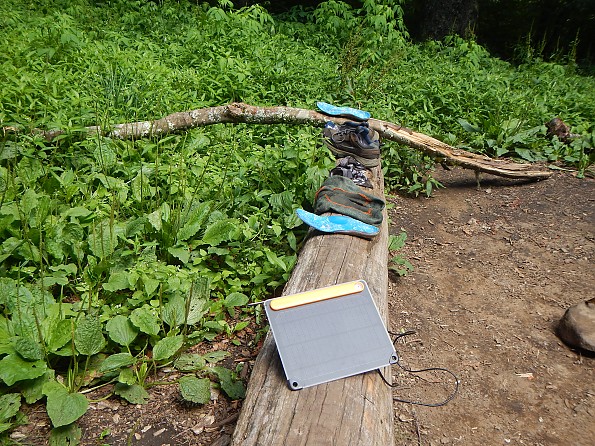 (drying footwear and catching some rays at Spence Field in the Smokies)
User Experience:
This device is easy to use, but it is necessary to read the instructions because of the dual functionally of the LEDs and button. 
After placing the panel in the sun, the row of four LEDs (meter) flash to indicate the amount of solar energy available. However, when the built-in battery has been charged (and the button pressed once), the row of LEDs indicate the amount of stored energy in the battery in 25% increments.
Pressing the button with no device connected indicates the pre-charge level, but pressing the button with a device connected initiates the charging.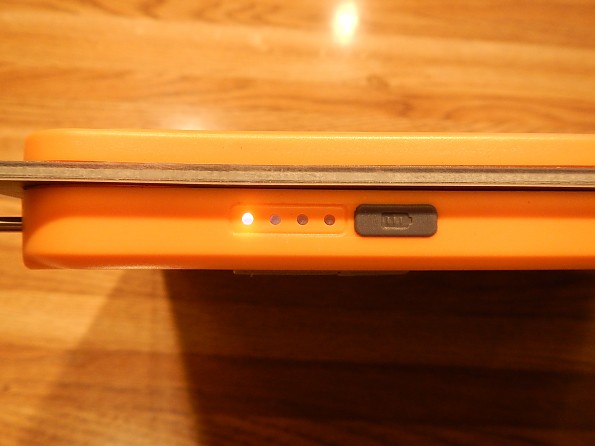 (one LED lit indicating a 25% charge of the internal battery)
**I had a confusing issue with my sample: upon the initial pre-charge from a USB port on my PC, the fourth LED did not light up. I also could not get that fourth LED to light up when the unit was placed in the direct sun and the lights flashed to indicate available sun energy. Upon re-checking at a future point that fourth LED started working and has worked since. I don't know if this is typical but it's my due diligence to report it. It didn't seem to affect the performance as far as I could tell.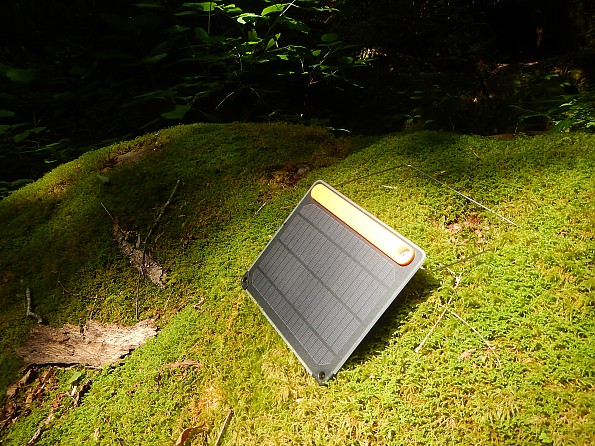 (A rare sunny spot on Jonas Creek trail in the Smokies—this was usually what I did to get some rays under canopy)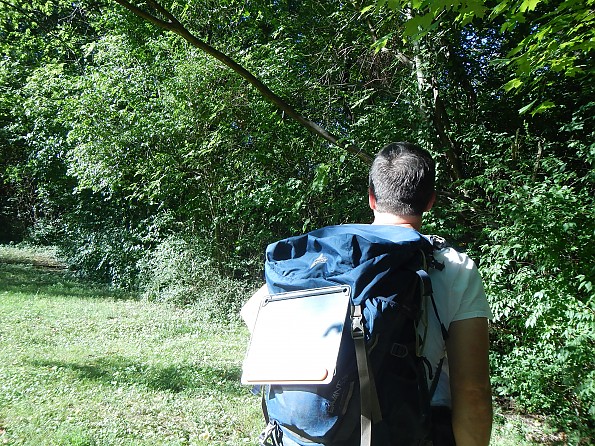 (The device has corner holes that can be used to secure it to the outside of your pack. Here I used a handy shoelace to tie it on.)
The advertised paradigm of strapping this device to your backpack and charging while you walk was just not realistic for me. I usually trek in heavily forested areas (as most U.S. Easterners do) and have limited opportunities to use direct sunlight for long periods.
Is solar charging for you?
Another general aspect of the user experience worth mentioning is how a solar charger fits your trekking style. I rarely stay stationary during the day for the multiple hours it takes to charge with solar power. Nor would I normally be so stationary as to continually manage the orientation of the panel to the sun. But I recognize that in situations where solar makes sense, you would probably do whatever it takes to charge important devices.
Output Power:
This is rated as a 5 watt unit, which is low for for a portable solar panel. Here is a short list for comparison, but not always apples to apples, and note that I did not review these other chargers. This is for specification comparison only.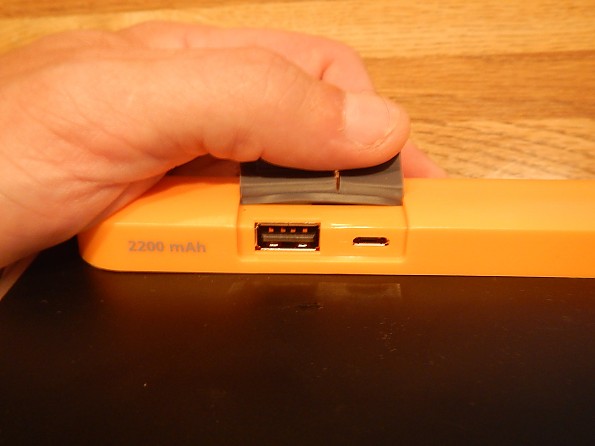 (holding up the weather flaps to show the single standard USB output and micro-USB input)
Versatility:
This isn't versatile in terms of output connectors as it only has one standard USB output, but depending on your point of view this could be a plus as you only have to carry the cables you need rather than a dongle of various types you may or may not use.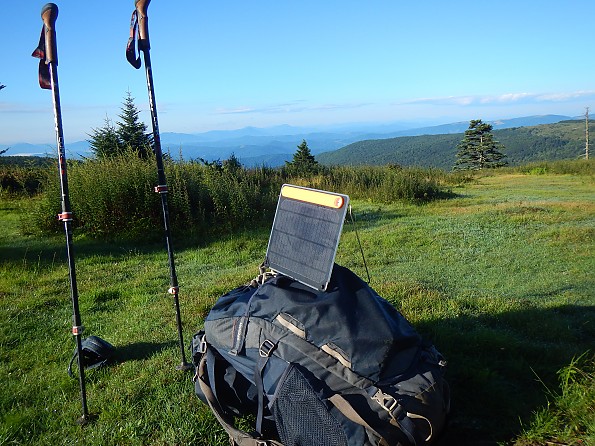 (Charging near Thomas Knob on the Appalachian Trail in Grayson Highlands, Virginia)
(This was how I usually carried the unit, in the front pocket of the pack.)

Portability:
This unit is quite portable with its 10 x 8 inch size and thin design. I had no issues storing it in my smallest summer backpack (Gregory Savant 58).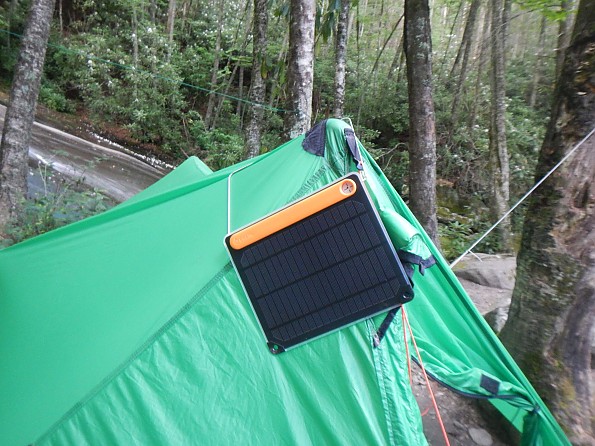 (Hanging on the tarp on Forney Creek in the Smokies)
Charge times in testing:
The results of this testing were interesting; regardless of the similar mAh rating of the devices I charged, I got highly variable results. The amount of sunlight available was of course a big variable, but even in full sun conditions, there was variation between devices. So in light of that I'll list results per device to give some idea of performance in this area, but apples-to-apples comparisons aren't really possible in this arena for many reasons.
Samsung Galaxy S5 (2800 mAh).
Solar only result: full (95%) charge in 4 hours
Battery only result: 40% charge in 1 hour
When plugged into a wall outlet and using the factory charger, it normally takes a little over two hours to get a full (actually 95% which is as low as I usually let the phone run down) charge on this phone.
Using the SolarPanel 5+, the average charge time for a 95% charge, and with no pre-charge of the built in batteries, was about 4 hours when I was able to manage the sun orientation. **This was twice as long as noted by the manufacturer statement "charges most phones in about two hours". 
It once took 6 hours to achieve a 95% charge with passing clouds and one highly variable cloudy day I left the phone charging for 8 hours and only received an 87% charge.
Using only the stored battery energy (built-in battery is listed at 2200 mAh) at night, I was able to get about a 40% charge of that Samsung phone in about an hour before depleting the panel battery and this was consistent over 7 test charges. Note that this was much faster than solar-only, but limited in capacity.
Delorme inReach SE (2450mAh at 3.7 V)
Solar only result: full charge in 4 hours
Battery only result: 30% charge in 1 hour
Using a wall outlet at home I can fully charge the inReach in about 4 hours. Interestingly, I could also fully charge with the SolarPanel 5+ in about 4 hours. I suspect the inReach has some power regulation happening internally that causes this to be so but could not verify through any searchable documentation.
But unlike the Samsung phone testing, I could only get a 30% charge (in about an hour) of the inReach using the built in panel batteries.
Solar only result: full charge in 4 hours
It was such a chore to run down the batteries on the CookStove fan that I only did two charging tests with it. Charging the CookStove fan module from a USB port on my PC took about 3.5 hours. Charging it with the SolarPanel5+ took a little over 4 hours using solar only.
Testing Conditions:
I mostly tested this device over 12 backpacking trips in the Southeastern U.S. from May to August 2016. The weather was typical for the regions and seasons with lows in the 50's F (10°C) in May up to highs of 98°F (36.6°C) in July and August. I saw many rainy days, cloudy days, as well as some blazingly sunny days.
Conclusion:
The BioLite SolarPanel 5+ is a cleverly designed portable solar panel that works well for its rated output. The sundial and kickstand are great features. The built-in batteries are fairly limited in capacity, but are a negligible weight gain of two ounces over the SolarPanel 5 (which is essentially the same, except no battery).
As stated in the cons, the power-to-weight ratio is low; but again, I know this unit works and if you have sunlight available, reliably so.
About the tester:
I'm an avid recreational backpacker and live a trekking lifestyle as much as my full time job allows (I average more than 30 short backpacking trips per year). Check out my trip reports here on Trailspace for an idea of where I go.
Source: received for testing via the Trailspace Review Corps (Sample provided by BioLite for testing and review)

Your Review
Where to Buy
Help support this site by making your next gear purchase through one of the links above. Click a link, buy what you need, and the seller will contribute a portion of the purchase price to support Trailspace's independent gear reviews.
You May Like
Specs
Price
Current Retail: $89.95-$99.95
Historic Range: $41.73-$99.95

Recently on Trailspace