Black Diamond Vision Down Parka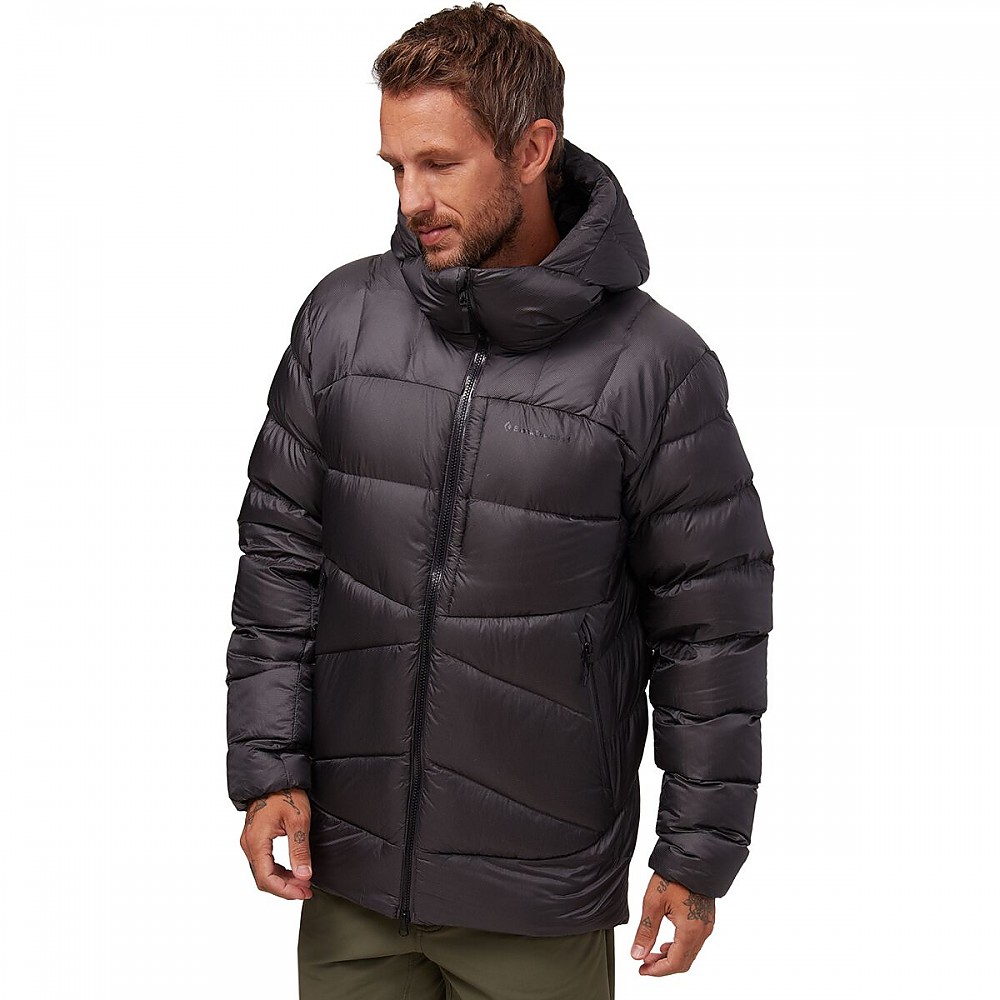 Toughness unheard of in a down jacket coupled with smart features and class-leading weight savings earn a place in my mountaineering kit for Black Diamond's Vision Down Parka. The Vision Down Parka can bring that extra degree of safety when Mother Nature attacks.
Pros
Innovative, durable liquid crystal fabric
Weight savings over other competitors
Climbing-friendly features
Cons
The hood doesn't cinch down as tight as I'd like
The Black Vision Down Parka was the winner of the 2020 Backcountry Magazine Editors' Choice Award. According to Black Diamond:
"the Black Diamond Vision Down Parka is our warmest insulated jacket for the coldest conditions and biggest objectives on your hit list."
Ever been cold? I mean REALLY cold. Not just the cold that gets you saying, "Holy @#it, it's cold," but the cold that makes it hard to even make words with your lips. The cold that makes your chap-stick feel like hard plastic. The cold that makes you question your idiotic choices in hobbies. Yes? Then you probably know the need for a giant puffy stuffed full of feathered goodness. 
Ever own a down jacket and have a dog jump up on you and tear it? A stick poke a hole in it? Ever cut yours with your ice axe? Ever know the feeling when your friends tease you because you fixed said holes with duct tape? How about that disapproving look you got from your love interest when she asks, "is THAT what you're wearing?" referring to your patched-up puffy.  
Yes? You probably understand why you would want the Black Diamond Vision Down Parka.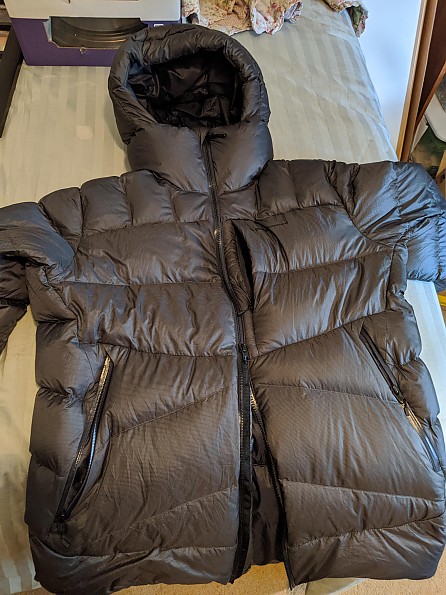 Moderately different baffle arrangement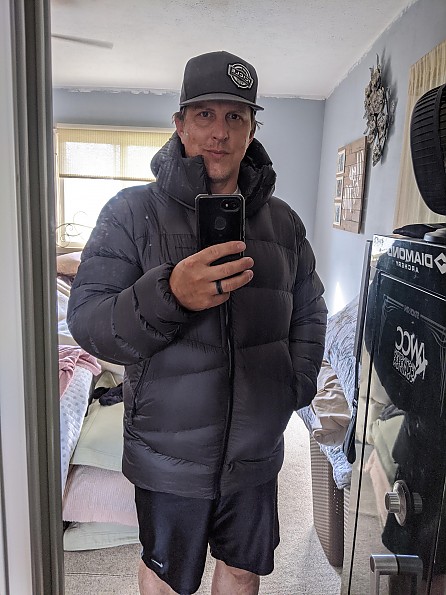 No base layers, generously cut for layering

"Why is this item different from all the other down parkas out there?"
Great question! The Vision will keep you warm just like any other 800 fill parka.  It's compressible like every other 800 fill parka.  Where the Vision is different is that, where most down parkas are made of shell material that will tear if you so much as speak to it harshly, the Vision is made of liquid crystal polymer thread similar to Aramid or Kevlar.  Wikipedia tells us, "Typically, LCPs have a high mechanical strength at high temperatures, extreme chemical resistance, inherent flame retardancy, and good weatherability."

Black Diamond brought this fabric from its Vision climbing harness, so, a fabric strong enough to trust your life to is now used in a really light parka, designed with alpine climbing in mind.

The Vision doesn't appear to be bulletproof, but the fabric does seem to be on another level of strength compared to the other puffy coats I've worn. To get this kind of durability from fabric you'd need a much heavier material. The Vision is tough but also lighter than other jackets as you can see in the comparison's later in this review.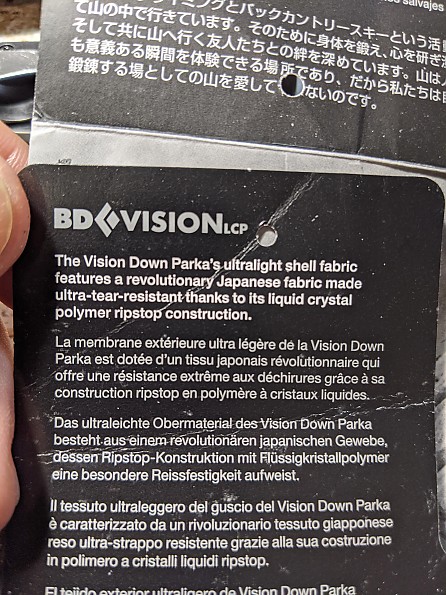 From Black Diamond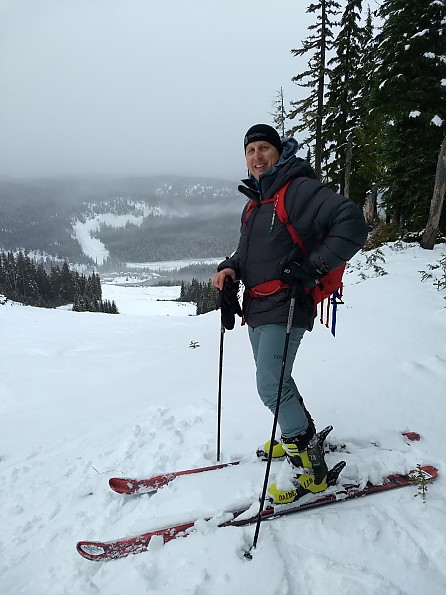 The Vision survives a day of my bad rock-skiing/crashing with style at White Pass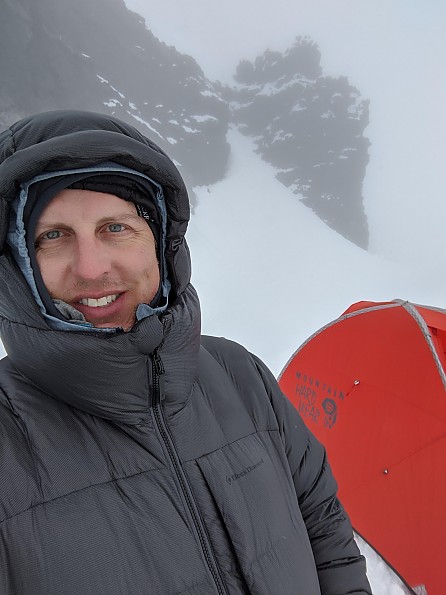 Trying to take a pic before my fingers refreeze.  Me wearing every item I have in white-out conditions on Mt Baker in May in WA.
Testing conditions: I tested the Vision Down Parka on Mount Baker (10,000 feet) in late May with temps below freezing and moderate winds. I also took it skiing at Stevens Pass and White Pass after everything closed down this winter. I even slept in it on Mount Baker because I was so cold (and I don't own a four-season mummy bag...yet). Several times winter camping last winter I was able to stop shivering and finish my camp functions only after putting on the Vision puffy coat.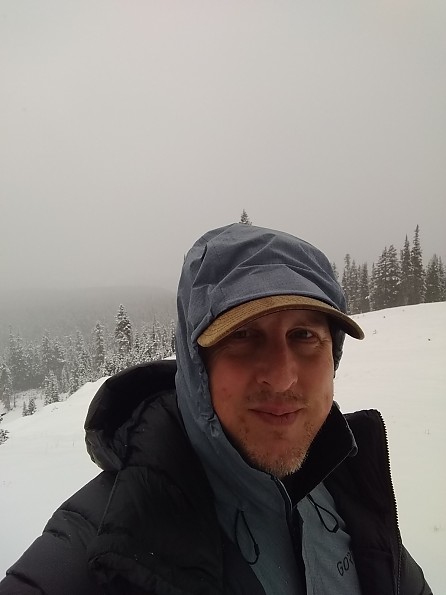 Wet, freezing fingers brought back to life with the Vision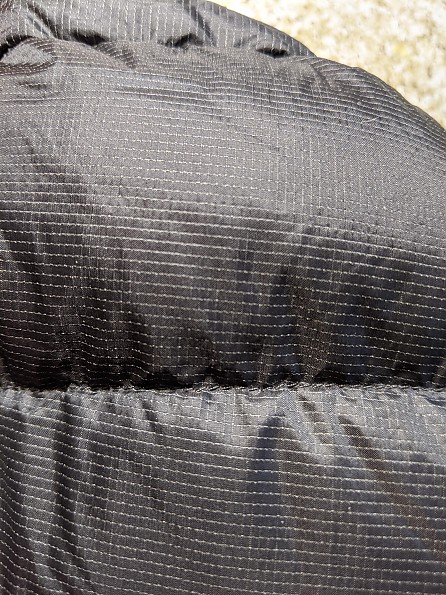 Liquid crystal ripstop fabric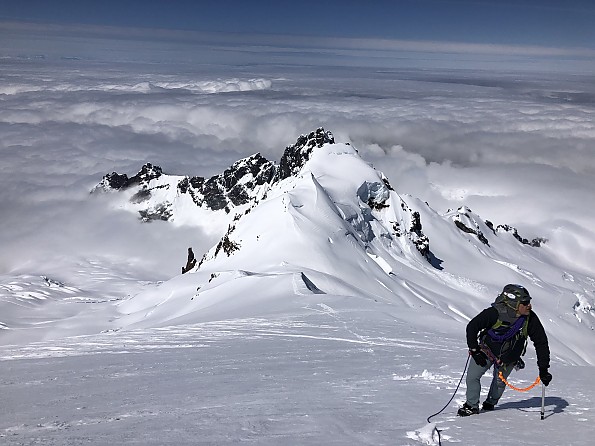 Carrying the Vision in my pack because summits are unpredictable. Mt Baker, WA. I wish I'd taken more pictures during this trip.

Warmth:  EXCELLENT. While moving I'd be able to wear this jacket well below zero (F) and while sitting still, with little or no layering the Vision holds its own in the 20-35 degree range. All of this is ENTIRELY dependent on your layering, body fat, climatization, movement, etc. Having said that, the Vision is at home on most things North America can toss at you. I'll have no qualms about bringing it to Mt. Rainier (14,000+ ft)  this summer where the wind and cold really test your gear. Keep an eye out for updates to this review after I take it on more alpine volcano trips this summer.   

Materials: EXCELLENT. Black Diamond made the shell of the Vision with something called liquid crystal polymer, which is designed to be slash resistant and light. After a session of tree skiing and wearing the Vision in many different types of activities I didn't notice any tears.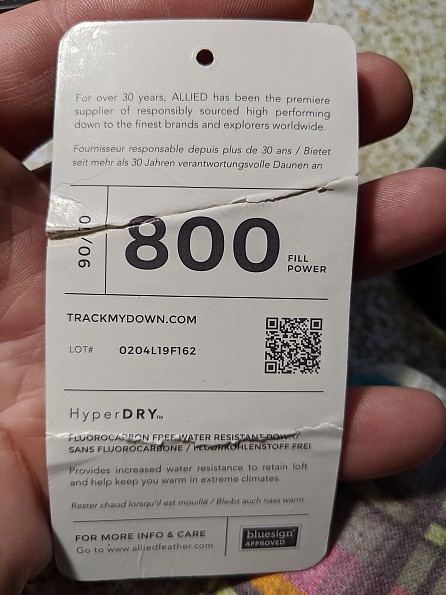 Wonder where your down came from? Now you can find out. Mine came from a white goose in China that someone ate for dinner. Scanning the QR code gave me a ton of great info about down in general and the down that made my coat. 
The down is 800 fill, RDS certified goose down. 800 fill down has some of the best loft-to-weight ratios of any insulation and the RDS certification means you can track the filling to its source. I appreciate knowing that my insulation was more ethically sourced.   
Allied HyperDRY treatment prevents the down clusters from absorbing moisture and turning to mush. While wearing the Vision coat this winter I never had any moisture issues from either the rain or sweat soaking the insulation. Often, with untreated down condensation, rain or body moisture can soak the insulation, decreasing its effectiveness. None of this happened to me with the Vision.
Most down coats shed feathers and down clusters but surprisingly, the Vision has shed two total over the entire winter testing period. I'd say that the shell fabric and stitching is a cut above what you're used to seeing in a down coat.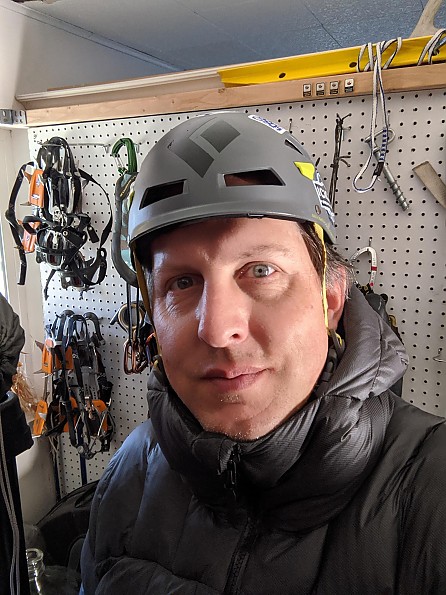 After months of wear, I can count on one hand how many feathers this jacket has shed.
Durability: EXCELLENT.  As far as quality goes, the Vision is made as good as anything from any of the other major outdoor manufacturers. I'd easily match it against anything from Patagonia, Mountain Hardwear or Arc'teryx any day. Where this jacket shines is in the tougher shell material. Down coats may last at least a dozen years but they usually end up with patches and duct tape all over them to repair rips to the gossamer-thin fabric they are made from. The liquid crystal polymer shell assures that, after a dozen years or so of wear and abuse, it should not need patching. 
I stuffed the Vision parka in my pack along with the rest of my alpine gear with zero regard to where it was in relation to tent poles, stakes, cooking gear, stoves, etc. (crampons and ice axe are on the outside of my pack). Most puffy coats require special packing or an additional stuff sack to protect them inside your pack. If I were a crampons-inside-the-pack guy, I'd feel good with the Vision inside with them, maybe not every time but occasional encounters between crampons and the Vision should be OK.

I didn't intentionally abuse the Vision but they did at Gearjunkie.com: "I could not initiate a tear, either with my bare hands or using pliers to grip the fabric and attempt to pull it apart. I could cut the LCP fabric with a high-quality pair of scissors, but I had to angle the scissors just right to produce a clean cut."
Personally, I'd have little issue skiing, climbing, or hiking in light brush with the Vision Down Parka. It's nice having a down coat that you don't have to baby and constantly worry about.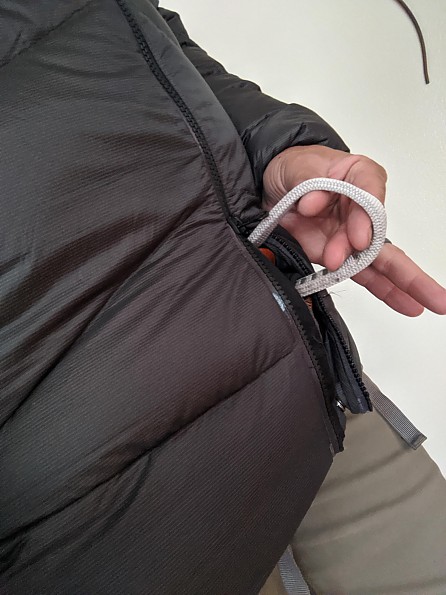 Use the bottom zipper and snap to stay warm and maintain access to your belay loop while belaying or moving on a rope team
Features: EXCELLENT. The Vision features a generous hood that is helmet-compatible. The hood has one adjustment cord that cinches the face and shrinks the sides of the hood at once. The hood won't cinch up to completely cover your face but holds itself securely to your head. The bottom hem also has two adjustable shock cords to keep cold off your hips.
The Vision has two different styled internal dump pockets; one is mesh and the other is made of the same material as the jacket lining. The idea is that if you need things to dry out (gloves or a hat) you can toss them in the dump pocket and they'll be dry soon. The best use I found for the non-mesh inside pocket is keeping beer from freezing while winter camping!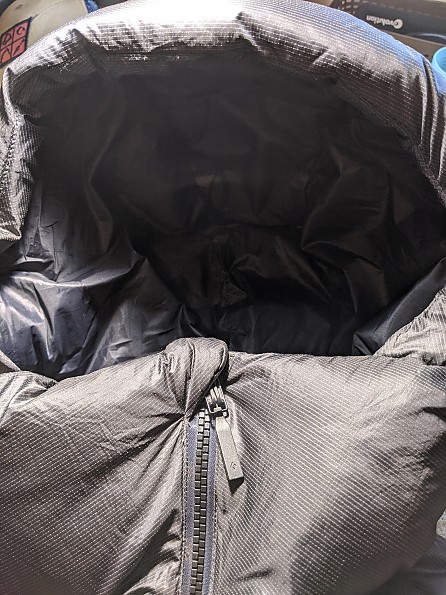 A nice garage to keep the zipper out of your beard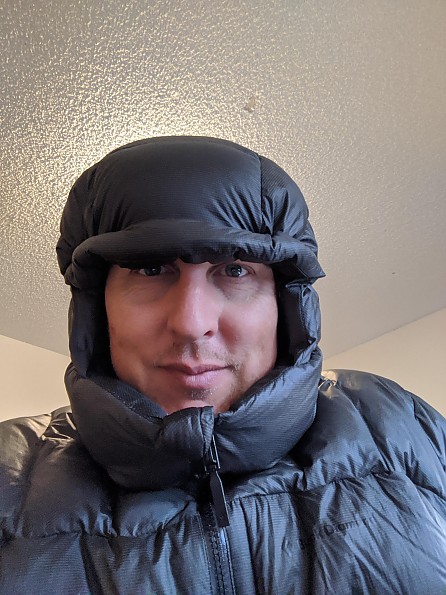 "creepy turtle." Feel free to use this pic to scare your children.
This is as tight as the hood goes but it is held very tightly to my head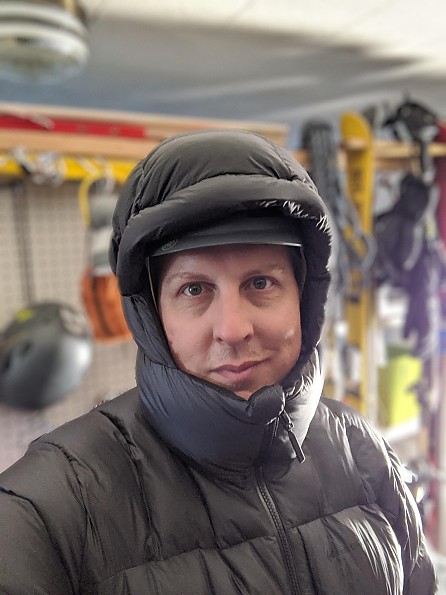 Climbing helmet-compatible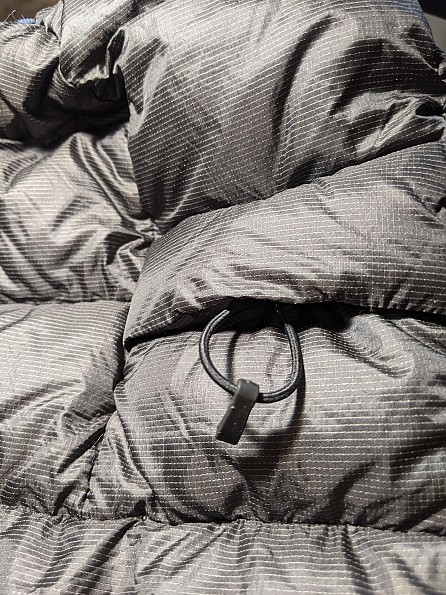 Single hood adjustment point at the back of the head. Pretty easy to use with gloves
The main closure is 99% snag-free and has dual zippers, glove-friendly
The hand warmer pockets have waterproof zippers and a soft brushed lining that restored feeling to my numb digits after setting up the tent on Mount Baker.  The huge (7"x8") chest pocket is sort of hidden and is set up for right handed use.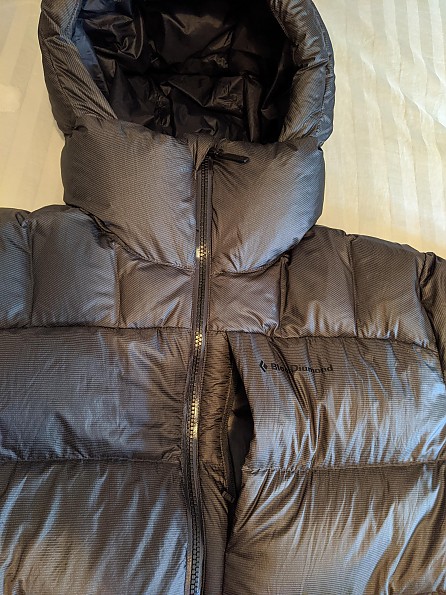 Semi-hidden chest pocket
The main zipper is two-ended so you can unzip it from the bottom to access a climbing harness or answer nature's call. There is a snap at the bottom of the zipper so you can actually unzip it and then snap it closed below your belay loop so you can belay while staying insulated.
Fit: EXCELLENT. The fit is listed by Black Diamond (BD) as relaxed fit. This is the jacket you put on over everything else you are carrying when it gets really cold or when you are moving and want to stay warm during breaks. Personally I am in-between medium and large sizes and, according to the BD size chart, I am on the small end of large size. I am wearing the size large in all the pictures.
The Vision fit my 5'10" body perfectly, even with my long-ish arms while also wearing a base layer, insulating jacket (Rab Strata Hoody) and hardshell (GORE H5) jacket. If I wear this jacket alone over a t-shirt it still fits, but it's pretty big on me. 
The wrist cuffs are simple elastic and fit loosely to go over the gloves you're probably wearing with this parka.

Even if you wear the Vision while climbing the gusseted sleeves allow you complete freedom of movement even with your pack on.
The Vision comes in sizes Small to XL. The women's version comes in a silvery-white "limestone' color.

Weight: EXCELLENT.  580g. Compared to the Patagonia Fitz Roy: 632g, Mountain Hardwear Nilas 685g, Mountain Hardwear Phantom 619g it comes out ahead.  Don't forget that those other jackets aren't NEARLY as durable as the Vision. For its class, the Vision is easily the most durable and lightest coat that I am aware of. The jackets I compared to have either 800 or 850 fill and are designed for similar missions as the Vision.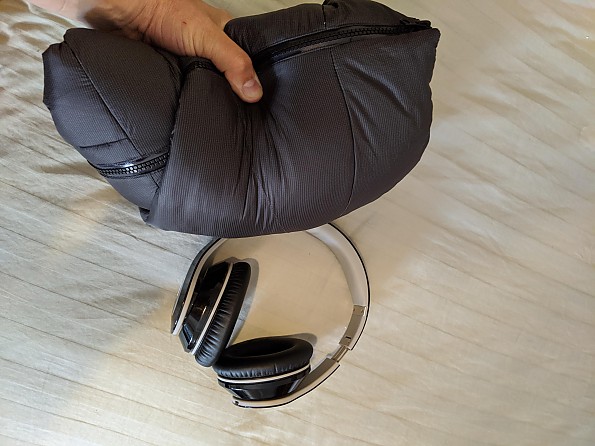 Not bad for a huge puffy
Packability: VERY GOOD. This is not the puffy that packs into its own pocket. It has WAY too much insulation for that. That is the biggest penalty for bringing a big puffy on a trip; they only pack down to the size of a small tent but they can make the difference between suffering and success, they may even save your life in a storm.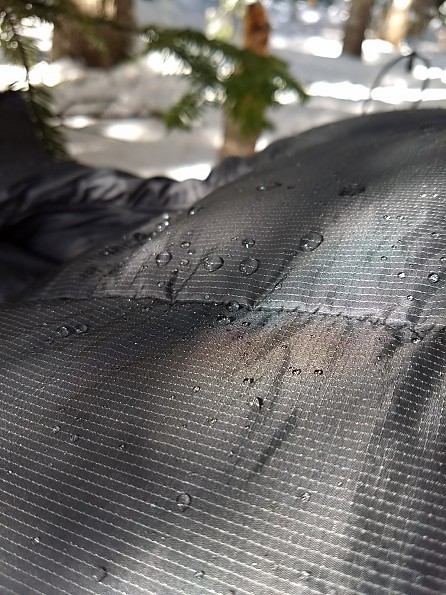 DWR coating on a warm winter morning
Water Resistance: GOOD. Besides having dry treated down clusters the Vision has a pretty decent durable water resistant coating that will probably last a couple years but really, if you are wearing a puffy in the rain you are probably doing something wrong; it's made for extreme cold.
Breathability: EXCELLENT. Down jackets breathe well and the Vision is no exception. I skied a while in it when I was really feeling the chill and my wetter underlayers dried themselves out through the down coat. 
Style: GOOD. It's a big coat to wear around town, not especially svelte. If you wear a sport coat or suit to work every day and it's SUPER cold you could be forgiven and perhaps complimented for wearing the Vision as an overcoat. Having said that, if it is cold enough to need this jacket you are more than likely tossing style to the wind so it is to be forgiven. As far as I can tell, it only comes in black (anthracite).
MSRP $400, a good buy, compared to the Patagonia Fitz Roy: $449, Mountain Hardwear Nilas $549, Mountain Hardwear Phantom $400, which are all heavier as well.  
Best uses: Cold belays, mountaineering, and winter backpacking are the top three activities that would have me reaching for the Vision Down Park.
Background
I'm a dad and weekend mountaineer. I climb mostly volcanoes in the Pacific Northwest. Winter camping and skiing are also on the list when the chance comes.
Source: received for testing via the Trailspace Review Corps (Sample for testing and review provided by Black Diamond)

Your Review
Where to Buy
Help support this site by making your next gear purchase through one of the links above. Click a link, buy what you need, and the seller will contribute a portion of the purchase price to support Trailspace's independent gear reviews.
You May Like
Specs
Men's
Price
MSRP: $399.00
Current Retail: $337.50-$465.00
Historic Range: $186.00-$465.00

Weight
580 g

Fit
Relaxed

Insulation
800-fill, RDS-certified HyperDRY goose down

Women's
Price
MSRP: $399.00
Current Retail: $270.00-$465.00
Historic Range: $186.00-$465.00

Weight
505 g

Fit
Relaxed

Insulation
800-fill, RDS-certified HyperDRY goose down

Recently on Trailspace