Gore H5 Gore-Tex Active Hooded Jacket

Top 25 in Waterproof Jackets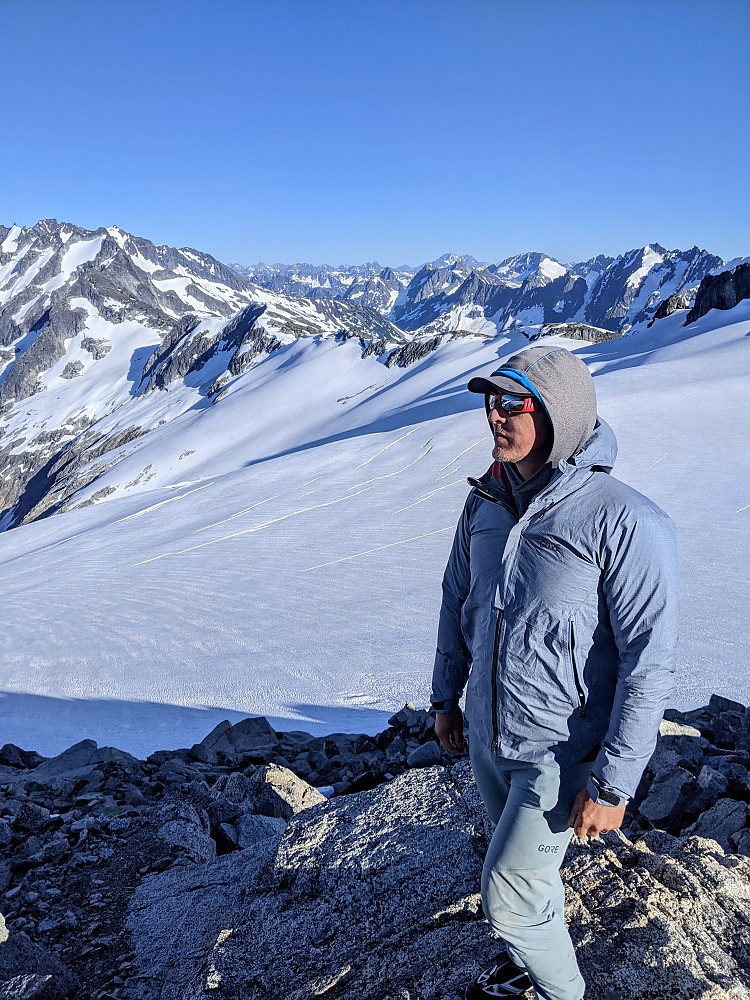 The Gore H5 Gore-Tex Active Hooded Jacket is a lightweight, functional and very comfortable waterproof shell designed for "fast hiking." It served perfectly as my one and only windbreaker/rain jacket for five months on the trail, through a variety of harsh conditions. I wore it primarily for warmth but also to keep dry during many prolonged rainstorms. It fits well under a backpack and still repels water after extended wear-and-tear. It's the most durable and reliable lightweight rain jacket that I have used for thru-hiking thus far.
Pros
Provides reliable shelter from rain and wind
Ultralight shell with minimalist features
Next-to-skin comfort and excellent breathability
Good ergonomic fit allows full range of movement and comfort with a pack on
Very durable
Cons
Compromises with minimalist function vs lack of features
Zipper can be finicky to align
Double metal zipper is overkill
Cuffs don't seal completely
Pricey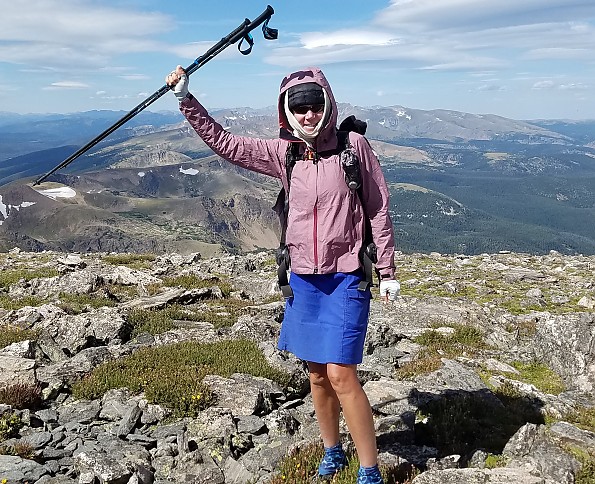 Standing on top James Peak, Colorado, at 13,300'

Description/Specs:
The H5 Gore-Tex Active Hooded Jacket is a no-frills, lightweight, single-layer GORE-TEX Active rain shell with an integrated hood.
According to Gore: "GORE-TEX Active Products are lightweight, extremely breathable, durably waterproof and windproof for fast hiking in all weather conditions."
There are two zippered side pockets, lined with mesh and situated so that they work well with a backpack. There's a full length two-way front zipper with a garage and thin fleece lining where the jacket comes into contact with the face. There are very basic drawcords at the front and rear of the hood as well as at the waist. Lastly, the sleeves have a partial elastic cuff with a Velcro adjustment.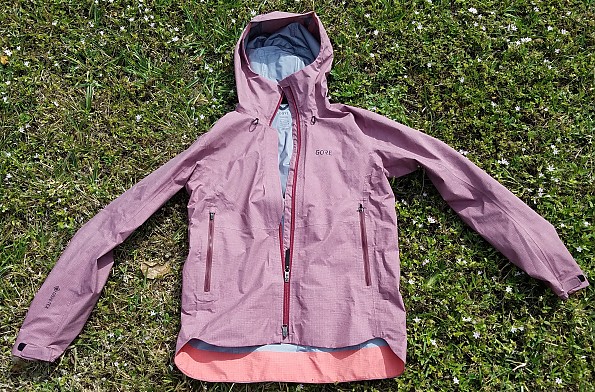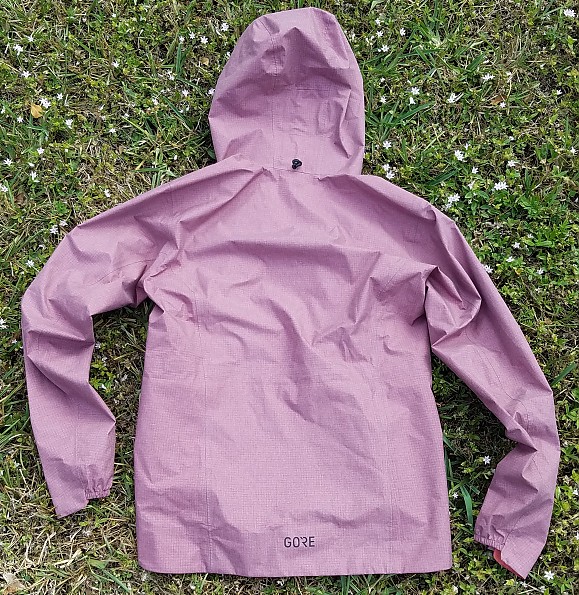 I'm 5'9", 130 lbs and received a women's size US Medium, color: chestnut red/hibiscus pink. My sample weighs 8.5 oz. The women's jacket is also available in grey and blue.
MSRP $370 (but I've seen sales for 50% off)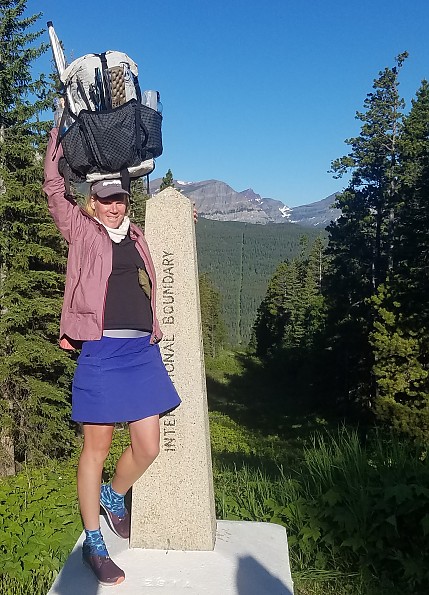 Starting my thru-hike of the Continental Divide Trail at the US-Canadian border, Glacier National Park.


Fit, Comfort, & Layering:
The fit of my jacket is perfect for me. I intentionally ordered a size up so that I could wear a few layers underneath. I have comfortably worn as many as three layers (Trew merino T-shirt, Patagonia R1 crew, and Montbell Hooded Down Puffy) under this jacket. I have also worn it extensively with just one layer and been very happy with the fit.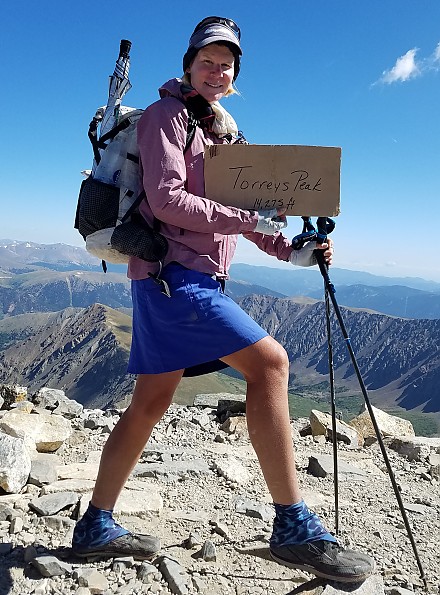 One of four 14er's that I summited this past summer, utilizing the jacket at the tops of each.

This jacket has a very functional ergonomic design, with contoured shoulders and sleeves. The seams are extremely flat and smooth, designed to be unnoticeable under a backpack. I do not feel any restriction or discomfort when moving my shoulders and wearing my pack.
The sleeves are also the perfect length, preventing exposed wrists when I extend my arms but also not hanging down far enough to interfere with my hands. The rear bottom hem extends down farther than the front so that my back is still covered when bending over. I would say that this is probably the best-fitting jacket that I have ever worn.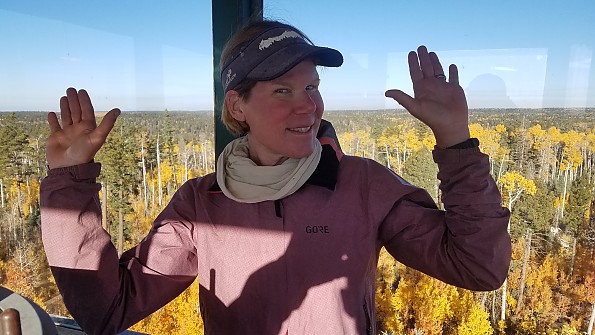 Picture from atop a fire tower on the North Rim of the Grand Canyon, the aspens in color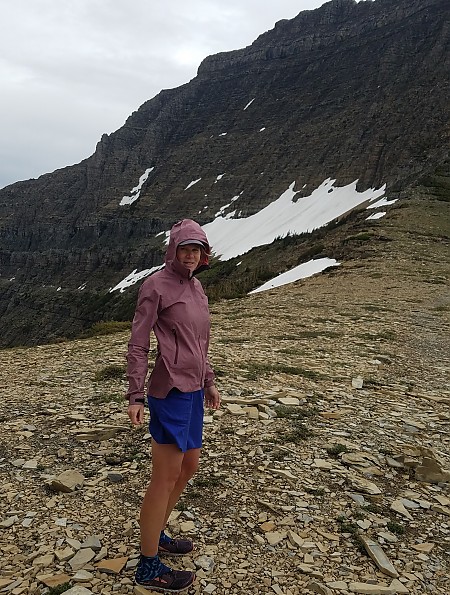 Enduring some cold wind and drizzle to pose on Pitamakan Pass, Glacier National Park
Adjustability:
There are only a few options for adjusting the fit of this jacket, given its lightweight, minimalist design. Two drawstrings outline the hood opening and one adjusts the length from the back.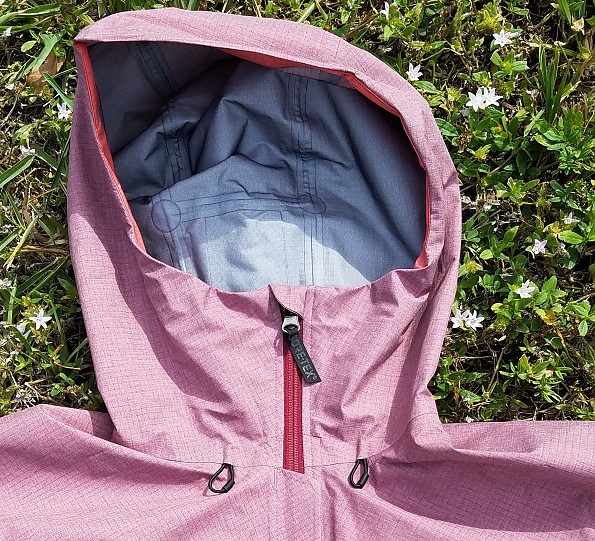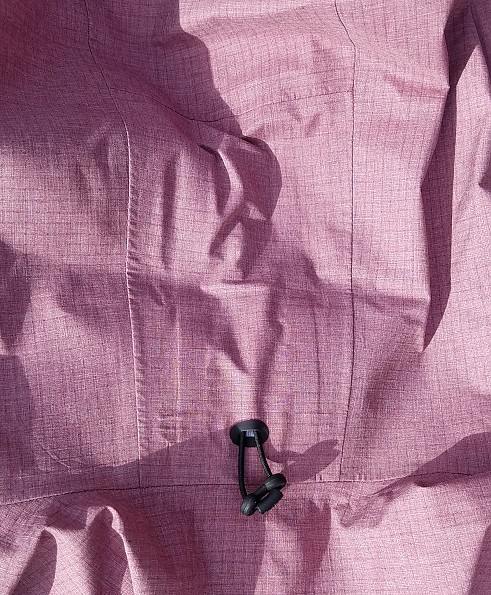 There is one additional drawstring at the waist (housed inside by a black strip of fabric), which can be secured in place with cordlocks located inside each of the pockets.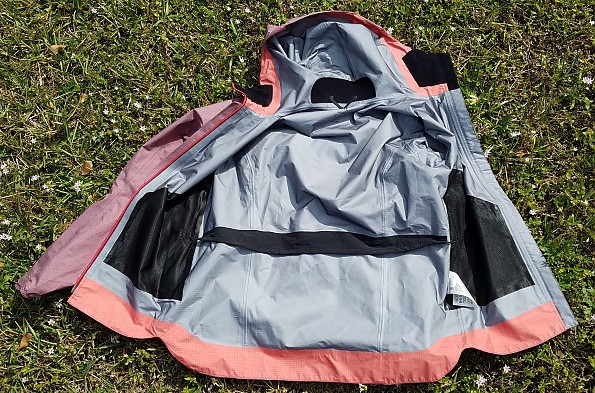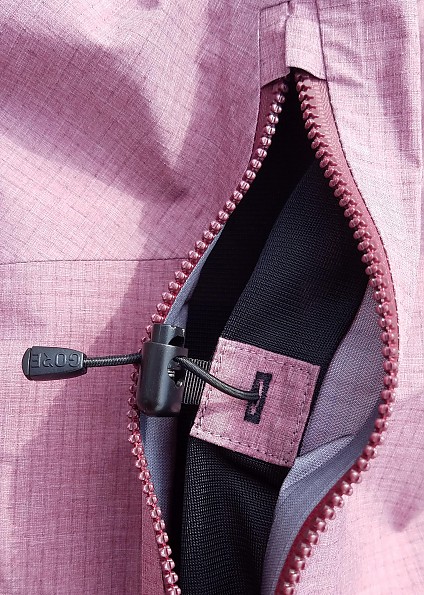 The cuffs have elastic and velcro tabs for tightening the sleeves at the wrist and that's it for adjustable features.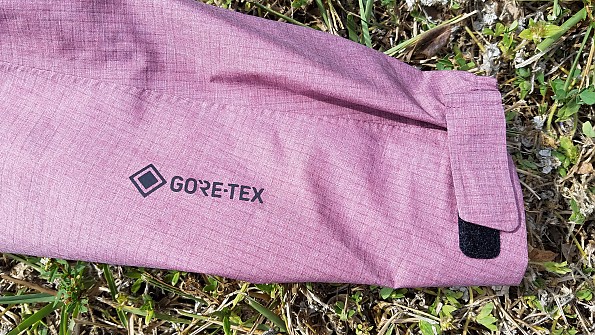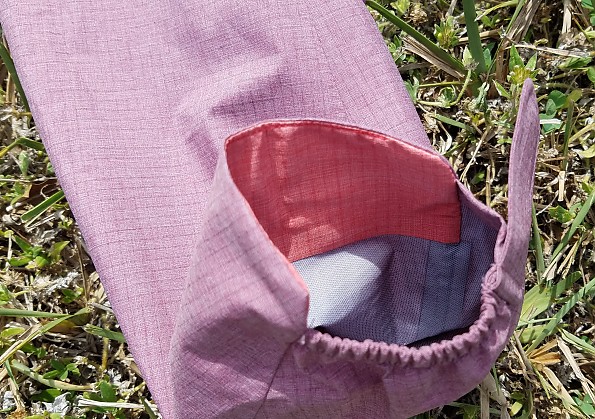 Since the jacket fits me so well, I have not found much need to adjust the drawstrings. A few times I have wanted to better secure the hood because of strong winds but could never figure out how to keep tension on the drawstrings other than by knotting them. I finally figured out that the cordlocks are buried inside the fabric. It's actually very easy to adjust the tension, as shown below.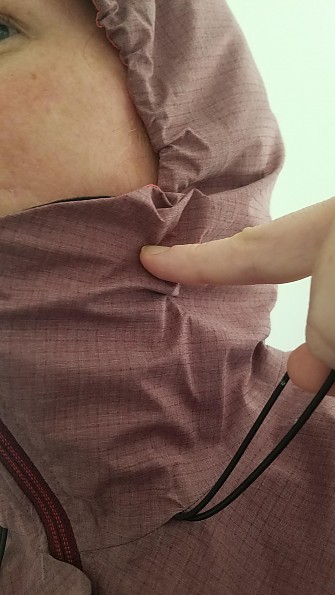 The cordlocks for the hood's drawstrings are buried inside where my index finger is pointing. Pressing on the center of the cordlock adjusts the tension...I never even realized they were there until writing this review!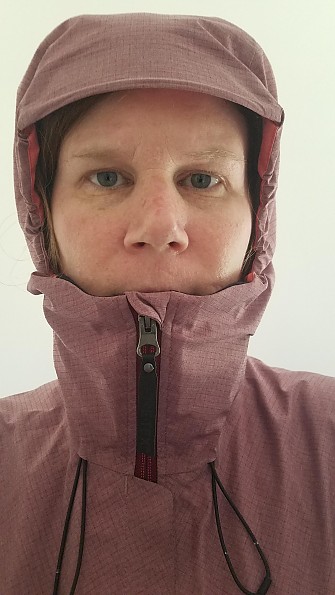 The hood cinches down very tightly yet keeps a nice shape thanks to the stiffening rod in the brim. The fleece lining inside makes it very comfortable against my face.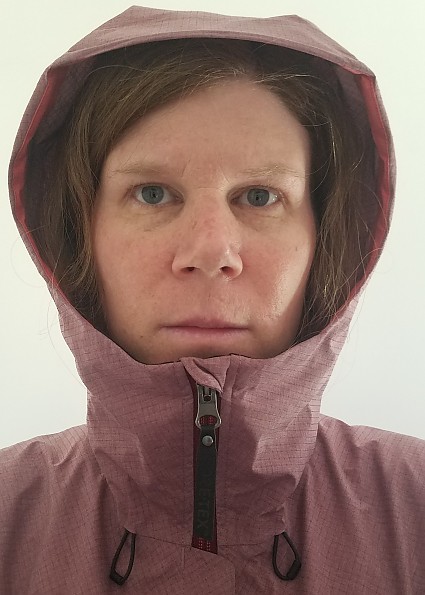 A look at the hood un-cinched...I generally wear a visor underneath the hood.

The only adjustments that I find lacking are the wrist cuffs. I've had a little bit of water running up the sleeves, given that my wrists are sometimes elevated by the swing of my trekking poles. I couldn't cinch the velcro tight enough but it wasn't a big deal. My lower arms got a little wet during an all-day rainstorm but that was the only part of me that ever got wet. Short of having neoprene or latex wrist seals, like those on a drysuit, there probably aren't too many jackets that would perform better.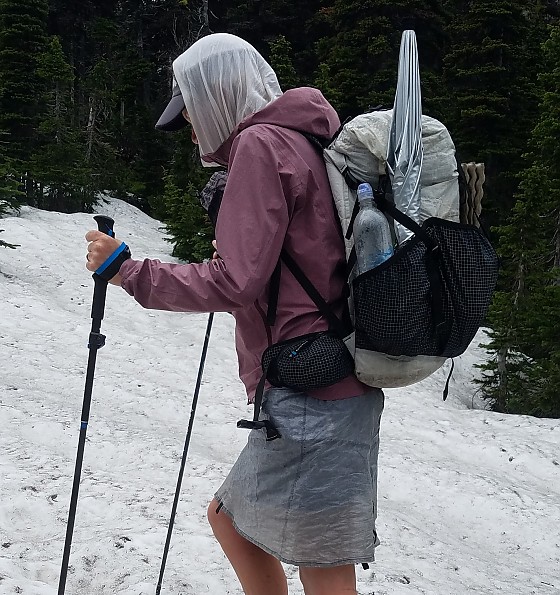 With elevated arms from climbing with trekking poles, rain can sometimes seep down the sleeves.
Water-Proofness:
Being outside in the high Rockies for nearly half the year, I had ample opportunities to test the jacket's waterproofness. I can confidently say that it keeps me dry! The GORE-TEX Active material ("guaranteed to keep you dry") causes water to bead nicely on the surface. In areas where the jacket has seen a lot of friction (the sleeves and areas that are in contact with my pack), the material does wet-out. Yet even these areas have miraculously maintained their waterproofing. Rain does not permeate the inside and the material dries fairly quickly.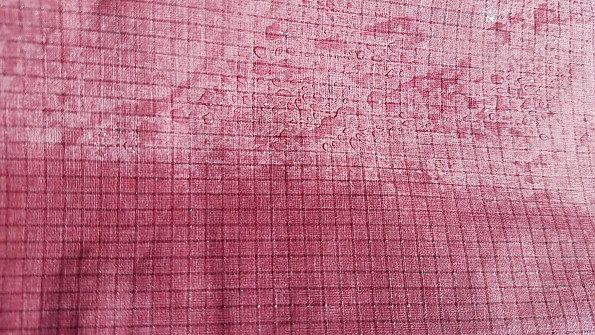 I must also concede that most often I used the jacket in conjunction with my trekking umbrella. In such a configuration, the jacket served as a thermal layer and to keep my arms and back dry. But there were several times that it was too windy to use the umbrella. On another occasion, I had to push through miles of over-grown trail, where the soaked vegetation saturated me from head to toe. During these times, I still stayed dry underneath.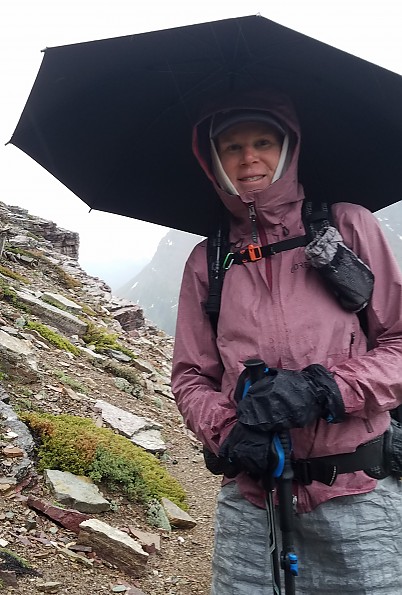 In my full rain protection configuration on Triple Divide Pass, Glacier National Park
I prefer wearing my umbrella because even when I'm dry underneath, a jacket that is wet on the outside still cools me down. If I can manage to keep my core totally dry, I can hike all day in a drizzle or a downpour. I also used the umbrella for protection from hail, which occurred a lot on the CDT. The umbrella allows me to eat, navigate with my phone, and take pictures.
Some might think carrying an umbrella and a GORE-TEX jacket is redundant or overkill but don't forget that both are multi-use items. While hiking the Arizona Trail, where it never rained once, I used the umbrella almost every day to hide from the blazing sun and my jacket to keep me warm at the bookends, when temperatures dropped into the 30's. Both pieces of gear were vital to my thru-hike, even though rain was never a factor.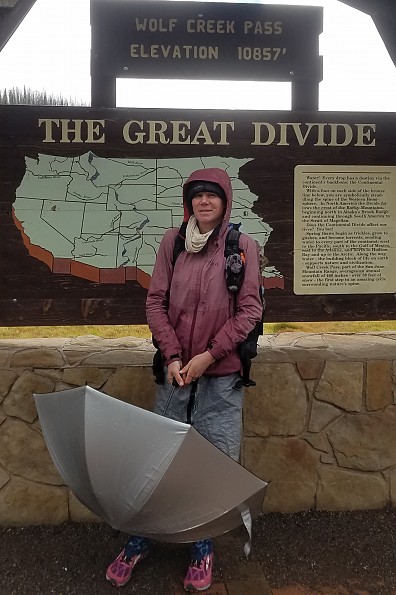 My wettest day on the the trail, coming out of the San Juans to Wolf Creek Pass. After pushing through miles of wet overgrowth, the jacket wetted-out on the outside but I was still dry underneath.
Breathability/Moisture Control:
I would say that relative to similar lightweight backpacking jackets, the H5 is very breathable. After all, GORE-TEX products are supposed to be unrivaled in this regard. But I also tend to be less sweaty and run cooler than most hikers. Additionally, use with an umbrella means that I can leave the zipper partially unzipped and the hood down. This negates needing other features like pit-zips and vents.
This jacket can easily be worn with just a t-shirt underneath, while not feeling clammy, sticky or crinkly where it comes in direct contact with skin. The inner material is soft and silky to the touch. I find this to be one of the most comfortable jackets to hike in, even while going uphill. Many days, I left it on far longer than I would any other shell because it also provided sun and bug protection.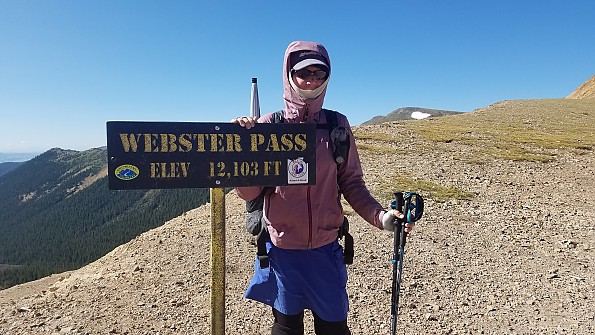 No rain in sight but bundled up for protection from the wind and UV rays on the Divide.
Warmth:
This paper-thin shell doesn't provide a lot of thermal protection but when paired with a few thermal layers (a merino baselayer, light fleece and/or minimalist down puffy), the jacket protected me from some pretty harsh, bitterly cold winds. Sure, there were a few times that I wished I had something more, but that's the crux of having a lightweight kit on a thru-hike...you make due with what little you have.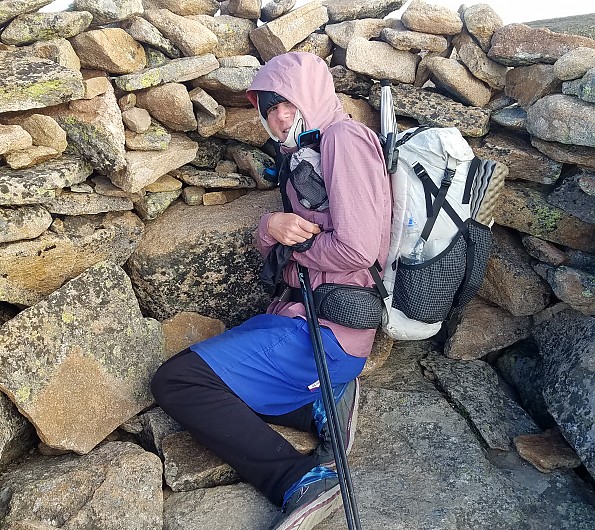 Here I try to take refuge from the unrelenting winds on the Divide, 13,000+ feet atop Mt Flora in Colorado. I pretty much wore this jacket the whole time above such elevations...which is a lot of the Continental Divide Trail in Colorado.
Function & Ease of Use:
This jacket has few features to discuss, but one of the minor downsides that I encountered is the front zipper. First, I don't really care for the metal zipper sliders. I realize that they may be more durable in the long-run but I think lighter and softer plastic zipper sliders would suffice. I also don't think a double zipper is completely necessary but I did use it to open the jacket for better ventilation on a few occasions.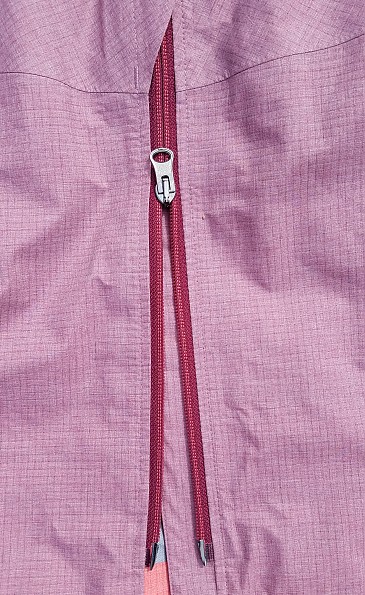 The zipper can also be finicky to align since the pin has to be passed through both sliders while they are simultaneously held together. Getting all the parts lined up with wet, cold hands can be difficult so I often struggled getting the zipper started. Once going, it slides well.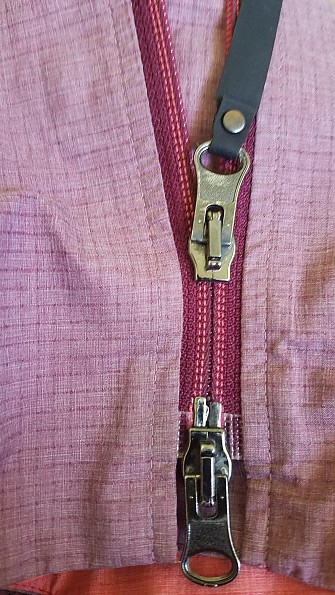 You can see here that the pin doesn't always align with the other.
All other features work as expected. The side pocket zippers are smooth and the pockets amply sized to hold snacks, a phone, mitts, etc. The drawcords slide easily and help seal out the cold.
The jacket does not come with a ditty bag or pocket that it can be folded into. I simply roll it into its hood to stow in my pack. It packs down reasonably well.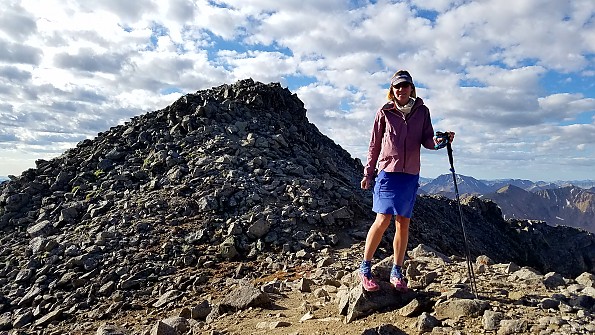 The summit of Mt Massive, third highest mountain in the contiguous US.


Abrasion, Construction & Durability:
I have owned one other Gore GORE-TEX jacket over the years and had high expectations for this one. It has not disappointed. Upon receiving the jacket, I was impressed by the very lightweight material and clean lines. The material almost feels like paper on the outside but has proven to be very durable and long-lasting.
I expected to destroy this jacket during the course of my thru-hikes. I wore it extensively with my pack on, going through very overgrown trail, bushwacks, and setting up and breaking camp every night/morning. In five months of near-constant use, the jacket did not suffer any tears or rips. All seams, zippers, and hems are in good shape, with no apparent defects and no deterioration from use. Instead of throwing it out, I am looking at completing a third thru-hike with it again this summer.
The only signs of wear are seen in high-abrasion areas from my pack, namely over the back of the shoulders, around the back of the neck, at my hips and around my chest strap. I don't see this as a defect but rather normal wear-and-tear from extensive use with a pack. The inner material is worn but as far as I can tell, these areas are still waterproof. The inner material has also slightly peeled away at the edge of a seam in the hood but this is very minor and does not affect performance. Lastly, there is some very slight fraying at the edges of the sleeves.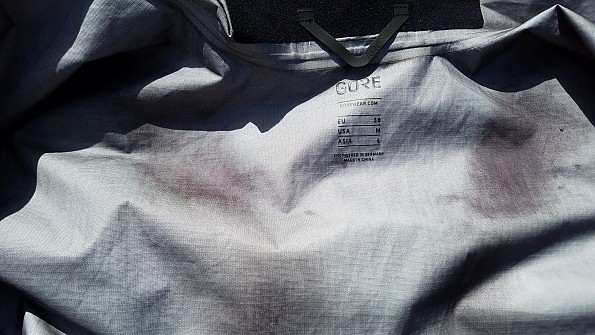 See the darker spots on the inside? This is where my pack and shoulders have rubbed away some of the inner liner. The jacket is meant to be used with a pack so bear in mind that I have worn it with a pack for more than 1,000 miles...some wear is to be expected.

The jacket resists dirt pretty well and is easy to launder on the trail. I have washed it about four times, most recently with a restorative product, Nikwax Tech Wash. I hope to get a lot more use out of this jacket in the near future.
Conclusion:
The H5 Gore-Tex Active Hooded Jacket is a very lightweight and comfortable shell that is also durably waterproof. It's a jacket that works well with a backpack and has a minimalist, ergonomic design. I'd recommend it for hiking/backpacking in some extreme and wet conditions.
Thank you to Trailspace and Gore for the opportunity to test this jacket so extensively. It has been an amazing companion during my long journey.
Experience
I carried this jacket for the entirety of the Continental Divide Trail (2,700 miles, Montana, Idaho, Wyoming, Colorado, New Mexico) and the Arizona Trail (800 miles), from April to November, 2019. It served as my primary (only) windbreaker and rain jacket during these two thru-hikes. Temperatures ranged from 25-80 degrees F and I was generally hiking through some pretty exposed, rugged terrain.

I always wore the jacket during rainstorms, which occurred approximately 30 days on the CDT (it did not rain once while I was on the AZT). I experienced several heavy downpours mixed with hail and even sideways rain. I wore the jacket for warmth almost every morning and/or evening, with and without a pack. I wore it all day while hiking on a few occasions, either because of prolonged rainy conditions, cold or both. I also summit-ed four 14ers with this jacket, which I needed frequently to cut the icy winds up high in Colorado. I plan to use this jacket for my Appalachian Trail thru-hike summer 2020.
Source: received for testing via the Trailspace Review Corps (Sample for testing and review provided by Altraample for testing and review provided by Gore)

The H5 is a lightweight Gore-Tex Active shell jacked designed to breathe while you're out being active and to pack away in a tiny space while you aren't. This jacket is probably radder than you. Truly, you probably don't need a jacket this good.

An end to the question, "Hmmm, should I pack a hard shell?"
Pros
Ridiculously light (9.5 oz)
Shockingly packable
Amazingly waterproof
Form fitted
Great zippers
Harness/backpack compatible pockets
Cons
Slightly crinkly fabric
I wish it stretched a little
The storm flap sometimes catches on the zipper
This review may contain satire. Literal people take precautions!

Gore H5 Gore-Tex Active Hooded Jacket
Right up front I'm going to say this: Do whatever you have to so you can afford one of these jackets! Hopefully you choose legal activities and if you don't, I will not judge you. The courts might, but if you just show them the jacket and this review, I'm sure they'll see the light and set you free. This jacket will probably outlast the average marriage and will make you several times happier.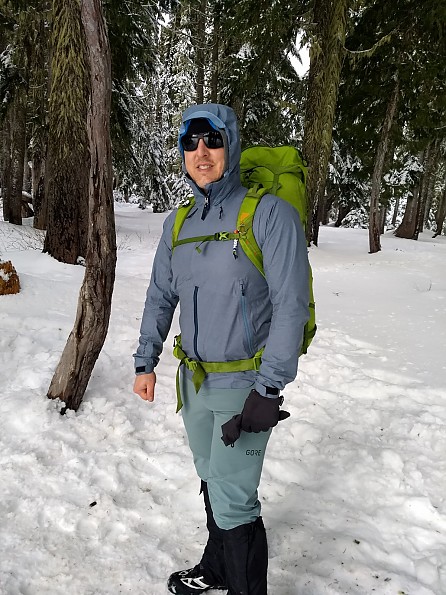 Once in a while I find something that truly completes me as a hiker/climber. I used to think I knew exactly what I needed. Then this came along and gave me all those things, in a lighter weight option with a few more features I'd never even considered. It's been really hard to find anything not to like here and I think I'm pretty picky. Funny, I think that also describes my third wife!
Lately I've been reviewing the Gore H5 Gore-Tex Active Hooded Jacket, a lightweight shell jacket that has so many smart innovations and so few useless ones that I think I may have found hard shell Nirvana.
The cardinal four upper body layers in bad weather are: base layer, insulating layer, hard shell, insulating puffy overcoat. It works well; as you get into worse weather you toss the next layer over the previous until either you get comfortable, die, give up and go home, or you run out of layers. I've used this system a lot over the years and I'm super happy with it. 
One really good way to save in weight and complexity in this system is to switch from a full-function waterproof-breathable (WPB) ski-jacket style hard shell (HEEEAAAVY) to a stripped-down "crinkle coat." By crinkle coat, I mean a jacket that is unlined, probably doesn't have inside pockets, and does the one thing it is designed to do; keep the rain and wind off you while breathing and letting your sweat out.
These jackets sometimes sound a little bit like you are wearing a crinkly blue plastic tarp and the noise can be a turnoff to some, but the weight savings gained by eliminating a soft lining and superfluous features is totally worth it.
Why would you ever give up the Gucci creature comforts of a full-featured jacket? Because:
Those things make the jacket heavy; making you leave other things you probably want at home (whiskey, maps, pizza, etc.)
Full feature jackets take up too much room, making you need a bigger pack which you will definitely pack with a bunch of extra useless crap that will slow you down. Slower equals less safe and less radness. 
You don't need those extra features. You'll end up stashing stuff in all those extra pockets then toss on another layer over it or take the shell off, basically losing the pocket contents forever. Really, how many hood-adjusting drawstrings do you need anyway?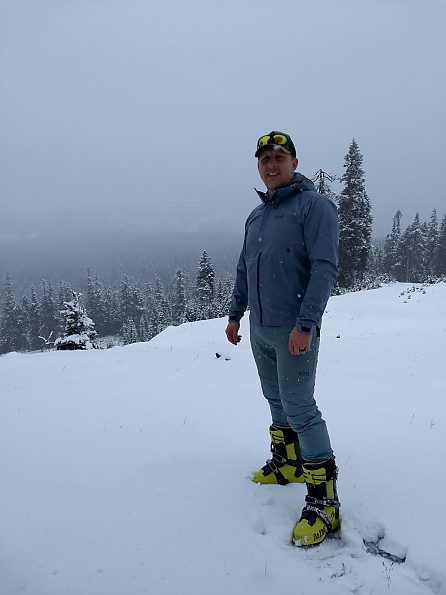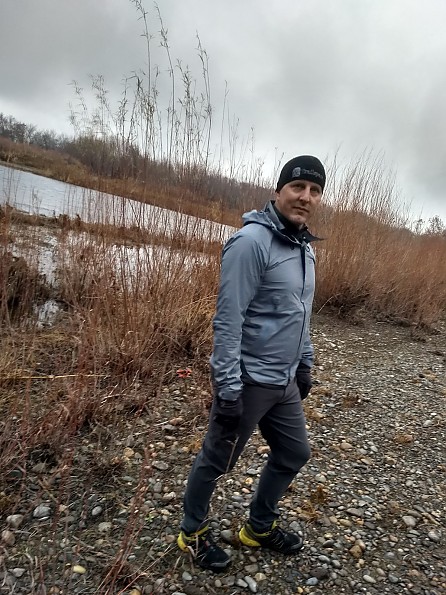 What I do in this jacket: I really like wearing the H5 while trail running. I go out in 35-45 degree F temps probably three times per week. This winter has been especially windy and rainy here, the miserable kind of rain that is close to snow but not quite. The H5 has gotten to see a lot of good testing against heavy wind. I also took the H5 with me overnight ski tour camping and on hikes in the snow.
All of these activities involved significant crappy weather and body heat building, stuff that typically makes you feel like you are wearing a freezing sauna with typical jackets. Paired with random rainy day trips to the river to search for "the perfect rocks" for craft projects and it's been a good test.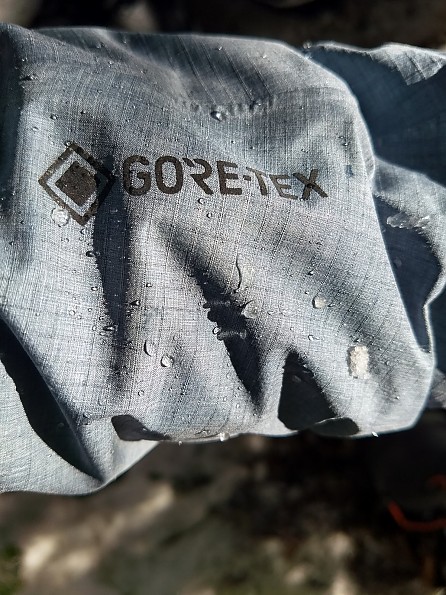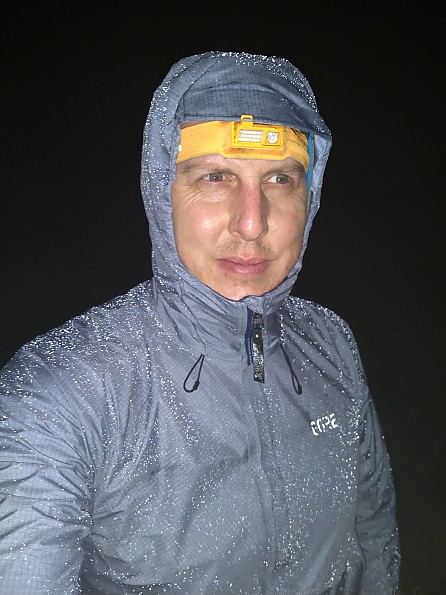 Waterproofness: Gore-Tex Active is the membrane used in this jacket. My dear readers will be forgiven for not keeping up with all of the different Gore-Tex materials over the decades and luckily I can help shed a little light on this. Gore-Tex Active is designed for extreme breathability, durability, feather weight, wind- and water-proofness. Remember the 1990s, back when Gore-Tex was heavy and just barely, kinda breathable? Ya, things have changed.
Active is the most breathable material I have worn that still keeps me absolutely dry in the rain. Gore makes the statement that they absolutely guarantee its waterproofness. The weasel-word "water-resistant" is never used.  This isn't your pappy's Gore-Tex. This Gore-Tex climbs 5.13, brews beer, exercises regularly, speaks four languages, has a few really unique tattoos and is well traveled. It's the Gore-Tex you wish had raised you.    
No way, I thought, could something breathable enough for trail running be anything near waterproof. Well, for the third time ever, I was wrong. I only have so many days off; the trust-fund I expected never came so I don't get to pick my outside days based on weather. I go, rain or shine. In the rain, the H5 shines.
I'm happy in the rain with the H5. Nothing leaks through. Once I'm all zipped inside my hard shell I'm good to go, no leaks, no drips, no worries! Snow, downpours, and that stupid mist that soaks through normal jackets are not a problem for the H5.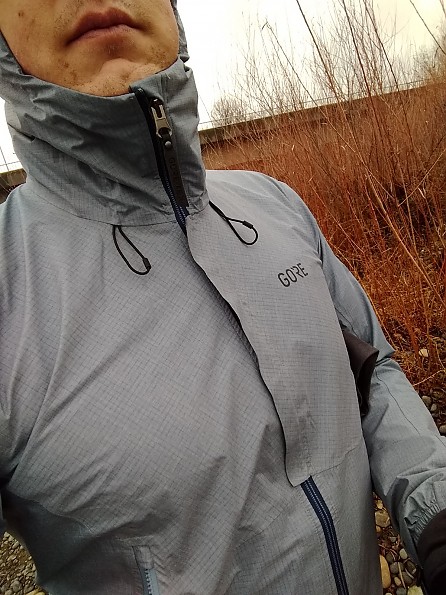 Fit/layering: Read the Gore fit chart before buying! This jacket is a form-fit. It is meant to be nearer your skin than a ski jacket. In fact I wore it with just a t-shirt underneath a lot with no clamminess at all; I was shocked.   You may need to go up a size if you plan an insulating layer underneath. I'm at the upper end of medium on the Gore fit chart and I found the large to be just right for a lightweight insulating layer underneath (Outdoor Research Ascendant Jacket). It's not skin-tight, but definitely snug.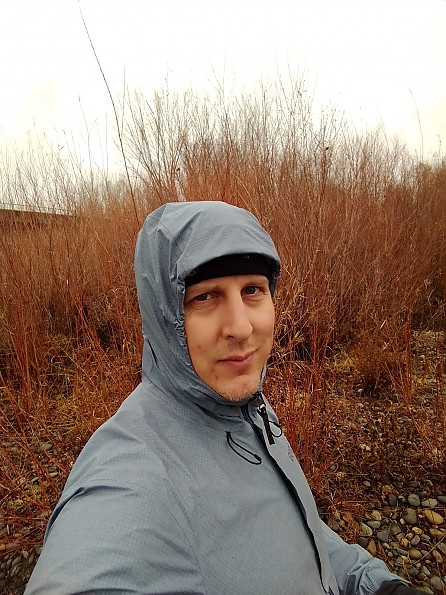 Stretch: I wish it stretched a little, but it does not. The jacket is cut with generous sleeves that allow most anything you'd want to do. It didn't really cause any constriction or binding being non-stretchy, but wouldn't it be cool if it stretched too?
Breathability: I used the H5 a lot as my trail running jacket this winter through some pretty nasty storms; rain, wind 20+ mph. I was impressed how dry I stayed. My sweat left the jacket as if I'd been wearing a soft shell. Gore has been at this game for a while so I guess I shouldn't have been surprised.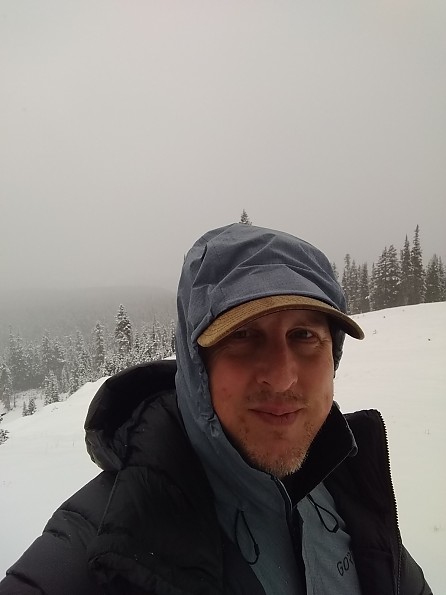 Comfort: Skiing, running, hanging out in camp, etc. is great in the H5. Even though the fabric does not stretch and the jacket is form fitted, the cut is such that I never felt especially constricted.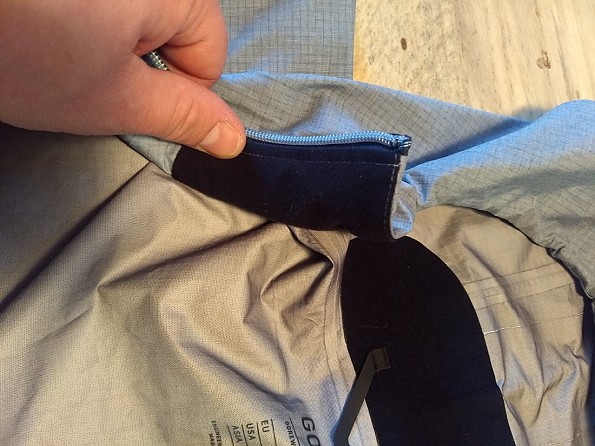 Features: The main zipper is a two-way style and has a great pull tab that works with gloves. The pockets are high enough that a harness or pack belt will not interfere with them. There are two adjustments for the hood that are inconspicuous and functional. Another shock cord adjusts the hem of the jacket to tailor the fit to you.
The hood also has a thick, flexible monofilament brim that retains its shape after the jacket is packed away. The cuffs are snug and have a slight elastic and velcro adjustment. They won't fit over gloves, so plan on tucking them in.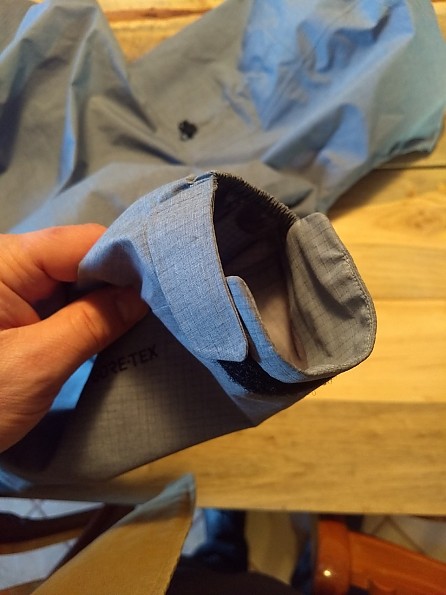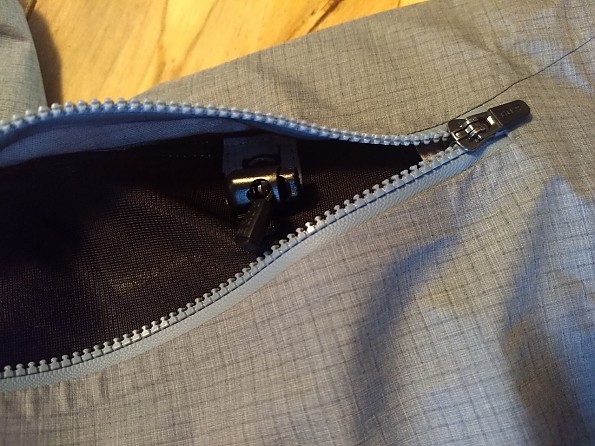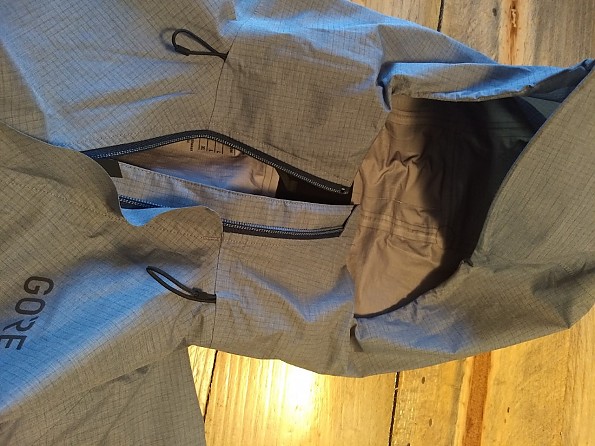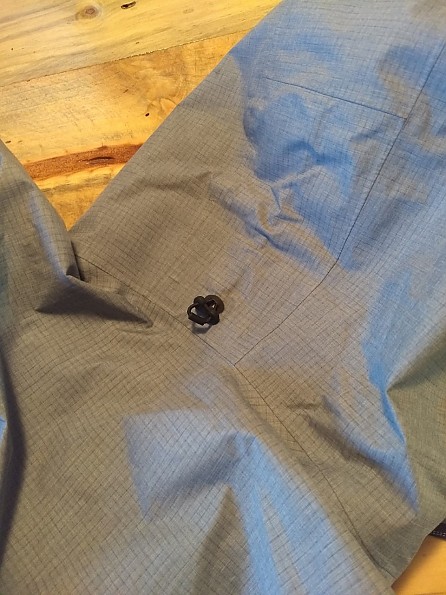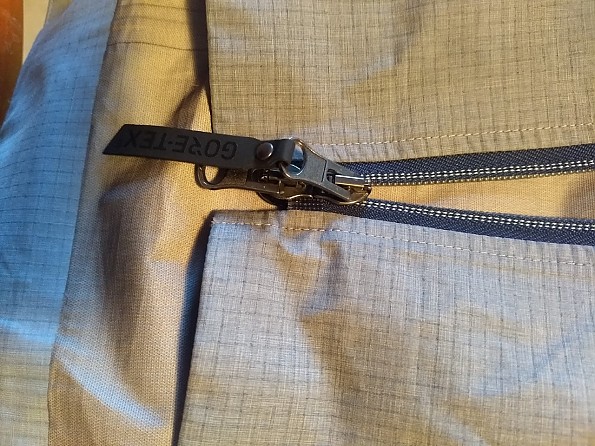 Price: Yeah, this is an expensive jacket (over $379 MSRP!!) but let me tell you a little secret: there are sales. For what you get, it's worth it! Find one on sale and buy it. Otherwise you will spend WAY more wearing out inferior jackets. This shell could last you three times longer than a $150 jacket. This advice is coming from a guy who has bought several crappy, kinda waterproof, breathable jackets and suffered, hypothermia for it. Really though, if you compare to the Arc'teryx Beta AR at $575 or their Alpha SV at $799, it's a steal!

Durability: For many of my trail runs I wore the jacket tied around my waist till it rained or I got cold. Tying knots in a hard shell can sometimes affect the fabric and waterproof finish but I didn't see any wear and it still kept the water off. Not having left trails much in it I only scratched around in the sagebrush a little so I can't tell what will happen when I scramble over rocks in it. Indications are that the fabric will perform well.
Another Trailspace reviewer (Twig) wore her H5 for over 1,000 miles:
https://www.trailspace.com/gear/gore/h5-gore-tex-active-hooded-jacket/#review40424
Unless you're going to be as rad as Twig (probably not), you don't even need a jacket this badass. Seriously, wearing the H5 made me feel almost as unworthy as reading Twig's review of it. She killed it!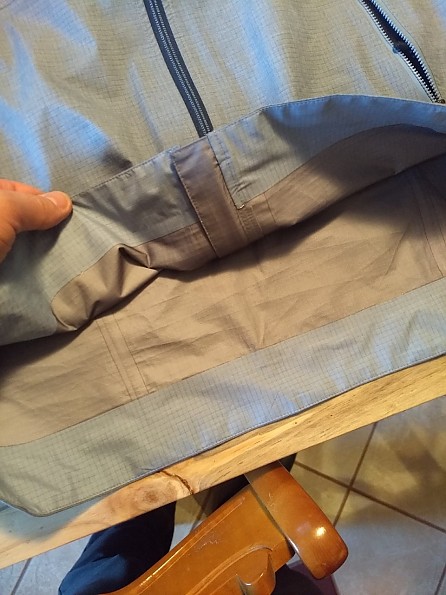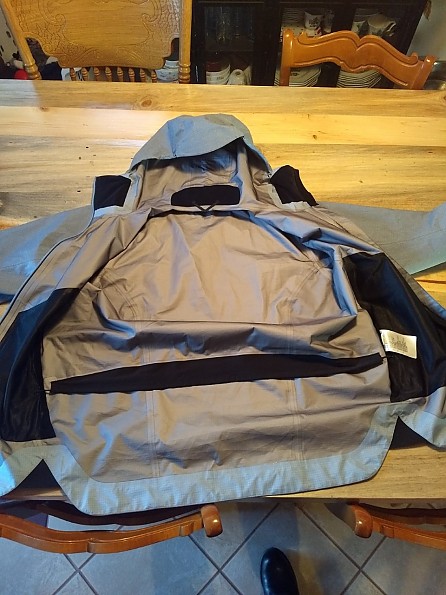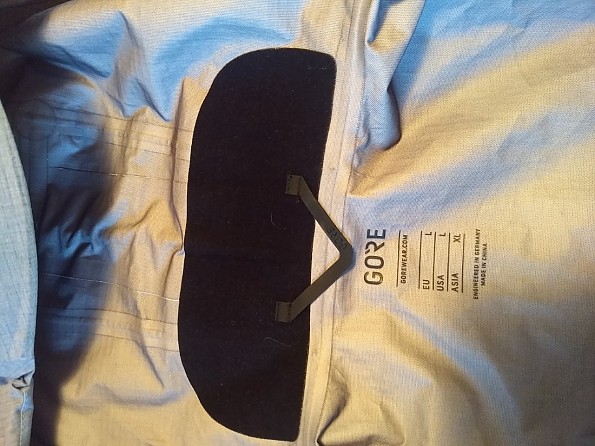 Noise: It's a hard shell so it crinkles. If that's a deal breaker, perhaps try an oilskin duster or boiled wool. Hard shells crinkle; it's life. It never bothered me, but it was there.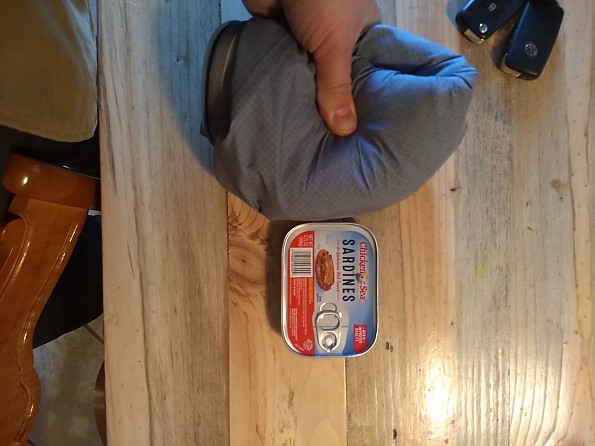 Packable size: I can easily pack this jacket to half the size of a Nalgene bottle. It will pack into its own pocket but it is so much more compact than that. You can seriously stuff it in the front pocket of your pants. 
Weight: 9.5 ounces. as claimed by Gore. It's the weight of a hamster, I checked. My old Army ECWCS Gore-Tex jacket from the 1990s was like 36 ounces!!
Best use: Trail running, backpacking, backcountry skiing, alpinism, any time you want to stay dry while moving but you don't have weight and space to waste. Worst use: snowmobiling, ice fishing, buying coffee, watching soccer, walking to the office, anytime when you're not worried about weight or performance. 
Style: It's not cute. This sentiment was reinforced by my style consultants, aka. my wife and two teen daughters. I think the gray/blue color was described by my wife as, "not masculine at all." To me it looks functional and I don't feel ashamed wearing it. If you don't like the color I wore, Gore offers the jacket in different colors of course.
Regrets: As a crappy typist, the name "H5" is a godsend to type, but otherwise they probably could have come up with a better name. My vote is for Crinkletastic, or The Henry Crinkler, or something equally game-changing. If it were stretchy or maybe if that storm flap didn't always catch the zipper it would be perfect. Luckily I read the size chart and ordered a large or the medium would have fit me like a wetsuit.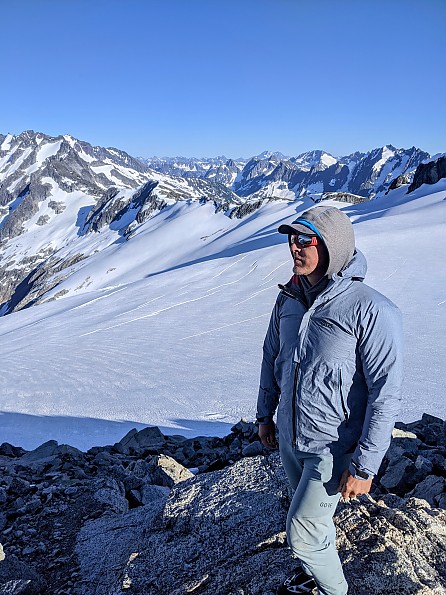 Experience
I'm a climber, mountaineer, hiker, trail runner, and father of eight. I'm kinda busy. I've owned several hard shells and Gore-Tex products as well as jackets with other waterproof-breathable membranes. I've been reviewing gear on Trailspace since 2010.
Source: received for testing via the Trailspace Review Corps (Sample for testing and review provided by Gore)

Your Review
Where to Buy
Help support this site by making your next gear purchase through one of the links above. Click a link, buy what you need, and the seller will contribute a portion of the purchase price to support Trailspace's independent gear reviews.
You May Like
Specs
Men's
Price
MSRP: $369.99
Historic Range: $184.99-$276.99

Weight
9.5 oz

Material
GORE-TEX Active product: lightweight, extremely breathable, durably waterproof and windproof

Women's
Price
MSRP: $369.99
Historic Range: $75.00-$220.99

Weight
8.5 oz

Material
GORE-TEX Active product: lightweight, extremely breathable, durably waterproof and windproof

Recently on Trailspace