Brooks PureGrit 3

The PureGrit 3s are comfortable overall trail shoes if you have wide feet. They have good grip and breathe well, but the soles tend to separate at the toe and the elastic "Nav-Band" wears out over time.
Pros
Comfortable
Good for wide feet
Good grip
Great breathability
Cons
Sole separates at the toe
Arch support collapses quickly
"Nav-Band" doesn't hold foot securely
I have been wearing the PureGrit 3 shoes for the past five months. According to my Misfit Shine, they surpassed 750-miles of use some time last night (After contacting Brooks, I was informed that the expected lifespan of these shoes is somewhere between 250 - 300 miles). In this time, I have worn them for everyday use around Boston as well as on multiple hikes and trail runs. While they are great shoes in some areas, they do face some issues.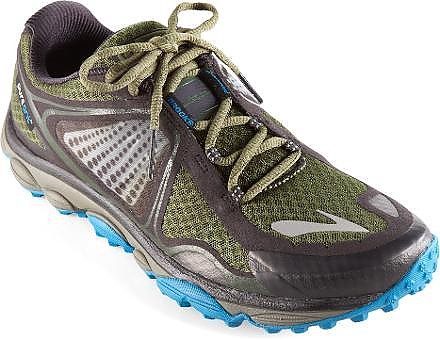 FIT
The PureGrit 3 shoes fit a bit wide, specifically in the toe. Brooks uses an elastic band called the "Nav-Band" across the center of the foot to help hold your foot snugly. At first, this did a good job and held my foot firmly in place. Over time, however, the "Nav-Band" stretched out and my foot now slides around a bit in these shoes.
CONSTRUCTION
The PureGrit 3s use an all mesh upper to decrease weight and increase airflow. This results in a very comfortable running shoe as well as making the PureGrit 3s relatively quick drying. It also makes these shoes chilly on colder days. I would strongly recommend investing in some good wool running socks if you intend to use these shoes in the spring or fall.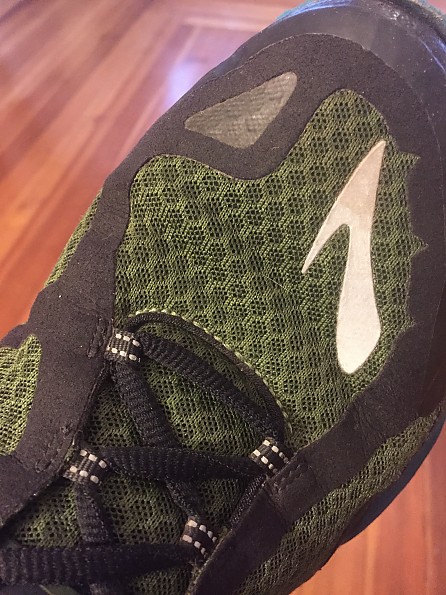 The sole has rubber lugs and is attached to a layer of foam padding, but the toe quickly comes unglued.  After only a week of use, the sole of my right shoe began to separate (not enough to worry me). A quick Google search turned up numerous similar complaints. However, once the separation appeared, it seemed to stop completely until about three months (give or take 500 miles) in (far beyond the expected lifespan of these shoes according to Brooks). Even now they barely look any different from the day I bought them plus or minus a few coffee stains.
The "Nav-Band" attaches to the sole on either side of your foot, then arches over the top of your foot just over the tongue of the shoe. If you look closely at a pair of PureGrit 3s, you'll see something that looks a bit like a giant rubber band—that's the "Nav-Band". It does its job at first, but the elasticity quickly wears down.
COMFORT
These shoes are incredibly comfortable if you have wide feet. Once the "Nav-Band" begins to lose its elasticity, they do start to get loose. I have lately found myself sliding around in the shoe a bit regardless of how tightly I lace them, but they are still quite comfortable.  
TRACTION
The lugs on the soles of these shoes do a good job of gripping wet stones. The lug pattern leaves plenty of space for water to run off in order to help avoid slippage. The biggest issue I have run into is that they lugs will grip, but the shoes are just loose enough that I now slide around inside them. Still, I have never fallen while hiking or running in my PureGrit 3s.
DURABILITY
I have been really impressed with the durability of these shoes. They have had a few issues, but overall they have stood up amazingly well. For 700+ mile old shoes, they barely look like I've used them at all. The lugs on the soles are mostly intact (they originally had far more texture, but they still grip pretty well) and the mesh upper doesn't show any wear at all.
As I mentioned above, the sole did begin to separate from the shoe a little at the toe, but it still isn't enough to really worry me. I have also found that the padding in the insoles breaks downs pretty quickly. This isn't an issue if you have good socks or swap your insoles. If you have plantar fasciitis on the other hand, this could lead to unnecessary discomfort. Finally, the elasticity in the "Nav-Band" breaks down pretty quickly. As a result, these shoes don't stay snug for long.  
Even though the cushioning and support of these shoes is starting to break down, I actually think I may be able to squeeze another 700 miles out of them before I have to go get a new pair. I'll probably have to replace the insoles, but this is a pretty good lifespan for a pair of my shoes!  (I usually end up either wearing the sole off entirely or putting holes in them somehow.)
Source: bought it new
Price Paid: $89

Version reviewed: 2014
These spring 2014 Brooks trail runners are tough, yet relatively lightweight. With great bite on rough terrain, be careful on smoother surfaces, but when they grip, THEY GRIP! After around 120-130 miles, these are good trail runners that become very good when aftermarket insoles are added.
Pros
True to size (normal arch and width)
Excellent grip on rough/porous surfaces
"Peapod" shoelaces
Lightweight (9.9 ounces each) and relatively breathable
Firm heal and toe guard protection
Stiff footbed/sole (pro and con)
Cons
No tongue trap/loop
Longer break-in period for grip on smoother surfaces
Manufacturer's insole = flimsy and thin
Stiff footbed/sole (pro and con)
Background
I've gone through several trail runners over the years beginning with my time in high school running cross country. I won these Brooks PureGrit 3 (new for spring 2014) as the June Trailspace Reviewer of the Month. I have worn them over around 120-130 miles, generally including day hikes or runs of 7-10 miles at a local state park, section hike of the AT, and even playing disc golf. I feel this covers enough feet movement and weather/terrain situations that I'm confident in my review.
According to Brooks' website:
Because of their lightweight construction and fewer materials, runners should generally expect shoes from the PureProject line to last approximately 250-300 miles. Retail $120.
Fit
I have a normal arch and a leaner foot (considering vertical height) and normal to slimmer width. My toes tend to splay out, so I generally like to go with shoes with a wider toe box. The Brooks fit well right out of the box. I did not have any issues then, nor have I had any since on the trail.
The wettest (and more importantly, most continuous) time I wore these were on a section hike of the AT.  Rain off and on for three days and very humid. Even with wet socks and soaked shoes, I did not experience any pinky toe or heel rubbing. Fit is fantastic…though should be considered with "Comfort" below.
An out of the box picture, noting features mentioned in the video and narrative review.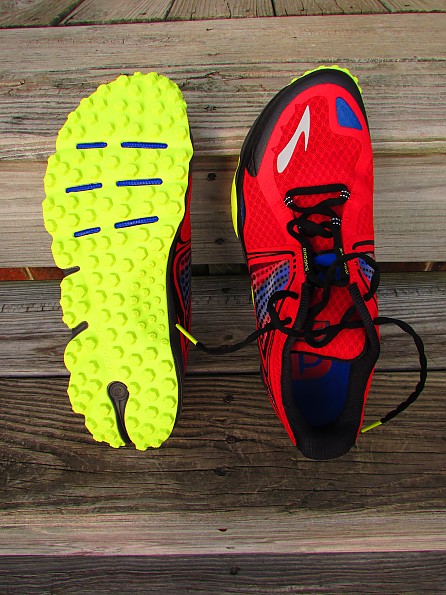 Comfort

I think most shoes, especially trail runners and more expensive shoes (maybe even boots), there is an expectation to replace the manufacturer's insole. I would definitely recommend this for these Brooks. While fit was fantastic, the insole was a typical flimsy on found in many shoes. 
The footbed and sole are very stiff. The inadequate insole combined with this led to some painful end of days during the first few times of using this. After replacing, no issues, though I do like to have a less firm footbed and sole (personal preference only).
I don't have a digital scale to compare, but the shoes' specs state that they are 9.9 ounces each. Compared to others these are lightweight to average. 
Another out of the box picture.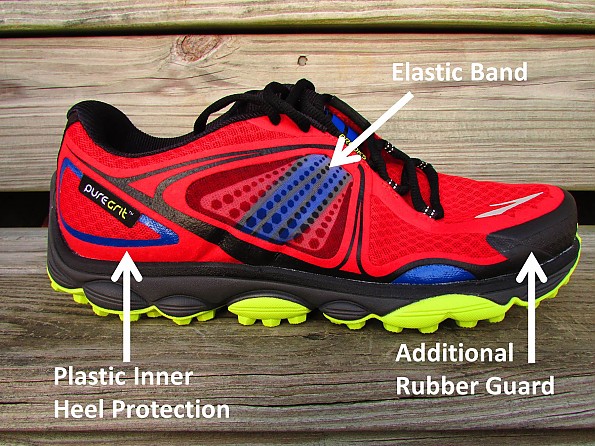 Support

There are several things to note about support, especially two that aren't seen in many trail runners that I've owned.
Additional material located around the toe box to act as a toe guard. Generally on hikes, notably on the last few miles, I may stub my toe on roots or on protruding rocks. The PureGrit's are firm to the touch but not necessarily stiff (anything to help stubbing is good in my book!).
I was also surprised when I opened the box to feel how stiff the heel of the shoe was compared to other. It feels as if there is a plastic to provide additional to heel protection and it keeps the heel secure from sliding around as well as if you were to get into a "pinch" so to speak with your heel and rocks. With the stiff footbed, it actually makes the shoe very rugged over the course of the miles I've put into them. I prefer to have a bit more give in my shoe, but it does lend itself well for rocky terrain.
Water Resistance
These shoes do not have any type of waterproof capability. If not waterproof, the next question that comes mind is "once wet, how fast/well does it dry?" While being noted as lightweight by Brooks, my New Balance MT610v2 are significantly thinner in the uppers but are still rugged (although the sole is delaminating over time).  When wet, they still dried fine overnight, but took a few hour, while I could take a long lunch break and my New Balances (humidity aside) could be dry.
Below is a picture comparison. I put a small flashlight in my New Balance and the Brooks. The flashlight is in the heel.  You can see how much more light penetrates the NB (left), even through the tongue when compared to the Brooks.  Light is even penetrating the NB on the sides to such an extent that you can see the tiled floor, unlike the Brooks. Breathability/thinner material vs. padding/comfort
Traction
The grip brings me back to early Nike track shoes from Bill Bowerman's waffle maker. While I was only a twinkle in my father's eye at that time, I have enjoyed the grip and bite which these Brooks have been able to give me. Out of the box, I found the grip to be a bit slick on smoother, damp or wet surfaces; this has been anywhere from rocks to paved surfaces. Both my wife and friend, who I've been with on the trail, have had fewer issues on the same areas. 
Over time though, the bite has been better, but I am still cautious. Considering these are trail shoes and will most likely be on dirt, mud, or mulch they have worked well.
When playing disc golf, a player wants to have a firm footing. When wanting to throw a disc 400 feet, it's important not to slip and grip well. Again, the Brooks did well and attest to their great traction.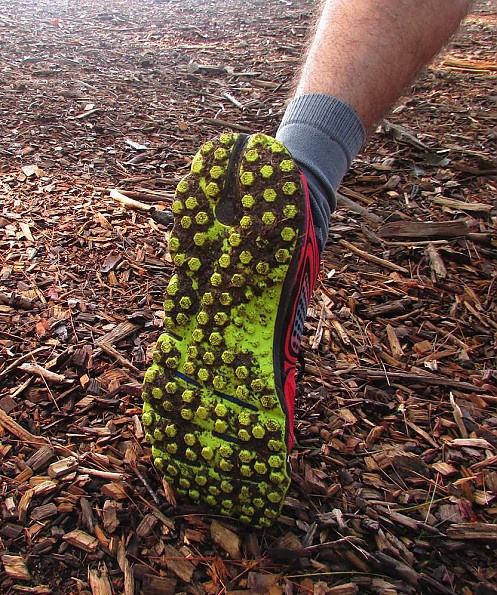 OTHER FEATURES
Two "Shoelace" Peas in a Pod
I thought my eyes were playing tricks when I looked at the peapod type of shoelaces. The last 9 inches of each end the shoelace are made this way (see picture) to make it so double knotting is not necessary (or at least to prevent lace slipping in general). The shoelace overall is 40 inches long.
With this and going through all eyelets, it was difficult for me to double knot the shoes. While on the trail, I needed retie once or twice per day. Look at the tongue picture below, you can see that it looks like there is enough extra to double knot, but this is where the peapod design almost gets in the way.  It makes it clumsy and difficult to get a tight double.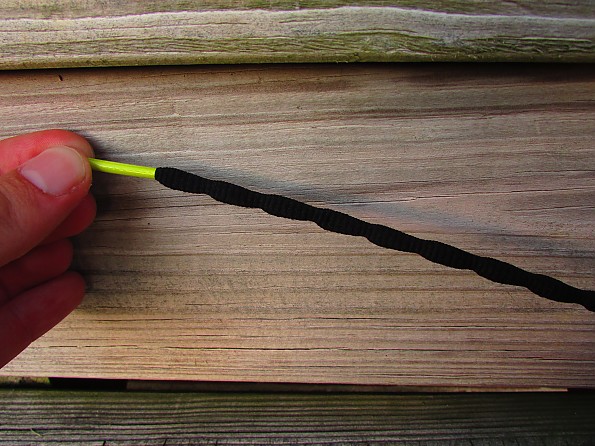 Tongue Tied
The tongue on these shoes do not have tongue trap or loop to tie the shoelace through in order to keep the tongue centered.  I often found the tongue slipping toward the outside. Maybe it was my gait, my tying method, not sure. I would have liked to see some other way to secure the tongue.
Note the tongue slipping and the length of the loops which have the potential for double knot, but the peapods make it tough.
Sole Mate
One thing common with lightweight trail runners in my experience has been separating of the sole from the shoe. I have not had any problems with separation in these. I love the comfort, fit, and breathability of my New Balances, but around this time in their life, I was showing signs of separation. These Brooks are holding up great!
Reflective strips along the front and back for visibility. Here you can see the front due to the camera flash.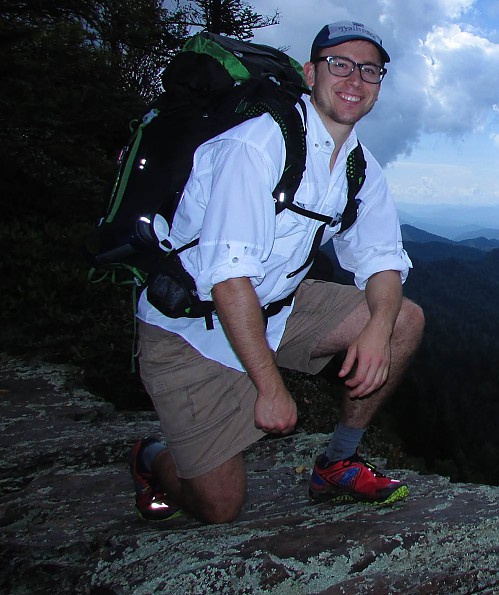 Summary
I wouldn't mind sacrificing a few features (plastic heel protection, lighten the footbed/sole rigidity, slightly thinner materials on uppers and tongue) while at the same time adding some (toe trap, new insole, new shoelaces). Nevertheless, with the changes that actually can be made such as shoe laces and insole, the PureGrit's have served me well and I will continue to wear them on the trail.   
Thanks again to Trailspace for this great prize!
Source: received it as a sample, freebie, or prize (Trailspace Reviewer of the Month prize!)

Your Review
Where to Buy
Help support this site by making your next gear purchase through one of the links above. Click a link, buy what you need, and the seller will contribute a portion of the purchase price to support Trailspace's independent gear reviews.
You May Like
Specs
Men's
Price
MSRP: $120.00
Historic Range: $59.83-$229.95
Reviewers Paid: $89.00

Weight
9.9 oz

Women's
Price
MSRP: $120.00
Historic Range: $82.95-$120.00

Weight
8.1 oz

Recently on Trailspace