Brunton Raptor

Top 25 in Compressed Fuel Canister Stoves
The Raptor has been discontinued. If you're looking for something new, check out the best compressed fuel canister stoves for 2021.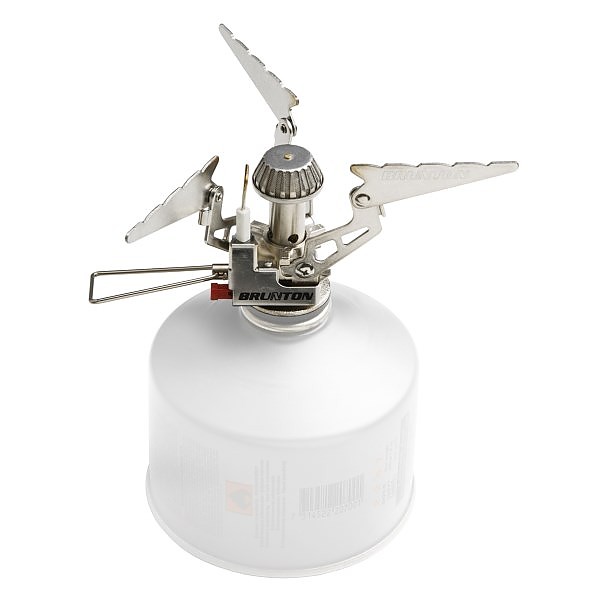 Specs
Price
Historic Range: $32.93-$61.00
Reviewers Paid: $31.00-$60.00

Reviews
19

reviews

5-star:

14

4-star:

5

3-star:

0

2-star:

0

1-star:

0
Excellent, durable performer that starts right up and gives a very consistent flame.
Pros
Works without problem or effort
Very compact and light weight
Well made and durable
No matches or lighter needed
Cons
They don't make them any more
Would be nice to have a hard case to protect it.
The go-to pro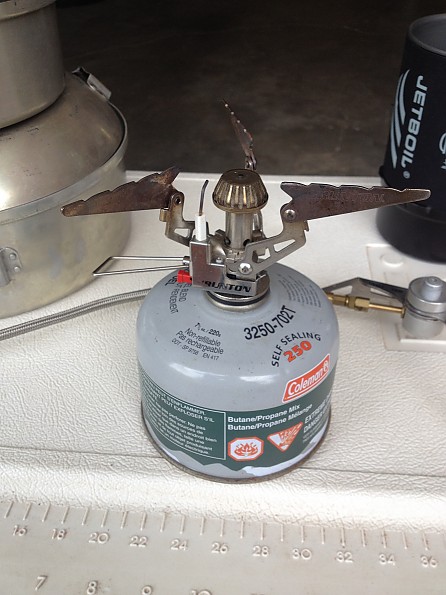 compared to my first stove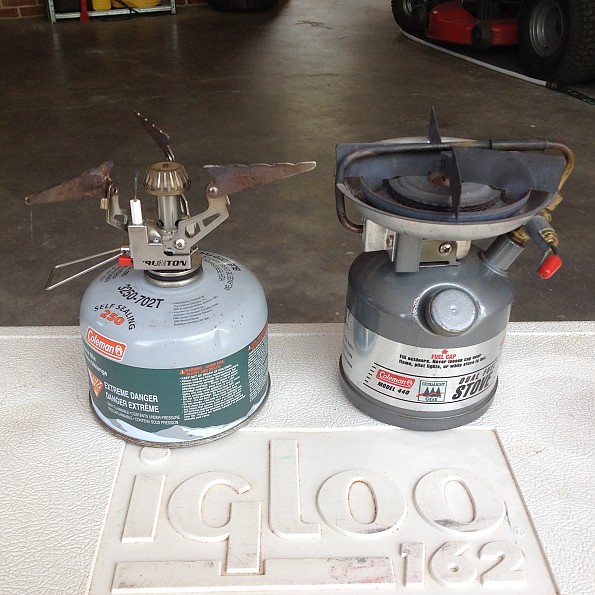 and that is a"mini" bic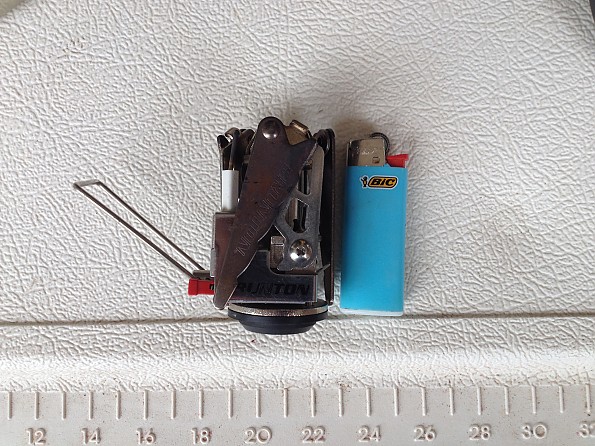 A quarter, are you kidding me?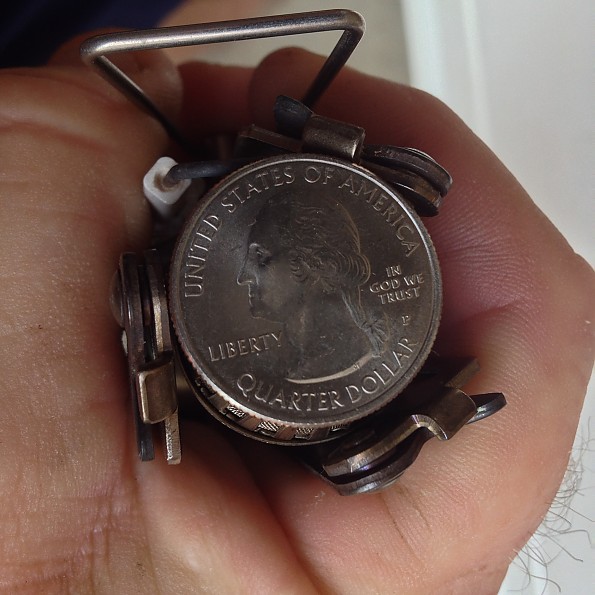 In an 8oz cup with fork, spoon, and mini bic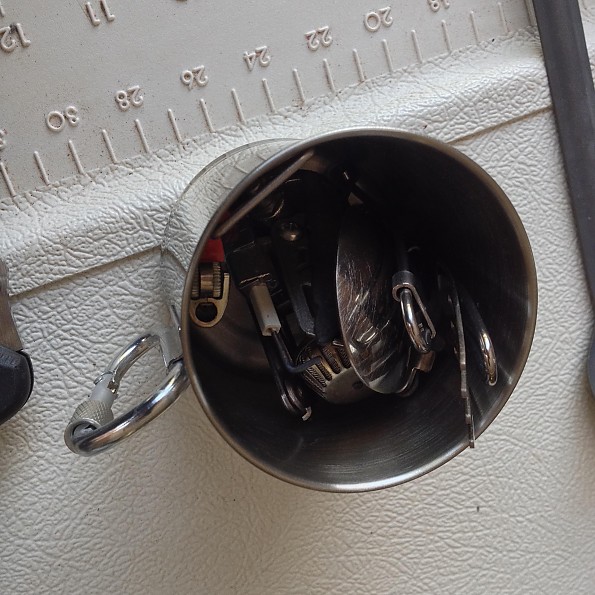 2in and hose is about 16in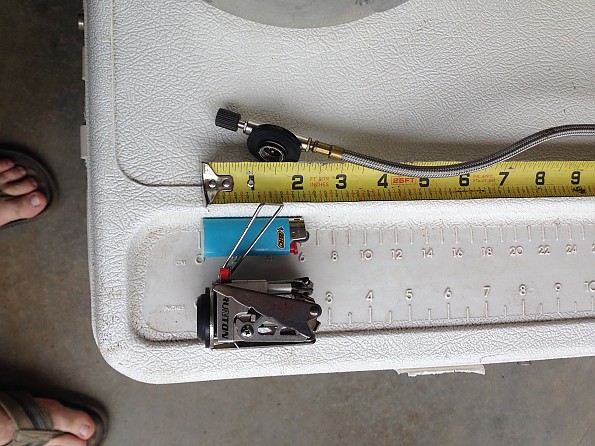 6in high on mid size canister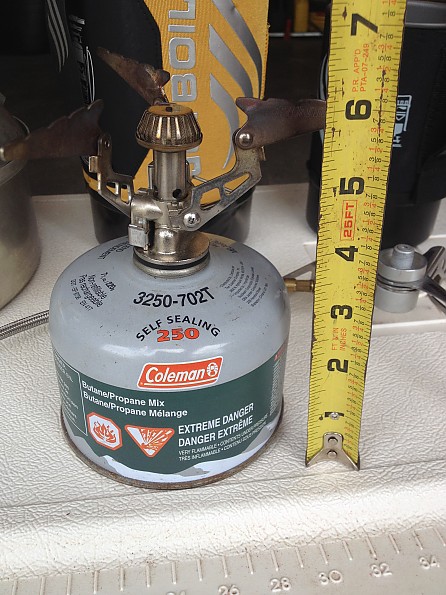 red is starter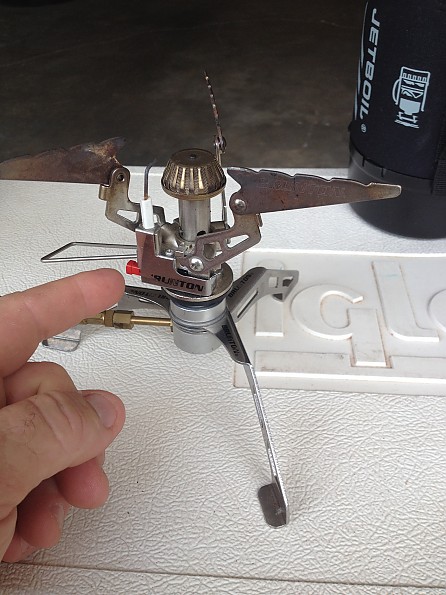 sparker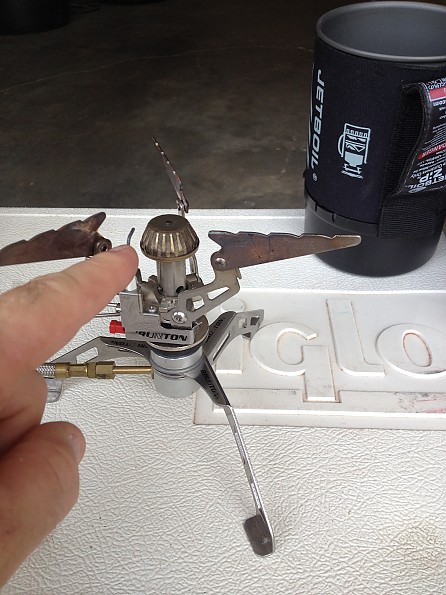 flame adjuster or regulator on stove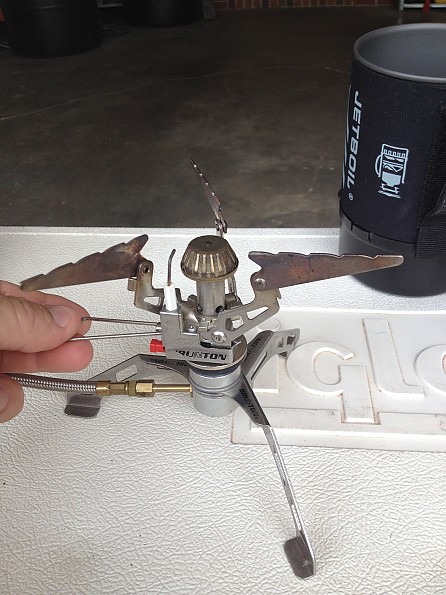 flame adjuster of regulator on hose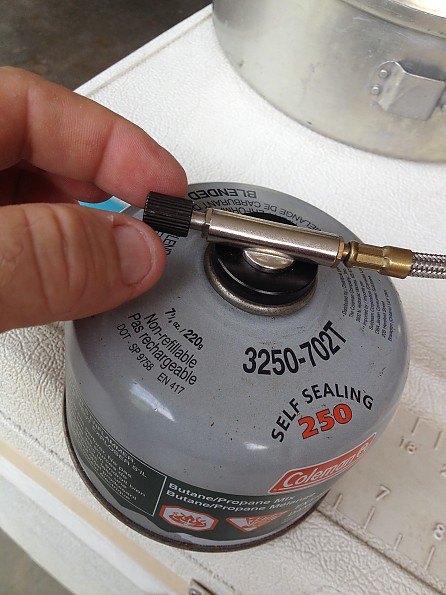 with hose and stand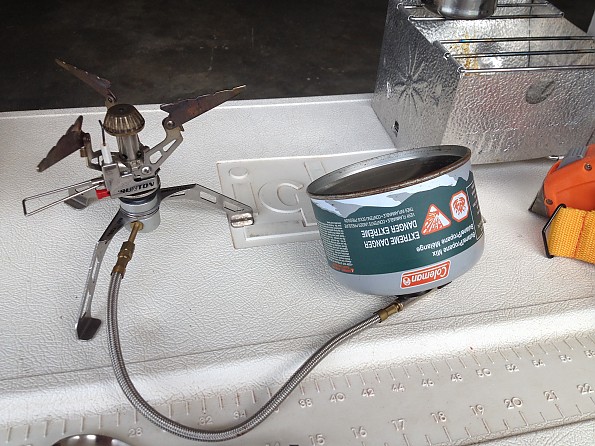 can handle big loads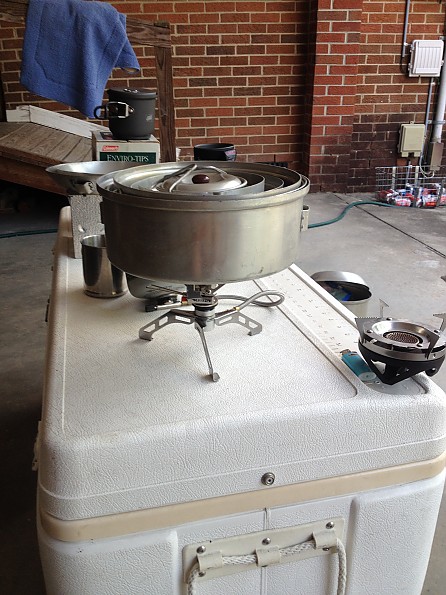 serious flame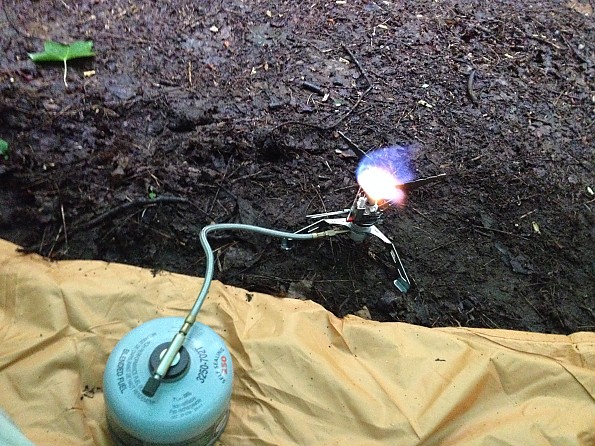 coffee anyone?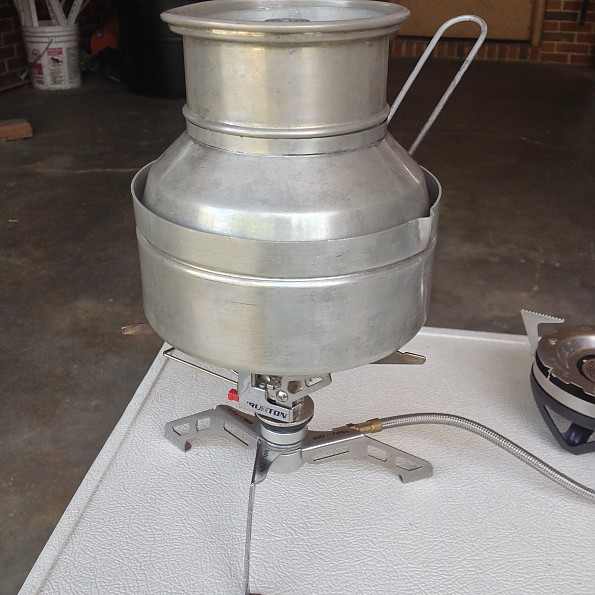 compared to left to right Esbit, Jetboil (pots in back), Coleman 440, and a sterno stove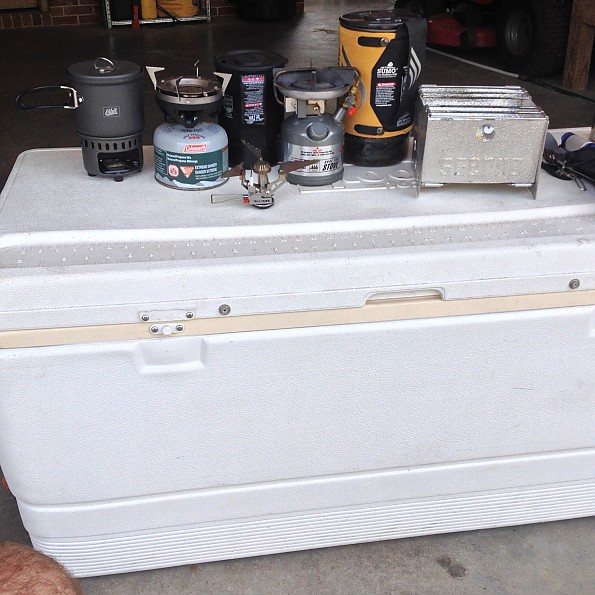 Lets eat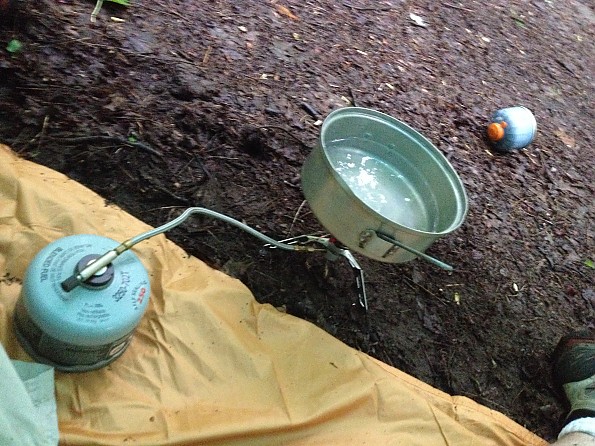 I bought this stove sometime around 2006 or 2007 for $29 at Academy Sports and have never had a problem with it. I could not be happier with it. I had wanted an Optimus Nova but just couldn't come up with $150 for it at the time. Then I saw this one on sale and walla.
I'm not going to get into all the metrics, I'm just gonna say, this cat works like no other, probably have used it on 30 or more occasions all the way from almost sea level to 6,200 ft  and without fail it has cooked dinner, even 4 steaks on one overnighter, time and again.
It will hold the heaviest pots and then I found the fuel hose stand for it (didn't even know they made one till I saw it) at Sportsman Warehouse for $14. The hose is not really necessary but I had to have it. And it works great also, a little more stable for the heavier pot and pans, plus it allows you to adjust the flame from a greater distance.
I'm not a chef like one of my brothers, so I'll just say this, the flame can boil as fast or slow as you want in very cold conditions, about 5 to 6 min. Not as fast as using a Jetboil, but is much better for cooking. And more stable.
Source: bought it new
Price Paid: $29/$14 for hose and base

I was debating getting either the Raptor or the MSR PocketRocket. I went to a local outfitter to check out both of the models, while at the store my wife accidentally bent the supports on PocketRocket's display model. She isn't that strong of a women so right away I became suspicious of the strength of the PocketRocket.
Right next to the PocketRocket was the Raptor, this made comparing the thickness of the supports much easier, and there is in fact a very noticeable difference in the thickness of steel used. After my quick trip to the outfitter I started reading the reviews of the two stoves. The Raptor was the clear winner in user reviews (as evident below). Besides all the reviews I read and trips I took the deciding factor was the piezo ignition system and the overall quality of the Raptor. If you are looking to save money and time buy the Raptor, you won't be sorry.
Great little stove. Easy to light and adjust flame. Very compact and durable. Yes, I would recommend it.
Pros
Small size
Light weight
Durable
Built-in ignitor
I have burned through more than 30 fuel canisters without a problem and I would buy it again in a heartbeat. 
The only reason I gave 4.5 rather than 5 stars is more about the fuel than the stove. In temps below 0 deg F, the compressed fuel gets fussy. I have use some old flexible aluminum wind/heat reflectors to keep the stove and canister warm and it works just fine. 
The other drawback to compressed gas stoves is dealing with partialialy used canisters. You can't top them off for the next trip. I try to be good about marking each canister with the approximate burn time so I have a better idea of how much fuel is left. I use the small canisters so it's not a big deal to carry two on most trips. If space is a concern I use a fresh one. 
I've dialed in the burner to my pot pretty well (I use a GSI Halulite Ketalist) and with the flame set to just starting to wrap up the sides, 2 cups of water boils in 3.5 minutes at 3,500'.  I can get 25-30 boils out of a 4oz canister, so taking off on a week long trip with 1 new canister is fine.  The stove, fuel,foon and camp soap all fit inside the ketalist for a very light and compacy kit.
Yes, I would recommend this stove to anyone wanting a compressed gas stove.
Source: bought it new

Very solid for its size. Extremely small and lightweight. Fits great in my mess kit, and has been an extremely valuable addition to my technical gear.
Pros
Small
Lightweight
Sturdy/solid
Great value for price
Precise flame control
Piezo-electric ignitor
Cons
Color tarnishes from flames
Lighter doesn't work at high elevation
Ladies and Gentlemen, may I present to you perhaps the greatest backing stove I have ever had the pleasure of owning. I'm stacking this up against my MSR Pocketrocket, my Optimus Micro-Crux, and my few other stoves (Coleman Ultralight, Coleman Peak 1 Feather 400, MSR Superfly).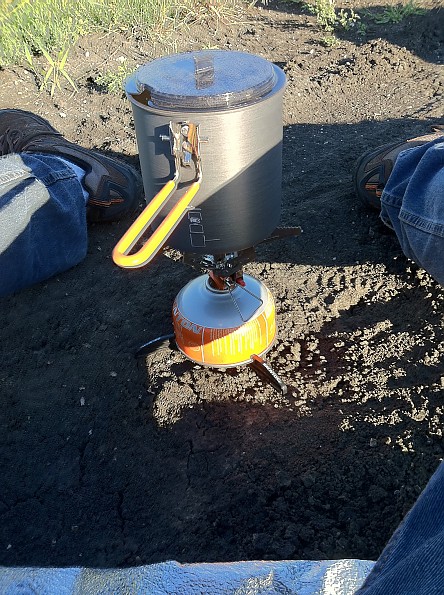 I bought this stove in 2007 to replace my first two stoves (which were both Coleman brand and very heavy). The second stove I bought was my first canister stove and I absolutely loved the convenience, but the stove I had purchased left a lot to be desired when all I needed to do was quickly boil water for dehydrated meals and this little raptor was the answer. 
IGNITION
It's extremely convenient to light as well. As mentioned above I have a few other stoves and all of them universally need lit with matches or a firesteel (and I've used a lantern lighter) except for this one. This stove has a small piezo-electric ignition system on it. You turn on the gas flow, hit the button and in literally an instant you have a small roaring flame. I will warn you though, at high elevation, the piezo doesn't want to work so make sure you bring something to light it with! I had it fail me at about 10,500ft when we were up in the mountains last year!
FLAME CONTROL
The flame is easily controlled via a wire triangle that sticks off the side of the stove and is adjustable from a tiny little flame to a roaring inferno, but don't be mislead by that statement, it's extremely fine. I have no problem finding a comfortable level in between the two to get the water boiling. After my experience with flame control being poor on the Crux and the Pocketrocket, I was extremely pleased that the adjustment has been so fine. 
COOKING
As far as actually cooking with this stove it's definitely best suited to boil water for preparing dehydrated meals. I have, however, fried individual eggs, made all manners of pasta including ramen, spaghetti, and even stuff like hamburger helper with no problems. If probably won't handle a large frypan well. My GSI Soloist pot fits great on it, however.
When used with a wide-base (4.25") can and especially with that supplemented with a can stand it's extremely stable and I'm not at all worried about it tipping over and spilling boiling water in my lap. I can usually cook several meals with one can of fuel as well. Also, I haven't timed the boil using my stainless kettle, but using the aluminum soloist, I can boil a quart of water in about 4 minutes. 
PACKABILITY
Compared to the crux, this stove seems large but it's also about 100x more solid, but when setting it next to the Pocketrocket or the Superfly, it seems tiny. It's about 1.25" in diameter when folded up and about 2.5" long. In all I can fit it about anywhere I need to, which is lovely! It only weighs 5.4 oz according to my scale so it practically weighs nothing.
SUMMARY
In closing I'll just say that if you can find this for sale ANYWHERE, I would HIGHLY recommend it. I've had it for five years and I use it more than all of my other stoves combined. The only thing I've seen change about it over time is the color tarnished to a singed brass color. It doesn't seem to have effected the performance of the stove at all, and I'm sure with a little TLC I could probably have it looking brand new. 
Source: bought it new
Price Paid: $44.99 USD

I carry a Raptor in a Snow Peak Mini Solo along with a 100 gm canister and folding spork. In the age of titanium gear this is not exactly a lightweight but it does have a few things going for it.
It folds up and packs small.
It can flat crank out some heat.
Those long legs are great for holding a wind screen.
I have punched holes about 1" up from the bottom of a foil wind screen that I "hang" onto the legs. The wind screen does not extend all the way down to the tank and reflects little heat back to the cylinder.
The Solo is a smaller diameter than the legs leaving a small gap between the cup and wind screen. The bulk of the heat travels up the side of the solo pot for great heat transfer. Keep the flame moderate and this works most efficiently conserving fuel.
Most canister stoves have stubby little legs that make the use of a wind screens difficult,  impractical or if misused hazardous to the fuel cylinder because reflected heat increases cylinder pressure. The extra bulk gives the Raptor some advantages over the uber-light jobbers in my opinion.
AR
Price Paid: Can't remember. Couldn't be too much, I'm cheap

This is a very compact stove, and I love it. I have used this in many different temperatures from about 18 degrees to 90+ and it worked very well every time. It also works pretty well in windy conditions. In prime conditions it will boil a half gallon of water in under 7 minutes. Very efficient on fuel too! Highly recommended.
Price Paid: $45

This is a wonderful little stove. It packs up nice and small. W/ the can stand I'd say roughly 3" long and 1.5" wide overall.
The stove boils nicely. I've never timed it, but it is quick. It has a nice adjustment to simmer a soup or stew and is pretty efficient on gas. 3 days and 2 meals a day for myself and my daughter, on an 8 oz can of fuel and we usually have fuel left over for a day hike. Fits nicely in my IB cookset w/ a 4oz can of fuel too.
I really can't ask for much more out of a stove than this delivers. I highly recommend!
Price Paid: $31

Excellent Compact Stove
When I purchased this stove I knew I wanted a compact, compressed fuel canister stove. Honestly I was looking for the other brand's stove, when I looked at it the salesperson came over and suggested this stove and let me use the demo model in the store. I was very impressed and purchased it.
Pros: This stove has a wider base for cooking on than some other stoves of this type. It collapses to the size of the palm of your hand. Push button ignition works great, and is convenient. Accessories (Fuel can add-on) increases stove stabilization. Controllable output. Nests with fuel canister in small pot of cook set (the stabilizer base accessory fits into the handle of my cook set as well).
Cons: Output, though controllable, is so only slightly. Durability seems like a possible issue, the collapsing arms that hold the pot fold in on themselves to a very compact design but soot build up and even slight manipulations render them difficult if not impossible to move. Even after limited use I was forced to clean and slightly bend the arms back to a position that was more acceptable for the stove. (Has not prevented me from ever actually using the product as specified.)
Note: I bought this stove in a 2 pack with a Brunton Fuel Canister and after later spotting the same stove in a different store I found that without the stove combo pack it comes with a nice little nylon pouch in which to store it in, I have contacted Brunton numerous times in an attempt to obtain one of these pouches to no avail.
Overall: I really great product that is as extremely easy to operate as it is light and compact.
Price Paid: $39

I bought this stove after reading the previous user's review, and after much research. I have to say, I could have saved the time in reading and researching. This thing is a slam dunk with eyes shut deal. It performed superbly. I boiled the water in about a 1.5 minutes. And it's so small, you can stow it in your pocket or in your mug. The pot gets literally glued to the serrated pot supports. It grips it with fangs like grip. I am happy I made this purchase.
One minute thing, if cold and in hight altitude, it will take a few times for the piezo to fire the stove. But when it fires up, it is on and roaring. And it can also simmer. LOVE IT!!!
Price Paid: $34

We've been using a liquid fuel Apex stove for years and I wanted to reduce weight without losing efficiency. After being impressed by the reviews of the Raptor on several web sites, I took the plunge and bought one.
Just got back from a backcountry trip that hovered near 10,000 feet the whole time. I didn't have much faith in the piezo starter at this altitude, so I brought along matches to light the stove. I didn't need to. On the first push of the piezo starter, the stove lit right up to a roar(!) and we boiled enough water for our freeze dried stew in about two minutes.
The entire trip, everybody else in our group was amazed at how quickly this little stove boiled water for our food. It is loud, there is no doubt about that, but I can live with the noise for a couple of minutes to have HUGE pot supports and something that can boil water this quickly. The pot supports can handle large weights and sizes of pots with aplomb because of how large they are, and they fold away ingeniously when not in use.
The only thing that would concern me about this stove is the lack of a wind screen. With even mild winds, the flame would flicker and oscillate in intensity. In high winds, everybody would have to huddle around the stove (not necessarily a bad thing when it is really cold out) or cook in the vestibule of your tent to get the maximum efficiency out of the stove. Other than that, though, the stove is awesome and a great deal at $35-40.
Price Paid: $40

Compact efficient stove that always works. Bought in 2007 with a small cannister included for $35 at Big 5. Tried it ASAP at home and immediately went back and bought another one. Now in 2020 both stoves are still going strong. The Raptor was made in Japan with obvious excellent quality control.
Pros
Very compact
Durable
Efficient
Competitive with other more expensive products
Cons
None. Unfortunately hard to find for purchasing in 2020.
Experience
50 years of backpacking
Source: bought it new
Price Paid: $35 with included small fuel cannister

Easy lighting, reliable, and tiny — lots to like here
Pros
Easy lighting piezo system
Reliable
Durable
Small
This little backpacking stove has served me well.  It's very small and well constructed.  It's also easy and simple to use. 
The piezo lighter always fires this thing up for me on the first try, every single time, and has given me no reliability issues.  Flame control adjuster works fine, taking it from a subtle low flame for heating/simmering to a full on flame for boiling. 
The three pot supports are plenty sturdy and engender confidence.  This stove fits easily into my backcountry cookware pot along with two small bowls, a spork, and a fuel canister. 
All in all I've been unable to find anything to dislike about this pup.
Source: bought it new

I've really enjoyed having this stove along on trips. I've used it 10 times and thought it time for a review. It is dependable and sturdy, I've dropped it on occasion and it takes the beating and lights up.
I've found the fuel adjustment handle to be annoying for storage (feels springy and makes it harder to store) so I just remove 1 side from the stove mount and it packs up fine. Also, mine did not come with the hard case, only a soft bag. Still, this bag is great because it's soft and won't scratch my pot.
As far as cooking times, I think in the open and at different temperatures this can vary greatly. For example, at home in my back yard this summer it took me 4 minutes to boil in the Minimalist as compared to almost 7 minutes on the AT at Sun Fish Pond (Delaware Water Gap). Conditions at Sun Fish were 37 degrees F and a slight wind. However, this stove (as opposed to others like the Primus TiLite) is unaffected by temps below 30. It took me 7 minutes to boil water at 1600ft at 19 degrees one morning.
I won't lie, took the temperature with my watch, but was off hand so should be pretty close estimate. Just some examples here, not making any claims specifically, jus sharing my experience. All this means to me is just to make sure I carry enough cannisters.
As far as packing, the stove fits with room to spare inside my GSI Outdoors Pinnacle Dualist and snuggly in my GSI Minimalist. I think the only other stove of this type I would consider would have been the MSR Pocket Rocket that my friend carries when we go backpacking. It has a wider flame which I like, but using a lighter or something else to ignite it cannot compare to the self-starting electric ignition in my raptor. For quick meals we found ourselves using my Raptor instead of fiddling around the pack looking for his lighter. 
I really love this stove for the price, and in no way regret purchasing it. Hope it lasts me several years more!
Price Paid: $59

What a great little stove. It doesn't get a whole lot more compact, light, or user friendly. Another great product from Brunton. I've used the stove before (a friends) with success and hope my new purchase works as well.
My only nitpicks would be that the Control Handle is tension loaded and therefore is forced into the 'useable' position at all times. This makes packing and unpacking a little more difficult than I think it needs to be, especially with gloves on. I'm pretty certain this tension will soften over time.
Additionally, the only photo of the nylon carrying case that I found online was different than the actual case that came with it. The online photos depicted a more solid formed type case that appeared a little bigger but looked like it would provide a little more protection than the mini 'stuff sack' type case it arrived with. A simple google search will produce the photo in question (no url allowed in the review).
These are simple things that don't really effect the actual functionality of the stove but it would be a nice touch if websites were a bit better at providing comprehensive pictures of what actually accompanies the product so as not to cause disappointment when a purchase is received.
The hardest part for me was deciding which Brunton stove to buy and I think I'll be very happy with my purchase. All of that said, go Brunton! Another success.
Price Paid: $32

I have had this stove for almost a year now and I can tell you for backpacking in the southeast, I would not have another. It works like a dream and folds up small. I have never had a problem with it not lighting and I would recommend it to anyone.
Price Paid: $60

Had a short backpacking trip with my son's Boy Scout Troop. We took the younger boys on their first trip and wanted a stove they could use without using liquid fuels. Jumped down to my local sporting goods store and saw this for under $40.
We hiked and camped at about 9,100' and this stove fired up faster and worked better than all of the other high priced stoves that the other leaders were carrying. The piezo electric start was just the icing on the cake. I had my stove up and running while everyone else was trying to get theirs lit and it stayed burning even with the gusts of wind that were present the two days we were camping.
I think I've just replaced my other stoves.
Price Paid: $39.95

The best stove that I know of. I've used it for backpacking, car camping, kayaking and winter camping. performs flawlessly in all kind of temperatures and conditions. I would recommend it to anyone.
Price Paid: $40

I researched all types of backpacking stoves before buying my Brunton Raptor. Factors that were important to me were quality, weight and price. This stove met and exceeded my expectations.
I like it also because I can go from backpacking to kayak camping and it performs excellent. The piezo electric start and large wire fuel valve are an added bonus. You will be pleased with this purchase. Shop around for best price, your unlikely to find a used one, so buy new. Got mine off ebay.
Price Paid: $36

I do some travel camping on my ATV and this is the equivalent to backpacking as far as space for gear. This product looks, feels, and operates like precision. You don't have to use a wind blind, love the compact design and sturdy carry case, but best of all it puts out more than enough horsepower to get you fed and on your way! GREAT product, BRUNTON!!
Price Paid: $59.95

You May Like
Recently on Trailspace