Optimus Crux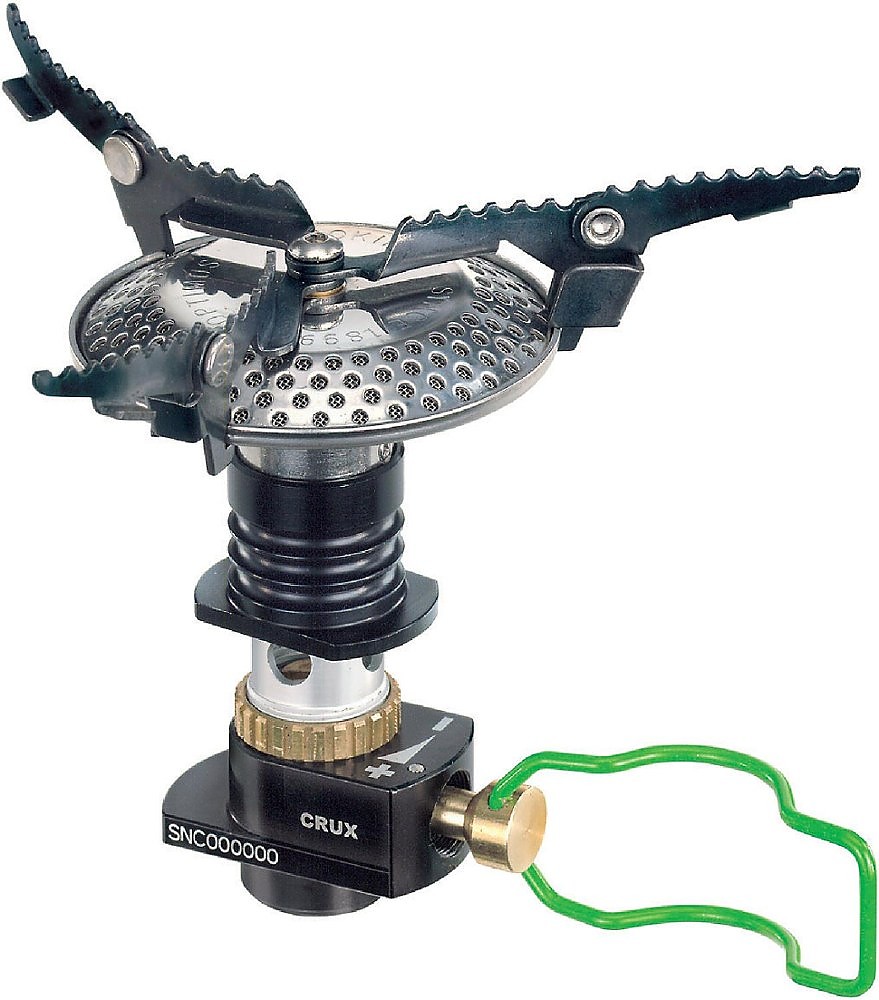 I brilliant idea that has its drawbacks. Suited for summer conditions in sheltered areas.
Pros
Pack size is ingenious
Weight
Cons
Unit wobbles slightly so feels unstable
Heat output in cold windy conditions
This seems like a stroke of genius—make use of the dead space at the bottom of the canister to stow the stove. In principle it is but manufacturing something this compact comes at a price.
The designers at Optimus were clever to spot the dead space at the bottom of a gas canister and consider if a stove could be made to fit in it. In this respect it is a brilliant idea. It certainly fits in larger canisters, but I am not sure about smaller ones. 
With everything stowed in my MSR Titan pot, I took it on a trip along the South Downs Way in January. I was looking forward to seeing how it would perform but I was disappointed. It was a fairly cold day (but still above freezing) with a some breeze and it failed to bring a couple of cups of water to a rolling boil.
Worse, due to the hinge mechanism (allows the burner to be folded so it fits in the space at the bottom of a gas canister) there is a slight wobble so an already unstable pan placed on top of the rig has even more potential to spill. It felt quite wobbly whenever I touched the pot and this made me nervous.
I really want to like this but it is heavier than my trusty Vargo Ti (such a shame they do not make this any more) and the Vargo feels much more stable. What's more, it will bring two cups of water to a rolling boil. It will probably be fine in summer in more sheltered locations; just watch that wobble. 
It is a great idea in theory but other stoves in this competitive market are more powerful and stable. They are so small that there will be room in a rucksack somewhere, even if it isn't at the bottom of the canister. 
Source: bought it used
Price Paid: £25

Good stove.
It is a little loose when 'snapped' into position. This is the only downfall once you have placed a pot on it. Bear in mind you buy this stove for its packability and light weight...so, deal with the smaller pot arms and loose burner.
I have read reviews that it shakes when a pot is at full boil however, I have NEVER encountered this problem. I wish Optimus would get a hold of me because I could fix this whole 'loose' issue without compromising weight or overall design.
The best part of this stove is that it simmers extremely well. The 12,000 BTU's are a lot! I have never had to turn this stove on full to cook anything, regardless of wind or temperature.
It is difficult, maybe impossible at this time, to find a lighter or more packable stove! It is well worth the few dollars Optimus charges for this unit...BUY IT!
Enjoy this stove as much as I have.
Price Paid: $49.99 (CND)

Burns hot and folds small at the great price.
Pros
Tiny storage size
Boils fast
Cons
Folding head is slightly unstable
Bought this stove for an upcoming trip to the Overland Track in Tasmania. 
Straight out of the box I was amazed at how small this stove folds up, fitting easily into the dome underneath the gas canister both of which fit easily inside the Terra weekender saucepan and frying pan set. Coupled with the weekender kit you have a complete set for one that takes up just a little more space than a Nalgene bottle.
Once I saw the size of the burner I thought the stove would perform quite poorly, boy was I in for a surprise, this stove burns hot, boiling a liter of water faster than my electric kettle at home. Setup was also a breeze taking less than a minute to get it all ready. However the gas control can be a bit sensitive making a simmer a little fiddly, but still easily achievable.
I've only used this stove a couple of times so I can't yet comment on the amount of gas it uses but I've made several meals and the gas canister still doesn't feel any lighter.
The price for this stove is reasonable with the burner and cookset coming in at under $100. 
As with a lot of stoves this size the small legs can make larger pots a little unstable so you have to be a little careful about how everything's positioned especially given that the folding head can wobble a little bit. The lack of automatic ignition might also irritate some people who don't like to carry a separate lighter.
To summarize I'm very happy with this stove it packs small and burns hot, exactly what I need.
Source: bought it new
Price Paid: $97 AUD bought with the Terra Weekender Cookset

Good tiny stove for boiling water.
Pros
Very small
Hot
Many storage options
Cons
Head somewhat loose
Arms heat up quickly
Flimsy burner control
Got this stove back in 2008 and have used it a bit since. The stove definitely follows a KISS mentality — lock the head in place, flip out the arms, screw it on a iso can, flip out the control wire and turn, light.
I find the control works OK, however you need to be careful not to turn too far one way or another. Not what I would call a simmering stove, but I haven't tried it for that purpose, only for boiling water. 
This stove can put out quite a bit of heat, so much so that I find the arms  can get red hot and seem to bend a bit under the weight of heavier pots (I have an MSR Titan Kettle which doesn't do this).
I'd say this stove's main advantage is the size it can fold down to, combined with its neoprene case and a shorter iso can (such as a MSR 115), this stove fits perfectly inside the Titan kettle and the neoprene keeps it from rattling.
For boiling water, and a very packable package I like this stove a lot, but if you were doing anything more complex or anything more than one or two people's worth of boiled water I believe there are better options out there. 
Source: bought it new
Price Paid: $60

Great lightweight stove.
This thing is tiny and lightweight, when in its little neoprene case it can be carried anywhere (even in the hollow in the bottom of the gas canister).
I use this with the optimus terra cookset most of the time, great combo.
The only problem I have is that when trying to use really low heat it often goes out when bumped.
Like most stoves that screw in to a gas bottle it can sometime be a little unsteady, but that is usually down to user heavy hands while stirring!
Price Paid: $50

Great little stove! I've read some people had a hard time with the flame adjustment to simmer, not me. Lights easy, folds down tiny, and flame adjustment from barely there to jet engine.
Pros
Lightweight
Carry case
Sturdy construction
Cons
Arms are a bit small
Wind can be an issue when "simmering"
This little pocket stove works great. Fires right up, although no electronic ignition, just bring a lighter. Simmers very well if you're not in the wind.
While it is sturdy enough for a small camp skillet, I would avoid heavy iron skillets or pots, those are best used on larger stove.
The folding arms make for a small packing size, and the carrying case fits in the recess of the fuel canister. Just remember to not grab it and try to fold it right after you turn it off.
Source: bought it new
Price Paid: $40

Nice and small but the black stove is a older version and has a little shake to it. On top of being small it shakes!
The new orange stove - still folds and is much more stable.
Price Paid: $65

The five main things I like about this stove is: 1. 12,000 BTU's, 2. The way it folds down & fits into the bottom of your fuel canister, 3. Very lightweight, 4. Constructed of high quality components for durability and longevity, 5. Fuel efficient. Uses 5g of fuel to bring 8oz of water to boil. If you're a stove nut like me, this is a must have for your collection.
I love this little stove! Just bummed they came out with one 11 grams lighter after I bought mine. Lol!
Source: bought it new

Your Review
Where to Buy
Help support this site by making your next gear purchase through one of the links above. Click a link, buy what you need, and the seller will contribute a portion of the purchase price to support Trailspace's independent gear reviews.
You May Like
Specs
Price
Historic Range: $35.39-$87.99
Reviewers Paid: $40.00-$65.00

EUR 49,95

Recently on Trailspace