CamelBak BlowFish

The BlowFish has been discontinued. If you're looking for something new, check out the best hydration packs for 2023.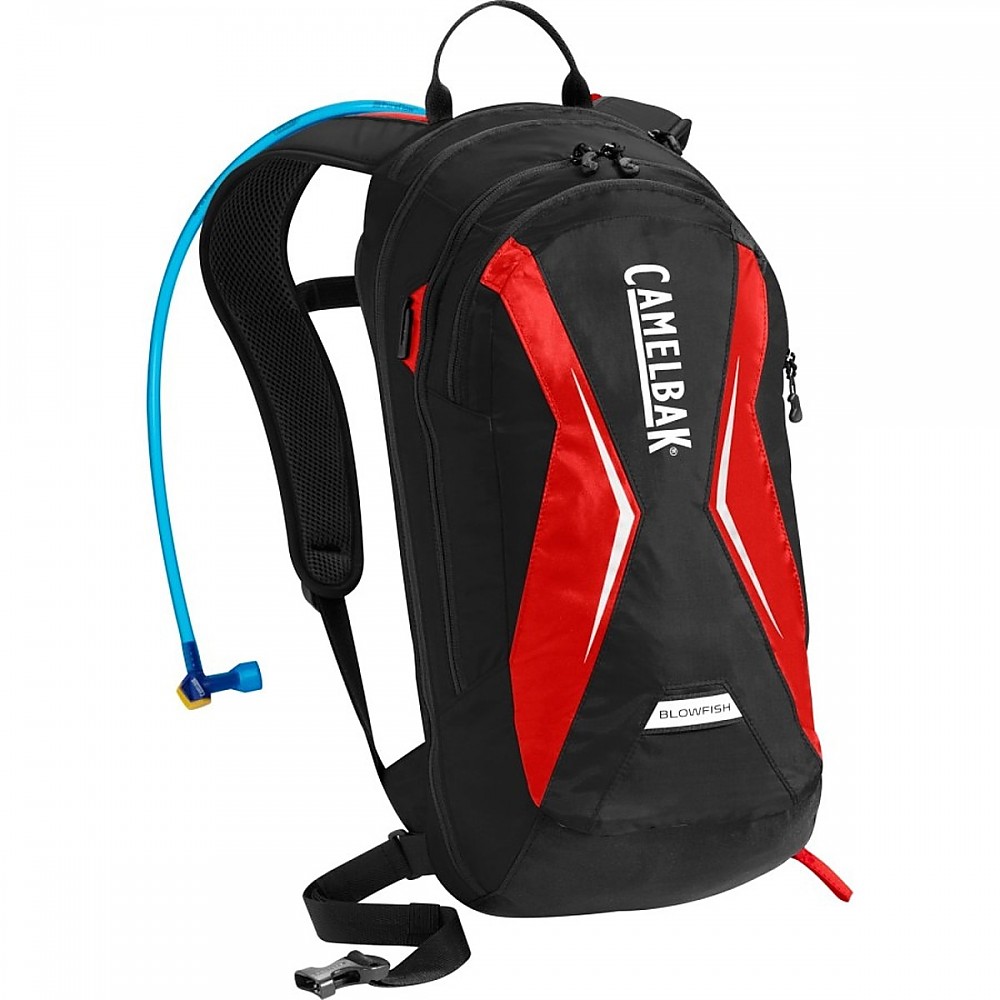 Great multi-sport must-have! Whether you are hiking, cycling, fishing, or just plain walking, you'll have a hard time finding a product with greater utility.

No more bottles rolling around stabbing you in the kidney, no more fumbling through endless pockets searching for a drink!
Pros
Carries a lot of water without pain or inconvenience
Useful extra pockets and key ring, wonderful
Extremely durable design
Comfortable and easy to adjust
Bright colors and reflectors to keep you safe on the road
Cons
Can run out of water because it is too easy to drink
Heavy on your butt if cycling
Bright colors not discreet for tokers
I was given a red Camelbak Blowfish just after my sister gave me a mountain bike. It is hard to say which product was more useful, because Camelbak is built for survival.
It holds your money, keys, and quite a bit of gear if you use it correctly. The water reservoir is easy to remove and clean, and it is a relatively pain-free and quite convenient means of transporting water from one place to another.
It is possible that your demand for extremes may outstrip the capacity of your Blowfish, but for beginners, there really isn't a comparable product in this price range that delivers the utility and performance of the Camelbak Blowfish.
I am a former cyclist and avid fisherman, and was able to carry virtually all of my gear in my single, tiny red backpack.
It was one of the nicest and most thoughtful gifts I've ever received.
If your budget allows, you probably won't be sad that you sprang for this great survival tool.
Source: received it as a personal gift

I bought this particular CamelBak because of its simplistic design. Other hydration packs had either too many pockets for my needs or were too expensive. I have been using it for about a year, and use it every time I set out on a day hike or mountain bike ride. My longest trip with this pack has been 4-5 hours in length on a mildly warm day, and I did not run out of water.
As far as the cargo space goes, this pack does the job for my needs. On cooler days I usually wear an extra top and bottom layer, but those usually come off and get stored away in the pack shorty after hitting the trail. If I think I might get rained on, I throw a light, water-resitant shell in the pack and I'm good to go.
Even when I bring my dog along, her water canteen goes in the pack as well without a problem. So, the most I have gotten in the main compartment of the pack was a pair of warm-up pants, a light water-resistant shell, the dog's water canteen, and some snacks. There are two smaller front pockets where I keep my wallet, phone, keys, utility tool, firestarter, and knife. I've only used the expandable zipper feature once or twice.
Overall, it's a simple pack that is great for both hiking and mountain biking. I would recommend this to a friend who enjoys half-day trips on the trails.
Design: Hydration Pack
Size: 3 L resevoir; 12 L Cargo
Number of Pockets: 3
Max. Load Carried: 10-15 lbs
Height of Owner: 6'1"
Price Paid: ~$75

I have been pleased with my CamelBak hydration pack. I wanted somthing small enough to not be in the way when I am biking yet big enough to use on light hike. The BlowFish is the perfect answer because it the main compatment can expand when you need more room or collapse when you want less bulk. It has one smaller pocket with two small pockets inside and a big mesh carry-all on the outside. It comes with a 3 liter omega water bladder which is very durable. The only problem I've had is the bladder is a hassle to get in and out. When the bladder is full the whole unit does not ride flat against the my back. Other than that it's great.
Design: ruck sack
Size: either 250 or 800 cu. in.
Number of Pockets: 3
Max. Load Carried: under 15lbs
Height of Owner: 6'
Price Paid: $90

This is a nice size hydration pack. I picked it up so my girlfriend can carry some of the load while backpacking. 3 liters of water, plus more. She likes the added room and the pockets on the inside. A perfect pickup for our travels.
In time we will buy a larger pack for her, and only use this one for day trips. As we are very different in size we needed a pack that would fit both of us. we loaded it up and adjusted it to fit her. She said it was comfy and didn't cut into her at all. Next was my turn, had to make a lot of adjustments but it ended up fitting fine. We are both very happy.
Price Paid: $14

Your Review
You May Like
Specs
Price
MSRP: $79.00
Historic Range: $29.95-$90.00
Reviewers Paid: $14.00-$90.00

Recently on Trailspace