CamelBak M.U.L.E.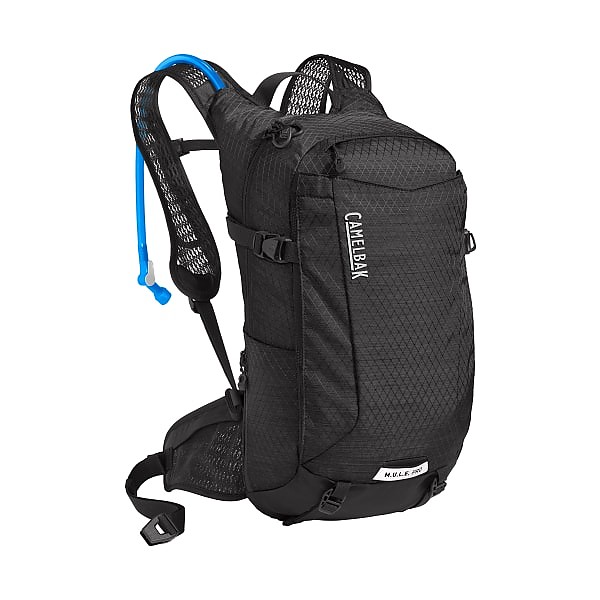 Good durable pack for single-day use. I've found this pack carries enough water and materials for up to one full day of hiking (no overnights) and can also be used for mountain biking without being too cumbersome. Offers enough space to pack light rain gear, emergency supplies, light, tools, tubes, camera etc.
Pros
Durable material seems impervious to thorns/prickers, zippers also durable.
Pouch/pocket placement and size seems well thought out. Special pouch for cell phone.
Rides well when not "maxed-out."
Cons
When "maxed-out," this bag puts a strain on your back and shoulders.
Waist buckle may not fit larger people or over heavy winter clothing.
After about 18mos with this pack everything is holding up well. The material seems to be impervious to thorns/prickers showing no obvious tears. The water bladder is well protected and has not leaked at all. The zippers have been durable and show no signs of giving in anytime soon. Like most Camelbak products, they might not always be cutting edge, but they work and deliver.
Now that we've established it is durable, its uses; I use this pack for day hiking and mountain biking. Occasionally I will use it for my motorcycle as well, when I don't feel like putting my travel luggage on the bike itself for a short ride.
The water capacity is huge for a pack of this size, yet still offers ample space for other necessities. A typical load out for me includes filling the water about 75% full, Quickclot/small first aid kit, Bivvy SOL bag, flashlight, lighter, Leatherman, Clif bars/trail mix, wallet, keys, phone. On biking trips I'll add a spare tube, tire spoons, hand pump and small bike combo tool.
If rain is forecasting the non-zippered pouch is used to accommodate rain gear (just the jacket) and compression straps hold it in. There is usually more space available, but I don't go past this as I find it begins to feel cumbersome and carry awkwardly. More on this below. 
The pouches and pockets are well sorted. There is a place for everything and everything in its place. I've never had to scratch my head and figure out where to put something. The ride is good when not "maxed-out" (see more below). Compression is good above 50% packed, below that and there just isn't enough there to compress and the straps run out of real estate, most of the time I have them just about cinched. The only exception is when adding the rain jacket. Then they get let out a bit.
Cons: There aren't many. As noted, if you max this thing out it doesn't ride well and puts unnatural pressure on your back and shoulders. I wouldn't recommend going past 75% full on the bladder and be conscious of what you stuff in the bag itself. You can see what I normally put in it and it rides well, that's probably more than most people take on day hike/bike ride and it handles it well. 75% full on that bladder is still a ton of water. YMMV.
Lastly, the waist strap (or whatever it is called) may come up short on some of our larger brethren.  I'm a 38 waist plus a little beer-belly and find that with just a base layer I only have a few inches left on the pull strap left. If it is winter and I add a layer or two, I quickly take up all the slack. 
In short, I've beat this thing at least once a weekend for the past 18mos and it is still here. I'm not easy on anything. If you aren't going to load this out like it's the apocalypse and you aren't large around the waist, this pack should suit your day-hiking/biking needs just fine.  
Source: bought it new
Price Paid: $69

I have way too many daypacks but this one's a keeper.
Camelbak's MULE was originally not what I was looking for in a daypack but I was gearing up for some summer hiking and camping sessions and bought this under a friend's recommendation. When I went to the store to pick it up I was surprised on how "compact" it was. Originally this pack is made for mountain biking but I had been looking for something that would be fast, light and pretty durable. That means no "trashbag" texture.
I've had it long enough to test it in many conditions and here are my results. One Word: This MULE is lean and mean.OK, so that's six words…But I can't help but say a lot about this pack. For a long time I was taking a larger, bulkier pack and I ALWAYS ended up overfilling it or at least I ended up taking unnecessary things.I mean, who packs towels on a hiking trip?! Me. Or I did. Not anymore.
So, why this pack? This is not the "end-all-be-all" for lightweight packs. In fact the material that makes up the CamelBak MULE isn't even considered lightweight material. It's the size and functionality that sold me on this one. So if you are looking for a pack that forces you to pack smart, stores plenty of water and is pretty bomber, then you might check this one out.
I had two main reasons for getting this pack. More water storage and lighter packing options. I wanted something to take on day hikes without the bulkiness of my other day packs. Here are the stats for the pack:
Capacity: 100 oz. (3L)
Cargo: 549 cu.in. (9L)
MSRP: $80
The features include a weather-resistant MP3 pocket and the site claims that there is enough water storage for over 3 hours. The MULE also features a Dynamic Suspension™ Harness System for load stability. I found this to be pretty darn neat since we can get pretty active on the trail. The Air Director also proved to add some comfort once the trail got hot-and-heavy. It allows your back to breath just a little bit better which means a lot to me since I get pretty sweaty. Loading options include a pocket for the Camelbak bladder, a main compartment for storing raingear, snacks, small first aid, or extra gear. There is also a smaller secure cargo pocket for putting even more gear like a digital camera or GPS device. Inside has a small clip for your keys and organizer pockets for other essentials.
The pack features two overflow pockets for even more loading; a small one on the front of the pack and a larger overflow pocket in-between the zippered compartments. Overall, this pack makes a great daypack. It has showed me how to pack smart and therefore has made my outdoor excursions that much more enjoyable. Aside from taking it on day hikes, I got the opportunity to take it on a canoe trip in which I got a chance to really test its ruggedness on the river. It came home with sand, dirt, moisture, and sweat. After a good cleaning it looked like new. Not bad.
Now I know that I didn't say much about the bladder, but with 100 ounces of water to carry there's not much you can say other than it's plenty for a 3-5 hour hike. On the canoe trip it actually lasted all day with a few sips left over the next day. It's a great pack with good loading options. My friend recommended it, and I also recommend it.
Size: 549 cu. in.
Number of Pockets: 5 main not including bladder pocket
Height of Owner: 5'11''
Price Paid: $80

I have used this pack extensively for the six months hiking hillsides and moderate distance trails.  I find the pack has ample room for all needed equipment and enough water for a hot hike. 
About the pack. I own both the military style and the civilian style of this pack. I use my civilian style, which is the Dark Cheddar and Charcoal color, when out on everyday hikes. Great visibility for trekking. I use the military version for work and hunting.
The pack has four compression straps that allow the pack to be snugged up if running only a full water bladder.  The top two straps have a cinch buckle that fits into a receiver, which acts as a quick disconnect to allow easier access to the center mesh pocket and when loading the main compartment.  I find this a handy feature. 
Only thing I did was add a three foot piece of round shock cord  with a press lock through the points where the compression straps attach to the outer part of the pack.  This allows a quick cinch for placing light weight rain jackets or some extra gear.  I find I can cinch trekking poles to the back of the pack with the shock cord.
The Camelbak website boasts a Dynamic Suspension™ Harness System for load stability with an adjustable sternum strap.  I find the harness system does really work nice.  The shoulder padding is wide enough that the straps don't cut into your shoulder with a full bladder and moderate load.  I did find that the sternum strap is a must as I have wider shoulders and without the harness tends to slide outwards.  Because I use the pack for hiking rather than biking I don't use the waist strap. 
One thing I did find is if there is a need to drop the pack quickly there are no releases for the shoulder harness.  On the Military version the shoulder straps can be unclipped and allowed to drop.  I cut my harness and added  buckle clips to the straps near the pack, which allows for a quick drop and still gives full adjustability.
The back panel of the pack has the "Air Direct" system.  This is actually some moderately raised pads that allow great air flow between the pack and back.  I find that there is little difference between this system and  my other packs.  My back still sweats to the same degree.  The pack is comfortable on the back and you don't get the "lumpy" feel from your pack contents when the bladder is empty. 
This is the primary pack I use for day hikes. Carries enough snacks and water and other gear for a day on the trail.  I would recommend this pack.
Price Paid: $80

Great little pack! Very versatile and surprisingly roomy. I've used mine for biking, running and festivals, and it works like a charm.
Pros
Light and versatile
nice subdued looks
The overflow pocket is a godsend!
Cons
Unstructured — a bit unweildly when stuffed full
Not as roomy with a full water bladder
I bought this mainly for running and music festivals. I wanted something that was versatile, could keep me hydrated for hours, and above all unobtrusive.
This pack fit the bill perfectly. It cinches down really tight when you need it to, but holds most of the stuff you need for a day trip (or a day of outrageous dancing). 
What this has over other hydration packs is mainly its subdued looks (I don't mind wearing my black one about town, unlike more "extreme sports" styled packs) — and its special overflow pocket.
My god, is that pocket useful. It's a mesh pocket between the two main compartments, held down by the compresison straps. If you need to shed layers in the heat, store your bike helmet, or keep your rain jacket handy — this pack has you covered. Just keep it rolled up or just stuffed into the overflow.
During festival nights this was perfect for shedding layers during upbeat sets, while still keeping them on hand and secure for when the crazyness died down and the cold crept back in. For running it allows you to start with more layers during the cold months, and then cinch them down once you've warmed up.
The pack holds a lot, especially with the overflow. But the bladder does take up quite a bit of space when full. I suggest not filling it all the way — 1,5-2 liters of water will last you a good while. This lets you bring more stuff if you need it. It also gets a bit unstable on your back if it's really crammed full — but selective packing will help prevent that. This isn't a heavy duty backpack, and I honestly kind of like how it forces me to pack smart.
The hydration works like a charm, but i suggest getting the hose cover from camelbak too, since the mouthpiece might get a bit grimy and nasty if you're not careful setting the pack down.
Highly recommended!
Source: bought it new
Price Paid: about 100 $

Durable, light and versatile, with plenty of room for essentials. Chest strap and hip belt have Velcro straps to hide extra strap length. It's been on many hikes, and has stood up to being scraped, dropped, squished, rained/snowed on, and more.
Pros
Air Director for air flow against your back
Room for a 2 liter bladder
Expandable for more or less gear and tighter fit
Plenty of space for a day hike
Cons
I haven't had a problem with the outer mesh pocket, but I'm not a fan of mesh.
I have had this backpack for many years. It replaced my original MULE. I love the burnt orange color. It has plenty of room for snacks, water, and essentials for a long day hike.
I have hiked all over Southern Utah, Central California, and parts of Virginia with this pack. My husband bought me a new pack (different brand, and slightly larger), and I haven't used it because I love this one so much!
It fits my back like it was made for me. I hardly even notice it's there. It has lasted 10+ years, and even with all of its use and abuse  doesn't look that old. Great, durable backpack. 
Source: bought via a "pro deal"
Price Paid: I don't remember...$30-$50 with a pro deal

Version reviewed: 4S Ltd Edition
What a great pack! I previously had the Camelbak Rogue and, whilst a good little hydration system to start off with (and for the predictably warm summer months), I soon found out that I really needed more room for a jacket and microfleece (not to mention my camera, pump, spare tubes and multi-tool.
I went for the limited edition 4-season model in coyote brown with four seasons cover for the tube and extra cap for the mouthpiece. I used it for the first time today and it is superb. I need to re-"borrow" my mp3 player from my girlfriend so I can try out the special pouch for it, but apart from that everything was great. Plenty of room (but not too much) and the pack felt very snug on my back, even without having used the optional (detachable) waist belt.
Buy it. It's an ideal size. I now can't wait for the autumn, when I start off in my fleece and can then just stow it away when I get too warm and not worry about it falling out from under the straps where it is wedged (that's what I had to do with my rogue).
Again, buy it :o) Top notch.
Number of Pockets: 4
Height of Owner: 6'0"
Price Paid: 61 pounds

I had to constantly have this thing on my back, for hydration purposes, obviously, for Air Force Field Training, which I recently went to. Obviously, being in Alabama in the summer (I'm from Georgia) requires constant hydration. The Camelbak MULE provided effectively and well, and the amount of water it provided meant that you only had to fill up a few times a day. Now, wearing this thing for 16 hours at a time got old and often led to deltoid pain, the MULE is a great system.
I plan to now use mine for hunting, fishing, and camping, as this is a tried-and-true system which never gave me any problems through 35 days of rigorous training. I highly recommend it to anyone who partakes in the activities I do. Two thumbs up!
Price Paid: $0

Version reviewed: military
I absolutely love this pack! I own the military version of the M.U.L.E. Color is woodland camo and uses a 100 oz. bladder. It has two outside pockets...top and bottom. It has two rows of web gear lashing points on bottom pocket for attaching additional pockets or gear. I use this pack for mountain biking as well as a light day pack. This pack is used by U.S. troops around the world.
I've also owned the regular civilian version and have only great things to say about it as well. I used that one for mountain biking only.
The military thinks these packs are good enough for our troops...they are def. good enough for the average public.
Price Paid: $85

Twas the night before my great hike, and all was amiss, when suddenly found myself all full of .... I reached over to grapple with my gear, when toward me came one great, black-eyed rodent, wigglin' its ears. I grabbed the M.U.L.E by the strap and, with one quick swing, had the rodent twitching its last moment. Truly love the pack. And I also use it on long cycling events.
Bought this back in 2001. Has been through many hikes, bike rides and other adventures. I'm on my 3rd bladder with it. It has survived sliding down the highway under me at 20 mph with no holes.
Would buy another in a heartbeat, but the way this one is lasting I don't think I will need to.
I love this thing. I wear it when I ride my bike to class whenver it's hot. Always performs well on the trail. Just enough space for the esentials. I can actually hold my Digital SLR in the "jacket" overflow for quick jaunts. Definitely go this with over a 2L, it is completly worth it.
Price Paid: $70

This hydration pack is amazing. I used the bladder itself on my first AT trip. The pack is great for day hikes and biking. It's a great size as long as you are planning on bringing minimal extra things.
A great pack for mountain biking and fast light hiking or running. Carries up to 3 litres (problems fitting bladder in pack beyond 2.5 litres though) of water and will fit a jacket, spares and a camera with room to spare.
Height of Owner: 5ft 9"
Price Paid: £40 GBP

Overall a good product. Used it on a fourteener in CO. Has enough pack space for lunch, but not much else. Holds 2L which is definitely enough for a day hike.
Height of Owner: 6'1"
Price Paid: $50

Great for short hikes, size may be a problem if packing more than a lunch and jacket.
Used it all summer up to a 20 mile hike with no problems.
I use this hydration pack for Boy Scout summer camps, and it carries snacks, knives, lights, and not to mention the 2 liters of water!!!

I've only used this for mountain biking, for which this pack is perfect.
Design: Front loading
Size: Medium
Number of Pockets: 3?
Height of Owner: 6'0"
Price Paid: $80

Great pack, but it taste like plastic.
Design: muke
Size: 100
Height of Owner: 6 feet
Price Paid: 70 bucks at Big 5

Your Review
Where to Buy
Help support this site by making your next gear purchase through one of the links above. Click a link, buy what you need, and the seller will contribute a portion of the purchase price to support Trailspace's independent gear reviews.
You May Like
Specs
Price
MSRP: $89.00
Current Retail: $86.99-$196.00
Historic Range: $17.25-$196.00
Reviewers Paid: $50.00-$100.00

Recently on Trailspace