CamelBak Omega Reservoir

The Omega Reservoir has been discontinued. If you're looking for something new, check out the best hydration reservoirs for 2023.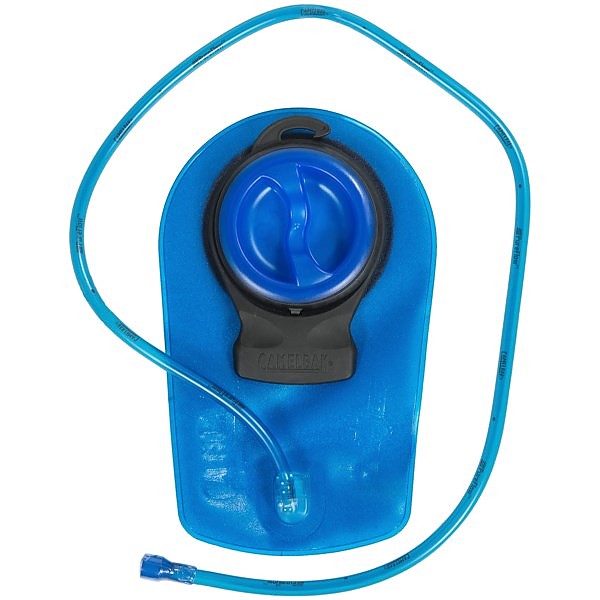 Room for improvement.
Pros
Effective bite valve
Easy to clean
Lifetime warranty
I picked up Camelbak's 3 liter reservoir hoping to save some weight over Nalgene bottles and to hydrate on the go. I like the 3 liter size because it offers the most versatility. You can completely fill it to 3 liters if water is scarce, or just 1 or 2 liters if water is abundant. 
The bite valve works like a champ. I never noticed water spilled. It's got great delivery. The main opening never leaked either. It is possible to overtighten the main lid, making it difficult to open.
With all pack reservoirs, refilling can be a pain unless your filter has a refill valve. That's just a symptom of pack reservoirs. Accept it. 
My one main gripe is that the hanging hook is poorly designed. Under the weight of 3 liters of water that little plastic hook gave way, the reservoir fell, and worked its way to the bottom of my pack. Camelbak claims they have a lifetime warrany, but I have not yet pursued this. 
The bladder itself, seems very durable. No complaints there. 
Source: bought it new
Price Paid: $25

This is a great little backup dromedary bag. I went deep into the Zion backcountry and wanted additional water storage without a lot of weight or frills, and this puppy fit the bill very well.
So why ding it for 1.5 stars? Simple: first, while I didn't want a lot of frills, I would have preferred a closable bite valve as seen in other Camelbak models. This is important for anyone carrying a significant load (it's easy to pinch the valve without knowing it and having your valuable cargo drain away...) and is even more important for those using this as a backup reservoir as I was.
Second, this particular model claims to have a pure water taste without any plastic flavor. I did not find that to bear out, as the water tasted pretty plasticy (is that even a word?) to me.
So -- great, inexpensive bag for those who need a second reservoir for the trail. But I'd recommend going with another Camelbak product if this is going to be your primary water source.
Price Paid: $25

I have the 100 oz bladder which I have had for about 3-4 years and don't think Camelbak thought everything out. The first problem was the bite valve which leaks after using quite often and when you want to refill the bladder you have to take the tube out of tube port which is a huge pain. But to solve these problems you need to spend another $14 just for the on/off bite valve and the hoes connection which allows you to fill the bladder without take the tube out. I suggest after researching, that if you get a bladder get a Nalgene. They come with everything that you could possibly need for the same price as the Camelbak bladder but with more useful features. The only good thing that the Camelbak was good for was it did keep me hydrated.
Price Paid: $30

Does what it is suppose to.
Pros
size
shutoof valve
mouthpiece doesnt drip
good water flow
This bladder came with my Camelbak Ranger hunting pack. it is the 100oz version, I like the wide mouth screw lid for filling and cleaning, and ice cubes will fit in. When it is below freezing I can blow the water back the hose to the reservoir to keep it from freezing.
The 100oz size is enough to last a day of hunting or hiking.
Source: bought it new
Price Paid: came with Ranger pack

I am living in Tucson and hike a lot in high temperature environments. I bought the Camelbak reservoir about 2 years ago and have had less trouble with it than others I have used (and I've used almost every model out there. I have a 3l. MILSPEC model, and it has proven to be tough, leak free and easy to use.
The only reason I don't give it five stars is that pulling it out to fill it is a minor pain. It is the only unit I've used that has never leaked on me. My model has a ball type on/off valve above the bite valve that I particularly like. Bite valves will give up eventually if you chew 'em long enough.
Price Paid: $35

I use a three liter reservoir with the 'big bite' valve. the reservoir itself is great. It hasn't ripped, split, or leaked despite some rough use, it doesn't smell, it dries easily, and the screw-on closure seals well and makes cleaning very painless.
I have a minor beef with the big bite valve, which was damaged and began leaking not too long after i bought the product. Replacements are not very expensive, but I strongly suggest keeping at least one replacement on hand. A leaky valve means you're hiking or cycling in wet clothes.
Price Paid: $28

Any bladder type device for carrying water can leak. I have yet to see one that worked properly, and I've seen a lot. A simple water bottle will outperform a bladder any day. After a few hours of climbing it's pretty maddening to realize that the bladder leaked and now everything in the pack is wet.
Just makes things more enjoyable. No more hassling with bottles you can hardly reach. Just bite the valve and be done with it! This thing is practically bomb proof, just don't stab it with your trekking poles (oops!). Go ahead and throw in the Ergo Hydrolock while you're at it and thank me later.
Price Paid: $30

This is a tough little reservoir. I have had a 3 liter for several years now and have had absolutely no problems. I even routinely use it to sit on for comfort. Never had leaks, never had breakage, never a mold or mildew problem, and never had a problem cleaning it.
Price Paid: $30

Your Review
You May Like
Specs
Price
Historic Range: $12.53-$47.99
Reviewers Paid: $25.00-$35.00

Recently on Trailspace